Email marketing has been there since the beginning of the World Wide Web and is still relevant today for a good reason. Compared to other marketing channels, email marketing is the most direct and effective method to connect with your leads, where you can nurture and turn them into consistent customers. Typically, it has a significantly higher ROI than any other marketing channel. Research shows that SMEs still rely on email marketing as their main clients gaining platform and 80% for retaining. Email marketing is proven to the best way to grow your business and with a higher ROI. It improves your brand messaging, accelerates customer relationships, and drives cost-effective revenues to your business. With this definite guide, you will know how to:
Build an email list with target customers
Optimize the emails for higher click-through rates and open rates.
Automate your lead nurturing process and turn prospects into clients.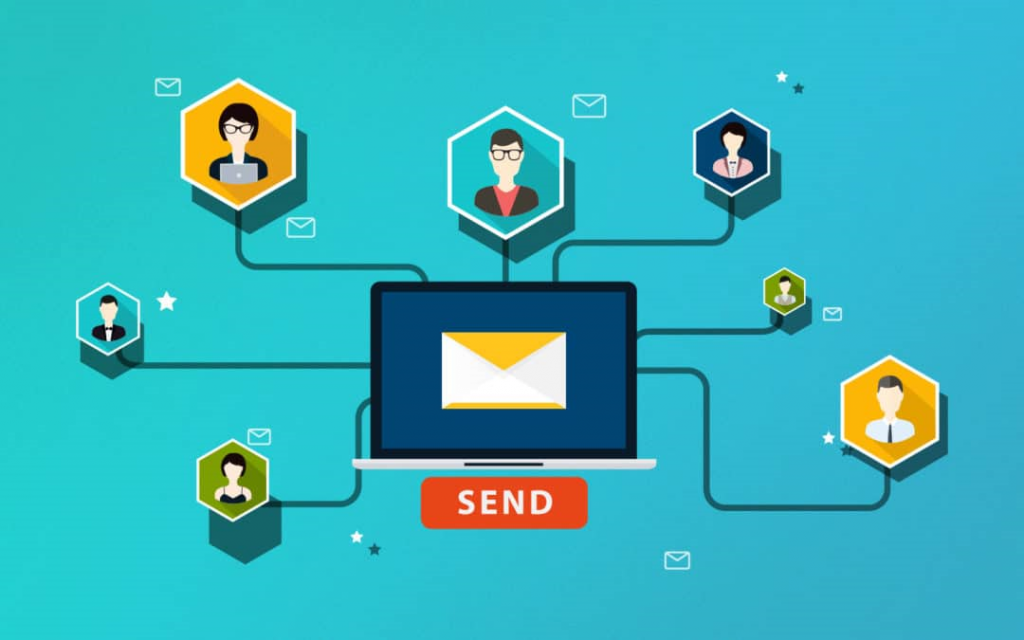 Let's now dive into what you need to get started;
     1. Build Your List
You can't send emails if you don't have anyone to send them to, right? Also, remember, it can't work if you don't have the right people on your list. Hence, you need to capture leads full of the target audience to grow your email list. Begin by adding a form or a banner to your website and ask people to subscribe. This is the right way to do it – Offering valuable incentives No matter how many subscription opportunities you will offer your visitors, they might not subscribe if the incentive isn't valuable to them. Also, note that regardless of how good the incentive is, you should make sure that the process of subscribing or joining your email list is easy and straightforward. Here are some of the amazing incentives you can use to entice your audience to subscribe:
The first-order discount – If you own an online store, offering a discount to the first subscribers will encourage many to subscribe.
Captivating content – If you produce content and blog on your website, offering to gift your email subscribers with the best content is an effective way to entice many to join your email list.
Shipping offers – If you offer upgraded or free shipping to those who subscribe to your email, it is a powerful way to entice many to join your list. Besides, getting them to receive their items quicker or at no cost is enough motivation to make them subscribe.
There are many subscription opportunities to make people opt-in such as free eBooks, free downloads, etc., just make it easier for them to subscribe – you will never go wrong with incentives.
     2. Send Follow-up Email
First, a follow-up email is essential for the success of your email marketing efforts. The majority of email service providers will provide you with an option to craft a programmed welcome sequence; hence, make good use of it and let your audience know what to expect. Send a follow-up immediately they subscribe, to introduce yourself and state your plans to them. Be detailed and concise as possible. From there, live up to their expectations.
     3. Provide Great Content
Great content is crucial to the success of your email marketing efforts. Your email list subscribers will be expectant, and it will be up to you to be consistent. If your follow-up is consistent, and your call to action strong, then you will have a successful email campaign. That way, you are sure to keep your subscribers engaged, and you won't lose them. If they expect weekly product updates and you don't deliver that, you will be setting yourself up for failure, same case if they expect one email per week and you end up sending it daily.
     4. Don't Pitch Just Yet
Your aim is to engage your audience and make sales and not to run emails for fun. However, transitioning from offering free value to your email list to pitching products for money is a delicate shift to make. Hence, it is advisable to have a good pitching strategy. You can't just surprise your audience with pitches all over a sudden, but if you pitch once in a while, you will have a more successful campaign. Don't form a habit of selling often; first, seek to understand what your customers want. You can do this by understanding what they have shown interest in before and then give them the same offer once more. There are no fast or hard rules concerning how often you can provide content or pitch since every business has different needs. However, be cautious when sending them. Ask yourself whether you are consistent with the expectations you've set.
Photo Credit
     5. Carefully Make Good Use of Email Automation
When you start emailing your new subscribers, you might think that you will always have time to respond right away. But it becomes next to impossible once you start getting dozens of subscribers, and following up on everyone is just impossible. Therefore, email automation as a key email marketing tip becomes crucial. Scheduling sets of email automation in advance will prevent you from "going dark" for a longer period. Some companies have a series of planned-out emails that automatically deliver warm-up messages to new sign-ups in their email list.  With such automated messages, if you happen to send new products, you can be sure they are paying attention. Hence, less likely to annoy your audience since you know you have built up an excellent relationship for months.
     6. Use Analytics
Many email providers usually provide complimentary analytics. The essential ones are unsubscribes, click-through rate, and open rate. First, unsubscribes allow you to know the number of people who have clicked the "unsubscribe" button from your email. If the number of individuals who opt-in is lower while the rate of unsubscribes is high, you need to put more effort into your work. Next, your CTR or click-through rate allows you to know the number of people who have clicked the link you might have provided in your email, if any. If the number is minimal, it means either it's not getting through, or the message is not targeted enough. In any case, pay attention to refining your copy. Finally, open rates show how many people have opened your email. Once a subscriber opens your message, the single invisible tracking pixel will load. Basically, open rates show how well you have built a relationship with your audience. If they open so quickly, it shows they are excited to read your emails. Email analytics is essential because if you pay attention to them, you will understand where you are going wrong. It gives you a clue you need to move forward.
Conclusion
As you build your email list, ensure your email copy is always engaging, to make your subscribers read them. Keep up with their expectations and provide what they asked for by emailing them regularly. As mentioned earlier, a little help will go a long way to help you achieve your goals. This email marketing guide for beginners is all you need to succeed. If you have already got a foundation in email marketing and want to go to work for the company – Zipjob reviews is exactly for you. While there are many rules for sending marketing emails, just remember to treat your subscribers as human. All they want is to relate with you and hear from you. Once they know you are a genuine resource, they will be looking forward to your next email.
Enjoy this Article? You May Also Like: