TAre you satisfied with the results of your email marketing efforts? Since you are reading this article, we can presuppose that your recent email marketing campaign hasn't been that successful. Probably your campaign has failed because you chose the wrong email writing tactic. If you revisit your approach to writing, chances are you will improve CTR and conversion rate.
Table of Contents
Here are a few writing tips you can use to encourage users to complete the desired conversion action.
Start your email with a call to action
Typically, marketing emails start with greetings and end emails with a call to action. Marketers stick to such a structure because they expect customers to read the entire email and then click the CTA button.
But the truth is that the vast majority of users don't scroll down the email to read to the bottom. They read only the first few sentences. If the first part of the email doesn't give recipients any value, they don't bother to read the rest of the email.
If you want to increase conversion rates, you can structure your email differently. Place a CTA button before the greeting and highlight the value of your email. It will allow you to grab attention and encourage users to read the entire email.
Screenshot source: Email from CBInsights
Focus on one conversion action
The attention span of modern users is around 12 seconds. So it's not a big surprise that they get distracted easily – sometimes, they simply forget to complete the desired action.
Do you overload your emails with too much content and CTAs? Try out a different approach to email writing. Simplify your emails and exclude non-important information. Present one specific message and add one call to action.
Let's consider an example to understand how this email writing tactic works. Let's compare two similar emails sent by airlines.
The first email is from Turkish Airlines. It includes four different messages and four different CTA buttons.
Screenshot source: Email from Turkish Airlines
The second email is from Pegasus Airlines. It includes only one message and encourages the recipient to complete one specific action – to rent a car.
Screenshot source: Email from Pegasus Airlines
Can you guess which of these two emails can boast with higher CTR and conversion rate?
You've guessed it right! The second email performs better. The message of Pegasus' email is pretty straightforward – there is no other message that may distract the recipient from completing the conversion action.
Create a sense of urgency
If you want to boost CTR and conversion rate, write your email in a way it will evoke a sense of urgency.  Use the words that make people believe that they will regret it later if they don't take action right now. Here are a few phrases you can add to your marketing email:
Last chance offer
Only two seats left at this price
Ticket prices will go up tomorrow
Last day for up to 25% off discount
Last chance to download this guide for free
Offer expires today
You will not want to miss this event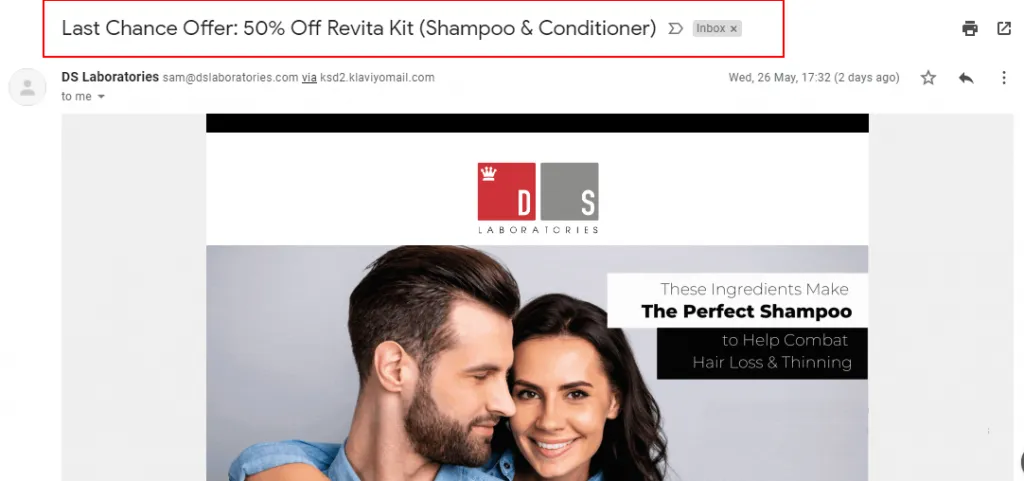 Screenshot source: Email from DS Labratories
Personalize your message
You should understand one important thing. People do not really care about your company and your products. The only thing they care about is their personal wants and needs.
So if you want recipients to click a CTA button, try to personalize your message. Explain to recipients how they will benefit from clicking the link.
Here are a few writing tips for you:
Use the words "you" and "your" as often as possible.
Talk about the personal benefits the users can get from your offer.
Personalize call to action. Use phrases like "save your seat", "grab your product at a discount price", and "use your promo code".
Show that you care about the recipient. Write something like, "We know how important it is for you".
Screenshot source: Email from Upwork
Speak your customers' language
This is an important email writing tactic. How can you characterize the language of your email? Do you believe that it fits your target audience?
To achieve marketing success, you need to speak your customers' language. You should use the words your customers typically use, and, most importantly, you should set the right tone. If you target a wide audience, you should use email segmentation and create different emails for different customer groups.
Let's consider a simple example. Imagine that you promote grammar-checking software. You target two groups of customers: college students who use grammar checkers to proofread their essays and business people who use software to polish their documents.
To attract college students, you should opt for an informal language. You should keep your tone of writing friendly and engaging, use shortenings and youth slang.
What about emails for business people? You should use formal language. The tone of your writing should be professional and courteous. It will allow you to improve your credibility and, eventually, will boost your conversions.
If it's challenging for you to adjust your writing style the right way, you can get professional assistance online. You can use ThesisOnTime, a writing service, or hire a freelance writer with a background in your topic. Let experts edit your email, and you will see an increase in CTR and conversion rate.
Add bulleted lists
Most people don't read emails, they skim them. Modern life is busy, so everyone tries to check emails quickly to get back to more important tasks.
What can you do to make your emails skimmable? You can use bulleted lists to highlight the most important details of your message. The list may include from three to seven points.
You can make your list look more visually appealing by using icons or other visual elements instead of standard bullet points. You can design these icons by yourself or find a suitable email template that matches the WordPress theme of your website.
Screenshot source: Email from LinkedIn
Wrapping up
There is no one "perfect" email writing tactic that will work for any industry and any brand. So if you want to maximize your email marketing efforts, you should try a few different writing tactics and choose the one that is right for you.
Be open for experiments, and you will find a way to boost CTR and conversion rate.
Enjoy this Article? You May Also Like: