Are you searching for the best Instagram Reels Hashtags to help your content go viral? When it comes to creating viral Instagram Reels it's important to always have a strong Instagram hashtag strategy.
Key Take Away
Why do you need to use Hashtags on Instagram Reels? Instagram Reels Hashtags allows your content to be crawled and categorized by Instagram's Explore Page Algorithm. This allows your Instagram Reel Videos to be easily discoverable by new potential followers. Hashtags on Instagram reels allow your content to be easily promoted by Instagram's algorithm & discoverable by other Instagrammers. Both of these help your Reels content go viral.
Content Table
With the right Instagram Reels hashtags, you can be guaranteed that your video will go viral on Instagram. Hashtags make it easy for people to find and interact with your Instagram content, thereby increasing your reach. Although Instagram Reels are new, and people have not fully understood how it works, we are here to make the experience seamless and straightforward.
This post highlights how to go viral with Instagram Reels hashtags. Also, you will get to know the best time to post on Instagram Reels. First, what are Instagram Reels?
What are Instagram Reels?
Instagram reel is a recently launched feature that allows users to create and discover short, entertaining videos on Instagram. It is a new Instagram feature that can be seen as a TikTok alternative. You can create a 15-seconds videos with a nice background music option. Interestingly, these small clips are getting 5million+ views, making them an essential addition to business brands' digital marketing strategy. Big brands like Louis Vuitton, Sephora France, Balmain, and many others are already utilizing the feature effectively.
Read here what the best TikTok hastags are for 2021
With TikTok's ban in India and its uncertain future in the United States, Instagram Reels will be the best available option for creators. If you are an Instagram influencer, this new feature is perfect for you.  We have put up a comprehensive article about all you need to know about Instagram reels here.
Let's take a look at this feature and see how Instagram Reels hashtags can help make your brand go viral.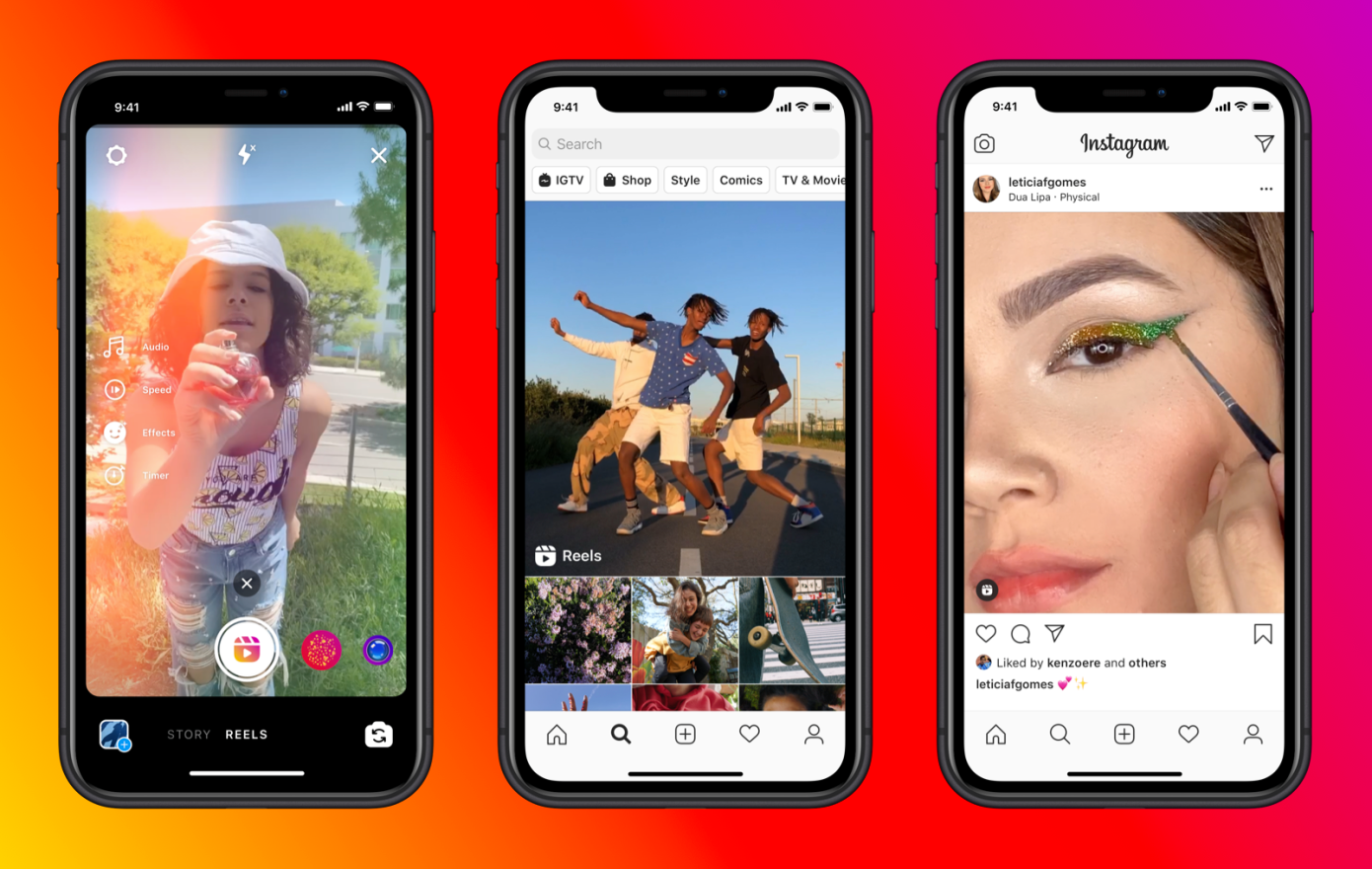 How to Create Instagram Reels Videos
Creating, sharing, and viewing Instagram Reels videos are simple and easy, especially when you have the right information. Here is how to create your Instagram Reels video:
1. Shoot & Edit Your Video
Go to the camera option of Instagram and go on the Reels option.
Make sure to select the background music before shooting your video.
You can record your music or use the Instagram library for it. Know that others can also use your recorded music with the "Use Audio" option.
Now, you will set the timer. Like stories, you can easily use the features of Reels for adding special effects.
Shoot your video. You can also use the speeding up or slowing down option for selected clips.
2. Share
After creating your Instagram Reels video, it's time to share it. Unlike TikTok, Reels have multiple sharing options; Reels can be shared on the Instagram Explore Page, Instagram Stories, Account Feed, & Direct Message. You can simply post your Reel on your Instagram account, add a hashtag or a caption, and tag multiple friends.
For higher visibility, post your Instagram Reel on your feed and set your account to the public. Since Instagram has just released this feature, they are giving Reels a significant boost in organic reach. The Instagram Explore Page now showcases Reels at the top of the feed, and once you enter, it becomes similar to TikTok's endless vertical feed of new content.
To achieve maximum visibility, you should set your account to "public" and post your Instagram Reels on your Account Feed. Digital marketers are incorporating this strategy to reach a broader target audience. Since Reels are already a big hit, users are likely to click on a new Reel they found through their search.
3. Start Watching
Once your Instagram Reel has been uploaded, both you & your followers will be able to see it. If you have a public account, your Instagram Reel will get pushed to the Explore Page. On the Explore Page, it will be showcased to the broader Instagram community. Your Instagram Reels will also be categorized under Instagram hashtags, sounds, effects & more.
Why You Should Use Instagram Reels Hashtags
Using the right Instagram Reels hashtags helps users with similar interests as you discover your post. This group of people will be more likely to buy your products or services. Without using Instagram Reels hashtags, the chances of your content getting in front of the right audience are very slim. With these Reels hashtags, Instagram will collect and organize your post, thereby increasing your video's odds in front of the right people. There are more than 1 billion registered users on Instagram. Therefore, you can't possibly rely on "chance" to get to the right people.
The Best Instagram Reels Hashtags Ideas
Now that you have understood Instagram Reels and hashtags, let us consider the best Reels hashtags to promote your content.
Viral Instagram Reel Hashtags
#reels
#reelsvideo
#reelsinstagram
#reel
#instagramreels
#instagramreel
#instareels
#reelsindia
#explorepage
#explorepageready
#viralreel
#viral
#fyp
#foryou
#foryoupage
Best Instagram Reel Hashtags for Wealth & Entrepreneurs
#entrepreneur
#entrepreneurship
#entrepreneurlife
#entrepreneurs
#entrepreneurial
#wealth
#wealthmindset
#wealthbuilding
#wealthymindset
#wealthmanagement
#luxury
#luxurylifestyle
#luxuryhomes
#luxurycars
#luxurytravel
Best Pet Hashtags for Instagram Reels
#petlovers
#petstagram
#petsofinstagram
#petphotography
#petportrait
#petsagram
#petoftheday
#petfriendly
#petlife
#petscorner
Instagram Reel Hashtags for Hypebeast & Sneakerheads
#jordan1s
#jordans
#airjordan
#sneakercollector
#sneakerreseller
#hypebeast
#hypebeastcheck
#sneakercollection
#sneakerhead
#sneakernews
Viral Instagram Reel Hashtags for Motivational Pages & Public Speakers
#motivated
#motivation
#motivationalreels
#motivationalquotes
#motivatedmonday
#motivationalspeaker
#motivationdaily
#motivateyourself
#motivate
#motivatedmindset
Best Instagram Reel Hashtags for Sports
#and1
#touchdown
#touchdowncelebration
#grandslam
#megged
#layup
#3pointer
#nbafinals
#nflnews
#mlbpostseason
Top Trending Travel Hashtags for Instagram Reels
#travel
#travelgram
#travelphotography
#traveltheworld
#travelblogger
#traveling
#travelawesome
#traveladdict
#traveler
#traveldeeper
#travelinspiration
#travellife
#travelmore
#traveldiaries
#travelgoals
Viral Instagram Reel Hashtags for Fashion & Makeup
#ootd
#ootdfashion
#ootdinspiration
#ootdstyle
#fashionstyle
#fasioninsta
#fashionphotography
#fashiondesigner
#makeupartist
#makeup
#makeuptutorial
#makeuptutorials
#makeupideas
#makeupoftheday
#makeupaddict
How To Find The Best Instagram Reels Hashtag Ideas
Here are three essential tips to help you find Reels hashtags that will make your content go viral: 
1. Search
To find the best Reels hashtags, go to the magnifying glass icon on your Instagram dashboard. It will bring up the search function and show you popular videos and trends on Instagram when you tap it. You can enter a specific keyword in the search bar at the top of the screen. The keyword will help you look for hashtags, users, sounds, etc., to guide your hashtag choice.
In the search result, you will find the tabs for the following:
It shows you the top results for your search term and may be different depending on your app use.
It shows you the most relevant account based on your search.
Under the tags, you will see the most popular hashtags based on the term you used in your search.
This tab shows you the most relevant locations near you based on your search term.
2. Study Your Competitor
Another great way to find Reels hashtags on Instagram is to research the people you want to compete against. Once you find such people or brands, study their videos and look at the hashtag they are using. How are they using these hashtags? Anything you can find will greatly help you in this market space.
3. Check Other Social Networks
A hashtag that is trending on other social media platforms like TikTok, Triller, or regular Instagram posts can be great. If that trending hashtag is not on Instagram Reels, it is a trusted way to skyrocket to the top of the trending list.
Conclusion
Using the latest features to capture customer's attention is vital for business growth, and Instagram Reels is one of them. Creating some attention-grabbing Reels with trendy hashtags and creative captions are likely to amplify views in no time. Thus, digital marketers should arm their strategies with new Reels and hashtags to stand out from the mob.
Enjoy this Article? You May Also Like: