When it comes to the buzz and popularity in 2020's social media scene, TikTok has been very hard to beat – the video-sharing app is one of the fastest-growing in the world. But, Instagram has stepped into the short video realm with its latest introduction of Instagram Reels.
Last Updated: December 14th, 2020
After months of testing, Instagram has finally launched Reels– its latest rival of TikTok. Which is currently facing an uncertain future as the Donald Trump administration threatens to ban TikTok nationwide.
Instagram described the emergence of Reels as a new way for people, businesses, and creators to "create and experience entertaining and short videos on Instagram." The feature is now available in more than 50 countries, including the UK, US, Australia, Brazil, Japan, on both Android and iOS. 
In this article, we'll discuss what Instagram Reels are and how they work. 
Let's get started. 
WHAT ARE INSTAGRAM REELS?
Instagram Reels is Instagram's short-form video content that is to rival TikTok, which recently reached the 2 billion downloads landmark. 
Just like TikTok, Instagram Reels offers you a suite of innovative tools to splice together 15-seconds videos with scene-stitching technology, special effects, customizable text, and music. In addition, a dedicated way to share those clips with your followers. 
If you have a public account, you can even make the Reels available on Instagram through a new space on the Explore Page. In addition to seeing Instagram Reels from accounts you follow, you can also see Reels from trending and popular accounts on Instagram. 
Essentially, Instagram Reels allows people to express themselves while also entertaining others, either by spreading a message on something they value or trying out a new dance. 
It offers you the chance to become a creator on Instagram and reach new audiences on a global scale. You can find the Instagram Reels feed on the Instagram Explore Page. 
Even though the algorithm behind Instagram Reels hasn't been revealed yet, it's likely going to function as the algorithm behind the TikTok For you page – where the content on your feeds is based on your location, the content you interact with and people you follow.
When creating a Reel, you can upload video clips from your camera rolls or film the clips on the spot. Once you're happy with the video, you can then edit the clip. You can use the text and draw tools and also choose from the different Instagram stickers available. 
WHY IS INSTAGRAM LAUNCHING REELS
Undoubtedly, TikTok has had massive successes in the past years. According to Adweek, it generated "the most downloads for any social media app ever in a quarter" in the first quarter of this year. Additionally, TikTok also records a billion monthly users. 
The launching of Reels is Instagram's way of replicating TikTok's most popular features. Mostly in areas like Brazil, where TikTok hasn't gained much popularity. 
As a matter of fact, this isn't the first time that Instagram tried to launch a TikTok alternative. It already tried with a short-form standalone app called Lasso, which failed. This time Instagram is trying with Reels. Which should have a higher chance of success because of its prime positioning in the Instagram app.
Brands and Influencers are already starting to use Instagram Reels as a way to promote their business.
For instance, Janelle Sweeney (a Paris-based Photographer) noticed a rise in engagement after using Instagram Reels for a few weeks. Janelle has been sharing spots that she likes to photograph, and her engagement on Reels has been surprisingly high. In the same vein, Jonak Paris (a french footwear company) also uses Instagram Reels to display their new summer collection in a creative and fun way. 
If you're already using Instagram for your business, then there's no harm in trying Instagram Reels. It's a more creative, dynamic, fun, and engaging way to show more of your brand and personality on Instagram.
HOW DO INSTAGRAM REELS WORK?
Instagram Reels is a new model and feature in the Instagram Stories Camera menu. It's either positioned on the bottom menu next to "Story" or between the Create mode and Normal mode. 
Once you open the Instagram Stories camera, you'll see a variety of creative tools that you can use for creating your Reels. Some of the tools are:
AR Effects:
There are several AR effects (created by Instagram and creators worldwide) that you can use to record multiple clips with different effects. 
Audio:
You can search for songs from the music library on Instagram. Alternatively, you can use your audio by recording a reel with it. If you use original audio, it'll be attributed to you. Plus, people can start using your audio to make their own creative reels (though, this is only possible if you have a public account). 
Speed:
You can either speed up or slow down part of the audio or video you're using in the reel. You can leverage this feature whenever you want to make slow-motion videos or whenever you want to stay on a bit. 
Align:
You can line up objects from your previous video clip and use them in your subsequent recordings. This will help you create seamless transitions for moments like adding new friends into your reel or outfit changes. 
Timer and Countdown:
You can set the time to record your clips for the desired period. Once you press record, the counter will begin, and your clip will be recorded for the amount of time you selected. 
It's also good to note that reels can be recorded all at once, in a series of clips (one clip at a time) or using video uploads from your gallery. To record your first clip, press and hold the capture button. Once the record begins, you'll see a progress indicator at the top of the screen. As soon as you're done with each clip, you can stop recording to end the clip.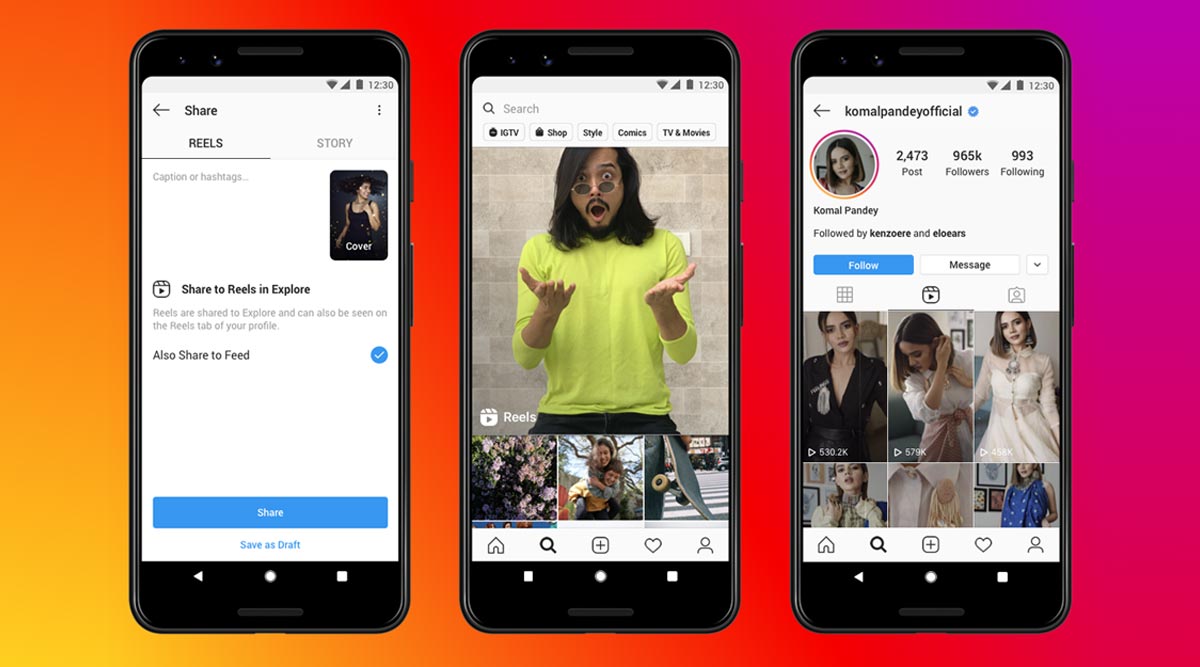 UPLOADING INSTAGRAM REELS
If you're satisfied with the masterpiece created, you can share the reel to your Explore Feed, Stories, or profile. 
Here are some things to take note of:
Private Instagram Account
You can only share the reels to your Feed and only your followers can see it. People won't be able to share your reels (to others who don't follow you) or use original audio from your reels.
Public Instagram Account
You can share your reel with your followers (by posting it to your Feed) or in a dedicated space in the Explore where the wider Instagram community can see it. When you share reels featuring certain effects, hashtags, or songs. Your reel can also appear on dedicated pages whenever a user clicks on that effect, hashtag, or song. 
Once you've finished recording the reel and it's ready. Next, you can move to the share screen, where you can change the cover image, save a draft of your reel, tag your friends, add a caption, or hashtag. Lastly, once the reel is shared it can be discovered by the diverse, huge Instagram community on the Explore Page.
Regardless of the kind of account you have, you can share your reel in a direct message, to your close friends, or your Story. This will make your reel to behave like a regular Story – it'll disappear after 24 hours, not appear on your profile, and it'll not be shared in Explore. 
CONCLUSION
Instagram Reels is an engaging and fun way to share a creative and viral snippet with a global audience on Instagram. Even though it was launched recently, it's proving to be a platform where both creators and brands can make waves. 
As a marketer or brand, you can use Instagram Reels to create authentic content that resonates with your audience, showcase products, and share educational content. 
Also, it's good to note that the competition on Instagram Reels is still low, and now is the best time to jump on it. Regardless of the kind of business you operate, there's a creative opportunity waiting for you on Instagram Reels. 
Now, we'll love to hear from you:
What do you think about Instagram Reels? Do you think it has come to stay? Are there other inputs you'd love to add to this article? Please do share your thoughts in the comments section below. 
Enjoy this Article? You May Also Like: