So you now have your content. Optimistically, it was researched correctly and will have substantial effects on your audience when they get to see it.
But how can you transmit these contents to your target audience?
Whether or not you presently use video marketing, you probably must be aware that it can produce implausible results for your brands.
Videos are snack-sized, they convey your company's mysterious persona, and they're appealing to prospects who're looking to consume information rapidly. But beyond the talks of all the benefits, what strategies can you use to drive more qualified leads?
Keywords and Targeting
These are the easiest forms of video campaign targeting for a brand awareness campaign. With pre-roll ad targeting, you'll be able to reach out to your target audience.
But hold on a bit. You'll also need to correctly understand the relationship that exists between YouTube and google search; you need to know how you can perfectly combine YouTube and the search network to get success and results that might not be possible with just YouTube ads alone.
A google search query is a request for information that is carried out using a search engine. Each time a user inputs a string of characters into a search engine and hits the enter key, then a search engine query is made.
So it's essential that before you create any YouTube ad campaign, you need to ask yourself these simple questions:
Who are my target audiences?

What do they prefer watching?

What do they spend their time searching for on google?

What are the specific keywords they use and how often do they use the keywords?
You need to get an answer to the questions before you start selecting keywords and building your target audiences. Once you're able to provide answers to the questions, then it's now time to dive into YouTube pre-roll ad targeting options entirely.
The first three targeting options are appealing, straightforward, and very easy to set.
Language: Set the ideal language and style of videos
Geography: you can set regional limits on viewers for local, national, or international video marketing campaigns
Demographics: Select the gender, parental status, household income, or the age of the audience you want to reach.
The last targeting option below is where it gets fascinating.
Keywords
Topics
Interests
YOUTUBE PREROLL AD TARGETING: KEYWORDS
When it comes to keyword targeting, it's based on a set of competitive keywords which you think that viewers of your ads might likely search for. It's more like a Search Network Ads. One great example of search-friendly and keyword-driven pre-roll YouTube ad campaign is Burger King's tongue-in-cheek, highly talented campaign in Australia.
Burger King: King of Targeting
Rather than crafting out a single pre-roll ad to "rule them all," Burger King made 64 different 15-second pre-roll ads, and each of the ads is targeted to a hyper-specific search item.
Besides, Burger King leans into the trope with the inscription that "ads are bad" and two accompanying characters squeaking alongside you as you wait for the ad to finish.
The salutation of the advertising elephant in the room, alongside the relatable, yet surprisingly specific content of the ad creates an incentive that'll make you want to watch the ad and remember its deal.
It's difficult not to grin as the guys in the ad whisper "incredible, stupid deal" while trying to wave off the pop-up ad banner.
The main reason why the campaign started is because of the fact that Burger King thoroughly researched out the YouTube videos that their perfect customers like to watch and they didn't just place their pre-roll ads there, but they ridiculed the format on the way in, they also laid out a comprehensive picture of their ideal customers with each of their Jimmy Fallon clips, comedy trailers, rugby matches, goat videos, and many more.
While it may seem very easy to put together a 15-second YouTube pre-roll ads, you need to be aware that the bulk of the work is centered around the creation of an ideal customer profile ICP LINK to ensure that the ads reach your target market. If you can enhance your creative direction a bit and focus on making the ads about your customer, then that's what "customer targeting on a silver platter" entails.
Youtube Preroll AD Targeting: Topics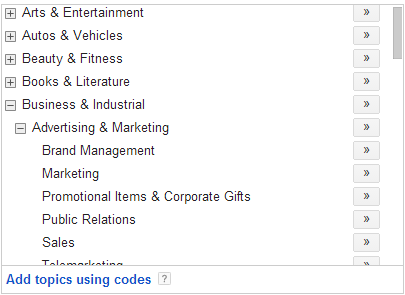 Just like Keyword Targeting, this targeting is a top of funnel marketing. YouTube defines it this way "Topic targeting offers you the opportunity to reach out to a broader range of channels, websites, and videos that are strictly related to the topics you select". The nice thing about topic targeting is its specificity. Incredibly, it gets granular.
Topic targeting is the factor that determines where Google places your pre-roll ad on both Display Network and YouTube. It's, therefore, a very great place to narrow your audience creation after the establishment of relevant keywords.
Youtube Preroll AD Targeting: Interest
Apart from keywords, interest and topic targeting are the key types of YouTube pre-roll ad targeting. While they both use the same categories to look out for viewers. Topics are the sorts of videos that people are watching at the moment while interests are targeted at people who regularly watch videos of a specific topic even though they might be watching something else at the moment.
The difference between the duo is understated but real. Fundamentally, you can choose from thousands of available audience categories to reach out to the audience interested in certain topics.
According to Google, the fundamental difference between interests and topics is that interest targeting can reach out to a large extent of viewers even when they might be visiting pages that contains other topics.
Are you still confused?
Well, the understanding of interest targeting majorly has to do with how YouTube defines audiences.
Youtube Preroll AD Targeting: Audience
Audience targeting is a subdivision of interest targeting, and it allows you to get as granular as possible with your pre-roll targeting. It incorporates the following categories: Custom affinity audiences, in-market targeting and custom affinity audiences.
The broad amongst them all is Affinity Audiences, and they're mostly used to upsurge brand awareness by enabling you to reach out to people with very resilient interest and concern in the relevant topics.
Furthermore, Custom affinity audiences are customized to your brand's specific needs. For instance, rather than reaching out to "Dancers," you can decide to connect with "Salsa Dancers."
Lastly, in-market audiences target an agitated and specific subset of people who're actively interested in buying a product or service. In terms of comparison with the other target audience, this targeting is a more expensive option, but then, it's worth the additional and extra ROI.
Youtube Preroll AD Targeting
: Remarketing & Placement
The two ultimate pre-roll options that are worth remembering are Placement targeting and video remarking. The former is targeted at showing your ads only to those who've engaged with your videos in the past.
Once you're able to link up your AdWords account to your YouTube, then the list will be mechanically generated by Google. You can determine whether retargeting is meant for you. However, it's worth having the option from the start.
On the other hand, placement targeting is more like an outdated ad buy. Here, you place your ads on specific channels, websites, apps, videos and it's centered majorly on targeting audiences based on the traits associated with a TV channel and not a topic.
Placement targeting might be somewhat expensive but then it enables you to know the channels that your ideal customers watch- and by that, you can put more fish in that barrel.
CONCLUSION
It's just so enticing to use laser-focused targeting to slice your target demographics. You also need to remember that according to Google, All the targeting methods which are added to your ad group narrow and not widen your targeting.
YouTube pre-roll ads might be somewhat intrusive, annoying and kind of a pain, but even at that, they're efficient and effective. In 2014 and 2015, YouTube analyzed over 800 different brand video ad campaign and discovered a "65% increase in brand awareness"- this kind of awareness spike is worth being patient for a few seconds for that epic cat video.
Do you have further questions about YouTube pre-roll ad targeting and google search query? We'd be glad to hear from you; leave us a comment below.