YouTube Pre-roll ads are one of the strongest and frequently unexploited digital marketing opportunities. You know them as that 10-30 seconds video that displays before the video you're looking to watch, sometimes giving you the alternative "skip it" and move directly to your video.
Unquestionably, some people find pre-roll ads very annoying. However, if you use them excitingly and helpfully, you could be encouraging a potential customer.
Pre-roll ads are a very excellent way to drive website traffic and build brand awareness, all at a reasonable price. Plus, they've been revealed to provide a more immediate Return On Investment(ROI). Since they're focused on targeting viewers who're ready to buy.
Oh yeah, a lot of that is in the diplomacy of how good you were at identifying your target audience. After a rapid definition, we'll briefly discuss tips on how to perfectly nail your pre-roll campaign.
WHAT IS A YOUTUBE PRE-ROLL AD?
A YouTube pre-roll ad is a video ad that mechanically plays directly before a featured video. These ads are usually 10, 15, or even 30 seconds long.
YouTube pre-roll ads are a top of the funnel type of digital marketing tactic. Pre-roll ads are used mainly to drive website traffic and raise awareness. To exhibit, below is what a 15-second YouTube pre-roll ad looks like:
YouTube pre-roll ads offer a very seamless way to reach out to your target audience quickly. But then how can you make an interruptive marketing element to work in your favor?
A unique combination of factors goes into an effective pre-roll ad: the amount of creativity involved, the relevance of the content and ultimately, timing.
According to a study, it was discovered that about 54% of the survey participants found pre-roll ads on mobile engaging, compared to the 37% on out stream and 44% on mid-roll. It's evident that pre-roll ads tend to perform exclusively better than their mid-roll and post-roll videos counterparts.
It was also discovered that pre-roll video ads yield higher ad recall rates and they're considered less intrusive than their counterparts. Shown below is a glimpse into some statistics which points out the same facts:
Pre-roll video ads are an effective marketing strategy, and users are more likely to retain the message passed when they watch a video than when they're shown image or text ads.
YouTube pre-roll ads leverage the power of video, and it goes a bit further by helping you deliver your message within a short time frame.
Are you fully prepared to jump on the YouTube pre-roll wagon? If yes, then we're here to help you get started.
TIPS FOR NAILING YOUR YOUTUBE PRE-ROLL CAMPAIGN
Time isn't everything, but it's essential:
In setting out YouTube pre-roll ads, you need to be aware that a pre-roll ad with very good timing understands the worth of their viewers time and so it tries to deliver the best content within a few seconds.
The recommended time for YouTube pre-roll ad should be anything within 10 to 30 seconds; and since the advertising elements are interruptive, it's ideal to always keep the ads crisp and short. Though, everything depends on how you utilize those few seconds.
Focus on Targeting:
YouTube offers tons of options to reach your target audience. Aside from the gender and age filter, you can also target your audience based on their interests.
In the user interest pane, you'll find a list of categories ranging from DIYers to enthusiast. Therefore, if you can identify your audience, then you can use this feature to target the right audience. When your marketing efforts are directed towards the right people, you'll be one step closer to an efficient and effective campaign.
Optimize Your Landing Page and Incorporate a Call-to-Action
Now that you've come up with a captivating video and your target audiences are excited to learn about your product. What do you think they'll do if you don't leave them with any call to actions?
There's a huge probability that you'll lose a potential customer even with your captivating video.
So what's the way out?
You can consider using CTAs in your pre-roll ads- this will help your audience to navigate to the next step effectively. What do you want them to do? Are you offering them the guidance to navigate to the next step?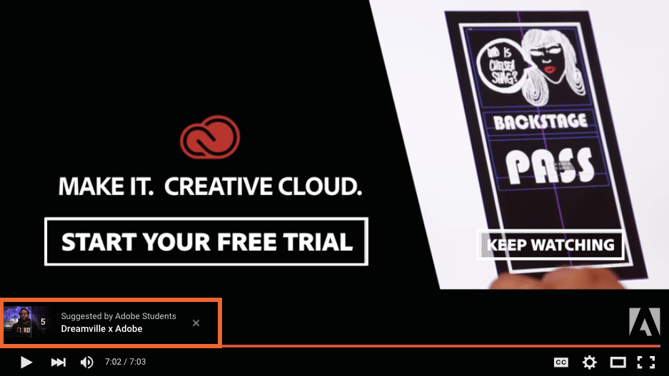 With a compelling call-to-action, all these can be done in a breeze- it helps you to capitalize on the effects of your pre-roll ad.
Ensure to always optimize your landing page by making it align with your marketing goals. A right combination of landing pages and CTA will persuade your users to subscribe and/or purchase your services.
Make Your Message Clear
Always try to ensure that your YouTube pre-roll ads strike a precise balance between what you convey as a brand and what your audiences are looking to watch. If you place emphasis on the former and ignore the later or vice versa, then your YouTube pre-roll strategy might not work in your favor.
By nature, pre-roll ads are interruptive and to dissolve their usefulness, you need to walk around their very fundamental nature. Different brands try to make their pre-roll ads engaging and offer their viewers what they want, but they fail to advertise their actual product.
What do you think that will result in?
Well, you might attract many views on your pre-roll ads, but you might not be able to convert the said viewers into customers.
Grab the First Five Seconds
As much as possible, do not waste the first five seconds of your pre-roll ads flaunting in your brand logo. The efficiency and success of your pre-roll lies in your ability to engage your audience in the first few seconds.
Want to know why?
Even if your audience decides to skip the remaining ad, they'll go with the takeaway because you've already showcased your message clearly and swiftly.
CONCLUSION
Just like every other marketing strategy, YouTube pre-roll ads can work in your favor when you're able to focus on its optimization effectively. While some pre-roll ads have been immensely successful, some few others ended up annoying people.
Also, note that pre-roll ads might not be meant for everybody. So don't get into it because everyone else is doing it. If you feel that pre-rolls ads can benefit you. Then try as much as possible to distill your message to the smallest length and ensure to deliver your relevantly carved-out message within this length.
Do you have further questions about YouTube Pre-roll ads? We'd be happy to hear from you; leave us a comment below.