When your task or project deadline is only a few days or hours away, how can you avoid violating someone else's copyright? As we all know, most documents or articles end up with a summary. An article summary is a brief overview of the article's main points. Let's take a look at some of the Best tools to summarize text.
Creating a concise summary becomes more important as the length of the text content increases. For large project papers, summarizing them will be a tough and time-consuming task if you try to do it manually. And we are living in a world of hurry. No one has time to read a lengthy document.
People who want to go through your piece of writing always prefer to read your summary of the whole article. So to summarize a document in just a few sentences, there are so many best summarizing tools. Before we discuss the best ones, you also know what the summarization process is exactly.
What is a Text Summarization Process?
There is a bundle of information at your fingertips in today's world. There are many blogs, online sites, status updates, and news stories on the internet as well. It isn't easy to find the exact content we need since it's dispersed throughout many places.
As a result, it is necessary to draft a concise summary highlighting key points. Attempting the process manually is virtually difficult. Summarization is condensing huge data into some sentences or phrases with the main idea of the content.
What is an automated summarization process?
Automatic summarization is the process of summarizing large data into short paragraphs automatically. I manually create a summary, first reading and studying the whole content to have an overall understanding of it before writing a meaningful summary.
Unlike manually writing a summary, there is no need to read the whole text first and create a concise summary. This process will generate your summary in just a few seconds with accurate results. As a result, the following are some strong arguments in favor of automated text summarization:
It is possible to reduce the amount of time spent reading.
You can discover certain papers more quickly.
When summarizing is done automatically or semi-automatically, more content will be handled.
You can create customized summaries using a question-and-answer pattern.
Automated text summarizing provides acceptable results. An excellent summary was created just by using the best summarizing tools. Here, we will discuss these tools and list some of the best summarizing tools.
What is a summarizing tool?
Summarizing Tool is an artificial intelligence-based tool that condenses a big document into a shorter one. The essential sentences in a summarized document generally provide an overview of the entire content.
Summarization is characterized as "taking a large amount of material and compressing it into a concise version that contains the essential elements." You can reduce the 3 – 4 paragraphs to a small paragraph with a single button by using the summarizing Tool. For Example, you can easily reduce 1000+ word essays to 200 words.
Best Tools to Summarize Text
Best summarizing tools assist users in making sense of vast amounts of text-based information by identifying essential points in the document. Furthermore, the advanced algorithm of these tools will also allow for the proofreading of these summaries, allowing users to utilize their time in more productive ways instead of proofreading.
As a result, although there are several tools that provide options for this basic function, we have selected the 5 best summarizing tools with their salient features.
The Summarizing Tool by Prepostseo is one of the best free summarizing tools. Using artificial intelligence, this summarizer compresses your lengthy data into a manageable amount of space and generates a concise summary.
It includes essential lines of the text having the main concept of the whole text. The Tool may join three to four paragraphs into a single document by just pressing a single button.
You may summarize information for professional or educational objectives. Regardless of the aim, whether professional or educational, the PrepostSeo summarizing tool is efficient, accurate, and effective when it comes to making a summary of information. This is of the Best tools to summarize text.
It has no effect on the meaning of the text, but it helps in understanding it so that you can deliver the finest summary possible. There are two ways to use this summary generator: you can set how much of the text will be summarized or set how many lines will be in your summary.
Also included is the ability to generate content sequences depending on your ranking and the format you need. The Tool's artificial intelligence algorithms provide points to each phrase based on factors such as word choice, structure, optimization, accuracy, and correctness.
A score is assigned to each phrase, and the technology calculates which phrases are the most important and where they may be located. In addition to grading your writing, it generates a summary of the most important points of the document. Finally, it proofreads the summary text to ensure that there are no mistakes.
The text summarizer.org condensed the text while the main concept of the whole document will remain safe. While summarizing the text, this advanced Ai-based paragraph summarizer assures accuracy and maintains the original context using artificial intelligence.
There are many different types of writing that you can easily summarize, including essays, articles, and blog posts.
This free text summarizing Tool displays the word count of the content that has been submitted into the text input field. So you can easily check the word count before and after the summary to make sure everything is correct.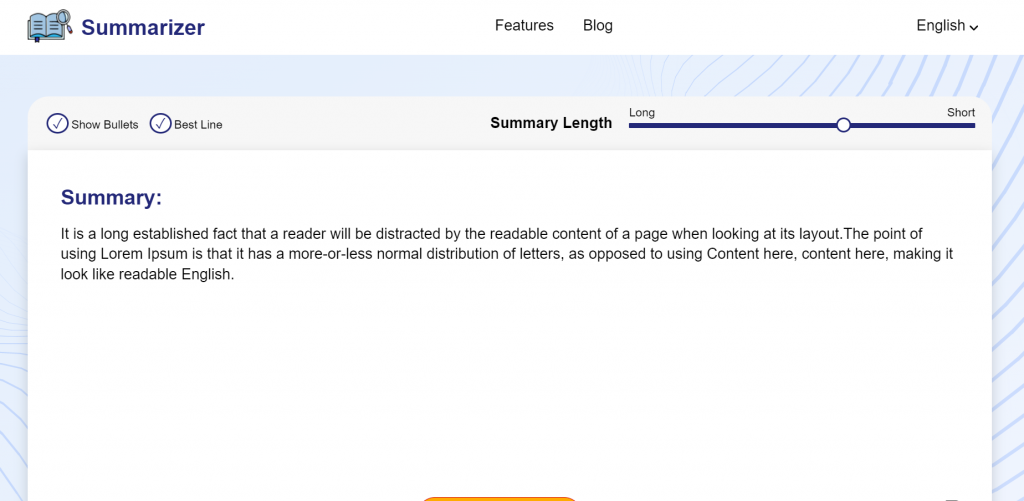 By using this Tool, you can decide on the length of the summary. The results will show in bullets, and this Tool is completely secure and secure. Here's how to summarize your text in a few sentences.
Enter your content into the input box or upload a file to the server.
Use the "Summarize Now" option from the drop-down menu to produce a summary.
When you have finished summarizing the text, clicking on the "Download" option, you can download the summary in.docx format.
You may simply copy and paste the summary content into another document.
With the help of the scroll bar placed at the top right of the input box, you can manually adjust the length of the summary text.
This online text summarizer allows you to get a summary in a variety of languages from a single text file. It is not necessary to summarize the original material in a certain language before summarizing it.
     3. Text Compactor
Text Compactor is another free best summarizing tool that enables you to summarize any part of the text; however, you must first choose the percentage of text (1-100) that you wish to preserve in the summary before you can use it. If you are not happy with the results, you can always modify the percentage and try again.
It is not necessary to register in order to access the ad-free website. You are unable to import URLs or files and save the resulting file. This application includes a handy slide bar for selecting the percentage of content that will be retained in the summarized paragraph.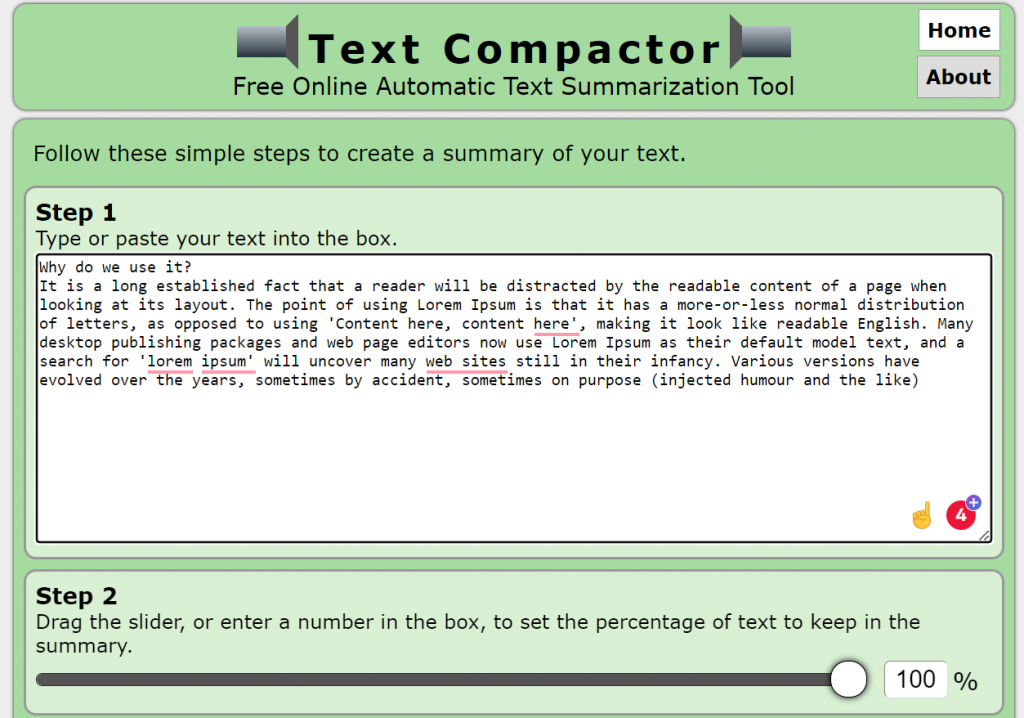 However, if you have a document with more than 500 words, the Tool will generate sentences that hold the main data points. Text Compactor is to assist readers who struggle to comprehend large data, but the basic approach is still beneficial to any busy professional, teacher, or student who has a lot of work.
The software will compute the frequency of each word and its occurrences in a passage once you have entered text into it. It will then provide a score for each sentence depending on how many times each word appears in the paragraph.
Any sentence with the greatest number of occurrences is considered to be the most significant sentence. Readers may disagree with this automatic text summarizing strategy, yet, it tends to function best with reference materials and textbooks or other expository texts.
The findings can be skewed if the text contains just a few phrases. In addition, the Tool has a limited word limit and performs poorly when dealing with friction material, such as tales about imagined locations, people, or events, among other things.
     4. Summarize Bot
In addition to saving time, SummarizeBot provides accurate text summaries, making it simpler to digest vast amounts of content in compressed formats and create a concise summary of given content. With the help of the Tool, you can better spend your time examining the most important and fascinating stuff, allowing you to learn more while reading less.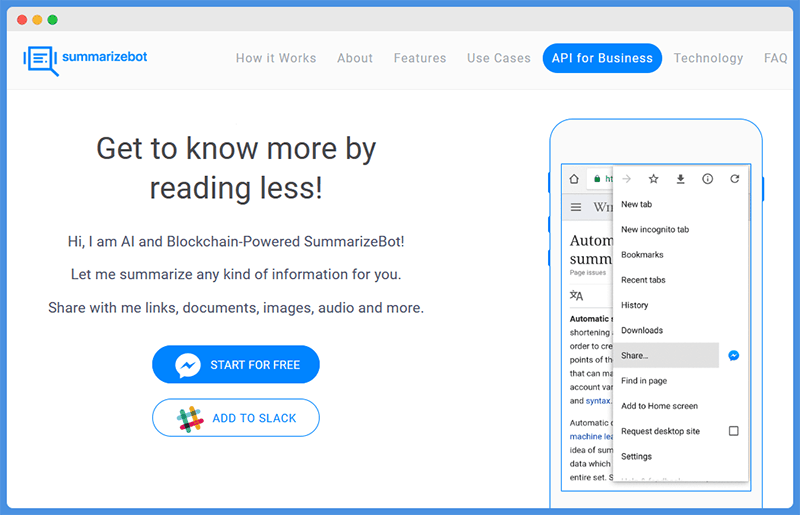 The AI-powered text bot examines a paper, multimedia file, or web link, extracting the essential concepts and condensing them into a summary for the user to read. By becoming more efficient and productive, you can summarize your content online.
Whether you operate a company or not, whether you're trying to complete your assignment as a student, SummarizeBot will assist you in structuring unstructured data by producing improved versions of the data.
The Tool uses advanced technology to give the most accurate summary results possible. It is free of advertisements, simple to use, and allows you to compress texts in order to save time for research. SummarizeBot works with a wide range of file formats, including PDF, DOC, mp3, JPG, TEXT, and practically any language imaginable.
SummarizeBot has no character restrictions and enables you to import and export files or URLs. It also supports several languages. However, it does not have a web version, and if you do not have a Facebook or Slack account, you will not be able to make use of its features.
     5. SMMRY
SMMRY is another one of the best summarizing tools. You can summarize your Texts and articles more effectively using the SMMRY tool.
This is accomplished via the use of an advanced algorithm, which condenses the percentage of content and produces a short description of the overall content. The summary is then restructured by the computer such that it focuses on a single subject.
Additionally, duplicate phrases are removed by this summarizing Tool. This program has all of the important features that are necessary to write a faultless summary. The web service will also summarize content, and it's just a game of copy-pasting your data.
It also has the silent feature of uploading information from a URL or a file. URL uploads reduce the need to make changes to the original content. Simply input the URL into the Tool, and the results will be shown to you after some time. You can also choose to skip exclamation, quotation marks, points, and questions.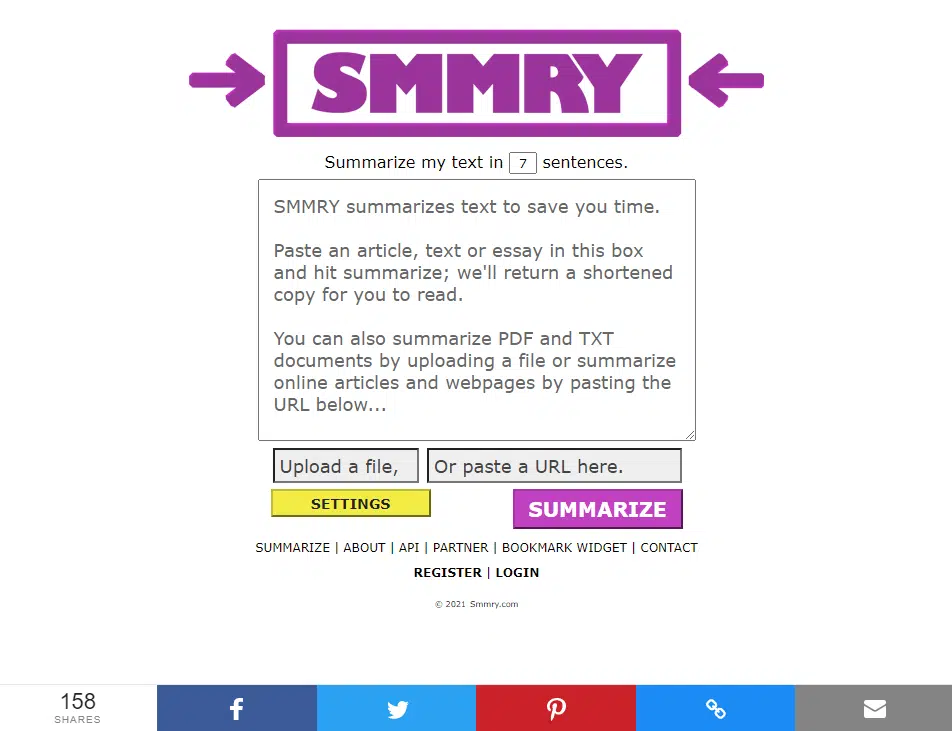 Tips of Summarizing
In any case, whether you are summarizing manually or with the use of an automated software program, you should consider the following tips:
If any thoughts in your text are not vital to the author's thinking, remove them so that you don't copy the author's precise thoughts.
Remove particular instances and small elements from your summary.
It is best not to include personal answers or thoughts in your summary.
Even if you just utilize a few of the author's words, make sure they're enclosed in quote marks to make them more readable.
When you are summarizing your work, make sure you include all of the elements in the original context to ensure that the writer's point of view is not lost in summarization.
Your summary should be brief, and it should only include the elements that are informative. Include just the most important paragraphs in your summary and leave out the rest.
The summary serves as a representation of the author's point of view.
Don't make any points more than once in a row. You should also avoid including your points.
Combine the concepts from the original texts while making sure that it is consistent with the other sentences.
Conclusion
The skill to summarize your work is critical whether you are a student, teacher, business researcher, professional, or writer who is writing a newspaper article, academic paper, or
other reports. Using this method, you may condense the most important elements in the text into one or two paragraphs. It allows you to recreate the overall ideas and convey them in detailed but exact language.
With the help of these summarizing tools, you can be sure that you will get an overview of the essential ideas from a long piece of information without having to depend on the author's language to build your arguments. Above, we discussed some best summarizing tools that you can use to assist you.
Enjoy This Article? You May Also Like: