Consumers' first impression of your organization or brand is often based on your website. So it is essential to ensure that your website reflects the quality and professionalism of your business. Design elements and website features that were advanced and effective before may have become dull, overdone, and cliche. Losing conversions as your website doesn't have the latest design elements is the last thing you want. That said, let's take a look at the must-know Web design trends for 2022
As we approach 2022, web designers consider both the past and the future. Design aspects from the 1990s are reappearing, albeit with more advanced technology. This blog will dive into a few must-know website designing trends for 2022.
Must-Know Web Design Trends
If you don't keep up with the new web design trends, you will miss out on a lot. With time, designs have gone for an approach that makes it interesting as well as user-friendly.
     Mindful and Minimalist Design
Minimalism is a prominent web design style that is both timeless and modern. The minimalist design aesthetic is a combination of aesthetics and functionality. Every design element has a purpose.
The minimalism concept of design exponents eliminates unnecessary designs until only the essentials remain. Moreover, too many items in a web design might cause loading times to slow down. This can be highly problematic for your website conversions.
User-friendly and easy navigation are standard features of minimalist websites. It makes imaginative and robust use of typography as a design element, with simple color choices. Any animated background transitions are likewise kept to a minimum.
As it makes conversion paths simpler and directs the user's attention to the CTA, minimalism has shown to be successful in generating sales.
     3D
Visuals will never be the same again, thanks to 3D animations. The web page comes to life as a result of this.
Floating graphics with 3D features are indeed the growing concept. This design makes use of subtle shadowing to give the impression that a feature is protruding from the screen. 3D floating elements are an excellent way to draw visitors' attention.
Augmented reality (AR) will be present in web pages by 2022, with advances in 3D animation revolutionizing online design. Visitors to today's AR-enabled websites can view products in 3D animation and even utilize AR to see how an element fits into space or their own body.
It is intended to have increased engagement, functionality, and user experience, which will ultimately lead to increased profitability.
     Personalization
Give your website visitors what they want! Personalization is a concept that can make it simple for your website visitors to easily find what they are looking for. Users who return to your website for the second or third time may benefit from personalized content.
For online e-commerce marketers, personalized content is more vital. By displaying recently accessed, saved, or loved products for online customers, your e-commerce website can get better conversions. Moreover, returning customers can be reminded of their abandoned carts' contents to maintain a greater conversion rate.
Users have come to demand individualized website content without even realizing it. It will become an even more prominent focus for a successful web presence in the future.
     Chatbots
Chatbots are now popular and will continue to be significant in 2022, another example of personalization. Furthermore, chatbots will become the standard for simple customer service inquiries and "personal shopping" as artificial intelligence and machine learning become more powerful.
Your chatbot can be programmed to respond to your most frequently requested questions. If a visitor asks a question that the bot cannot answer, it will either connect them to a live agent or capture their contact information so that someone may follow up to address the query. A design trend worth considering is anything that makes websites easier to navigate and visitors more likely to convert.
     Voice-activated Interface
How we obtain information is evolving. Google now recognizes vocal patterns to help you find the song. A voice-activated interface is intended to simulate the sensation of a dialogue between a device and the user, allowing users to perform activities and search for information only using their voice.
As a result, web design is evolving to accommodate the growing popularity of voice chatbots and virtual assistants. While most websites do not have a voice-activated interface, this is increasing for 2022.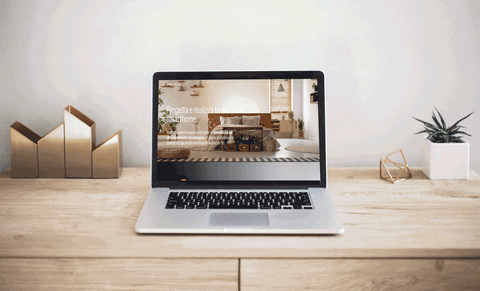 Responsive Design
According to various sources, digital traffic is mainly generated through smartphones and tablets. As a result, responsive web designs are inevitable. They use mobile devices to generate and convert additional leads.
This is true not only for e-commerce websites but also for other websites. Organizations must respond to their consumers' requirements.
Users also desire a consistent experience across all of their devices, with websites that look, feel, and act the same. Responsive websites maintain the same appearance and feel across all platforms, allowing users to start up where they left off on one device on another.
     Data Visualization
Data visualization is one of the most important web design trends to take note of. People understand better with visuals. This highlights the need to communicate data engagingly.
Data visualization helps people comprehend things better and conveys the information you want to get through. Numbers and statistics thereby generate better conversion rates and also hook potential leads.
Data visualization generates graphics from your data that entice your website visitors to learn more about your business or organization. Infographics and graphs are two of the most used ways to visualize data.
     Dark Mode
The dark mode is a popular trend that has been around since 2019, and it is still going strong.  Dark mode was created to increase readability in low-light situations. However, it has evolved more.
Dark mode is pleasing to the eye, reducing visual strain. Many app developers have made it a non-negotiable to provide an optional dark mode, and online design trends follow suit.
With more users finding it more appealing, dark mode is ever trending. The best way is to develop a design that functions effectively in both bright and dark contexts. Colors must stand out against both light and dark backgrounds, and the font and text colour must always be legible.
     Retro Fonts
Vintage fonts or Retro fonts are making a comeback. Retro trend displays a variety of contrasts in real-time across all devices such as laptops and smartphones.
The utilization of such fonts will draw your audience's attention with their bold and well-defined messages that scream out loud with the memorandums covered by their styles and attractiveness.
     Social Media Inclusion
Every brand has a solid social media presence to more effectively connect and interact with its target audience. Integration of social media has already become an essential aspect of website design.
Web designs in 2022 are likely to include social media links and icons for easy access in multiple locations on the website, including header, blogs, etc.
Wrapping Up
This blog has provided you with a better understanding of the essentials as well as the anticipated must-know web design trends for 2022
Your users will ultimately decide whether or not your website is worth visiting, so user experience should be at the forefront of your design. Your website must align with your buyer persona.
With changing times, changing trends, rising competition, and consumer requirements, there is a rising need to utilize various digital marketing tactics. The best advice regarding web design will always be to keep up with the trend so that your website doesn't get a FOMO!
Enjoy this Article? You May Also Like: