Earning extra money on the side is always a plus; with Instagram bonuses, it just got much easier. This guide will show you how to make money using nothing but your Instagram account and some creativity – Instagram Reels Bonus.
So, whether you're looking for a little extra spending cash or want to save up for a big purchase, read on for easy tips that can help you earn money with Instagram. Who knows – with a bit of hard work, you might even be able to quit your day job!
Key Takeaway:
The new Instagram reels bonus allows Instagram to pay you a bonus for every video you make. The more views your video gets, the more money you will earn.
To qualify for the bonus, you must be over 18 years. You will also need to link your bank or PayPal account to Instagram. Instagram will deposit the money into the payout method you choose every two weeks.
So, if you're looking to make some extra money, Instagram Reels is a great way to do it.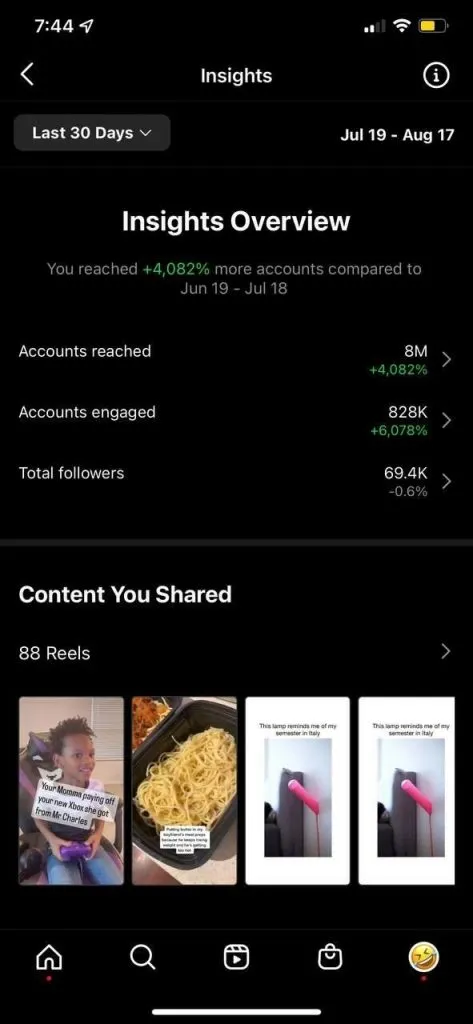 What is the Instagram Reels Bonus?
Like the Snapchat spotlight feature, Instagram has also decided to reward creators for their creativity. The Instagram Reels Bonus is a way for users to make money by creating short, engaging videos on the social media platform. To be eligible for the bonus, you only need an active Instagram account and creative ideas for your videos.
There is no set amount of money that you can earn from the bonus, as it will depend on how popular your videos are and how many people view them. However, it is possible to make a decent income from the bonus with a little effort.
How do I create a Reels video?
Creating a Reels video is easy! Simply open the Instagram app and tap on the camera icon in the top left corner. From there, select "Reels" from the bottom of the screen.
You'll then be able to choose from various video editing tools to create your masterpiece. Once you're happy with your video, hit the "Share" button and choose whether you want to post it to your feed or share it as a story.
What type of content should I include in my Reels videos?
There is no one-size-fits-all answer to this question, as the type of content you include will depend on your personal interests and the audience you are trying to reach. However, some popular ideas for Reels videos include:
How-to guides
Product reviews
Hilarious skits
Music covers
Dance routines
Personal vlogs
As Instagram pushes itself toward a more 'video-based' platform in hopes of taking out TikTok, they are also pushing reels more and more on users' feed. Even reposting content from TikTok counts.
The content does not even necessarily need to be your own; just make sure you ask creators for permission to post it and give credit to avoid getting a potential copyright strike that could lead to your loss of reels bonus.
Remember, the key to creating successful Reels videos is to be creative and have fun! It will show in your videos if you're not enjoying yourself, and viewers will quickly lose interest.
Not having any strikes on your account could boost your chances of achieving reel bonus access on your account.
How to check if your account has any strikes or violations
To check if your account has any strikes or violations, go to your Instagram Settings, then to account, and finally, Account Status. You can see how many strikes you have on your account if any.
Strikes are harmful; too many and you can lose your account. It takes a full year from the time you received the strike for the strike to be cleared.
Instagram reels views hack.
There is no surefire way to guarantee that your Reels videos will get views, but you can do a few things to increase your chances.
First, make sure to post your videos at times when your audience is most active on Instagram. For most people, this means early in the morning or late at night.
You can also try using popular hashtags in your posts so that users searching for specific content will be more likely to find your videos.
Finally, one of the best Instagram reels views hack or ways to get views on your Reel videos is to share them with other users. If you have friends or family members who are also active on Instagram, ask them to share your videos with their followers.
Please note that if people share your reels posts or video to their story, those views they get on the story view will stack on your video, but just having them repost your video on their page is NOT going to count for your reels bonus.
Notwithstanding, collaborating with bigger pages will get your post seen by more people in general. The Instagram reels bonus is a new feature that should be used to its utmost potential for activity and engagement driving.
You can easily start making money from the Instagram Reels Bonus with a little hard work and creative thinking. Just remember to have fun with it, and don't be afraid to experiment with different ideas until you find something that works well for you. You could earn a nice side income in no time with a little effort!
Instagram reels bonuses eligibility
As long as you have an active IG account, It's more random, if anything. You don't even need to use hashtags in your reel or receive any perceived number of likes on your reel to become eligible for the reels play bonus program.
Simply having an account and posting reels could grant you access to one of the bonus options. Of course, your account is eligible for monetization and COULD be chosen after concluding the previous reel bonus time frame.
First, you get a message saying your account is eligible for monetization, and then you MAY eventually get chosen for the REELS bonus.
Below are some basic requirements necessary to be eligible for the bonus payment from Instagram.
To be eligible for bonuses on Instagram, you must:
Be 18 years or older and a resident of the United States.
Have an active Instagram account.
Have created at least one reel on Instagram.
The bonus is non-transferable and cannot be redeemed for cash or other prizes. This promotion is subject to change or cancellation at any time without notice. By participating in this promotion, you agree to their terms and conditions.
How do you get paid for the Instagram bonus?
Bonus payments will be made within two weeks of the end of the campaign period. If you meet all the eligibility requirements, you will receive a notification from Instagram informing you that you have been selected to receive the bonus.
Payments can be made directly to your bank account or via PayPal. If you do not have a PayPal account, you can create one for free.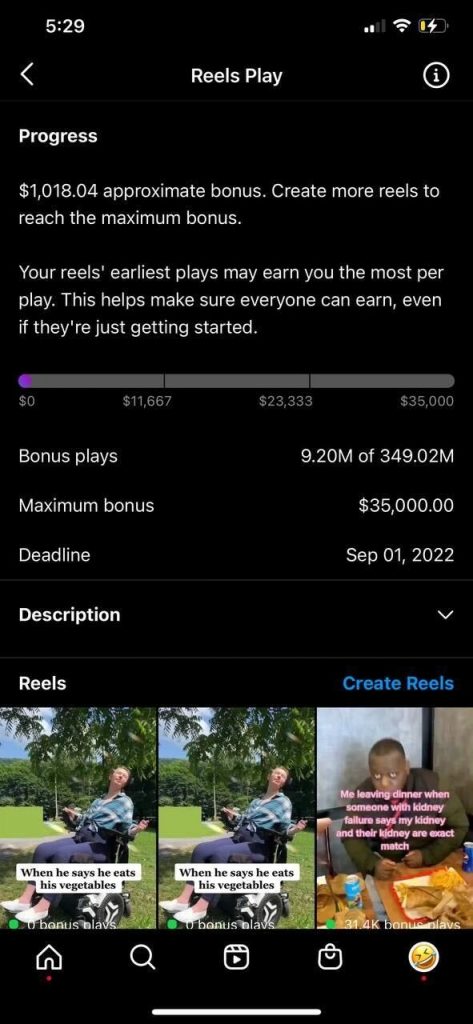 How much does Instagram bonuses pay?
The bonus payment amount will vary depending on the number of likes and views your reel receives.
Not all reel bonuses are equal. There are three different amounts you can receive and have the potential to make up to, $1,200, $8,000, and finally, $35,000 being the maximum.
Just because your account has a bonus doesn't mean it's a walk in the park, but it is something to work towards. It has been implemented into the platform to encourage content creators to start making content back on the platform and post more general content.
How to get invited to Instagram reels bonus
If you want to be eligible for the bonus, follow all the above requirements. Once the campaign is over, Instagram will select a certain number of participants to receive the bonus. You will be notified via Instagram if you have been selected. Make sure to read all the terms and conditions before participating.
How many followers do you need for Instagram bonus?
Instagram did not outright give a specific number of followers to be eligible. Having a certain number of followers is not necessary. In fact, some IG accounts with no followers have reels bonus on their accounts. But according to an interview by TechCrunch, the creators they spoke with had between 800 – 59,000 follower bases.
Can you get paid for old Reels?
Yes, as long as the reel was created during the campaign and meets all the other requirements, it will be eligible for the bonus.
What to do if the Instagram reels bonus disappeared
If the bonus disappears from your account, or if the Instagram reels bonus is not working, it means that you are no longer eligible for the bonus.
This could be because you did not meet all the requirements or because the campaign period has ended. If you think there has been a mistake, you can contact Instagram support for help.
When will I get my Instagram reels bonus payment?
Payments will be made within two weeks of the end of the campaign period. You will receive a notification from Instagram informing you that a payment has been made to your PayPal account. Make sure to check your PayPal account to see if the payment has been made.
How do I activate my reels bonus?
There is no need to activate your bonus. You will automatically be eligible for the bonus payment if you meet all the requirements.
Can I get paid for views on my Instagram reel?
Yes, but payments are based on the number of views and likes your reel receives. The more views and likes you get, the higher the bonus payment will be.
Conclusion
The Instagram Reels Bonus is a great way to earn extra money by creating fun and entertaining videos. You must also meet all the above requirements to be eligible for the bonus. You will be notified via Instagram if you have been selected. Make sure to read all the terms and conditions before participating.
Enjoy this Article? You May Also Like: