Digital marketing has already taken over all aspects of business in the world. Now, COVID-19 has forced companies to increase their digital presence to remain in the market. Now more than ever digital marketing tools are essential to maximize your businesses online performance. 
Of course, being fast, accurate, and creative are necessary if you want to outdo your competitor. Not every boring article and picture on your site or social account can help you build your bottom line.
Just like any other task, digital marketing also needs tools for better performance. Automation tools, for example, have recently drawn the attention of digital marketers to bring accuracy and speed to the process of digital marketing.
Digital Marketing Automation Tools
Fortunately, there are numerous free and paid digital marketing tools out there to help you boost your business.
Based on Social Tradia, using these digital marketing tools can really improve your digital presence and increase the price of your blogs or social media accounts.
Here is a list of 6 top digital marketing automation tools in 2020 to help you boost your business online.
1. Aritic PinPoint
Aritic PinPoint is one of the most useful tools for automating you digital marketing. It's a fully integrated marketing platform that is particularly popular due to its advanced features for automation and customer engagement.
It allows business owners and marketers to track the behavior of visitors to help them build a successful marketing strategy.
Aritic PinPoint was primarily used by B2B marketers for lead generation. It also provides lead scoring using CRM and CMS integrations.
2. HubSpot
HubSpot is a perfect tool, especially for inbound digital marketing. It lets companies and marketers change their outbound marketing, which is kind of annoying, into an inbound lead generation.
As you know, reaching out to as many organic niche audiences as more is a vital task in digital marketing. Fortunately, the purpose of this software is to enable businesses to be discovered by more and more potential customers in an organic way.
Moreover, you can try a free version of its digital marketing services to know the power of this automation software. It's also good to become familiar with the HubSpot blog as a great source of information for digital marketing tools.
3. Marketo
Marketo is a powerful and user-friend software for digital marketing. It provides big and small organizations with advanced cloud-based digital marketing features.
Using it can greatly help you reach out to niche customers and develop long-lasting ties. Its free trials are perfect to become familiar with the power of automation tools in marketing.
4. Omnisend
Omnisend is another useful automation tool for digital marketing that increases your engagement rates. It can help you understand your customers' purchasing behavior using the customer journey at different points.
With this tool, you can include all of your channels into a single automated marketing process. Its analytics feature enables you to sort your audiences based on their behavior.
Therefore, you can initiate digital marketing campaigns based on the information taken by your customer.
5. Sendinblue
Sendinblue is a versatile automation feature that helps users to boost their sales and digital marketing processes easily.
It's actually one of the most cost-effective tools for automated email marketing in the world. This is why many marketers choose this tool to bring them the highest profit possible by each dollar spent.
Even the free services of Sendinblue enables you to build an unlimited contact list and tag them with as many features as you want.
6. SendPulse
SendPulse is another digital marketing automation tool. It provides you with various channels such as SMS and emails to help you reach your niche audience everywhere anytime.
You have the chance to configure all types of notifications to be sent according to your client's actions.
This feature is called triggered emails which is of great use to marketers especially during the COVID-19 pandemic. It also provides some additional features like a bonus service to encourage your customers to engage with you.
Bonus Tool: Adplorer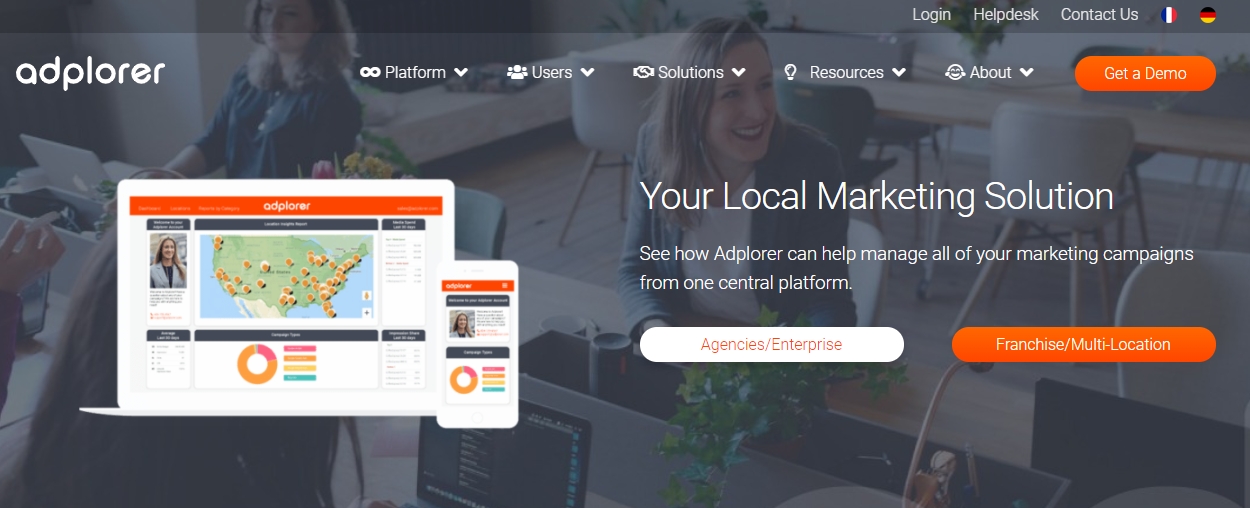 Adplorer's Local marketing software is the world's first all-inclusive digital marketing automation platform.
With this software, it is easy to manage local marketing campaigns and scale them across thousands of Enterprises, Franchise Locations, and SMBs. Adplorer has also created a new revolutionary way for optimizing and managing multi-location marketing campaigns.
  Internal marketing departments and agencies use Adplorer to automate the creation and management of campaigns on Google, Bing, and Facebook.
Adplorer will help you scale whether you are a Multi-Location business, a Marketing Agency,
or a Manufacturer
Takeaway
This was just a summary of the abilities of several top marketing tools. If you want to get ahead of the competition you need to search deeper and wider to find other digital means of boosting your business. For example, social media automation tools such as Crowdfire can be very useful for your marketing strategy. So try to stay up to date and aware of the most recent trends in the market.