Hey there, we're here to show you how to use TikTok marketing for your business.
We've discovered that several people haven't heard of TikTok, and a handful of others aren't even aware of the possibilities on TikTok.
Undeniably, TikTok is enjoying a lot of popularity right now. But there are uncertainties about what advertisers can do with it, how many people use the app, and the opportunities on the platform.
Some people even see TikTok as just a lip-syncing app for teenagers, but it's more than that.
When appropriately used, TikTok can help your business or product to get noticed by a vast audience.
InfluencerMarketingHub reports that TikTok has over 500 million global users, and it was the most downloaded social media app in the world in September 2019.
If you're a business owner looking to create greater visibility and expand the reach of your products and/or services (especially to a younger audience), then it's essential to establish a presence on TikTok.
Did you get that right?
TikTok is a viable channel for marketing, and brands shouldn't ignore it.
Any social media platform with half a billion users is going to attract attention from governments and media giants.
As a breakthrough app, TikTok has already caught the eye of forward-thinking brands looking to market their products to new audiences.
When you create content on TikTok and collaborate with users, you can quickly gain vital insights into Gen Z and also stay ahead in the digital trends.
If you recall, back in 2005, Facebook was a disruptive game-changer, they had a young adult and teen audience, and this transformed the world as we know it. In the e-commerce world, victory is always for those who adapt best to change.
That said, let's dive into the world of TikTok marketing.
HOW TO KNOW IF TIKTOK IS RIGHT FOR MY BRAND?
More than before, a lot of Gen Z are now on TikTok to embrace their creative side. Furthermore, more brands are now starting to experiment with TikTok as well.
Brands like Nike, NFL, NBA, Gymshark, HP, Guess, and Elf Cosmetics are now using TikTok to show their lighter side and engage with a younger audience.
But how can you know if TikTok is the right platform for you?
Well, it might be right to get on TikTok if:
Your target demographic is Gen Z. This set of the younger generation is said to have known and loved technology since 1995 (their year of birth).
Your key performance indicators align well with the platform. TikTok for business is unlike other social media platforms because it's great for increasing brand awareness. TikTok places less emphasis on generating leads or traffic. Instead of promoting a specific product or service, TikTok's centered around posting hilarious videos and partaking in challenges.
It's appropriate for your business. Some brands need to stay professional, and thus, a fun video platform might not be suitable. You also need to consider whether or not your business is visual. For instance, an accountant might find it difficult to generate content on TikTok. while a bakery can get creative with different products.
You have enough time to add a new social media platform to your marketing plan. How frequently will you be able to post content? Will you be available to engage with your content creators and followers? If no, then it's better to just focus on your existing marketing strategies instead of trying to manage a new brand.
BENEFITS OF TIKTOK FOR BUSINESS
One of the utmost benefits of TikTok marketing is that it allows brands to have some fun with their marketing campaign.
For instance, when a brand creates and sends out entertaining videos, it becomes so easy to attract followers, making their brand memorable, and also build lasting relationships with their customers.
The greatest of all is that you don't need any form of specialist equipment to create excellent videos. All these can be done using the app.
Another exciting benefit of TikTok for marketing is that brands can easily use videos to go viral, especially if they attach a challenge to it. If you'd love to craft captivating content, then you can have a good read of this article.
What's more, when you organize a TikTok challenge that people find interesting, your content will be created by your followers.
For instance, in the Pepsi India challenge (#SwapStepChallenge), participants were asked to make a Swap sign with their hands. This, in turn, triggers Pepsi branded sunglasses. The glasses also flip in the air when they nod their head.
Pepsi recruited Salman Khan (an Indian producer, TV personality and film actor) to be their brand ambassador. Salman kept on encouraging his followers to join the challenge. Other famous creators on TikTok also took part in the challenge.
In the end, #SwapStepChallenge turned out great. It became the fastest brand hashtag content to reach a milestone of 1 million uploads. Presently, it has about 36 billion views on TikTok.
Just like it's with other social media platforms, users can search for content they're interested in. So, with the right hashtags, you'll become more accessible to new followers.
Lastly, with a TikTok business account, you can always get useful analytics about your followers and content. Thus, it becomes very easy to establish a successful and effective TikTok strategy.
TIPS FOR BRANDS LOOKING TO UTILIZE TIKTOK FOR MARKETING
If you're looking to reach a broad audience and build more creative video content, then it's best to jump onto the TikTok bandwagon.
Here are some tips on how to utilize TikTok for marketing:
1. PUNCH UP YOUR VIDEOS
What'll you do to old video content that your brand has formerly uploaded on other social media platforms?
While you think about the question, we'll advise that henceforth you shouldn't get away with such videos. It's generally believed that for your video to be engaging and exciting, then it needs to go above and beyond.
Basically, you need to "punch up" your video before uploading it on TikTok. Here are some tips on how to achieve this:
Time is essential – so, always go straight to the point
You should keep your videos at 15 seconds
Be as informal, candid, and humorous as possible. These types of videos tend to perform the best.
Add music for more brand visibility and engagement
2. BE YOURSELF AND HAVE FUN WITH TIKTOK'S TRENDS
One of the first things you'll notice when you get on TikTok is that it's a little like being back in a college, or high school, all over again.
The platform is full of highly creative content from younger users. These set of people love to hop on the trends and are true to the image they've created for themselves. They also don't take the platform too seriously.
In the real sense, TikTok is a place for fun, and any brand that approaches the app with fake content or video messaging will find it hard to build a loyal following.
According to Victoria Thompson (social media manager at Haystack Digital), brands that want to fit into the TikTok scene need to be "true to themselves."
She believes that it's better to create a lighthearted video that displays your brand and services rather than trying to create the next meme.
You can always research other similar brands on TikTok to come up with a social strategy and marketing plan. However, you need to ensure that you don't stray too far from your brand's primary messaging.
Furthermore, your TikTok videos should be engaging for fans, unique, and enhance your branding objectives.
3. START USING TIKTOK NOW TO UNDERSTAND HOW IT WORKS
Alex Zaccaria (Co-Founder of Linktree) believes that even though there's a rise in the number of TikTok downloads, most brands are still testing TikTok.
So, this is the perfect time to conduct a trial for your business. He suggests that brands can use the app to experiment with video content styles, explore, and even understand their essential functions.
Indeed, we also believe that now is the time for brands to get in early, test the platform, and learn from several tactics before starting broad campaigns.
Zaccaria also recommends that businesses shouldn't overextend their social media efforts. If the audience on TikTok isn't suitable for your brand, then you can as well refocus your efforts onto different video platforms like Instagram or YouTube.
Social media is one of the native advertising channels that small brands can use to find their audiences. Usually, brands that create the most reliable content will get the most rewards.
HOW TO USE TIKTOK FOR MARKETING
Giving that it's still in its infant stage, TikTok doesn't fully support advertisements at the moment.
We do expect some significant changes in the future. But then, here are some ways brands can use TikTok for marketing:
1. CREATING A PROFILE
Perhaps, the cheapest way to get involved in TikTok marketing is by creating a profile, building an audience, and producing content. A lot of TikTok Influencers drive traffic using their TikTok Bio-Link. Though there are other ways you can make videos that promote your brands and attract viewers.
Usually, a lot of people don't use the TikTok app for commercial purposes. So, brands need to get involved and understand the type of content that dominated before starting an account.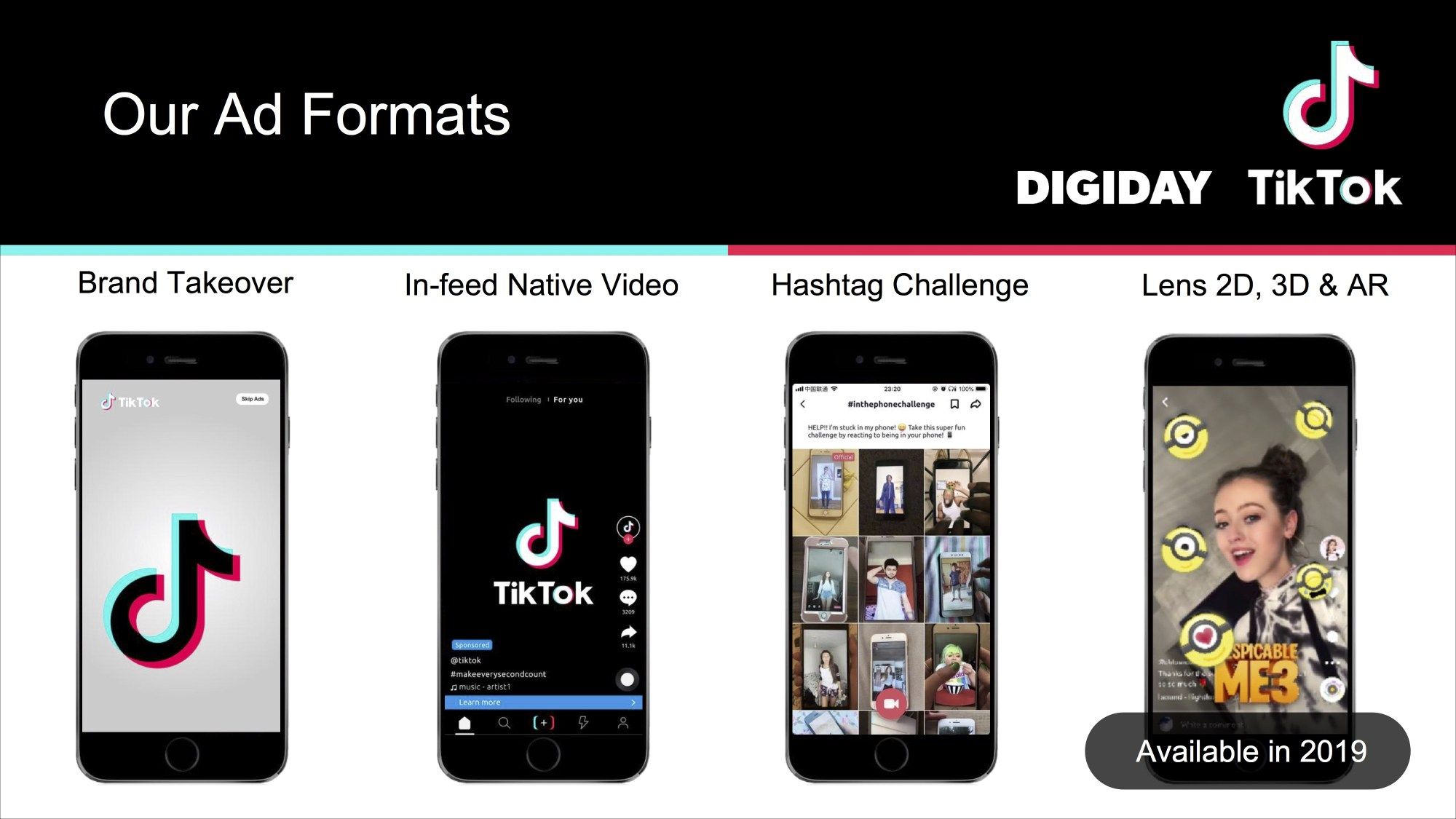 2. PAYING FOR OFFICIAL TIKTOK ADS
When talking about TikTok ads, this might seem like the obvious answer. But then, at the moment, this option has a restrictive price tag and is only accessible in certain countries.
Paid TikTok ads come in any of the following forms:
In-feed ads: Videos that appear as users scroll
Pre-roll ads: Videos that get displayed as soon as a user opens TikTok
Branded effects: A customized effect filter that creators can use in videos. The effects are similar to those on Instagram and Snapchat, but they feature brand-specific information
Just like we mentioned, TikTok ads are quite expensive. If you've got $150 to spend on promoted hashtag challenge and around $50k to $100k to spend on ads, then this is a good option.
But then, TikTok ads seem to be perfect for the domain of brands like Guess, McDonald's, and Universal Pictures.
3. WORKING WITH INFLUENCERS
Another way to use TikTok marketing for your business is by partnering with trusted and tested TikTok influencers and having them promote your products.
A lot of brands (from the established brands to smaller entrepreneurs) are now working with influencers.
Though, it's not always easy to direct traffic to your website from TikTok videos. Due to the fact that you can't insert clickable URLs in your TikTok video captions.
One way to work around this is by asking influencers to include the link to your store in their video comment section or bio.
4. SHOPPABLE VIDEOS ON TIKTOK
You've likely heard of the availability of shoppable videos on TikTok. This is a new option that's currently being verified by some TikTok influencers.
Similar to shoppable posts and the "swipe up" feature on Instagram, shoppable videos allow users to include a URL to their TikTok ads video. That way, users can be taken to their store with just a single tap.
TikTok has confirmed that it's testing this feature. But it hasn't stated when it would be rolled out to a broader audience.
We're hopeful that when released, shoppable videos will open TikTok up to influencers by making it easier for brands to sell directly from their business' profile.
TIKTOK FOR BRAND MARKETING IDEAS
1. PROMOTING YOUR BRAND WITH TIKTOK CHALLENGES
TikTok challenges are contests set out for everyone to complete. One way to nurture and market your brand on TikTok is by joining and adapting your brand to this new trending strategy.
If done correctly, your followers will grow significantly, and your brand's popularity will grow exponentially.
A lot of media personalities (like Jimmy Falon) are already making use of this strategy on TikTok. Recently, Jimmy began a TikTok challenge centered around NBC's "The Tonight Show Starring Jimmy Fallon."
He also organized a #tumbleweedchallenge – where viewers were asked to submit TikTok videos of themselves rolling like a tumbleweed on the floor.
In less than a week, the competition had over 10.4 million engagements and more than 8,000 submissions.
2. USING TIKTOK VIDEOS FOR CROWDFUNDING PITCH
This option is suitable for an entrepreneur who has startup ideas and needs funding for the idea. Though getting money from crowdfunding platforms isn't as easy as people see it.
First of all, you need to convince potential investors to invest in your business idea. This is where pitch videos come in handy – you can create TikTok videos that deliver essential information about your project.
3. USING TIKTOK VIDEOS AS PRODUCT DEMOS
If you're looking to launch a new product or demonstrate how your product works, then you can use TikTok to create buzz and product demos.
Yeah, product demos could be one of the greatest ways to use TikTok videos. Videos are the perfect medium for showcasing products in use, and TikTok is an excellent platform to consider.
So, if you've got a product-oriented startup, you can use TikTok marketing to showcase what you have and make your ideas known.
In the end, your product demos will go viral. Thus, impacting your brand visibility and product sales.
THE WRAP
In this article, we discussed ways to use TikTok marketing for your business.
As you get on the platform, always remember that Tiktok is all about excitement, fun, and creativity. So, it's important to always add a bit of fun and creativity to your video clip.
When you treat people with respect and courtesy, you'll get to have a better experience of TikTok.
Now, we'll love to hear from you.
What do you think about TikTok marketing? What are the best TikTok marketing strategies that you can recommend? How can brands create TikTok marketing campaigns? Please, let us know in the comments below.