Corporate videos are videos a company creates for both internal and external communications.
Potential hires want to know what it's like to work for your company and corporate videos are a great way to make them aware of your values and company culture.
But how do you effectively use video content to engage and attract top talent?
By creating engaging corporate videos that tell your brand story and showcase your company's culture.
Read on for tips on how to showcase team culture via corporate videos to get prospective hires interested in working for your organization.
Why is it Important to Showcase Your Company Culture Using Corporate Videos?
Company culture is a key ingredient for business success. According to a PWC survey, 67% of executives believe that company culture is crucial to the success of an organization.

Image via PWC
Core values and beliefs are key elements of a company's culture.
By learning how to showcase team culture via corporate videos, you can demonstrate to potential hires that your company cares for its employees and supports personal and professional growth.
Below are a few reasons why you need corporate culture videos to attract top talent.
To Correct Misconceptions
Potential candidates may have heard some negative things about your business online. A disgruntled ex-worker may have posted online that your workplace is toxic.
Potential hires will likely come across this information when researching your company. As such, you want to use informative corporate videos to break these misconceptions about your company.
To Show How Fun Your Workplace Is
Nobody looks forward to working in a dull environment. To get more candidates to choose your organization, you should show them how exciting working for your organization can be.
With a video showing your team culture, you can showcase some of the fun activities employees engage in. You can also show off all the cool features in your office space to get candidates excited about your organization.
To Tell Your Brand Story
Top candidates are attracted to work for organizations that solve big challenges for the enhancement of the human race. Knowing that they are contributing to a worthy cause is a major pull for many candidates.
By using the right online professional video editing software, you can split videos, and add subtitles and music to videos that showcase what your brand stands for. Using videos you can tell your brand story in a way that allows you to form an emotional connection with your audience.
5 Ways to Showcase Team Culture via Corporate Videos
Here are five ways you can use corporate videos to showcase your company culture and attract top talent.
1. Share Employee Testimonials
Employee testimonials are quite useful when you need to convince potential hires to join your company because they:
Showcase how employees feel about their job
Show what employees like about the company
Explain why others should consider working for the company
Videos featuring employee testimonials can really reinforce your brand since they offer a personal experience that potential candidates can relate to. This can help you attract top talent to apply for the open positions in your company.
Luckily, making employee testimonial videos is not that difficult. Ask your employees to talk freely about their work experience and record them as they do so.
Make sure you let each employee talk freely instead of reading from a script to create more trustworthy and impactful videos. You can then share snippets of these videos on various social media channels to attract top talent.
According to Attrock, brands can leverage the right employee advocacy tools to boost their employee advocacy ROI.
2. Share Onboarding and Training Videos
How do you show that your organization is committed to employee development?
Through creating corporate videos related to employee onboarding and training.
Professional development is an aspect of corporate culture that prospective hires value. If you want to attract top talent, you must show them that your company is committed to nurturing their skills and increasing employee productivity.
Sharing what the onboarding and training process looks like will get candidates excited to join your company.
3. Use Humor Where Necessary
Gallup's State of the Global Workplace report found that 44% of the global workforce is stressed.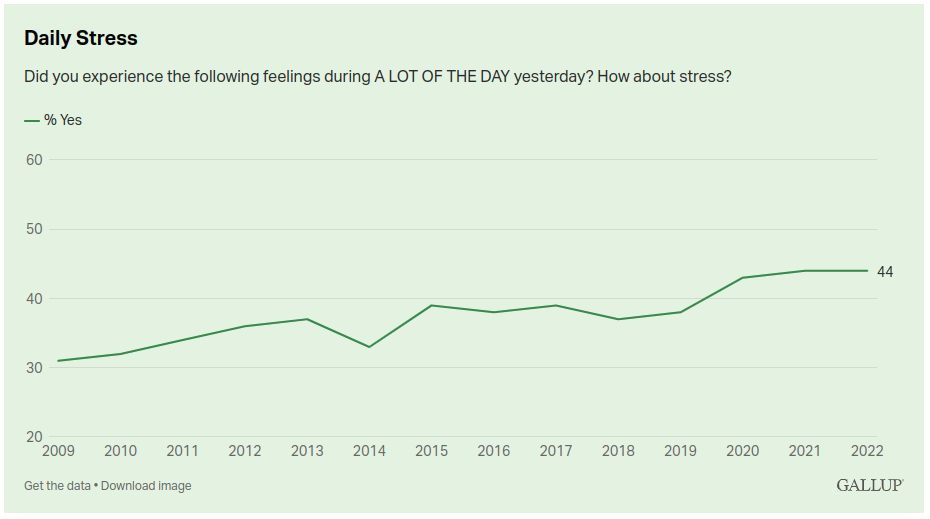 Image via Gallup
So, rather than uploading boring and uptight videos, use humor to lighten things up. The top talent in any industry will likely have a lot of offers. So make sure you don't push them away with your boring corporate videos.
Use your creativity to make your corporate videos engaging to give viewers a reason to watch them to the end. For example, you can create an office bloopers video to showcase funny mishaps and funny interactions at the workplace.
Another expert tip is using AI-text-video-generators to quickly create videos based on written content. These will help you create stunning videos with the type of messaging you want without spending hours on video editing.
Using humor and fun elements will humanize your brand and show potential hires that your company is the best place to be if they want to have a fulfilling professional life.
4. Highlight Diversity and Inclusivity
Another effective way to showcase team culture via corporate videos is to share videos that showcase how your organization supports diversity and inclusion. Take this opportunity to celebrate the rich background and experiences of your employees.
Feature employees from different genders, age groups, ethnicities, and abilities, highlighting their successes and contributions to the organization.
These videos will showcase your commitment to providing equal opportunities to people, irrespective of their gender, ethnicity, or background.
This will not only help you attract a broader range of talent but also demonstrate to potential hires that your company is committed to fostering a respectful and welcoming environment for everyone.
5. Share Employee Recognition Videos
Recognition is very important in the workplace as it shows that companies appreciate the hard work employees put in every day.
The leadership must not take credit for all the company's success. They must recognize the role played by individuals and teams in achieving specific objectives.
Doing so helps boost employee morale and motivates other employees to do their best and get recognized as well.
Sharing such videos online will also enhance your recruitment efforts. Potential hires want to know that their efforts will not go unnoticed in your organization and such videos can help convince them of that.
You can share regular employee recognition videos every month or quarter. This will also give you regular content for your social media channels.
Publish these videos on your website and share them on social media to send a clear message to potential hires that your company has an appreciative work culture.
Final Thoughts
Candidates want to join organizations with a positive culture that supports their professional and personal growth. Fortunately, it's easy for you to showcase your team culture via corporate videos as I've explained above.
Just ensure that you use the right video editing software to give your videos a professional look. This will help you leave a positive impression on your audience and encourage more shares online, which will draw more people to your organization.
Enjoy this Article? You May Also Like: