Are you a business owner looking for case studies of a successful marketing funnel? If yes, then you're in the right place. In this article, we'll talk about three case studies of a successful marketing funnel. We'll also give you an overview of the different types of funnels, and how your brand can create a marketing strategy that converts.
To begin with, it's worth noting that as your business scales, one of the most vital factors that'll help it grow steadily is a marketing funnel. Without a marketing funnel, it becomes more challenging to identify the areas of your business where you could enhance to generate more income.
Necessarily, marketing funnels are a structured path that a potential customer follows. It begins from the point when they hear about your business down to the point when they make a purchase.
Yes, a marketing funnel focuses on a buyer's experience and journey, from start to finish.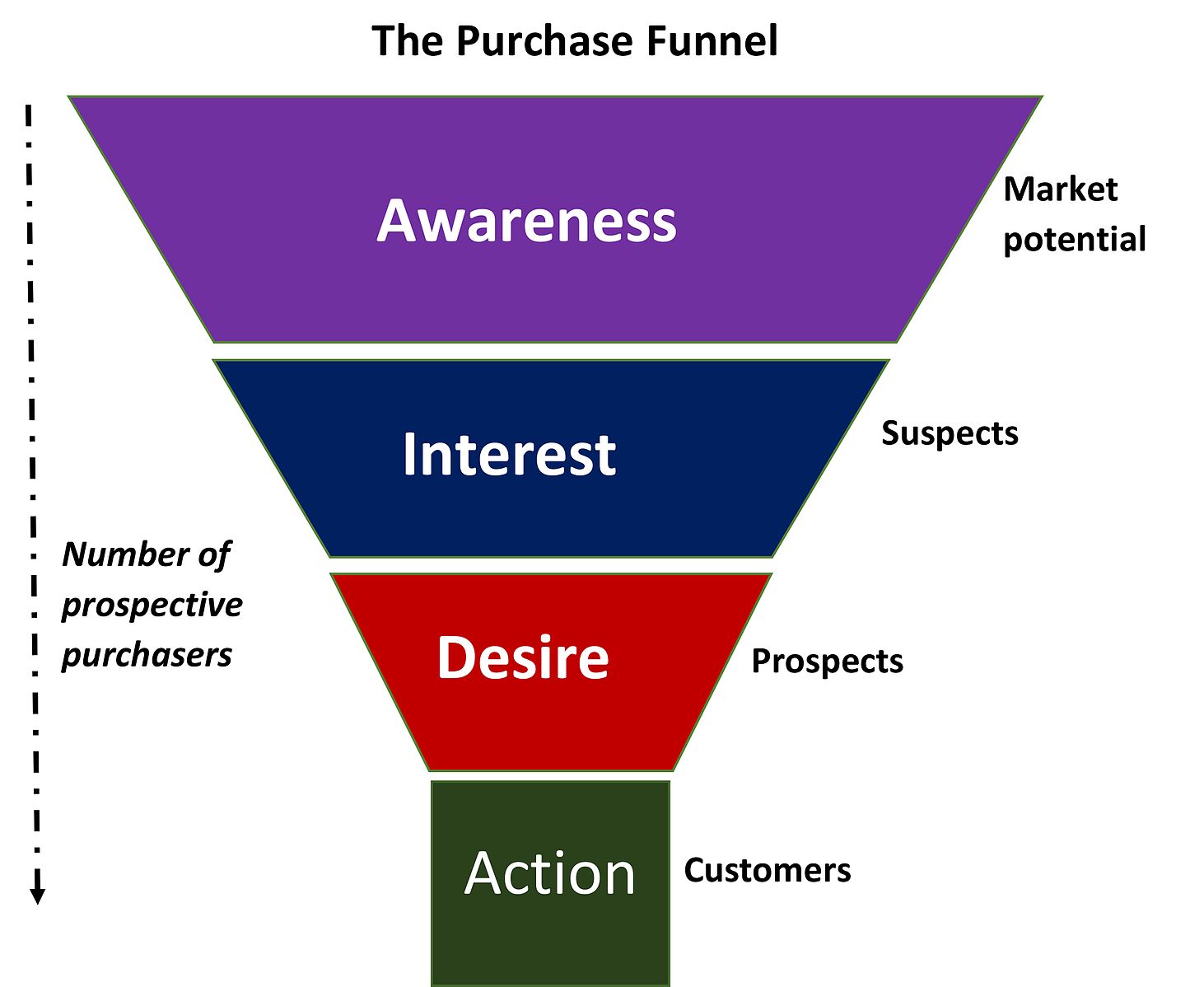 TRADITIONAL MARKETING FUNNEL
Generally, the traditional marketing funnel comprises four phases: AIDA.
The Awareness phase typically consists of paid advertising, e-books, blog posts, and other content. The principal aim of this phase is to make more people aware of your business.
The Interest phase aims to engage people and make them interested in your brand. One way to achieve this is by collecting email addresses.
It is at the Desire phase that your prospects opt-in to your email list and then compares your products and/or services with that of your competitors. At this phase, content like case studies and whitepapers tend to be effective.
The Action phase is the final stage. It's the natural conclusion to the steps listed above, and it's at this phase that prospects decide to make a purchase.
Even though this outline covers the basics of what a marketing funnel should do, marketers also use other funnel formats.
CONVERSION FUNNEL
According to Neil Patel, a conversion funnel is a funnel which places more emphasis on lead nurturing, customer behaviors, and retention at every step of the process.
Here are some of the questions asked at each step of the funnel:
How do we make potential customers more aware of our brand?
How do we lure them with a tempting offer?
Why would they not be interested in our offer, what can we do to make them interested?
How can we identify and anticipate their needs?
The conversion funnel is more open-minded than the traditional marketing funnel. That's because it doesn't just stop when prospects buy your products, but it works to make them recurrent customers.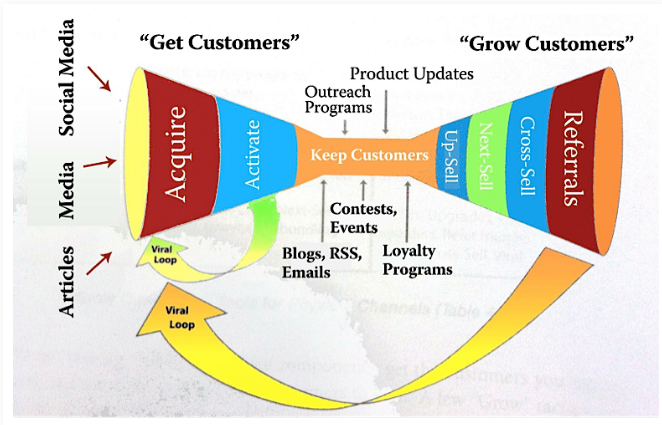 Here are the steps in the conversion funnel.
Step One: Attracting Customers
This step would likely involve driving of customers to a website's landing page through social media, articles, etc.
One mistake that most brands make at this step is not understanding what their customers want. For instance, here is a landing page for a college that specializes in nutrition courses.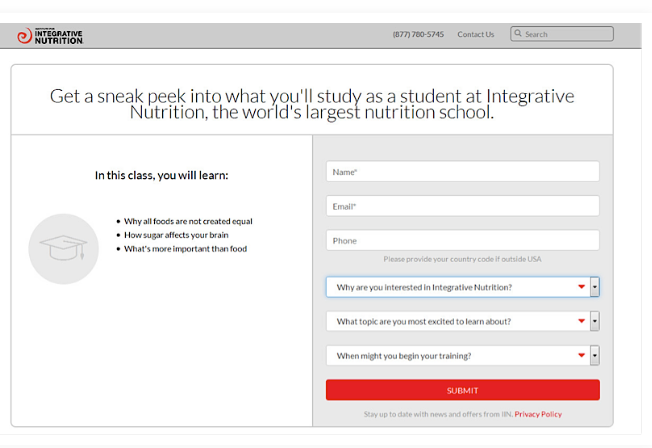 From a customer's perspective, many unanswered questions on this landing page will prevent them from completing the form.
Questions like:
Where can I find the course catalog?
When I have an inquiry, who do I talk?
What do other people say about the course?
And others.
Without getting answers to these questions, customers won't be motivated to enter their information. This'll prevent you from moving them down the marketing funnel.
Step Two: Encouraging Action
How do you entice your prospect to take action? By creating an emotional investment via a series of "quick-wins".
Once your prospects are allowed to achieve a quick win, it'll encourage them to take one small step at a time. For instance, a quick win on IG would be guiding your prospects to create their first picture.
According to Growth Hacking Pro, "quick wins are your customer's instant reward for undergoing the struggle of learning about your brand, giving you their email and going through your registration process. It should be a small taste of your products' basic experience".
For instance, check out what Seamless did below. Their target customers are busy professionals who have little or no time to either cook or plan their next meal.
To help them out, the company created mobile-friendly, short messages that come with a discount code.
Then they sent the follow-up code shown below:
Their message is concise and shareable.
Step Three: Build a Content Plan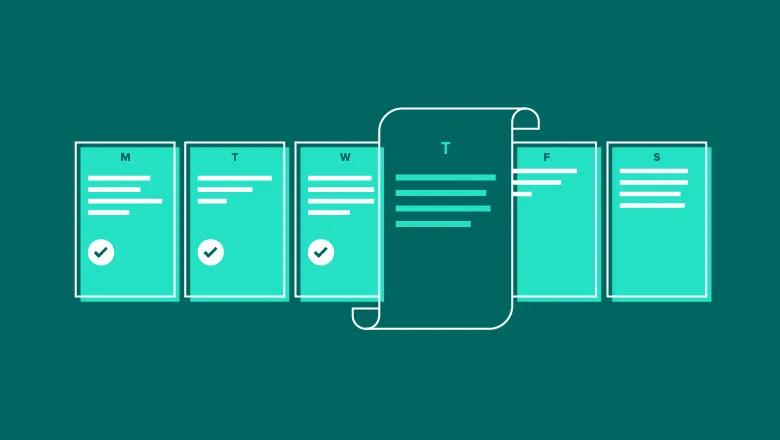 In a bit to explain this point well, Neil Patel gave an example of a computer repair store.
In the first stage of the marketing funnel, you'll use social media, local media outlets, and other contents on your blog to talk about some of the computer repair problems that customers have.
At this point, you're trying to get more people familiar with your service offering and convincing them of your proficiency. As they journey down the funnel, the drive for purchase would be "urgency-based" because those in need of a computer repair help need it urgently.
Once customers have made a purchase, you could increase the likelihood of repeat business and referrals by adding local contests and events, outreach, and loyalty programs. New software and upgrades could also be an excellent way to cross-sells and craft up-sells to get more customers to purchase more than once.
A useful piece of content for new prospects who arrive at your site is a "start here" page. A page that tells them about your brand and what you have to offer.
Step Four: Get Referrals
In addition to getting more purchase from your current customers, new customers are also 71% more likely to buy products based on social media referrals.
Dropbox got incredible results with their referral program. In just 15 months, their online users increased from 100,000 to 4 million.  In one month, their users sent out more than 2.8 million referrals right from their platform.
Many factors led to Dropbox's success with referral marketing: both the person that gives the referral and the referred person gets something (like more space in their account).
Here are some points you need to remember when building your referral systems:
Find out the target market that could get the most benefit for any referral they send to you.
Inform the market about your target customers
Offer enticing incentives for the referrals
Make your system as rewarding as possible.
It's worth noting that what you do after getting your conversion is much more vital than what you did to get those customers to convert.
After a customer transacts with you, here are some of the things they want:
They want to be sure that they made the right decision
They want to start using your product quickly
They want to know how to make a return or request for a refund
They want to see support opinions in case they have any questions.
The major difference between conversion and tradition marketing funnels is that the former doesn't make the assumption that a customer's journey ends after a purchase. Instead, it continues until the customers become supporters of your business.
Now, let's dive into case studies.
CASE STUDY ONE: CRAZYEGG
CrazyEgg is a SaaS company that offers a heat map tool which businesses can use to understand the interactions of their users on their site. Their marketing funnel is broken down into the following phases:
Awareness
This is the first phase of any funnel. Before readers can be persuaded and led down the process to make a purchase, they have first to become interested in your service offering.
The marketing at this phase involves blog content, paid traffic, and optimizing for SEO to get more awareness. Below is one of the brand's Facebook ads that were used to build awareness:
Here's another example of content that was also used to create awareness:
If you're a reader and you're looking for ways to boost your e-commerce revenue, then you'll find CrazyEgg's posts on the first page of Google Search Engine Results.
Interest
The second phase in CrazyEgg's marketing funnel is centered on directing readers to their website. From the website, prospects can then be able to express further curiosity in the business by entering the URL of their website and seeing a heatmap analysis about the factor that's making their visitors leave.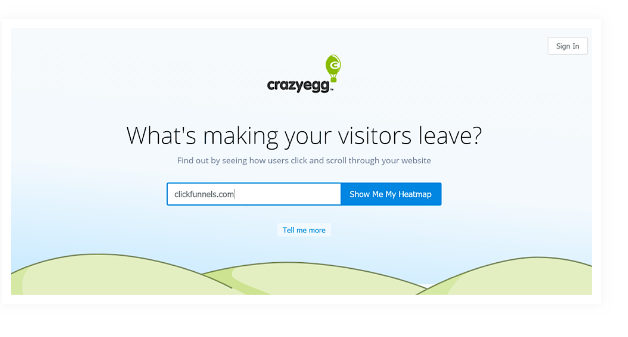 Decision
Once prospects enter their brand's URL in the box, they're directed to a page which requests access to their Google Analytics Account. Afterward, they're directed to a pricing page, where they're asked to choose a plan out of many pricing plans.
The prospects can either bounce or select one of the options right away. If they decide to bounce, CrazyEgg will send them a lead nurturing autoresponder sequence for a particular period.
For instance, according to Clickfunnels, CrazyEgg develops a cordial, sustainable relationship over time with their audience by sending educational emails or "how can I help you emails" to give leads more info about the company and their product.
Sale
Ultimately, when the leads are ready to make a purchase, they're directed to a page where they're encouraged to fill out their billing information. On the same page, CrazyEgg also included a list of common questions and logos of popular brands that work with them.
Here's why CrazyEgg's marketing funnel works:
They set cookies on customer's browsers. So that they can quickly pick up at the right place within a funnel, anytime they revisit the site
They offer a 30-day free trial period. Thus, there is minimal risk for the buyer
They give customers genuine value at every phase of the funnel.
CASE STUDY TWO: GRASSHOPPER
Grasshopper is a virtual phone system that business can use to set up toll-free numbers. Their marketing funnel has brought them more than €30 million in a year.
Even though their funnel looks like that of CrazyEgg, they streamlined theirs by removing a single phase from the funnel sequence. This reduction is responsible for their success.
Awareness
Usually, this is the first step in the marketing funnel. At this stage, Grasshopper leveraged different forms of content, including blog posts, YouTube videos, and paid traffic to get their brand's message out to many people.
Grasshopper distinguished themselves at this stage by creating engaging, funny videos. For instance, this 80's Entrepreneurship Training video got more than 260,000 views.
In addition to the YouTube channel, they also have a blog that contains valuable content for entrepreneurs (their target market).
Interest
Once a prospect stumbles across a blog post or watches a YouTube video, this brand has some built-in ways for directing the prospect to their homepage.
For instance, they presented a link to their website at the end of the training video.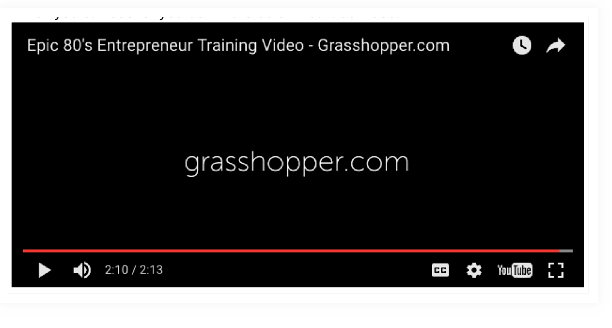 On their homepage, they also outlined a money-back guarantee, a few unique selling points, and an enticing CTA.
Immediately a prospect clicks on the "see how it works" button; they're taken to a sales page where they're persuaded to sign up. This page contains all the information that prospects need to make a decision and other credibility markers.
Decision
Once the prospects click on the sign-up button, they're directed to the pricing page with different plans. All with a 30-day money back guarantee.
Grasshopper also included press features and recognized brands as social proof to boost conversion. Their marketing strategy works out because the product is clearly explained throughout the marketing funnel. Through this, they're able to weed out unqualified leads.
CASE STUDY THREE: BASECAMP
Basecamp is a project management tool which businesses can use to collaborate efficiently. (If you're interested in learning more about Basecamp as a project management tool, check out this comparison with a Basecamp alternative.)
Their marketing funnel is similar to that of CrazyEgg. They begin by building awareness for their brand and products. Afterward, they direct prospects to a page when they can express their interests. Furthermore, the prospects are then directed to a page where they can make a decision.
Awareness
This brand doesn't run much-paid ads campaigns, but they share relevant content on their blog. The blog posts are meant for their target audience.
Interest
Once a prospect comes across one of the Basecamp's blog posts, referral links, or social media updates, they might likely land on the company's homepage. Where they're immediately encouraged to provide their email address and other details.
Once potential customers submit their details, they're directed to the final stage of the funnel.
Decision
Lastly, leads are directed to a page where they can sign up for a free trial. They'll also receive an email on how to sign up.
After signing up for the free trial, they can create their dashboard or begin with a sample Basecamp dashboard.
This marketing funnel is successful because it leads people from prospect to leads in just two clicks. High friction is one of the reasons that make many people drop off in different parts of a marketing funnel.
Friction is anything that reduces conversion. Examples are too many forms that need to be filled out, slow landing page, a CTA action button that's hard to find and more steps than necessary in a funnel.
In the words of Chris Goward (the CEO of WiderFunnel), high friction is one of the destroyers of e-commerce sales. It leads to a loss of about €1.8 trillion in abandoned shopping carts yearly.
By keeping their marketing funnel efficient and reducing the number of steps, Basecamp is able to maintain high conversions.
HOW TO CREATE A STRATEGY THAT CONVERTS?
Want to create a marketing strategy that converts?
Here are some tips to consider:
Target the likeliest buyers
Start from the top of the marketing funnel and guide your prospects all the way
Create loyal customers, repeat buyers, and brand advocates
Automate your marketing funnel
Ask for feedback, know the needs of your potential customers.
CONCLUSION
Just a recap.
In this article, we talked about the tradition marketing funnel (AIDA approach) and conversion funnel. Then we dived into three case studies of a successful marketing funnel. Afterward, we listed out points on how to create a marketing strategy that converts.
No matter the kind of marketing funnel you're using for your business, you'll still have to guide your prospects right from the time when they first hear about your brand to the time they're ready and willing to make a purchase. In doing so, try to reduce friction in your marketing funnel.
You also need to know your customer's want, so that you can push them through your funnel as quickly as possible.
Let's hear from you: what marketing funnel do you use for your business? What can you say about the three case studies outlined in this article? How do you think a business can improve its marketing strategy? We'd be eager to hear from you; leave us a comment below.