Everyone is looking to increase affiliate sales, but without proper knowledge, one might as well be shooting in the dark. But there is no need to feel left out anymore as the information shared in this guide will fully equip you with all the critical strategies, techniques, and hacks that you will need to become a pro at making affiliate market sales. 
The techniques mentioned in this guide are tried and tested and proven to increase your affiliate sales income. You could even apply these strategies to your own content and start growing your affiliate earnings today. 
Strategy #1: Use 'Call To Action' Buttons 
The goal of creating articles is to disseminate information and to improve affiliate sales. But if those links are hard to find, then hardly will any of your readers turn into leads. The basic thing to understand here is that most readers scan the article and click on whatever seems prominent. 
Call to action buttons that are easy to spot will allow you to improve your Click-Through Rate (CTR) and, in turn, conversion. Using ad tracking software would be the most beneficial thing here. One example of adding the click URL to your Call to Action button on your page is as shown below.
The same can be done via WordPress as well, which has an in-built call to action button. It can be customized as per your preference and design to increase the CTR.
Strategy #2: Make Use of Tables
This is another simple way to improve your CTR through affiliate links. This is especially true if you are creating articles with a lot of lists. Adding a prominent table that condenses your article information and presents its most salient points in a clearly identifiable and actionable manner will get more clicks. 
It also allows readers to digest the essential points of your article in a simpler form. Various programs and content page creation sites will enable you to create tables through in-built plug-ins that also include Amazon plug-ins to improve sales. 
Strategy #3: Exit Intent Pop-Ups
For those of you who are unaware of the exit intent pop-ups, these are pop-ups that come up when users click on the close button and are about to leave your site. Any pop-up that uses the AIDA framework (for Attention, Interest, Desire, and Action) will increase clicks. An example of this is given below: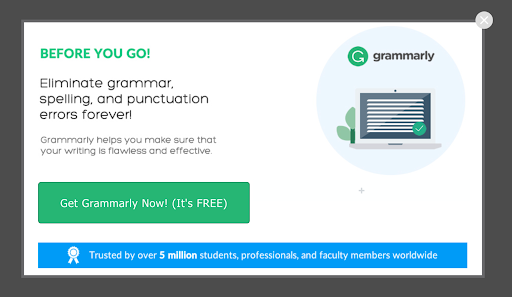 The bottom strip highlights social credibility and works to enhance conversions further. 
The exit-intent pop-up feature can be accessed via various tools and plug-ins. Here are some additional tips that may work for you:
Use the AIDA framework to create your banner.

Create multiple variants of the banner and test them out.

Use the banners on pages that are most likely to assist in conversions. 
Strategy #4: Look For New Offers
Many new bloggers simply copy the offers that are being promoted by others. Although this does work, a lot of untapped offers are left aside. If you want to outsmart other bloggers and make your readers click on your site, you have to look for offers that no one else is promoting. 
Being the first one to promote a particular offer doesn't have to require hours of searching. This could be achieved simply by browsing through the dashboards of existing affiliate networks. Explore these once in a while and discover some amazing affiliate offers to promote. 
At the halfway mark, we transition from practical steps to increase affiliate sales to the theory side of things. This needs to be incorporated into your plan; without it, the practical aspects alone are not going to be of great help. 
Strategy #5: Create a Keyword List Based on Affiliate Words
Keyword research has to focus on keywords that are informational, commercial, and transactional. Some of the keywords that could improve your sales include the following:
Coupon
Promo
Discount
Offer
Improve
Compare
Alternatives
Cheap
Best
Strategy #6: Ask For Increments From Affiliate Managers
This is one of the most powerful yet most underutilized tricks to improve affiliate earnings. Every affiliate program has a page on which they provide details regarding how much commission they offer. If your own website or YouTube channel is well established and you are the source for a fairly good number of sales every few months, you could reach out to the affiliate program manager and request a commission increase.
If the program offers a 15% commission, you can ask for an increment of 10-15% straight away. You could provide a bit more exposure to the product on your platform. The best time to ask for an increment is when you're planning to do a review. Even though the increment may not seem like much, it does make a big difference in the long run.
Strategy #7: Build Upon Your Reputation
The most useful tool that you have is your reputation when it comes to making money. If your audience trusts you and the information you provide, it will be easy for them to trust the products you're promoting. 
You could also make money with leads if you don't want to sell the product yourself. However, always be aware of where you're leading your audience and be careful of how it impacts your reputation. If you're looking to promote a product yourself, try it yourself and write about it. Make simply tutorial guides or write-ups on how the product helped to transform your life. This way, people will come to know the rationale behind your judgment, and you could even clear some common questions regarding it through videos or blog posts. 
Strategy #8: Use SEO for More Traffic
The more traffic that you have on your site, the better your chances get of improving your affiliate sales: that's the golden rule in online money making. Your site has to be built around the idea of attracting people through good content and visibility on search engines. Ensure that your website contains SEO optimized content as it will get your site a better ranking when searched about online. 
Conclusion
Improving your income from affiliate sales doesn't require a revamping of your website and its content. You only have to ensure that you tweak your content the right way and get more people to click on your promoting offers. The more you do it, the easier it will become, and the bigger your affiliate sales income will get.