Hey there. Have you been looking forward to knowing more about shoppable feeds on TikTok?
If yes, then you're in the right place.
In this article, we'll give you an overview of what you need to know about shoppable feeds on TikTok.
For starters, we'll like to state that most leading social media platforms are always looking for ways to understand their user's shopping behaviors.
On Pinterest, it appears to be personalized ads that are centered around what people pin to their digital board.
On Snapchat, it's centered around testing out exclusive drops with Adidas or Jordan Brand.
Other social media platforms like Instagram and Google are also diving into the crowded place with checkout options and shoppable ads.
Gladly, even TikTok isn't left out.
With the introduction of shoppable feeds on TikTok, the platform is trying to pave the way for eCommerce purposes and also give brands access to their user's shopping data.
Shoppable feeds is a new feature (still in its test phase) that'll allow video creators to add links to their videos for eCommerce purpose.
The shoppable feeds on TikTok is like Instagram's "swipe up" feature in Stories, and at the moment, it can only be accessed by a small group of TikTok users.
[et_bloom_inline optin_id="optin_20″]
WHY SHOULD WE CARE ABOUT SHOPPABLE FEEDS ON TIKTOK?
Just like we mentioned above, social commerce is now gaining traction, and many social media platforms are now incorporating new capabilities that support their e-commerce goals.
These social media platforms are now giving advertisers the tools needed to make their customer's purchasing journey as seamless as possible.
Pinterest's plan to expand shoppable pins to visual searches and Instagram's in-app check out features are among the latest examples.
The introduction of shoppable feeds on TikTok reveals that the platform is now looking for ways to appeal to the commercial interests of potential advertisers and creators.
Earlier this year, TikTok began testing shoppable ads that drive customers outside the app, and the recent development of shoppable feeds allow shoppers to purchase even without leaving their social network.
With more than 500 million global audiences, brands are now looking for ways to reach their Gen Z audience.
According to TikTok's spokeswoman, TikTok is continually looking for great ways to improve the app experience for users. The platform is also focused on bringing joy, inspiring creativity, and adding value.
Below is a summary of TikTok's recent ad offering and some of its partnerships with big brands.
AD FORMATS
Even though TikTok is yet to roll out its ad capabilities (such as full-screen video ads and augmented reality lenses) as listed on its website, some early adopters are already testing select formats.
Brands like Chipotle Mexican Grill and Guess have partnered with TikTok on sponsored hashtag contests, which places branded hashtags on the app's discovery page.
Last spring, Hollister Co. (a fashion retailer) ran a series of in-feed video ads. Furthermore, Grubhub (a food delivery app) is said to have tested video ads on TikTok in January 2019.
TikTok has also become famous for influencer marketing, specifically for brands who are looking to leverage the platform's video creators.
According to a representative from TikTok, the hashtag unit is the only ad product that's officially available in the U.S.
But then, a leaked pitch deck gotten from Ad Age indicated that TikTok offers the following ad format: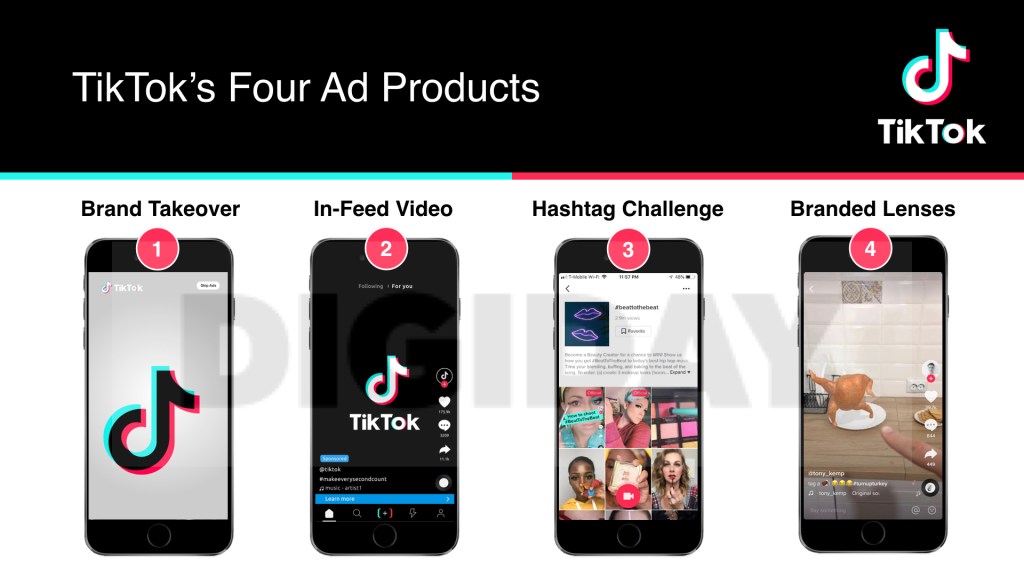 INTRO TO TIKTOK AD FORMAT
Hashtag challenge:
An ad format that allows brands to interact with their audience and encourage them to create and share hashtag content.
In-Feed Video:
In-feed videos are a native format that uses short-form, immersive video styles that are seen in TikTok user videos.
Brand Takeover:
An immersive, full-screen ad format that is displayed whenever the app is launched for the first time.
Hashtag challenge plus:
Hashtag challenge plus is an upgrade of the hashtag challenge format mentioned above. It features a shopping category that's embedded on the second page of the challenge page.
Users can click on the discover tab to view and buy products. Once they select one of the products, they'll be directed to a page where they can make purchases.
Top View:
The top view is a version of the brand takeover ad unit that gives buyers 15-second access to enjoy category exclusivity.
Branded Lens:
The branded lens allows marketers to create and promote their dimensional lens to the TikTok audience.
HOW DO BRANDS MARKET ON TIKTOK?
Brands across all niche are experimenting with TikTok, and many of them are seeing great results. Here's how some brands like Walmart, E.L.F. Cosmetics, Macy's, and Chipotle have engaged the Gen Z generation through TikTok.
WALMART
Walmart's TikTok list of advertisers features the largest and most famous company in the world.
In late September, the company launched its #SavingsShuffle hashtag challenge and promoted the contest using a list of TikTok influencers.
They used the hashtag challenge explore tab to advertise several shoppable products. In the challenge, users were asked to guess Walmart's best-selling item.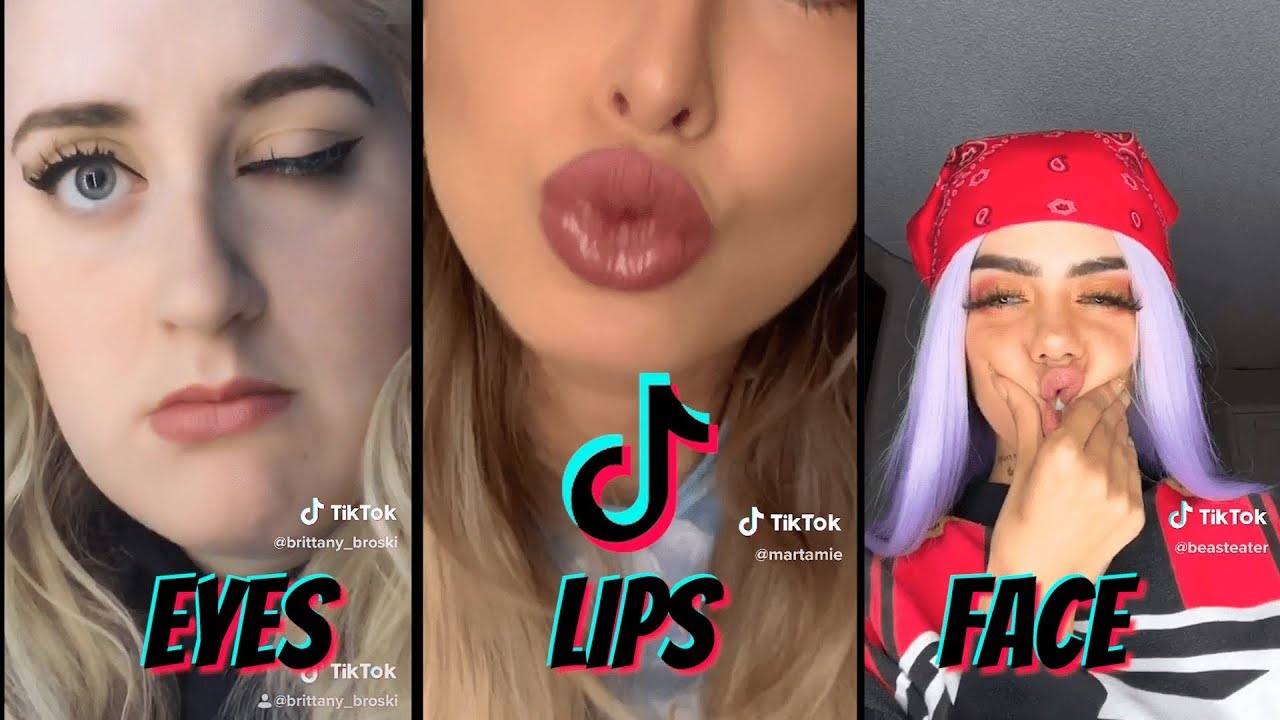 E.L.F. COSMETICS
E.l.f cosmetics is a cosmetic brand that launched a paid campaign targeted at TikTok's Gen Z audience. They launched the #eyeslipsface campaign, where users were asked to create videos that display their makeup.
They also purchased a 24-hour takeover ad. In the ad, users were always notified to participate in the hashtag challenge anytime they open the app.
In an interview with emarketers, Kory Marchisotto (E.l .f's C.E.O.) stated that Gen Z is a massive audience for them.
Here's what he said:
"it's essential to make sure that we're not only where our audience is and also serve up content that's relevant to them."
Kory also believes that TikTok is bringing up something exclusive, and it's soon becoming a platform of choice for many people because it allows people to have fun and also express themselves in unique ways.
MACY'S
Macy's is a departmental shop that kicked off the back-to-school shopping season by leveraging TikTok's hashtag challenge to introduce its omnichannel "All Brand New" campaign.
In the challenge, college students were encouraged to post videos of themselves wearing back-to-school outfits. Also, once anyone clicks on the hashtag, a shop now prompt is displayed above Macy's official videos.
Users who follow the prompt were directed to Macy's website.
CHIPOTLE
Chipotle is one of TikTok's most famous U.S. partners who worked with the video platform twice on hashtag challenges.
One of the hashtag challenges was #ChipotleLidFlip, where users were asked to flip an aluminum dish lid onto a Chipotle plate. The reward for the contest was a free delivery offer.
In a bid to commemorate the National Guacamole Day, Chipotle launched a #GuacDance branded hashtag challenge where users were asked to submit a video of themselves dancing to the "Guacamole Song."
The brand later partnered with Brent Rivera and Loren Gray- prominent YouTubers who are also famous on TikTok.
The hashtag campaign resulted in over 250,000 videos, and about 430 million video starts during its six-day run.
As a result, it's always considered to be one of TikTok's high-performing contests in the United States.
KROGER
Kroger is a grocery chain and one of the first brands to leverage TikTok's shoppable hashtag challenge plus features.
The brand organized a back-to-school campaign where college students encouraged to share pictures of their dorm transformation using the #TransformUrDorm hashtag.
Just like Macy's campaign, Kroger's campaign allowed users to tap on the sponsored hashtag.
Afterward, they'll be directed to a separate explore tab that showcases Kroger's products and links to its e-commerce platform.
Led by Mia Finney, Joey Klassen, Cosette Rinab, and Victoria Bachelet, the hashtag campaign led to over 800 million views.
Kroger created a brand site that allowed people to remain on the TikTok app while they purchase the brand's products.
RALPH LAUREN
Ralph Lauren is an official outfitter of the United States Open tennis championship.
He's one of the first people that leveraged TikTok's shoppable hashtag challenge plus feature to display the 2019 tournament collection.
In the challenge, users were encouraged to post videos of themselves wearing or using Ralph Lauren products and also include the #WinningRL hashtag in their post.
To top it off, Ralph partnered with many other TikTok creators with a total reach of over 11 million fans.
At the end of the campaign, the three videos with the highest engagement received a U.S. open swag from the brand.
Brands can also leverage this same technique to post products in different tabs on TikTok, basically making the brand shoppable through TikTok.
Just as it is on Instagram, TikTok offers brands the opportunity to promote their products through traditional influencers.
As a matter of fact, the level of influence on TikTok is perhaps even more valuable than Instagram, said Delane Fe Katie (senior talent partnerships manager at Socialyte).
GYMSHARK
In a bid to increase product sales and brand awareness, Gymshark created a challenge and partnered with several influencers to help promote the campaign.
The challenge was tagged "66 Day | Change Your Life," and by partnering with many high-profile TikTok creators, Gymshark was able to reach 19.8 million fans.
They also attained an 11.11% engagement rate, and the hashtag (#gymshark66) they used has earned over 122 million views.
N.F.L.
Just recently, N.F.L. signed a two-year contract with TikTok to bring new content to the platform every week.
They uploaded behind-the-scenes footage, sideline moments, post-game highlights, and other several football-related hashtag challenges that inspire people to create their themed videos.
The hashtag challenges are typically centered around famous events like the Super Bowl, N.F.L. Kickoff, and the draft.
According to Blake Stuchin (N.F.L. V.P.), the N.F.L. hashtag challenges are an excellent way to kick off their 100th season. With content that'll entertain and inspire fans.
The challenge will also allow fans to experience the N.F.L. fandom in a way that's authentic and unique to the experience on TikTok.
HOW SHOULD BRANDS MEASURE SUCCESS ON TIKTOK?
So far, it's difficult to determine the metrics that define success on TikTok because the platform is relatively new.
However, here are some components that marketers should look out for when they run TikTok campaigns:
SENTIMENTS OF COMMENTS:
As marketers, it's essential to know what your customers are saying about your brand. Fortunately, TikTok users are open-minded and always eager to share their opinions and thoughts.
According to Dan Thorne of Guinness World Record, the tone of comments on social media is very important to us.
We tend to attract some sarcastic comments from our older YouTube subscribers and Facebook fans, but the younger users on TikTok tend to engage in a more exciting and positive many.
According to him, TikTok is all about celebrating inclusivity and differences- which are elements that fit well with a company.
VIDEO VIEWS:
Unlike other social media channels where virality is rare, everyone on TikTok has the potential to be influential and famous.
For instance, videos with high engagements are featured on the Discover tab in the app or the "For You" page. Thus, bringing your brand in front of users who don't even follow your brand's social media account.
Due to the virality on TikTok, there's a perfect correlation between the increase in video views and potential impressions.
SALES FROM TIKTOK:
The hashtag challenges plus just launched recently, and there's no data on the number of sales brought in by the in-app features. But as time goes on, this is one metrics that marketers should look out for.
CONCLUSION
In this article titled "shoppable feeds on TikTok | TikTok shopping," here's a summary of what we talked about:
Why we should care about shoppable feeds on TikTok
TikTok ad format and different forms of ad format
TikTok's partnership with some big brands like Walmart, E.L.F. Cosmetics, Macy's, Chipotle, Kroger and Ralph Lauren
How brands can measure success on TikTok.
It's essential to note that at the moment, TikTok is one of the fastest-growing social media platforms, and the introduction of shoppable ads will make it easy for brands to close sales in a shorter time frame.
It'll also allow brands to access data that'll make them understand their user's shopping behavior and experience.
TikTok shopping is seen as a strategy to compete with Facebook and Instagram shopping. It's also a perfect transition into social commerce at a time when the platform's growth seems to be purging.
We do hope that you found this article useful.
Now, we'll love to hear from you.
What are your thoughts about this article? Do you have any questions? What can you say about shoppable feeds on TikTok? Please sound off your views in the comment section below.