Sometimes people ask me. Do you got a checklist on how to optimize my blog for SEO so i can rank better in Google?
And no i didn't until now. This is a quick checklist on how to optimize your blog for SEO. I must say the checklist is mostly made for WordPress users but you can also use it if you use another CMS.
SEO checklist for WordPress:
With this checklist i will learn you on how to rank on a specific keyword. Step for step i will show you where to put your keywords to rank higher in Google.
The best tip for SEO: Always when you write a blog post, write it for the visitor and not for Google. Google's mission is to provide the best and nicest information for their visitor and if you don't write "naturally" people won't like your post and Google won't rank you high.
Start with a picture

File name
Title and tile tag
Score in Google-pictures

Similar Keywords and LSI keywords

Longtail keywords
LSI & synonyms
Big Keywords

a title="Best length for SEO text" href="#Best length for SEO text">Best length for SEO text
a title="Rich content" href="#Rich content">Rich content

Add pictures
Add Youtube-video

a title="Wordpress Categories optimize" href="#Wordpress Categories optimize">WordPress Categories optimize
a title="Outgoing links from blog" href="#Outgoing links from blog">Outgoing links from blog

Anchor text and title attributes

a title="Interaction for SEO" href="#Interaction for SEO">Interaction for SEO

Show yourself
Tips for more comments/reactions

Links from social media

how to gain social shares
Snack able content
Requests to you

Social media SEO titles and meta

How to stimulate your likes/tweets etc.
Snackable content
You could also help us..
There is one main rule in this checklist!
This is the number one main rule:
There is one rule in SEO that will beat the most of the ''tricks''. Write your content for people and not for Google. Google's mission is to provide the best information related to the subject people are looking for.
These steps will help you to rank higher in Google with your good content. It's not that if you implement every step then you will rank 1st. SEO takes time and is more than just implementing a couple of steps.
Always write your content in a nicely structured and natural way.
Step 1: Title tag
The most important place for your keyword to score in Google is in the Title tag. The Title tag is the Title for the page on your website. Every single page on your website has got its own title. When you type something in Google's search engine, you will see the most related websites to that word/sentence.
The first line you see (the blue one) is the Title Tag:
A little tip on this one; make sure that the keyword you want to be found is in the beginning of the Title tag. Another simple rule for SEO is: the earlier the keyword comes, the better it will be for Google to find you.
Step 2: Meta Description
Just like every page has its own title tag, every page has its own Meta Description as well. The Meta Description is the part that is underneath the Title Tag. Mention your keyword in the beginning of your description just like you did in your Title tag. Make the text catchy because this is the first thing people will see regarding your website. Don't lie, be honest and catchy.
Hint: Google will not always show the description and title you fill in. Google always shows the most relevant title and Meta description (based on the content of your site).
I recommend the Yoast plugin for WordPress. You can enter your title and Meta description etc. in here.
A caption of how the yoast plugin looks. You can easily edit everything and Yoast will give you advice on things you can change for better results.
Step 3: Keyword tag
Years ago, this was relevant, but now Google evolved and this is not necessary anymore. You can ignore this one.
Step 4: Search engine friendly URL in WordPress
Always check on the URL of your page. It needs to be Search engine friendly. If you got a long title for your blog post you can adjust the title to a short and nice URL. A URL with only the keywords you want to be searched is way better than a sentence, 20 words long:
www.yrcharisma.com/seo-guide
This URL is specifically made for the keyword SEO guide. But, the title of the blog post is: a quick SEO guide of 27 steps you can implement immediately.
Take a guess which one is better?
www.yrcharisma.com/seo-guide
or
www.yrcharisma.com/a-quick-seo-guide-of-27-steps-you-can-implement-immediately
Most systems will see the blog post title as URL but you can adjust that easily.

Don't change every URL right away because maybe your page will get a 404-error. Google will punish you for this and you won't get ranked anymore. Use Google webmaster tools for this and redirect the URL (later on more about Google webmaster tools).
Step 5: Breadcrumbs
A breadcrumb is a summary of the previous pages the guest had visited. With a simple click the guest can go back to the earlier pages he visited.
For the visitor, this is a handy tool, for SEO is this internal linking (Later on more info about this).
So, this is a win-win situation for you, Google and the visitor.
Step 6: H1 Title
For now, the base is set for this page. Now it's time to focus on the content. The title of your blogpost is always the H1 of your post. You can compare it to a book. The title is H1 and the rest is divided in H2, H3 and so on.
The H1 doesn't have to be the same as the Title tag. You can make the H1 one catchy so the visitor will be curious to read about it.
Step 7: Start with a picture
After the title, we recommend to start with a picture. A picture speaks more than a 1000 words and invites you to read. Also, you can put your keywords on 3 different spots.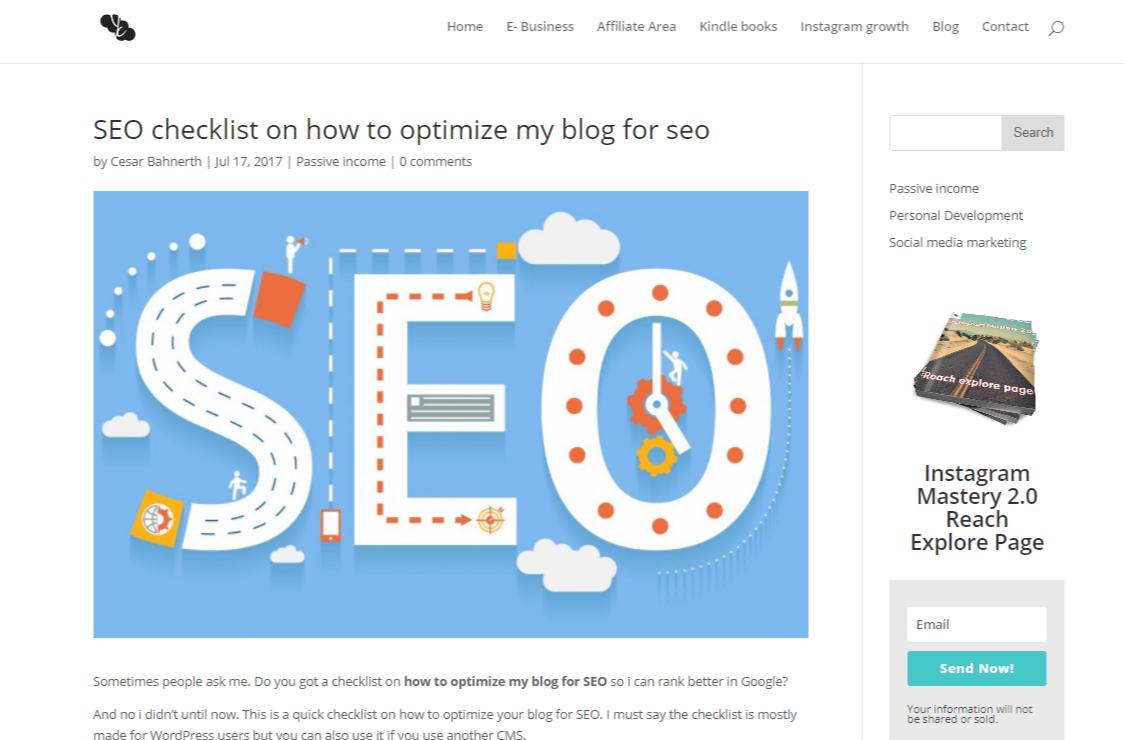 7.1 File name
The file name is the name of your picture that you have saved on your computer.
The file name is the name of the file that was saved on your computer before you upload it to your website. Most pictures have names like: IMG043.jpg. When you got a picture of a bird in the sky, name the file as 'a bird in the sky'. Now google knows what the picture is about. Now when someone types in
the search engine 'a bird in the sky', there is a chance you will pop up in the results.
7.2 Title & alt tag
Next to the file name you got the title & alt tag. If you upload the file in WordPress you can give it a title & alt tag similar to the picture.
Alt tag is an alternative text that can be used when your picture can be loaded.
7.3 Google pictures
When searching on google for a picture, google will give you the most relevant picture based on the text you fill in.
So, if your title is related to the picture and google knows this, the chance you will pop up is quite big.
Step 8: First Paragraph optimize
Now, it's time to start with the text itself. The more the keyword is in front of the paragraph the better it will be for google to recognize it. But keep in mind, make it natural and don't spam.
So, use the keyword that you want to be seen on the first paragraph of your article and if it is possible, make the keyword your first word.
It's better to have your keyword a couple of times in the first paragraph then a lot in the whole post. You can also use synonyms or longtail keywords (Further information about this).
Most important thing is that it should to be catchy. The visitor must like the text and don't think negatively like, 'Oh! what a weird text'. After all, you write the text for your visitor but not Google. We must keep this in mind!
Step 9: Make words bold
To give your keyword extra ''power'', you can make it bold. You only have to do this once. Because when you do it more, Google will not use this for SEO.
Step 10: Intermediate heads in WordPress
After you have used header 1, you can divide the paragraphs with intermediate heads (h2, h3, etc.) You can see it as a paragraph in a chapter. Google see's intermediate heads as a ''good thing'', so if you can put your keyword in it, it's ok! But, don't do it too much but only when it's logical.
In WordPress, you can go to H6. Nevertheless, we don't recommend it. Keep it until H4 maximum.
HINT: how higher the number, the less value it will have for Google. H1 is way more powerful than H4.
Step 11: The index of your blog
Did you write an article with different headlines? Then you can make an index for this article. On top of your blog with so called ''anchor links''. These links will bring you straight to the chosen headline.
This is a good overview for the visitor but it is also a good SEO function with intern linking. Google can use these links to show up in the search engine so you can drive more traffic to your site.
Hint: You can make an index in WordPress in HTML like this:
<h2>Index</h2>
<ol>
<li><a title="H1″ href="#H1″>H1</a></li>
<li><a title="H2″ href="#H2″>H2</a></li>
</ol>
<a name="H1″></a>        Put this text right above the title.
<h2>H1</h2>
Your own text about subject H1
<a name="H2″></a>       Put this text right above the title.
<h2>Tip 2</h2>
Your own text about subject H2
When you post your article on a other website you can also use this "trick". Then the visitor will stay on the website but is redirected to the right part of the article.
Step 12: Keyword density
Keyword density means how much your keyword appears in the text you wrote.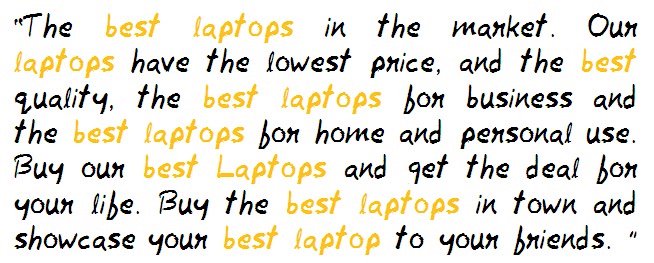 Personally, I don't believe in this anymore. Your text needs to be logical and
readable. Just put the keywords in the right place and don't spam everything.
Step 13:  Derived keywords
After you have posted the keyword like I showed you, I recommend to use derived keywords in your text, pictures and maybe even the title and Meta's. Think about things like:
13.1 Wide search terms
If you want to be found on ''SEO guide'' you can use the exact words in your text or you can make it more natural. If you use ''a 27 step SEO guide for beginners'', it will be way more natural and attractive to people. You are using the same words but with a little bit of help.
13.2 LSI keywords & Synonyms
Latent Semantic Indexing keywords (LSI) are related keywords that you could be found under every page of Google. These are the words other people search for. Google give them for free so take advantage of it.

Moreover, I think we all know what synonyms are and how to use them.
13.3 Long tail keywords
Short tail keywords are the keywords of 1, 2 or 3 words. Long tail keywords are the keywords with more than 4 words.
Short tail: SEO guide
Long tail: A quick SEO guide for beginners
Use your fantasy and step in the shoes of the visitor and ask yourself… What would I type on Google if I wanted to know the answer for this question?
Step 14: What is the best length for your text?
Some people say 500, others say 300. In my opinion, there isn't a perfect length. Some posts are just for getting quick attention, something like: 5 tips for more traffic, 3 big mistakes in marketing, etc. These kinds of post are mostly 500-800 word.
Sometimes you get posts of 2000 words or more. These will be the post with a lot of value and information. These are the posts that are ranked in Google the most.
Just make sure your blog post has quality and value.
If you want to rank on a keyword where the computation is high, I recommend to write a big, in-depth blog post with lots of value, information and quality.
Step 15: Rich content
The "richer" your page is, the better Google will find and reward you. With 'rich', I mean different media like; text, pictures, videos, PDF, Intern linking, outgoing linking, reactions of visitor, etc. Make your blog post alive. The more of such things are found in your website or page, the more google will give you.
15.1 Pictures
I already said that the first picture is a good start of your blog post but that doesn't mean you can't use more in your blog post. Don't use the same but use different pictures with different titles that are related to the subject, your post is about.
However, pay attention: The more pictures you implement, the slower your page will load. And this is a big point for Google. Make sure you use good quality pictures but low in file size. 
15.2 Videos
A video in your post is a great addition. Google loves this and especially if it's from YouTube because Google own's YouTube.
Do you got a lot of video's on your website? Video's of your product or services? When you let us build your website we will implement a "Cinema page" For you.. Now every visitor can easily watch all your video's without being interrupted.
Step 16: WordPress Categories optimize
In WordPress, you can divide your blog posts in categories. These categories can be made in WordPress itself.It's better to have your post in 1 category and not more. For Google this is more ''logical''. The categories can be optimized with title and Meta description, also good for SEO.
Step 17: Outbound links
Outbound linking is maybe not the first thing you think about when writing a blog post. But for SEO this is powerful. Putting backlinks to other relevant sites is a good thing for Google. A link to Wikipedia can give you advantage for you ranking in Google.
Google always want the best information for their users. The more quality information you can provide, the more Google likes you.
17.1: Anchor texts and title attributes
Pay attention on how you call your link (anchor text & title attribute) on other pages/websites. You can better call the clickable link "SEO guide" then ''click here to download the PDF''.
For Google this is important because they know what the information behind the link is. The anchor text is the text of the link that is clickable and the title attribute is the link that pops up when you put your mouse on it.
Step 18: Getting interaction
It's nice when you write a blog post that took a lot of time and people react on it. It's a sign for Google that your post is ''alive''.
Every reaction that a visitor leaves on your website is a bonus for you. People ask their questions in their own words… And did you remember what I said about LSI and long tail keywords? You can see every reaction of your visitor as extra keywords.
So, I recommend to have interaction on your website and when a visitor asks you something, reply with an immediate answer. That's how you create trust and eventually a thriving sale.
18.1 Show your Face
This is tested and it works. When people see the face behind the website/company, it builds a little bit of trust. When you add a little bit information about yourself this will increase even more. It doesn't have to be a text of 6000 words but a picture with: Hi I am … and Owner/founder of … My specialties are… and… etc.
Short but powerful
18.2 Q&A
Questions and answers webinars work very well. Maybe first time it's a little bit scary, but when you did it a couple of times, it's normal. If people asked you once and you give them good advice they will ask more and when people ask you a lot, they begin trusting you.
Step 19: XML sitemaps
To get your blogpost indexed faster by Google you can work with XML-sitemaps. A sitemap is a document of all of your URL's from your website. You can send this sitemap through Google webmaster tools to Google.

When you do this, Google will automatically get a sign of a new blogpost or adjustment.
Step 20: Backlinks for your article
Getting backlinks is more a ''on page SEO thing". Backlinks are important but don't take too much time to get the backlinks. When your post is perfect and you are really proud of it, you can post it on other sites or work with partners and ask if they want to link to your blog post.
Backlink for Google is important but when your information is good for the visitor, the backlinks will come itself.
Step 21: Intern linking from your post
Backlinks are from other websites and intern links are from your own website. Within your website, you need to create a web of intern linking that is related to each other. Still, remember what I told you about the anchor text and try to use similar keywords.
Step 22: Links from Social Media
We also got Social media links to your website. When someone gives your blog post a 'like' on Facebook, they automatically/kind of give their friends a recommendation to your blog post and Google sees this. This also means for twitter, Google plus and other social media sites.
Step 22.1: How to stimulate your likes/tweets etc.?
You can download a plugin for sticky social media buttons so people can click on it and it automatically is going to like or share the post.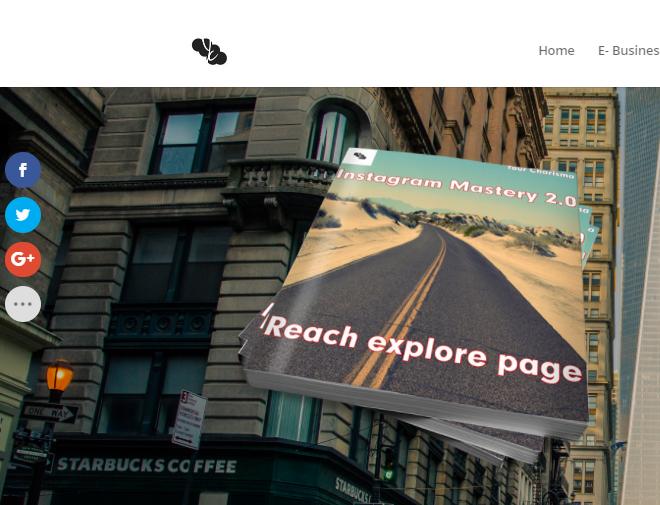 We use the Monarch plug-in that is a plug-in made by elegantthemes. When we built your website. You'll get this plug-in for free with your website.
Step 22.2: Snackable content
If you want that people are going to share your post it needs to be content that people want to share. Most of all the content needs to be good and useful. But if you don't have a catchy headline people won't click it and read the information. So make sure your headline is catchy.
Most of such posts are: 6 tips to gain …. , 5 ways to improve…, 20 facts about … etc.
Step 22.3 Would you help us also by sharing this article?
Click in the share buttons on the left:)!
Step 23: Right social media titles and Meta
What if somebody shares your post and the wrong title and Meta description appears on Facebook. No, we don't want that. For WordPress, there is a plugin called Yoast SEO plugin and you can set up everything through this plugin.
Step 24: Mobile responsive and adaptive
10 years ago, a lot of people used their computers; now a days, most people use their phone or tablet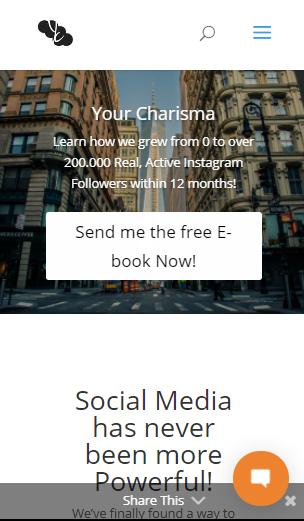 . When your website isn't Mobile responsive, Google will punish you.
Mobile responsive is stretching, and mobile adaptive is the adjust of design.
Step 25: Google friendly WordPress Code
This is also a big thing in the SEO world. Do you want to rank high in google than this one is a must. Google looks on how your website is structured and if it's structured nicely. You could compare it with a book that gives 10 different explanations about 1 topic. You just want one good, written explanation and not 10 different ones.
There are still a lot of plugins, themes that are not Google Friendly and this could do your website serious damage for ranking.
Do you want to make sure you are in the right place? Our websites are all Google Friendly coded. With our website you don't have to focus on the "programming-part".