Instagram has been shoppable since 2018. However, the platform has just introduced a home for its e-commerce space within its home tab. Now, selling products on Instagram has gained its limelight, and it is important to know how to go about selling on the platform.
The importance of the last statement above cannot be overemphasized. The social media platform had just reached a billion users in June. Its growth trajectory doesn't seem like it'll go down soon. This translates to the need for business owners to reach more audience; thus, the importance of knowing how to use the new features to your brand's advantage.
How do you achieve this? Don't worry; we have you covered.
Just below we will be talking about the newly introduced Instagram shop and the most effective ways of selling on Instagram.
First off…
What is Instagram Shop?
In order to start selling your products on Instagram, you need to start a Shop Section. Instagram Shopping has been around since 2018. However, the new changes to the platform's overall look see this feature get its spot in the prominent bottom tabs of the platform.
The Instagram shop is the eCommerce space that has been designed for retailers to maximize the use of the platform. Giving brands the creative ability to post pictures and reels videos aren't enough. Instagram realized this and have pushed to create the Shop tab to make shopping more user friendly.
With the new changes made to the platform, your target audience can easily find you via the shop tab, or you can even reach a new global audience by maximizing the reels tab.
How do you achieve this level of efficiency? Let's take a look at how to set up your Instagram Shop to get you started selling on Instagram.
How to Setup Your Instagram Shop
Selling products on Instagram has been around for a while. However, most businesses and brands don't know how to go about this. To help answer your questions about how to set up your Instagram shop, follow the steps below.
Step 1: Find a Niche That Sells
The first step to setting up any store, no matter the location, is to find a selling niche. So, we advise that you start by finding a niche that sells. Asides from ensuring the niche sells, you should try to find the ones you're most comfortable marketing.
It would help if you did the above because you will be creating content daily to engage target audiences and make sales. To make this a lot easier, here are some of the selling niches on Instagram:
Services & Coaching
Beauty Products
Apparels
Accessories & DIYs
Instagram Influencer
Online Courses & Workshops
Selling on Instagram becomes easier when you can find a niche that you're most comfortable with. Once you have this figured out, you're ready for the next step.
Step 2: Check that You Meet the Requirement
The next step to set up your Instagram shop is to check if you meet the set requirement for shop creation. To achieve this, there are three criteria to check.
Are you located in a supported country? To confirm, here is a list of supported locations for Instagram shopping.
Do you have a business profile on Instagram? If you are currently running a personal account, you can make the change via your settings page.
Have you connected your Instagram to your Facebook Page? This is because the Instagram shop relies on Facebook Catalogue to allow you to add products. Check the steps to connect your Facebook page here.
Step 3: Create Your Product Catalogue
Adding products to your Facebook catalog makes it a lot easier to upload products to your Instagram shop. Once you've added products to this catalog, you'll be able to tag them in your Instagram posts and stories.
Step 4: Get Approved for Instagram Shopping & Turn On Shopping
If you have done the steps above, it's time to get approved for shopping. To do this, go to your Settings, tap Business, and then Sign Up for Instagram Shopping. Once here, follow the steps and hit the submit button.
Your shop review and approval would take a few days. After approval, you'll see the "shopping" option under Settings and Business. Tap it to turn on your shop on Instagram.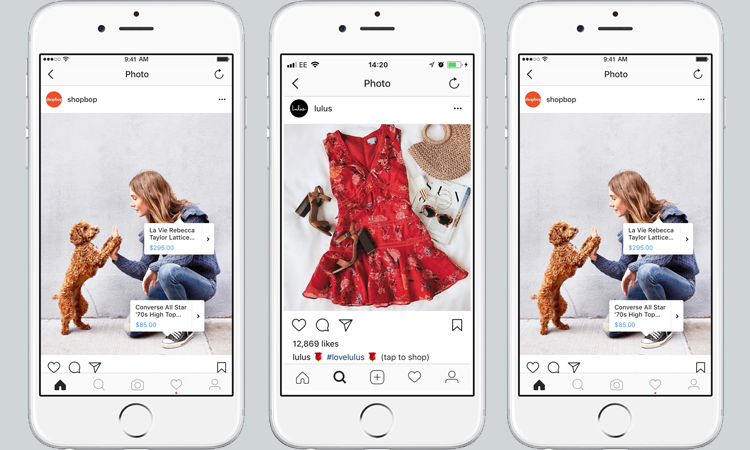 Step 5: Create Your First Product Post
Now that you have set up your products and Instagram shop, you're probably wondering how to tag your products on Instagram. It's simple.
First, you upload your picture as you've always done for a regular post. Now, you tap the item you wish to tag and start typing the product's name. This name must correspond with the name on your product catalog. You'll see suggestions as you type; select the one that best matches the product selected.
You can tag up to five items per post.
That's it; you're ready to start selling!
Now that you know how to set up your Instagram shop let's take you through some tips to improve engagement and make sales.

How to Improve Sales in Your Instagram Shop
Selling on Instagram is very competitive. As a brand looking to get as many sales as possible, getting creative is a must. It is also important to maximize the use of every feature at your disposal.
Here are some tips to help increase your sales on Instagram
Use Striking Visuals. Don't just go about posting pictures or videos. Please make sure they are crisp and clear.
Use Stories & Reels. Thanks to the latest updates, you can now sell on reels. Tap into this new audience by creating fun and engaging content unique to your brand.
Show Your Product In Action: This is another way to maximize reels and Instagram stories for your Instagram shop. Tutorials & How-to videos would help you achieve this.
Original Content is Best. Don't bore your audience by recycling contents they have probably seen from other brands. Stay fresh and original with your content. It'll make them come back for more.
In Conclusion
Instagram shopping offers retailers and brands a new opportunity to make sales on the platform. By selling on Instagram, you're able to market your brand to a new audience in so many viral and fun ways.
The steps and tips above should help you get started and stand out from the crowd. We look forward to your products and unique content.
Cheers!
Enjoy this Article? You May Also Like: