Since 2020, we have had to change many aspects of our lives as a result of COVID. We have been forced to adapt to new ways of communicating, education, leisure time, or, what we want to focus on today, work – remote work tools.
Distance work has been a faithful companion for many people for many years now, but this form of employment is not a thing of the past, it remains. Today, many companies or jobs have retained the ability (or obligation) to work remotely. Thanks to the numerous remote work tools that are now available.
If your job is one where remote work still exists, with its advantages and disadvantages, we have something that will interest you and be very useful in your day-to-day work: the best remote work tools for organizing distance work.
Organizational Remote Work Tools
Since this is a job you do at home, organization plays an important role. You will have to make a schedule or agenda to separate your work and free hours, because in many cases you may mix work and non-work activities, which can lead to chaos. If you work at a custom essay writing service, you have to organize all the papers that you need to write for students.
Also, when you are not physically in a work environment, along with other colleagues, supervisors, etc., it can be easier to forget about a task, activity, or event. So here we present a few remote work tools to help you avoid this and serve the function of a diary.
Asana
With Asana, the problems of forgetting important appointments or tasks you have to do are a thing of the past. With this platform, you can organize your work so that your team knows what needs to be done, why their work is important, and how to get it done.
You'll be able to group all of your team's work in one place and it will also allow you to automate routine work, meaning you can let Asana take care of the repetitive work so you can devote yourself fully to it.
Trello
In this case, Trello will also help you with teamwork through the use of cards, lists, and whiteboards. You can use them as a starting point for creating tasks, schedules, productivity metrics, and calendars, adding comments, attaching files, setting deadlines, and more.
ActiveCollab
This tool offers full control over your tasks: you can automate your work, organize your team and ensure equal cooperation of all its members, facilitate contact with customers, keep all company expenses under control, manage projects as a table or timeline, etc. ActiveCollab will be very useful in distributing tasks between team members and make it easier to understand who is doing what, by what deadline, and in what way.
Tools for Saving Files
Working in an office, you will always be able to store all your documents in a designated place, but at home, you may not have enough space for this. However, with advances in technology, there are many ways to save those files on your computer or memory cards and thereby save money on paper.
Google Drive
The almighty Google has a large number of useful remote work tools. Some are more well-known than others, but they will all be your best allies at work. Google Drive is one of them that will allow you to save and transfer any documents to others via the cloud, and you can access them wherever you are just by logging into your account.
Dropbox
Dropbox is very similar to the previous tool. With it, you can store documents in the cloud and share them with the users you want, and you will also have the ability to back up photos, videos, documents, and anything else you want. Dropbox will help you coordinate your team and move projects forward with the remote work tools you use every day.
WeTransfer
In this case, WeTransfer won't let you store files in the cloud, but it will help you share them with other users. What makes WeTransfer special is that it allows you to easily send large documents, the ones you can't send via email.
Keep in mind, however, that after 7 days of sending (or receiving) this document, you will no longer be able to download it, as it will disappear from the cloud. Therefore, you should save this file as soon as you receive it.
Online Communication Tools
Another aspect of distance working is communication. In any job, regardless of its format, you will have to be in constant contact with other people to ensure that your work develops and progresses smoothly.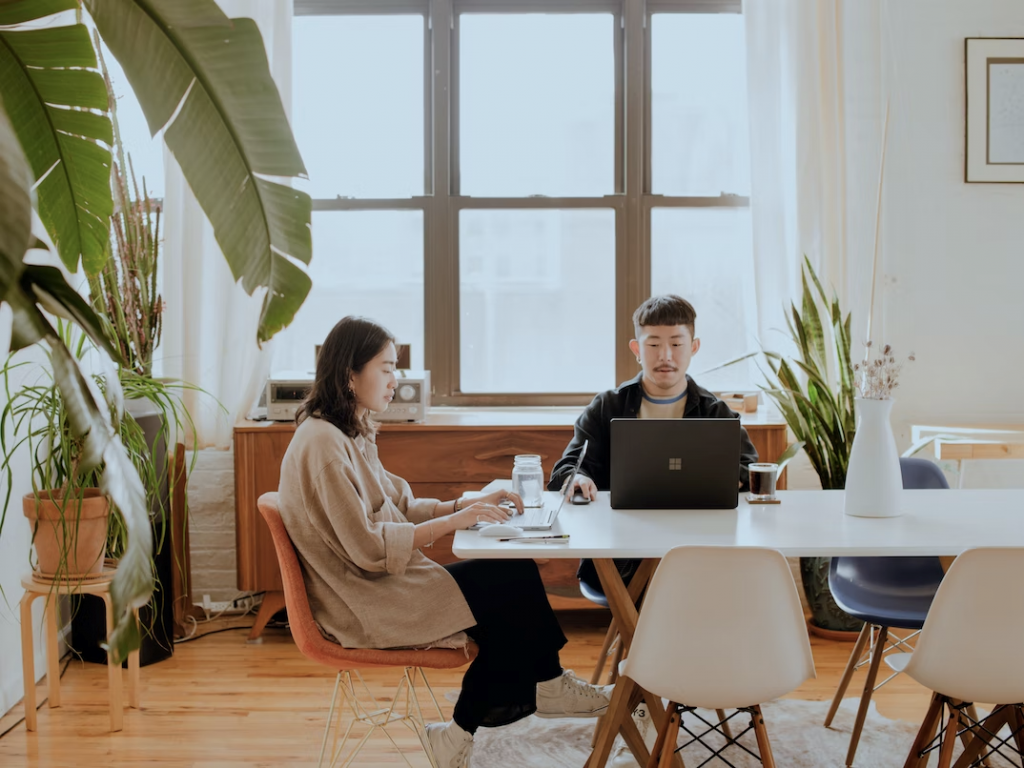 Therefore, when working remotely, communicating with others is also necessary, even though you are at home. Video calling or video conferencing tools have grown tremendously since the conclusion, and here are some of them that you can use for this purpose.
Skype
You may already be familiar with Skype, but you may not know how much it can do for you. Not only will you have the ability to make video calls with up to 50 people, but you'll also have a chat room with which you won't lose touch with the rest of your team at any time.
In addition, in these video calls, you will have the option to enable subtitles so that language is not a problem for you and the rest of your colleagues. You can use this app on your computer or any electronic device.
Slack
Although Slack is lesser known, it also offers many benefits for making workplace communication happen. It is an alternative to email and has a chat feature that allows you to communicate through its channels with both an individual and a group of people. You can also make video calls using Google remote work tools.
Google Hangouts
As we said before, Google offers a lot of benefits for our business, and one of them is Google Hangouts. It allows you to make video calls and have chat conversations. The conversations are archived in the cloud, so you can sync them between different devices, and you can make calls and send texts to cell phones without that platform from the program itself.
Remote Work Tools for Storing Passwords
One aspect that gets a lot of attention when working remotely is security. Since all of these remote workers are connected to their home networks or from their own computers, security is reduced and information is easier to hack and steal. So it's essential that you have applications that allow you to work securely and reliably, such as those that help manage passwords.
LastPass
This tool was designed to be able to remember all the passwords on your computer and not securely forget any of them. On the other hand, it will also automatically fill in all your payment and shipping information when you want to make a purchase or keep digital records from all areas.
Dashlane
With Dashlane, you can keep all your passwords and important information in one place that only you control. It also makes it easy to change old and weak passwords to strong passwords.
Keeper
The last tool we bring to your attention is one of the best password managers in terms of protecting users from password leaks and cyber threats. It is an easy-to-use application that provides top-notch security and ongoing support.
If you work remotely, you know better than anyone how important it is to organize and optimize your work. No matter where you are, the work should always be done as best as possible, especially with the use of the remote work tools we have mentioned in this article.
Enjoy This Article? You May Also Like: