Last Updated: September 21, 2020
Ever wondered what a lead magnet is? Don't worry. You're in the right place.
A Lead Magnet is an offer created by marketers to attain potential leads contact information such as email address, phone number, name, etc. Lead Magnets are typically a promotional coupon, discount, downloadable PDF, Free Webinar, or anything else that offers value to the target audience in exchange for their information.
In this article, we're going to extensively cover things like the meaning of lead magnets, their importance, what makes a good lead magnet, and other essential things related to a lead magnet.
To begin with, it's worth noting that gaining attention on the web can be a very serious challenge these days, talk about acquiring more customers online. Usually, visitors don't stay on a site for more than 15 seconds, and most of them might never get to return after leaving your site.
So, if you've invested noteworthy resources in acquiring traffic, it might end up being wasted if you're not doing things correctly.
This is why many top marketers usually preach the essence of list building, which involves building up an email list of customers and prospects that you can steadily build value and promote to.
Are you efficiently building up your email list? Or are you just giving your audience the chance to subscribe to your email list, as shown in the image below?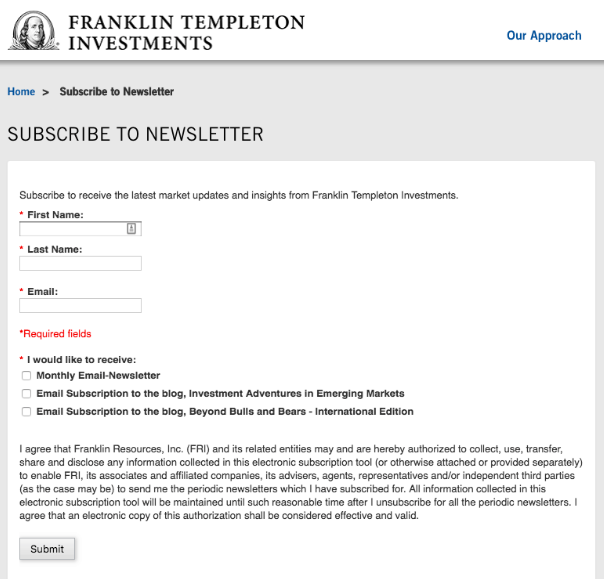 Why is this not advisable? Because email is a personal thing.
Today, many people wouldn't give you their email address until they see a genuine reason in doing so. Also, many people are stingy about sharing their email address, until they feel confident that there's something valuable in it for them. As a marketer, you must deliver an attractive offer.
This is where a lead magnet comes in handy. An irresistible lead magnet instantly grabs the attention of your buyer persona and delivers genuine value to them. By winning your leads with a free offer, you're starting your relationship on a positive note and piquing their interest in your paid offers.
On the other hand, a bad impression will do the opposite.
WHAT IS A LEAD MAGNET?
At its core, a lead magnet is an offer (typically free) like a free consultation, content piece, or other experience that you can offer in exchange for a prospect's contact details: usually an email address and perhaps, other forms of information like their name and phone number.
Lead magnets come in the form of templates, whitepapers, eBooks, checklist/cheat sheet and similar downloadable assets and they're used to increase the conversation rates for lead generation activities.
If you're looking to become successful in acquiring online customers, then you'll need to build an email list.
To effectively do that, you'll need a lead magnet. High-quality lead magnets will help you create a memorable first impression for your potential customers.
WHY BUSINESSES NEED LEAD MAGNET?
One of the goals of every digital marketer is to build trust, credibility, and drive more brand awareness. However, it can be challenging to ascertain and measure the success of these efforts.
That's why it's essential to offer lead magnets. It's an ideal way of connecting to and collecting email addresses of prospective customers who've never heard of your brand and offering them something valuable in exchange.
If you're looking to generate leads online, then you need a lead magnet: there's no compromising. Lead Generators make your task as a marketer more effective and easier. To dive further, let's take a look at this simple illustration.
Example of an Email Lead Generator
Let's assume that you have a blog post on the "Unlocking the Instagram Explore Page". At the end of the post, you ask readers to join your email list for constant updates. Or rather, you could ask the readers to join your email list and get a free, downloadable PDF case study that details the real-life experience of those who've used these Instagram Strategies to reach the Instagram Explore Page.
Among the two offers, which do you think will get the most email signups?
You guessed correctly: the second one.
Now that you're aware of the importance of lead magnets, you might be thinking about what makes a good lead magnet, right?
Let's dive into the components of an ideal lead magnet.
WHAT MAKES A GOOD LEAD MAGNET?
1. Demonstrates Your Unique Selling Proposition:
When your audience enters into your lead generator, it should show your unique value proposition or expertise. They should be entirely convinced that it's best to buy from you instead of buying from your competitors.
2. Solves a problem:
If your lead magnet doesn't solve any real problem faced by your customer or it doesn't offer them what they want, then it won't work.
3. Quick to Digest:
In a way, PDF checklists seem to convert well because they're so easy and fast to understand. Lengthy reports and eBooks might make your prospects feel overwhelmed.
4. Instant Gratification:
Your audiences are continuously in search of solutions to their problems. If your lead magnet seems to be useful, beneficial and can be delivered right away, then you'll be able to build an email list in a breeze.
5. High Perceived Value:
Most audiences won't be attracted to a lead magnet if they don't perceive it as something relevant. Your lead generator offer should be viewed as something precious (and of course, it should be helpful).
6. Super Specific:
As much as possible, try not to create lead magnets about something common. The more precise you're about the benefits of your lead magnet, the better it'll convert leads.
HOW DO YOU CREATE A LEAD MAGNET?
You can always discern when a marketer didn't put much effort or thoughts into their lead generator. Their overall presentation might be lacking, and they might target anyone with a pulse.
If you want to be effective, then your lead magnet needs to have a purpose. Here are the steps on how to create a powerful lead magnet.
STEP 1: CHOOSE YOUR BUYER PERSONA
One of the biggest mistakes that marketers make with their lead magnets is to attract too many people. You wouldn't want to do the same.
That's why you need to make your lead generator attract specific to the people you want. If your lead magnet isn't pertinent to the needs and wants of your buyer persona, they're not going to download it.
Many companies have different buyer personas, but each lead magnet should only target one of them.
Don't worry about determining the buyer persona that's best to start with: eventually, you should have lead magnets for all of them. So, begin with the one that you can provide the most value to now and move on to the next step.
STEP 2: IDENTIFY YOUR VALUE PROPOSITION
Once you're able to decide the prospects that you want to target, you have to give them a convincing reason to download your lead magnet. The number of leads that your lead generator creates will be directly tied to the promise you make to those leads.
Your buyer persona needs the best value proposition. So, instead of trying to create something you think they would like, figure out what they need and deliver that.
In such cases, bigger isn't better. Don't try to create a 30-day email course or write a massive eBook. Think ultra-specific.
Find the common problem that your buyer persona faces and offer a quick solution to that problem. The faster you can get the results, the better.
STEP 3: NAME YOUR LEAD GEN
Now that you're aware of what your offers are and to whom, giving your lead magnet a name will be pretty straightforward. Your title is basically a caption for your value proposition that appeals to your buyer persona.
Similar to creating a compelling headline for a blog post or marketing email, the title of your lead magnet is sure to make a drastic difference in its conversion rate.
STEP 4: CHOOSE YOUR OFFER
At this stage, you perhaps have a good idea of the type of lead magnet that you're going to offer. Yet, you have many options to select from. Here are some things to remember when choosing your lead magnet:
Keep it Simple: a complex lead magnet defeats the purpose. If no one understands what you're saying, they won't be able to appreciate it. Keep your lead magnet concise, simple, and packed with value.
Prioritize Rapid Consumption: you want to solve your buyer persona's problem as fast as possible. This gives them a quick win and quickly move them to your funnel. Select a format that allows for fast delivery and consumption.
Focus on Your Strength: are you an innovative writer? An eBook would perhaps be your perfect format. If you're not so great at writing, but you're comfortable on camera, you can go with videos, instead.
While these options are almost limitless, many lead magnets fall under the following categories:
Cheat sheet
Guide/report
Toolkit/resource list
Free trial
Video training
Discount
Quiz/survey
Sales material
Assessment/test
If you're not certain, just go with the lead magnet that you can comfortably create.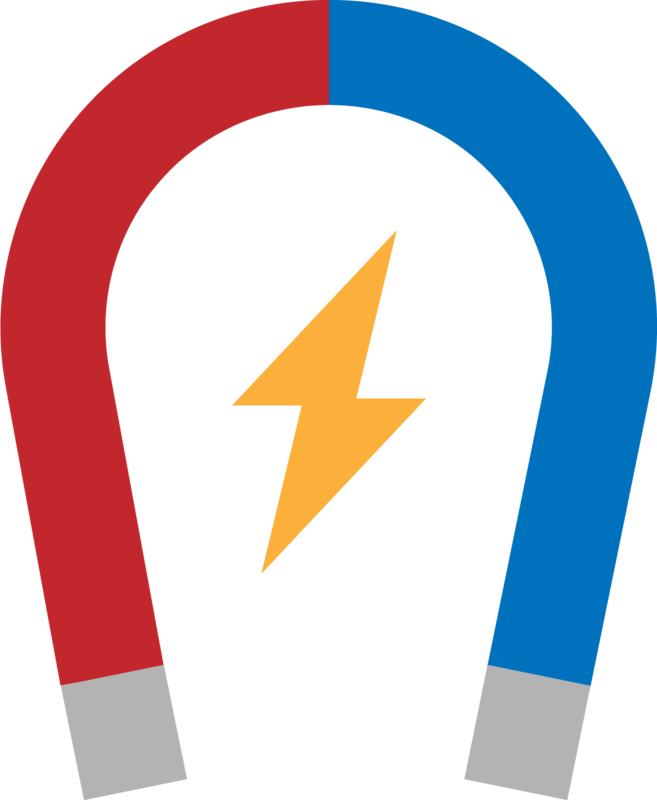 STEP 5: CREATE YOUR LEAD GENERATOR
Now, the tactical work is over, but you still need to put in more effort to create your lead generator.
As you create your lead gen, remember who it's meant for and the unique value proposition that you promise them. Once you keep these two things in mind, the process will be straightforward.
TYPES OF LEAD MAGNETS THAT YOU CAN OFFER
The first thing that comes to mind as a lead magnet is a free eBook in the form of a report or guide. These are common because they're easy to adapt to any niche, easy to create and people enjoy them. But, you're not restricted to just an eBook or other examples on this list.
These are just the most popular types of lead magnets to help you get started, but you can try out something else if it's easy to deliver and has a high-value. Check out these 15 Lead Generation Tools from Uplead.
Here are some of the common lead magnet examples.
1. REPORT/GUIDE
This is the most straightforward and typical lead value proposition that you can offer. One of the reasons the report/guide is a go-to offer for lead generators is because they work so well.
One of the components that are common with lead generators, but especially a report/guide, is specificity.  For example, focusing on one particular goal for one specific buyer persona.
Take a look at the example below:
MuleSoft made their target and the solution they're offering very clear.
The sales copy and specificity of the lead magnet on this landing page ensure that only those interested in downloading the guides are also potential customers for MuleSoft.
2. WEBINAR/VIDEO TRAINING
Video is an engaging format. If you have a skill you can teach and you're comfortable in front of a camera, this could be the ideal lead magnet to offer.
Here's an excellent example from Podcaster's Paradise.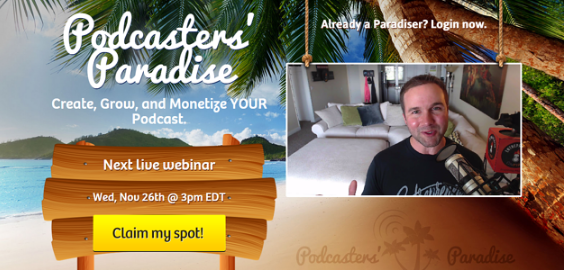 In this lead magnet, John Dumas Lee shows prospects how their business can benefit from a podcast. He went ahead to talk about the ABCs of getting started. At the end of the podcast, there is an upsell for the information package that talks more about creating a podcast, alongside a private community.
Rather than using a live webinar, you can send the recording of a previous webinar to leads or even direct them to a private page where they can find a recorded video.
Aside from its specificity, the basic idea is providing information that your leads can use. Many webinars skip that part and go directly to the upsell without offering value. It doesn't work like that.
3. HANDOUT/CHEAT SHEET
Handouts and cheat sheets work well because they usually provide highly-tactical info that saves the prospect a lot of time. Even though they're often delivered in PDF format, cheat sheets take a different approach than guides and reports.
Usually, cheat sheets are one or two-page long, and they go straight to the point. You'll often see them presented as blueprints, mind maps and checklists.
Below is a sample of a mind map used as a lead magnet. Observe how they've blurred out the content to build curiosity and give a glimpse of what's inside.
The solution is concise and specific, but you can see that from the image, there's a lot of information incorporated into this "blueprint." This is precisely what you want in a lead magnet: valuable content that your leads can immediately put to use.
4. FREE SHIPPING/DISCOUNT
Usually, people love getting things for free. For some people, giving away their email address is a little price to pay if they can save hundreds of dollars on a purchase.
This lead magnet is perfect for companies that sell physical products or those who get a lot of repeat purchases from customers.
Here's an example from Southwest Airlines (popularly known for hooking up their loyal customers with amazing travel deals).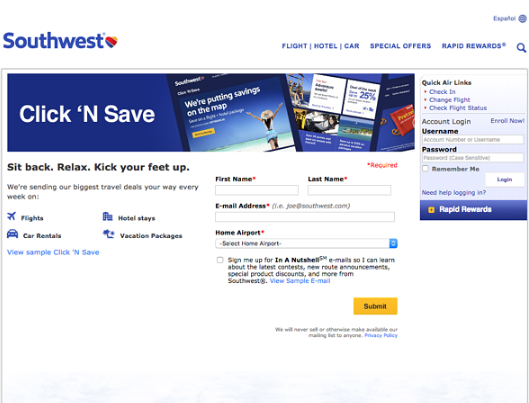 Bear this in mind: if your products are lower-priced and the discounts aren't significant, this lead magnet might not be enticing to your prospects.
5. ASSESSMENT
A test or assessment is similar to a quiz, but it's mainly useful for companies that sell a service. In such cases, prospects aren't just looking for an answer, but they're also looking for an expert opinion as well.
For many years now, HubSpot has been generating leads with its Marketing Grader.
CONCLUSION
It's now over to you.
We've been able to talk extensively on what lead magnets are, why businesses need a lead magnet, what makes a good lead gen, how you can create a lead magnet, and then the types of lead magnet that you can offer.
One simple truth: if you want to generate leads online, then your business needs a lead magnet. No two ways about that.
It's also worth remembering that with the right lead magnet, you'll be able to attract all the ideal customers as much as you can. This's because a lead magnet has just a single goal: to maximize the number of targeted leads that you'll get from an offer.
Do you have further questions about lead magnets? What do you think is the importance of lead generators? What type of lead magnet do you prefer? We'd be pleased to hear from you; leave us a comment below.
Enjoy this Article? You May Also Like: