Hey there. Have you ever thought about using Instagram Story Polls for audience research?
If yes, then you're in the right place.
In this article, we'll talk about the benefits of using Instagram Polls. Afterward, we'll show you how to use Instagram Story Polls in your marketing.
For starters, it's worth noting that Instagram Polls are an excellent way to engage your audience and grab their attention.
Ever since Instagram introduced the first basic poll, they've backed it up with amazing iterations for easy usability.
Generally, Instagram values engagement, and when it observes that people are engaging with your content, it'll send you more engagements and eyeballs.
So, by incorporating features like Instagram Polls to your Story, your Story will be more interactive, and your followers will likely engage with your content.
Instagram polls also create an opportunity to hear directly from your customers and followers. Additionally, polls also help you to know your customer's preferences and likes. That way, you can easily create content that resonates with your audience.
Anytime you ask for their opinions, you get useful data, and they feel more connected and valued to your brand.
Instagram polls can also be viewed as a playful way to pick your follower's brains.
For instance, followers were able to use a Story from Netflix to find movie recommendations based on their favorite emoji.
From large brands to influencers, a growing number of people are now using Instagram Story Polls to interact with their audience, bring them in on decision-making, and gather necessary information for future brand activities.
If you've never used Instagram Story Polls before, then you're missing out on a lot.
Now, we'll dive into the importance of Instagram Story Polls and why you should consider using them.
Why Use Instagram Story Polls?
Instagram polling is an excellent opportunity to connect with your audience and make them part of your decision-making process.
Here are some of the benefits of using an Instagram Story Poll.
It Helps You To Connect With Your Followers:
Instagram Story Polls are an excellent conversation starter. By adding polls to your stories, you'll open the door to connect with new brands, clients, and friends.
If your Story doesn't have any poll, then your audience might not be persuaded to respond to the Story. However, polls perform magic by inspiring your audience to respond and engage.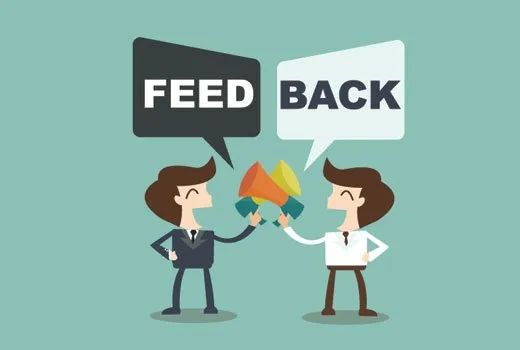 Get Quick Feedback:
By using polls, you're able to know whether you're headed in a direction that your audience loves. This is an excellent way to get your audience's reaction on a new photo you posted, or a new blog post you've written.
That way, you'll no longer have to waste your time on things that your audience doesn't care about.
Here's one thing to consider even before writing content or designing a post.
You can also use polls to get quick feedback from your audience about whether they'll be interested in a product or topic. Maybe the feedbacks will help change the directions of your plans or even provide the extra motivation you need to bring an idea into life.
Either way, Instagram Story Polls will give you a more in-depth insight into what your customers love while also helping you to make improvements along the way.
It Helps To Increase Interactions:
Generally, brands use polls to increase interactions with their followers. The reason is simple.
Instagram polls boost engagements, encourage interactions, and increase the feelings of proximity.
Polls also help brands to interact directly with their audience and get valuable information that'll drive the business forward.
Solve Clientele Problem:
Another benefit of polls is that you can also use it to solve your customer's problems.
Perhaps, they're finding it hard to understand how your product works or even decide which of your product is best for them.
For instance, if you run a beauty line and you have two similar products, you can use polls to show your audience the difference between both products.
How To Set Up Instagram Story Polls
Want to get more direct feedback from your audience? Looking for new ways to engage and interact with your followers?
Well, with the invention of Instagram Polling, you can easily achieve all of these.
In this section, we'll show you how to set up Instagram Story Polls.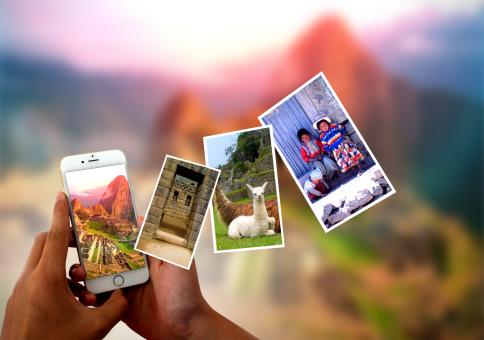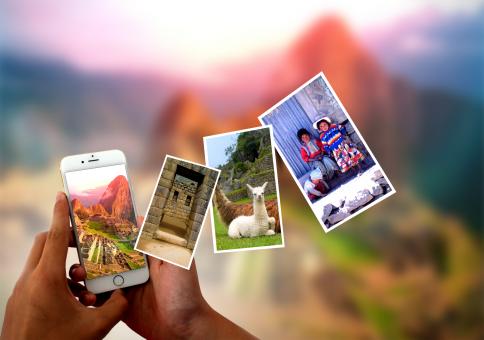 Step 1: Create Your Own Story
In the real sense, an Instagram Poll is just one of the many tools and features on Instagram Story. To create a poll, you'll need to create a story and put a poll on it.
How to go about this?
Simply navigate to Instagram's homepage and click on the camera icon located in the upper left corner of your screen.
In this section, you can either take your photo or create your background post or text for your Story. You can also add text, doodles, emojis, or filters to your IG Story while leaving enough space where you can add the poll to your post.
If you want to maximize the impact of your story post, then you need to ensure that its context is related to the topic of the poll.
After creating your own Story, the next thing is to create an Instagram Poll.
You can achieve this by tapping on the sticker icon that's situated at the top of the story screen. Afterward, select the Poll sticker option.
Step 2: Enter Your Question And Response Options
After selecting the Poll sticker option, you'll see an automatic prompt to add your question and a YES/NO poll box.
You can simply type in the question you wish to ask in the text field.
Note that you're only allowed to write up to 26 characters. So, it's good to be creative while keeping your text short and sweet.
That way, your audience can easily read and respond to your Instagram poll.
You can even customize your responses by tapping each box and entering your preferred response.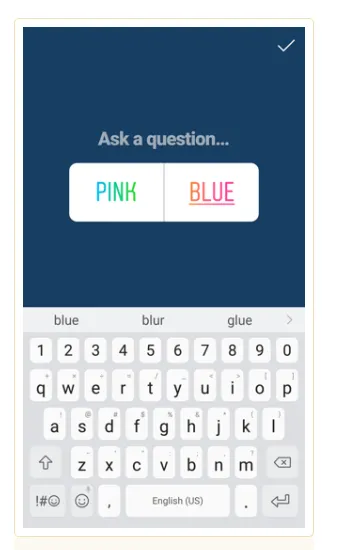 Unlike other Instagram stickers, polls don't support design options and font colors other than pink or turquoise.
Step 3: Place Your Instagram Polls In The Right Part Of Your Story
Immediately after you've customized your poll, tap on the checkmark situated in the top-right corner of the screen.
The poll sticker will automatically appear in the center of the screen. You can easily drag the poll around the screen or pinch to make the poll sticker smaller or larger.
Step 4: Share The Instagram Story Polls With Your Followers
After placing the Instagram polls, the next thing is to share the polls with your followers.
How to achieve this?
Just click on the SEND option, and that's all.
Your followers can then be able to see your Story and respond to your polls.
Step 5: Monitor The Outcome Of Your Instagram Poll
Once your Instagram poll has gone live, you can easily switch on the push notifications so that it displays each vote in real-time.
On the other hand, you can also view the poll results from the story analysis page.
For instance, look at the picture below: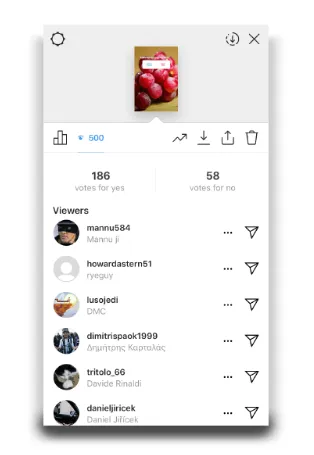 In the Instagram Story Poll, 58 users opted No, while 186 of them have chosen Yes.
The poll analytics are only available while the post is still live (i.e., only 24 hours), and the information will be updated as more people participate in the poll.
So, it's cool always to jot down or even screenshot the results from your poll. That way, you can easily use the information gotten even after 24 hours.
Top 7 Creative Instagram Poll Ideas to Increase Story Engagement
From having an interactive emoji slider to asking fun trivia questions, to promoting product releases on your Story, Instagram polls can help to transform your marketing strategy, and keep your followers animated and entertained.
Install polls can also bring a level of engagement results that you can never get with regular Stories.
Here are some poll ideas that you can consider.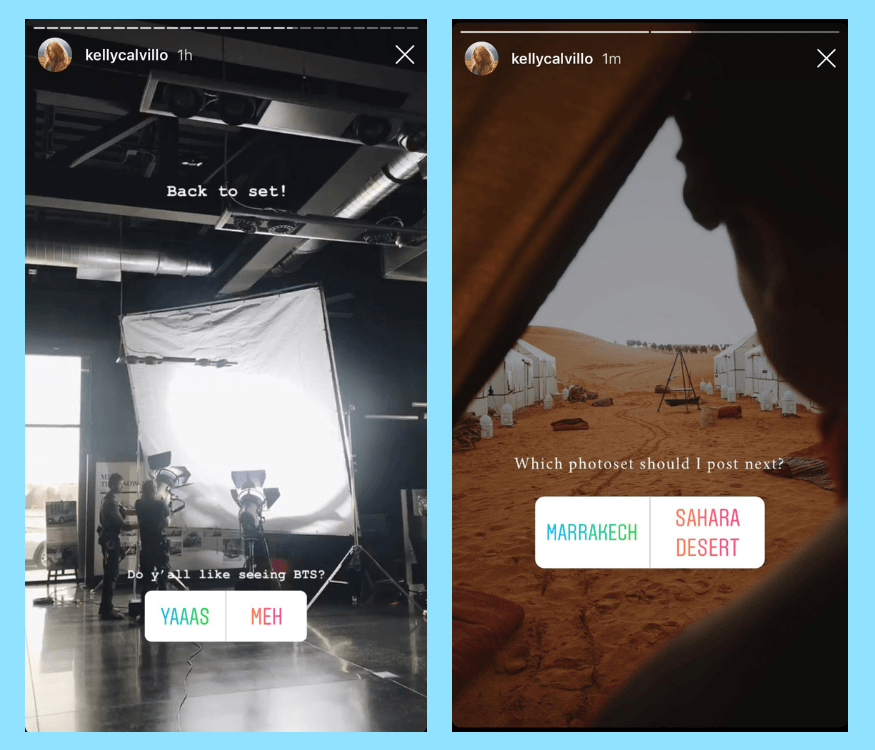 1. Curate Better Content Using Story Polls
Are you aware that you can know if your audience is enjoying the content that you're publishing? Yes, you can know by merely asking them!
When posting content online, it's essential to be mindful of your audience and your marketing strategy.
To make that knowledge more specific, you can test your content using Instagram polls before posting it in the feed.
This is a very effective way to build an effective content strategy and also measure your follower's interest.
Additionally, you'll not get to lose followers over unrelatable content.
Finally, using Instagram polls will also pave the way for a conversation between your followers and your brand.
They'll feel happy and special since you're trying to create content based on their preferences.
2. Run Brand Contest And Campaigns
If you're looking to run a campaign, then it's likely that you're building some social media hype around it.
You're going through the motions of throwing interesting hints, keeping your followers on their toes, keeping the conversation interactive and building hype until the campaign day.
This poll idea works for all types of campaigns – features upgrade, product releases, sales, and more.
Alternatively, you can use Instagram Story Polls to run contests as well.
Want to know how?
By posting a contest question and giving rewards to the right answers, you can build brand recall and increase positive engagement with your target audience.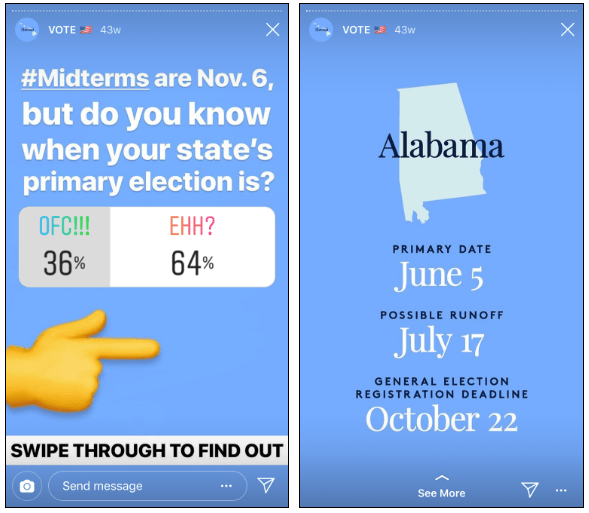 3. Use Instagram Story Polls To Keep Up With The Trends
One of the easiest ways to entertain your following is by putting an Instagram poll that's related to trending issues.
Is there any show that's trending for the season? You can see if your followers are watching.
Is there any significant event coming up anytime soon? Ask your followers to predict the winner.
Did you eat something that might be considered weird by people? You can see if your followers would be bold enough to try it out as well.
Bought a new pair of shoes that look good on you? You can take a picture of it and post it online.
This Instagram poll idea has many availability and flexibility for personalization.
You can try out with different options to see what your followers enjoy seeing.
4. Play Rounds Of Trivia On Ig Story Polls
Asking engaging and interactive trivia questions is a simple and great idea for an Instagram story poll.
This is an excellent idea for businesses that are looking to increase their brand awareness.
When it comes to asking trivia questions, there's a very great amount of flexibility. For instance, you can ask specific questions about your products, questions associated with your brand category, or even questions about current events. General trivia questions would also work.
You can always begin with easy questions and then progressively increase the difficulty level until you find a level that works well for your audience.
After all, you want to be sure that your audience isn't discouraged from participating because your questions overly challenge them.
5. Build A Suspense In Your Audience's Mind And Hype It Up
Do you have a great announcement that's coming up soon? Do you want to push some old product that merits some love? Are you adding a section of content to your blog?
No matter what you're trying to do, you can use Instagram story polls to capture people's attention while hyping things up a bit.
You can ask your followers if they're happy about the release of a new product or even demonstrate how someone could use some of your products.
That way, you'll get to build up a solidified support for whatever you're trying to achieve.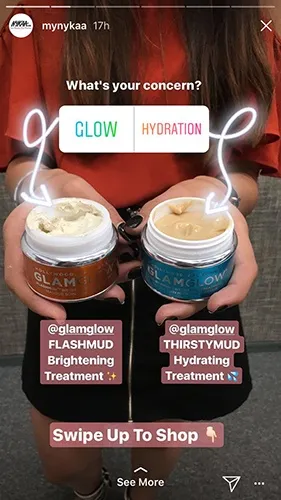 6. Get Your Followers Interest/ Opinions About Specific Products
Here's a scenario. Imagine that you're a small retail shop, and you can only carry limited items.
You're now standing before two similar items and confused about which to pick. You've asked employees and partners, and no one can help you decide.
Rather than remaining in this confused state, wouldn't it be better to ask people who are likely to be purchasing this item?
Restaurants and retails can use such Instagram polls ideas on their Instagram stories. You can ask your Instagram followers if they'd prefer to purchase one product over another. You can even ask if they'd be interested in purchasing a product or not.
That way, you can better tailor your choices to your consumer's desires.
7. Drive Traffic To Your Website
This is perhaps one of the best Instagram Story Polls ideas that you can have.
You can use Instagram Story Polls to drive massive and free traffic without paying a dime for ads.
This approach comes with a very high level of customization. You can either choose to drive traffic to specific category pages, product pages, or even articles.
The poll idea can also be combined with other ideas (like the trivia idea above), but it can also stand alone.
Viewing and Sharing Results of Instagram Story Poll
You can access the result of your poll by following some steps. Also, you can make it available to the selected users based on some criteria. The following are the procedures:
     Open your Instagram app ­
Go to your app and click on your profile icon. It is located at the screen's top-left corner. It gives you access to your story.
     View Overall Results
You can check the poll's outcome on the story slide with the poll. By swiping the story slide up, you can view how Instagram users voted and their preferences. You can also use the "seen by" option below the screen.
     Share the Instagram Story Polls results
After the poll, you can share the results by clicking on "Share Results." You can manage who sees the poll outcome by selecting "Your Story" or "Close Friend."
     Sending Instagram Story Poll Through Direct Message
It is possible to send your poll directly to the inbox of Instagram users. You can do that with these simple steps:
     Open the Instagram App 
While on your Instagram app, click on the messages icon. You will find it at the top-right corner of the app.
     Select a User 
If you are sending to someone you have already started a discussion with, click on the user's profile. Alternatively, tap the New Message Icon located at the top-right corner.
     Take a Picture and Add a Poll
Use the blue camera icon beside the textbox to add a poll. You can select an existing image from your gallery if you have one.
     Add your Poll Question
While taking or uploading a picture, you will see a poll box pop up to include your question. Change the answer options by clicking on the Yes or No.
     Send your Poll
After setting the question and the appropriate options, you can click on the "Send" button.
 You must know that Instagram Story Polls sent through direct messages are less engaging. It doesn't allow Instagram users to select the options attached to the poll question in the picture. Poll through direct messages can only get replies through the message box.
Additional Tools to Make You Creative with your Stories
Instagram does everything possible to help users create interactive stories to share with their followers. New tools included in Instagram stories are a color picker and alignment tool. They have distinct functions they perform,
A color picker can be used for texts and drawing tools. At the left corner is a new eyedropper icon for selecting your preferred color from the photo. After choosing your favorite color, you can use it in your text. It also applies to the drawing tool.
If you are an IOS user, you will see blue lines indicating the correct position to place texts or stickers. The line prevents you from covering a vital part when Instagram users view your story. Accordingly, there are new guides to position your sticker when you rotate it in the direction of the rotation.
Wrapping Up
Here's a recap of what we talked about in this article.
We talked about the importance of using Instagram Story Polls and how to set up Instagram Story Polls.
We then wrapped it up by talking about creative Instagram Story Polls ideas that you can use to increase engagement.
With Instagram Story Polls, the possibilities are endless.
Whether you want to start a conversation, or you want to get your customer's feedback, Instagram Story Polls are a very great option to start engaging with your audience.
We're hopeful that this gives you all the motivation you need to start using Instagram Story Polls in your Stories.
What are your thoughts? Have you used Instagram Story Polls before? Did you get great results? Are there other Instagram Story Polls ideas you'd love to share? Please share your experiences, thoughts, and opinions in the comment section below.
Enjoy This Article? You May Also Like: