Social Media has become the birth place for so many start up businesses. The ability to make long lasting and personal connections through digital communication has allowed some of these start up to blow up into huge empires! Today, I want to cover an important feature on Instagram that brands are using as another channel for marketing. Just below, we are going to be talking about How to use Instagram Stories for Business. 
With over 800 million monthly active users and rising, Instagram is taking over the top social media platforms. To challenge their rival Snapchat, Instagram story function was released in August of 2016. Instagram Stories allow certain content to stay visible for only 24 hrs, much like Snapchat's story function. However, with Instagram being dominated by brands/business the story function is becoming a marketing power house!
Why Does My Business Need This?
Your probably asking yourself why do need to spend so much time creating content that will simply erase in 24 hrs? The reason being is it creates consistent communication between your followers and your account. Not only do Instagram stories increase follower engagement but they:
Active Users – Instagram Reported 300 million daily story users
Relaxed Content – No one is expecting a master piece all you need is some inspiration and creativity to make cool Instagram stories for your brand.
Giveaway/Coupon – Increase traffic to your products by showcasing coupon codes that are only available for the 24 hr periods. If your looking for a creative was to use Instagram Stories for your products. Think of starting giveaways to boost your relationship with your community.
Story Links – The Instagram story link feature enables brands or businesses to link webpages to stories. This means you can drive traffic to your newsletter, youtube channel, or product all in one swift maneuver! With a large following base you could generate serious traffic.
Testing Ground – A cool Instagram Story feature is the ability for users to directly reply within stories. Brands can get direct feed back about possible products or services. This type of feed back is exactly what your business needs to create the best user experience.
Brand Image – Show off the personality of your brand. Use the Instagram Story function to show case your staff, locations, current projects or anything else you can think of that will give your brand a voice. Now followers have an emotional connection with your brand. They will know who you are and what you are like through the content you share. Make sure you are creating the proper image for your brand.
How to Use Instagram Stories for Business or Brand Marketing
Instagram stories for businesses or brands have quickly become a marketing dream tool. The ability to connect with followers and drive traffic almost instantaneously is truly powerful. However, just like posting you cannot spam your stories with promotions or offers. Instead you must create an organic and natural story, using appropriate times to promote.
Creative Instagram Stories Capture Eyes!
Instagram Stories allow brands to showcase their personality. Much like Snapchat, Instagram has given you features and filters so that you can edit your content within the story feature itself. Also, Instagram incorporates story functions like highlights and archives to store your Story Content for more than 24 hrs!
In addition, Instagram has come out with add-ons such as boomerang, hyperlapse, and layout. However, the creativity does not have to stop there. Instagram has access to your camera rolls, so any image you have recently uploaded to your phone will be available to upload to your story. Simply swipe up when in the story function and your last 24 hrs of photos will appear. This allows the use of photo editing apps outside of Instagram such as Canva or Phonto.
Instagram also allows 15 sec of video to be uploaded to your story. A lot can be done in 15 sec, what will your brand do with yours?
Invite Viewers Behind the Scenes with Instagram Stories!
Instagram stories may be temporary but the connections they make with the audience are not. Creating quality stories that show real behind the scenes look at your business are key to humanizing your brand.
Gary Vaynerchuck is an inspirational entrepreneur. HIs account is full of motivation, inspiration and quality content driven to invigorate the young entrepreneurs. Gary applies these same values to his story. Gary's personality is the image he sells, so he is never afraid to step in front of the camera or talk to his 3.4 million following.
It's All About Timing
Instagram's algorithm is constantly changing in order to keep the explore page as organic as possible. The algorithm also makes it very easy for your post to get lost in the viral social nebulous that is Instagram.
However, the Instagram Story function enables you to rise to the top of the news feed for your followers. In addition, the less people they follow that use stories the higher your story will rise in the news feed. Post at peaks times of engagement, this will ensure that your story is getting the highest number of views possible.
Lastly, just like posts the older the story is the farther down the list they go. In order to stay at the top of the story feed you need to be posting consistently throughout the day. Posting new content puts you right back at the top of the feed and keeps the traffic on your story constant.
Push Creative Content through Instagram Stories
Continuously posting content an your account drives users away. They become numb or sometimes annoyed by your content. Luckily, Instagram Stories allow for an alternative avenue for content. Spacing out your account's post between actual feed and Instagram story time line enables for constant posting without desensitizing the audience.
You should not worry about over posting on your stories. Creative Instagram stories are a unique way to share content continuously. Lastly, a good benefit of the story function is if users wish to skip through story posts they can by simply tapping the screen to skip certain photos. The best way to use Instagram Stories is by sharing quick and creative content that is not only engaging but gives value as well.

Share Content with Instagram Live
The Instagram live feature made its debut around the same time as Instagram Stories. Instagram Live allows for real time sharing of video content. Within the last couple years video content has been taking serious strides in the content marketing niche. More people now are watching videos to learn and gather information than ever before. This is what is allowing YouTube to be the second largest Search Engine on the Internet.
Very similar Facebook Live, Instagram Live enables users to watch videos and engage with the accounts in real time. One advantage of Live Video is that it notifies your followers when your starting. Also, the story icon changes to a distinct look.
Live videos are typically a very interactive format. The account user should respond and acknowledge the followers that are engaging with them. Similar webinars many brands use Instagram Live for contests, giveaways, hosting Q&A, live tutorials and much more.
Using Instagram Stories to Drive Traffic
When it comes to driving traffic from Instagram to your website, there is little you can do. Previous to the new Instagram Story Link feature, accounts were only able to showcase their website in the profile bio link. This made it incredibly difficult for brands/business to generate traffic to other locations.
Now with Instagram Story Links, accounts have the ability to convert and drive traffic all in one function. Accounts can start generating traffic to their Youtube Channel, Facebook Groups, Website, Products/Services, and so much more!
Accounts have gotten creative with their Instagram Story CTA's. Some of the best Instagram Story examples of CTA's are simple phrases like "Swipe Up" or another popular one is "Link in Bio'. These CTA's are vital in order to have the user take action. However, Instagram Stories do not have the same caption space as post, so CTA's should be short and sweet. Just like CTA's in Captions, having these same principles applied to Instagram Stories for marketing will drastically increase traffic and therefor leads.
Keep Important Instagram Stories with Highlights/Archives
Instagram Stories might be known for their 24hr shelf life. But with the introduction of Instagram Story Highlights or Archives account users can now pin important story post to the top of their account.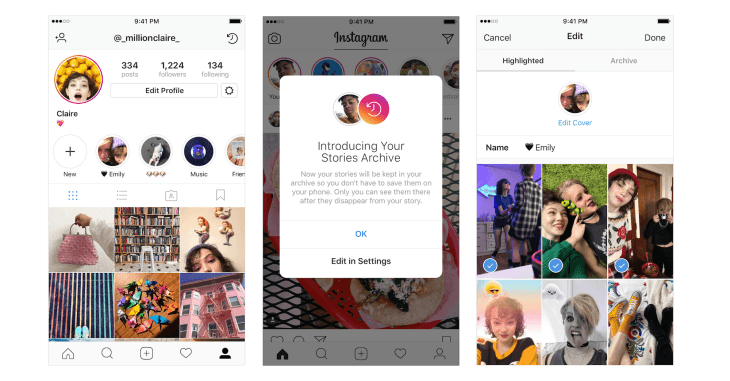 Highlights can be curated to fit a specific theme or promotion. Allowing brands or businesses to design separate long lasting Instagram Story!
You can use Highlights to:
Create trailers for your account.
Show off your customers or reviews.
Showcase product features, giveaways, contest.
Directly address new followers about your type of content or account. (i.e. what can followers expect to hear from you)
Advertise a sale or discount opportunity.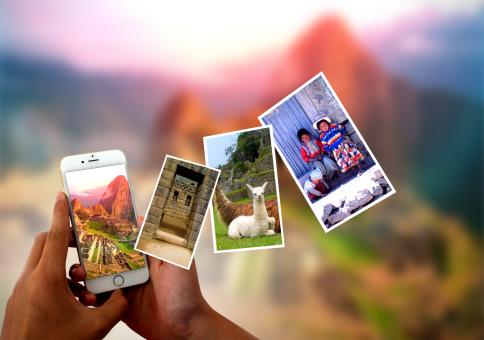 The Wrap Up
Instagram has become a massive social media super power. The social media platform has over 800 million monthly active users and is growing every year! While Snapchat only has mere 300 million monthly active users, it would behoove your brand to learn Instagram Stories for marketing first.
Instagram Stories have become a social media marketers dream. Not only does this function give an avenue for alternative content and the ability to drive traffic to multiple locations. But it allows for the humanization of a brand or business. The 24 hr time line gives a behind the scenes look at the inner workings of the brand/business. This short glimpse is all that is needed for followers to start creating an emotional connection with your brand.
However, to become a master of business promotion through Instagram Stories you have to dive in! The only way to understand what content your audience engages with is to test! Keep in mind that content is very brand dependent. If you get stuck look to influencers in your niche for helpful ideas.
But remember to be creative! The content only last for 24 hrs so this is the perfect place to experiment and test out new ideas! This is your brands chance to show case it's personality. Start putting time and energy into creatively telling your brand's story.
Do you have some Instagram Story Secrets? Leave a comment explaining how you have come to master Instagram Stories for Marketing and what methods you involve in your Instagram Story marketing campaign.