2020 is only a few days away, and we're so excited to write about one of our favorite blogs for 2019 – Instagram Growth: Expectation vs reality in 2020.
This is particularly useful for brands that are looking for Instagram's present and upcoming trends to plan their marketing strategy for 2020 and beyond.
Instagram is a social platform that has been continually growing and has put some of its competitors to bed like Snapchat.
It's ideal to say that the platform is no longer a parochial app but instead, a comprehensive network with skyrocketing engagement levels.
More so, the Instagram trends in 2020 are all about influencers, creativity, Stories, shopping, videos, visual effects, and authentic content.
For starters, the platform has invented tools that enable users to create fresh and interactive content. Furthermore, Instagram evolved to support its growing business accounts. These pointers suggest that Instagram is geared towards becoming a formidable eCommerce platform.
Whether you've gained a considerable amount of influence on Instagram over the years, or you're just starting to build your presence on the platform, it pays to understand how the platform is growing.
With this knowledge, you can easily enhance the reach of your Instagram account and that of your business as well.
Apart from that, you need also to examine the factors that aid the building and management of an influencer-level business account such as researching for excellent Instagram growth services and social media monitoring software.
So, it might be beneficial to look at Instagram trends for brands in 2020 to determine whether you're ahead of the game.
To help you begin 2020 with a supercharged Instagram growth strategy, we're exposing you to the most prominent Instagram growth trends and forecasts that you can exploit.
Let's dive deep.
INSTAGRAM GROWTH PREDICTION #1: MICRO-INFLUENCERS WILL BE MORE EXCITING THAN CELEBRITIES
Content creators with less than 10,000 followers are now beginning to expose their genuine value of advertising. Such creators have a smaller but denser community, these creators are called Micro-Influencers.
With the constant flow of true-to-life Stories and inspirational posts, influencers are keeping their follower's interest alive. Unlike celebrities who are rarely available, micro-influencers are always open for discussion 24/7.
Furthermore, users can always ask questions for every post, Story, tweet, and vlog from their favorite micro-influencers.
As soon as micro-influencers receive notifications for each attempt at dialogue, there's almost a 100% probability that they'll attend to every question or comment.
Consequently, micro-influencers are better at building a vital connection with their community than celebrities can.
Additionally, it's usually easier to get a higher satisfaction percentage and also tailor content for a small group of people. The engagement rate also increases when a micro-influencer has the same interest as his followers.
In contrast, it looks like a real challenge for celebrities and big influencers to address over 1 million people and hoping they'll read the message the same way.
Instagram Growth Prediction for 2020: Brands will partner with more micro-influencers.
INSTAGRAM GROWTH PREDICTION #2: INSTAGRAM TV WILL GET BUFFED
REALITY: Instagram TV is no longer news. Though, it can be described as the publisher's novel blueprint advertising channel.
Regardless of the presence of some colossal players in the video-sharing industry, there's a lot of potentials on IGTV.
Right from the beginning, Instagram used exclusive ingredients in shaping its IGTV channel. It all began with the rise of vertical video format for mobile screens. Secondly, Instagram developed a community of influencers who are always willing to promote any of its features.
Lastly, Instagram TV added some ground-breaking spark in the video world. Just like the Stories, IGTV followed a success recipe, and it asks for true-to-reality footage.
This is a remarkable transformation from the emotionless professionalism that YouTubers are expecting. It's a shift that has already proved to encourage and entice visitors and creators of Instagram Stories.
Obviously, Instagram TV competes with YouTube- the father of video content. YouTube had years at its disposal to perfect the world's first video-sharing platform.
Even though Instagram TV can't win a battle with YouTube, the predictions from Instagram are revealing victories in niche areas.
EXPECTATIONS: until then, IG is yet to level out the ground with small twists of great potential. Firstly, Instagram TV needs search functionality (much like a Google search engine) that uses keywords.
Presently, users can only find new content on IGTV either by browsing the IGTV personalized suggestions from the Explore page or manually visiting profiles.
Another quick fix that Instagram needs to implement is the IGTV channel subscription. This feature will be appealing to publishers. Since publishers have an audience waiting for them to post, it'll be amazing to create content specifically for Instagram TV.
INSTAGRAM GROWTH PREDICTION #3: IMPROVED ANALYTIC TOOLS
REALITY: Instagram has already released a slew of data reports which can all be accessed within the new Insights feature. That's an excellent start for brands that work with ads and content creators that pursue community growth.
However, there's a lot of room for enhancements because these insights are hardly scratching the surface.
Regardless of the visually-appealing updates that Instagram launches, the segment of accounts that essentially generate businesses and income is still interested in the activity tracking.
So, Instagram needs to improve its in-house business infrastructure before planning for a more robust expansion plan.
EXPECTATIONS: In 2020, it's expected that Instagram will focus on growing data analytic tools. Expect data tracking similar to the data tracking from Facebook Pixel & Ads Manager.
Imagine what it looks like to perform activities like data collection (which takes about 7 days of analytics on Insights), result interpretations, best-performance posts tracking, hashtag tracking, etc. on Instagram.
Conversely, other platforms managed to fill in the gaps that Instagram failed to fill. For instance, platforms like ProductLead Analytics is already sending monthly reports on competitor tracking, in-depth insights, brand ambassador discovery, etc.
INSTAGRAM GROWTH PREDICTION #4: THERE WILL BE A GREATER AWARENESS OF FAKE FOLLOWERS
One of the key factors that measure an influencer's potential is the size of a community. So, many brands consider this anytime they outline their portfolio of creative partners and influencers.
Though many users have been deceived by the lure of fast community growth, regrettably, these practices led to a rise in fake followers. Due to these fake communities, brands are losing interest and money in influencer marketing.
As such, several Instagram predictions are geared to a movement against false numbers and using automation services. Many agencies are also now preparing and developing tools that audit audiences and assesses the authenticity of an account.
Furthermore, Instagram is setting measures for mischievous accounts that pretend to be something they're not.
In 2020 and beyond, there'll be more evident transparency about the practices that classify account owners as genuine influencers or not.
Authenticity will also become a significant trend and brands will have no option than to show a more real, vulnerable and honest side of their brand or business.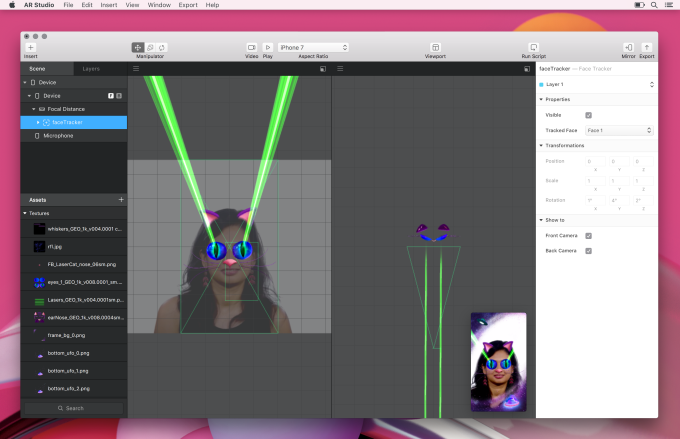 INSTAGRAM GROWTH PREDICTION #5: EVERYONE WILL BE ABLE TO CREATE THEIR INSTAGRAM AUGMENTED REALITY (AR) FILTERS
Instagram AR filters have become a hit in 2019, and they're likely to stay for years to come. If you haven't heard of AR, you may have used it.
This year, Facebook gave users access to Spark AR Studio – a software used to create custom AR effects.
Just like Sketch or Photoshop, this AR platform for Windows and Mac lets users create AR effects for mobile cameras.
Such a move will create a substantial impact on the entire community of businesses, creators, and users. It also leads our Instagram predictions to an entirely new level.
As we move into 2020, you need to be prepared for new waves of AR content. More than ever, users will suddenly be able to change their hairstyles, try on new apparel from the comfort of their homes, test new makeup colors, wear their favorite superhero masks, all with their business awareness.
Brands can also extend their presence outside digital and reality and onward to Augmented Reality. For instance, the new camera effects of you wearing your branded mark can enrich brand awareness and create unforgettable moments.
The fact that anyone will be able to generate their own AR filters can pave the way for brands to get real, organic followers and establish stronger connections with their preexisting community.
When using a new AR filter, people can access and view the profiles of the person who created the filter. If the filter is attractive enough, users can decide to follow the creators.
INSTAGRAM GROWTH PREDICTION #6: INSTAGRAM WILL BECOME A NEW HOME FOR BRANDS
Brands are more at home on Instagram than they have ever been. A report from Oberlo revealed that 50% of all users follow a business account.
On Instagram, advertisements are embraced, and we expect that sentiment to grow continually.
Also, brand popularity will continue to flourish in 2020. Many thanks to the visual nature of Instagram and the increased usage of social media as a channel for product information.
To put things straight, we need to go back to the origin, when Instagram grew as a trend amongst other emerging networks.
In 2019, we now talk about the matryoshka impact in marketing, when new trends come inside stronger and older trends, thus consolidating and empowering the statue of the mother trend.
Who knows, in 5 years from now, we could be talking about micro-trends, which might eat from the center of a social network, facilitate new features and also lead to rebranding.
INSTAGRAM GROWTH SERVICES
Everyone knows that gaining more followers on Instagram can be hard, and it's getting even more difficult these days. Without help, it's usually time-consuming and tedious to get more real followers on Instagram.
When you try to gain more followers all alone, you might never seem to have enough hours in the day.
If you're serious about Instagram growth, then you need to get the right tools. Fortunately, that's where Instagram growth services come in handy.
Lately, so many Instagram marketing services and Instagram growth services have begun popping up. These tools are handy, and they take on the burden of getting you more followers.
Furthermore, they help to increase your social credibility, improve client satisfaction, increase your sales and your engagement rate.
But then, with the overabundance of Instagram growth services, a lot of brands find it challenging to determine the best.
We'll talk about some of the services that you can quickly vet and decide which one is perfect for you.
Let's dive deep.
Ektor.io
ektor.io is powerful AI-powered growth software that uses face-recognition to boost your Instagram engagement and help you gain active followers.
ektor.io's team regularly releases new updates to permanently fly under the radar of Instagram's algorithm.
The software features multiple filters to target a specific audience: hashtags, accounts, languages or locations.
Method Used: Liking, Commenting, Following, Unfollowing and Story Viewing
Cost: One-time payment software starts at $79
Ease of use: Very easy to set up and to use
Targeting option: Hashtags, Accounts, Locations, and Languages
Free trial: No.
Ampinfluence is a human-powered Instagram growth service that uses smart interactions and targeting techniques to grow a brand's Instagram account organically. Additionally, they also offer consultation services.
One of the powerful advantages of using Ampinfluence is that it complies with Instagram term of usage and it's 100% white hat.
Method Used: Comment, follow and like
Cost: begins at $129 per month
Ease of use: Yes
Targeting option: hashtags, gender, account, and location
Free trial: No.
Want to get more Instagram followers from a platform that has a dedicated account manager?
If yes, then upleap is your best bet.
Upleap is one of the best Instagram growth services that you can find in the market today. With the help of their experienced account managers, Upleap makes it easier for brands to grow their follower list with minimal efforts.
Once you're on their website, you just need to register, give it a list of users and hashtags and that's all.
Upleap have help to grow their customer's audience base by 300%. They're also focused on engaging trustworthy, and dedicated audiences.
Method Used: Comment, follow, like and DM
Cost: begins at $39 per month
Ease of use: effortless to set up and use
Targeting option: hashtags and accounts
Free trial: 3 days
SOCIAL RUNNER:
Want to take your Instagram to the next level by growing relevant engagements, sales, and followers?
If yes, then Social Runner is your best bet.
Social Runner is another Instagram growth service that brands can use to grow their follower base with appropriate followers that are necessary for sales and engagement.
They only target followers that are more likely to engage with an account. Also, with the help of their organic targeting methods, brands will start seeing results within the first day.
Working with Social Runner is also very easy. You just need to connect your Instagram and choose who you target. Afterward, you can sit back and relax.
Method Used: Comment, follow and like.
Cost: begins at $39 per month
Ease of use: effortless to set up and use
Targeting option: location, hashtags, and accounts
Free trial: No free trial but they have a 7-day refund policy.
STELLATION MEDIA
Stellation Media is a digital marketing service and creative growth agency that leverages online marketing to help brands grow.
Basically, they specialize in building digital experiences, memorable brands, and marketing campaigns.
Brands that work with Stellation Media are assigned a social media manager whose responsibility is to help them strategize and execute plans that'll help to grow their social media account.
On the contrary, they also offer consultancy services for brands that don't want to outsource the management of their accounts.
Method Used: Comment, follow, DMs and like
Cost: no fixed price
Ease of use: Very easy to set up and use
Targeting option: hashtags and accounts
Free trial: No.
CONCLUSION
In this article titled Instagram Growth: Expectation vs reality in 2020, we talked about different Instagram projections for 2020 and some Instagram growth services that brands can use to increase their followers.
Instagram can be a very tricky social media platform, but with a great strategy, the right tools, and the right information, you'll likely see excellent results on the platform.
It's our honest expectations that you're able to grab some vital information that you can use to plan your Instagram strategy for 2020 and beyond better.
Well, let's hear what you have to say.
What are your thoughts? What do you think about the expectation and reality on Instagram? Please, do sound off your views in the comments section below.