Last Updated: July 21st, 2021
Are you thinking about starting an Instagram affiliate marketing business? If your answer is yes, this article is all you need to have a successful affiliate marketing business on Instagram. With more than 1 billion people on Instagram, starting an affiliate program on the platform is highly recommended.
This article will explain the concept of affiliate marketing before we delve into our major focus on Instagram affiliate marketing. It is not always about starting a business; having enough vital information about your business is very important. Therefore, stay put as we take you through the business of affiliate marketing on Instagram. Whether you are starting a new affiliate program or revamping an already existing one, Instagram provides you with enormous opportunities.
Table of Contents
What is Affiliate Marketing on Instagram?
Before we delve into Instagram affiliate marketing, it is important to understand affiliate marketing clearly. Affiliate marketing is a system where you can earn a commission by promoting and selling other people or a brand's product or service. You identify a product that you like, promote for others to buy, and earn a piece of the profit for every sale you make.
The affiliate marketing program involves four main players: the brand (business), affiliate marketer (influencer), affiliate network, and the customer. Having an affiliate marketing program on Instagram is a good business strategy to promote and sell products on Instagram.
When you make a sale using your affiliate link, you earn a commission amount of the total sale value. The commission rate varies, depending on the business or brand. However, the rate ranges between 10% – 15%. You share your affiliate link on Instagram for potential buyers and customers alike.
Why Are We Focusing On Instagram Affiliate Marketing?
Here are the major reasons why we are honing in an affiliate marketing program on Instagram:
All major affiliate networks or programs you can use to monetize your social media are all supported on Instagram. Some of these affiliate networks include ShareASale, CJ Affiliate, Pepperjam, Rakuten, and AWIN.
Instagram supports both image and video features to advertise and sell products.
There is no charge for registering on Instagram, and the platform is effective for driving traffic and turning followers into customers.
Benefits of Affiliate Marketing on Instagram
There are lots of benefits you can enjoy while engaging in an affiliate marketing program on Instagram. Affiliate marketing is a simple and fast way to get across to more potential customers. You can partner with influencers, and each of these influencers has its niches, communities, and platforms. When you partner with these influencers, you will reach more customers at a faster rate.
The high number of active users on Instagram ensures more people can reach out to your affiliate network. There will be more chances of making a sale when you can reach out to more people than otherwise.
[et_bloom_inline optin_id="optin_22″]
How To Set Up Your Instagram Affiliate Marketing Program
It is easy to set up your affiliate marketing program on Instagram, and we will show you how it's done. Below is a step-by-step guide on the best way to get started with your affiliate marketing program on Instagram.
Step 1: Choose an affiliate network.
The first step is for you to pick an affiliate network as it provides you with numerous benefits. Some of these benefits include tracking technology, reporting tools, payment processing, and exposure to base influencers. These affiliate networks help you figure out the amount of commission an influencer is due, and the best commission structure. There are two main types of commission models: pay per click and cost per acquisition. 
On pay per click, you will get paid for every click you drive to their site. Meanwhile, the cost per acquisition only pays when you make an actual sale.
Step 2: Find Brands or Businesses to promote their product.
After you have joined a good affiliate network, you should select the products you want to promote with your affiliate. Always go for products you understand that feel at ease to market. It will be counterproductive to select a product because of the high commission, whereas people aren't buying it.
Step 3: Always analyze and make necessary adjustments 
Once you start selling through your affiliate link, it is always good to record what is working for you. If you have affiliate links for different brands, always keep track of which product makes the highest sales and note the things you are doing right.
AVOID Common Affiliate Marketing Mistakes
Instagram can be used or abused and the reason why 99% of people never get the type of traction they're looking for is because of a few things.
MISTAKE #1: Over Promoting Brand or Products
Contrary to popular belief most people think the more they post about how great their product or service is the more customers they will acquire. Now, I don't know about you but I've never logged into Instagram thinking…
"Hmm… I wonder what I'm going to buy on here today." People go onto IG to engage with cool photos for motivation and entertainment. So if all you're posting about is how great your product/service is it's like you're one of those late-night infomercials that nobody watches. DON'T SPAM EVER!
MISTAKE #2: Not Staying Consistent
I call this the "hype phase." This is when someone gets HYPED on a new marketing strategy or product and then a month or even a week later they've jumped to the next hot marketing method or company. They constantly jump from one thing to the next, chasing the shiny object, like a dog chases its tail.
If you're doing this thinking there's something wrong with the product or service you're promoting then STOP! You're damaging your credibility. It's like trying to learn how to ride a bike, skateboard, and surf all at the same time. You might be able to juggle a few things if you're an advanced online marketer, but if you're brand new this will NEVER work for you. The average millionaire has 7 streams of income only AFTER they've mastered their first one.
MISTAKE #3: Complain & Quit Too Soon
If you're serious about your future like I believe you are, then you're going to need to commit LONG TERM! By long term, I mean AT LEAST 24 months. If you've ever read the book "The Outliers" by Malcolm Gladwell he says it takes about 10,000 hours of practice to achieve mastery in a field.
Now, will it take you that long to get a result? Absolutely not!
You can start getting results right away, but don't get discouraged if results don't come immediately. Anything worthwhile takes time. You can't slow-roast a steak in the microwave, and for you vegetarians/vegans reading this it takes around 50-100 days to fully grow/harvest your vegetables before you can eat them!
What to Post on Instagram as an Affiliate Marketer
If you're trying to stand out from the crowd and do something different the best way to do that is to figure out what 99% of people are doing and do the opposite!
So if you see people posting up pictures spamming their product or service all the time then what should you be posting?
Well…Here's exactly what I post!
1.  Lifestyle pictures/videos!
You don't need to be a professional videographer to do this! I don't even have a nice camera… What I do is shoot videos on my iPhone and if I want to go above and beyond I'll sometimes edit together quick little 15-second video clips using iMovie.
Simple little videos of you walking on the beach or pictures where you're doing something that looks like fun will captivate someones attention right away! MARKET YOUR TIME & FREEDOM!
2.  Posting Niche Content
When starting your affiliate marketing program on Instagram, you probably have a particular product niche that you are sticking to. Instead of constantly promoting salesy content that drives traffic away. Think about how you can post niche-specific content to entertain your audience.
For example for sneaker shops, instead of posting new shoes for sale every day. They post content around how to clean old shoes, how to repair them, how to customize them, etc. All of which has nothing to do with direct product sales but instead provides value to your audience that helps build the brand. Think about what type of niche content you can post.
View this post on Instagram
3. Team Pictures & Influential People
If you're in a Network Marketing company and there's a team in your area, get together with them and take pictures/make videos when you're working. When people see that it draws them into the culture that you're creating and naturally they will want to be apart of it. It doesn't even have to be with your own personal team, just as long as you're working with others it shows teamwork. Also, if you go to a networking event make it a goal to get pictures with the top dogs in the room!
4. Shout-outs!
If someone in your company ranks up, gets a company car, paid for vacation, or hits a new rank/income bonus, post that up on your page with a picture of them and a shoutout. Not only does it recognize their accomplishments but it shows that you associate with other successful people and if someone were to join you they would be in the same boat.
Hashtags on Instagram
Instagram Hashtags are a great way to target a specific market that would be interested in what you're selling. There are millions of hashtags on Instagram and you want to make sure you're picking the correct ones for the product that you want to promote.
If you're trying to attract new people to your company make sure you're not just using your companies hashtag. For example if your company is Amway don't just put #Amway in the description of your photos or videos. The reason for this is because everyone else in the company is doing that and you will only attract leaders from other teams, not new people.
EXAMPLE: If you're in a company that offers travel discounts you would want to hashtags similar interests for travel. So stuff like
#Vacation
#Tourism
#Holiday
#SpringBreak
#Wanderlust
#Adventure
#IGtravel
The whole goal is to hashtag similar interests to your product or service, that way you will be attracting the right people who would actually want to buy what you're selling.
Just think: "What is my perfect prospect interested in?" and hashtag this!
Affiliate Marketing Sales Funnels
The key to a successful affiliate marketing program on Instagram is a strong sales marketing funnel. A strong sales funnel will do a great job of taking potential leads and converting them into paying customers.
Now, I want to draw out for you what your sales funnel will look like. If you're posting up the pictures and videos I recommended people will start to comment on your photos asking: "what you do."
This is when you tell them to click the link in your profile to learn more. When they do it will take them to your capture page where you gather their contact information to build your list. They are then directed through your sales funnel to see your presentation video offering your product.
Here's how it works: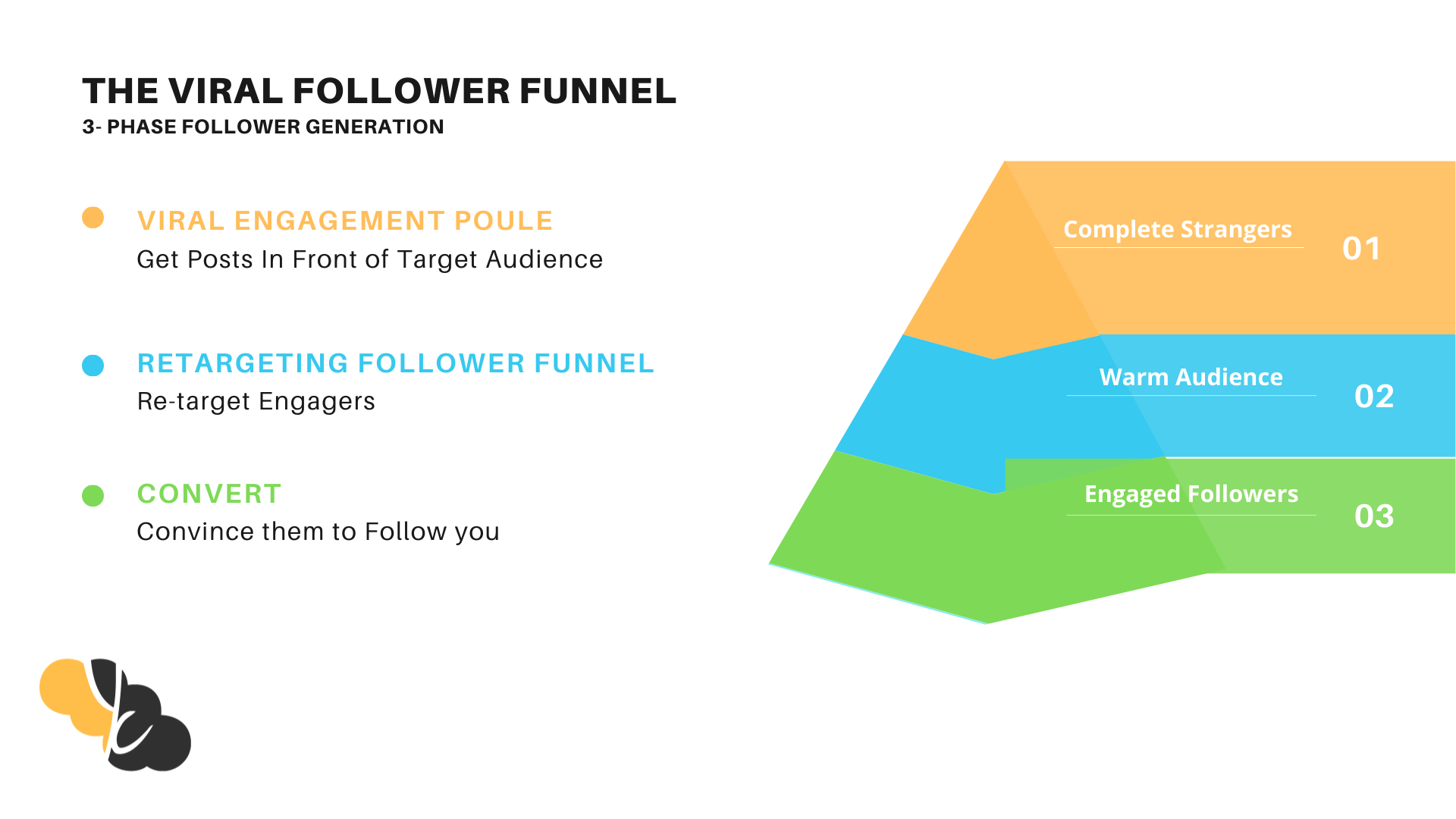 Affiliate Marketing Tip: Follow Up Your Leads
The fortune is made in the follow-up, so if you're trying to make your first €10,000 online you absolutely need to follow up with your leads.
Following up is actually very simple, because if they showed enough interest in what you have to offer by putting their information on your page then they will be starstruck when you take the time to reach out to them! This method is effective for the sole reason that 99% of people don't know how to present or sell anything online.
So if you have team members or business partners that suck at selling you could make a sales video for them and they can implement this entire funnel process into their business.
The coolest part is this process is all AUTOMATED so when your Instagram following grows larger and larger people will be clicking your link going through your funnel and buying your products ALL WHILE YOU SLEEP!  This not only works with just Instagram. You can use this method for your Facebook, Twitter, Youtube, Blog, or any other social media site there is!
New Ways For Creators to Earn Extra Income
Instagram has rolled out some new features that allow creators who have product lines to connect their shops to their profile. It makes displaying and selling of products to their followers easy. This new feature is available to creators worldwide.
Also, setting up new shops has become easier because you can now link to one of the four merchandise partners of Instagram. The merchandises are Represent, Bravado/UMG, Spring, and Fanjoy. These new updates will be implemented in the US to eligible creators starting from next year.
It is now possible to drive interest with high-class products. You will get integrated into the community with the "my shop" features added to the creators' profiles. Part of the improvement made to Instagram is adding badges to show the credibility of creators. This is intended to allow creators to earn from supporters.
Creators can now engage their fans directly, thanks to the new shopping tools. Furthermore, Instagram will be paying creators for their contribution to the communities. Once a creator meets the criteria, he can earn an extra payout when using a live badge.
Instagram introduced these updates to enable creators to maximize Instagram affiliate marketing. This update makes it possible to connect to clients directly or work with brands to earn money. More support is coming for creators soon.
Enjoy this Article? You May Also Like:
Unlocking the Instagram Explore Page Algorithm