When it comes to Instagram, the one page every account is trying to get on is The Instagram Explore Page! The Explore Page on Instagram is a collection of posts Instagram believes you will be interested in. But then again, how exactly does Instagram know what your interests are?
Using Artificial Intelligence and big data collection, Instagram has created an algorithm for its Explore Page. The Instagram Explore Page Algorithm is a series of steps to create a unique explore feed for every Instagram account. Using many factors, the algorithm chooses content that best fits your interests.
Instagram has over 1 billion monthly active users! Understanding how to utilize the explore page on Instagram to grow your business is paramount. Just below, we will be Unlocking the Instagram Explore Page Algorithm & How to Get on the Instagram Explore Tab.
With this knowledge, you will be able to manipulate the algorithm to help your posts start going viral!
Key Takeaways
Instagram's present algorithm will require you to use several tools for your page to rank well. This, however, is not difficult, nor is it any different from the regular effort you put in.
The most important things you must keep in mind to aid the growth of your Instagram page are:
Creating quality reels using the most trending sounds.
Using trending hashtags.
Using a call to action at the end of your reels.
Tagging brands.
Reposting viral content.
Amongst many others, these are the few tools that can help your page grow viral this year. Also, it is important to note that Instagram's Explore page algorithm constantly evolves to provide users with relevant and engaging content.
Understanding the factors influencing the algorithm will help businesses and individuals optimize their content to increase their chances of appearing on the Explore page.
Remember to post high-quality content, engage with your audience, use relevant hashtags, create content relevant to your audience, and post consistently.
How The Instagram Algorithm Works
Before working on your Instagram page, you must first understand what the algorithm is all about.
The Instagram algorithm is about three major things:
Creator and Audience relationship.
Content relevance.
How new this content is.
For Instagram to be able to push your content to the "explore" page for users, these three things are put into serious consideration. If you have a bad relationship with your audience, your content suddenly becomes a menace to the explore page.
In this light, Instagram hides your content from the public or restricts it from going viral. The same applies to the content you post. If there is no relevance whatsoever, it'll rarely appear on anyone's explore page.
So try to ensure as much as possible that you have new content most of the time, your content carries relevance, and the audience enjoys it.
Here's How to Rank On Instagram Explore Page
Just below we are going to be uncovering the key components of the Instagram Explore Page Algorithm. Understanding these factors will help your posts get on the Explore Tab which will ultimately grow your following, increase brand exposure, and boost engagement significantly.
Batch Testing Theory
When a piece of content is uploaded on the platform, Instagram shows it to a few users among other content on the explore page. This is to constantly offer new content while testing & recording data on what you engage with.
Next, the algorithm measures how many impressions, alongside the number of downloads, shares, comments, and likes it receives. The Engagement Ratio informs the Instagram Explore Page algorithm, whether they should show the video to more people or not.
If Instagram pushes your content to the next batch of people they will remeasure to see if your content deserves another push. This process continues until your content levels out or goes completely viral.
6 Factors that Impact the Instagram Explore Page Algorithm
1. Video Content is Still King
When it comes to content on Instagram, nothing is getting a bigger push than video content. With the launch of: Instagram Reels,  Instagram Live, and IGTV. Video content is now becoming a primary focus of Instagram.
How can we use this information to manipulate the explore page?
By understanding that Instagram is pushing more videos to all users. It would be in your Instagram account's best interest to start creating more video content. Now you may be apprehensive to dive in, but let's just look at some Instagram statistics.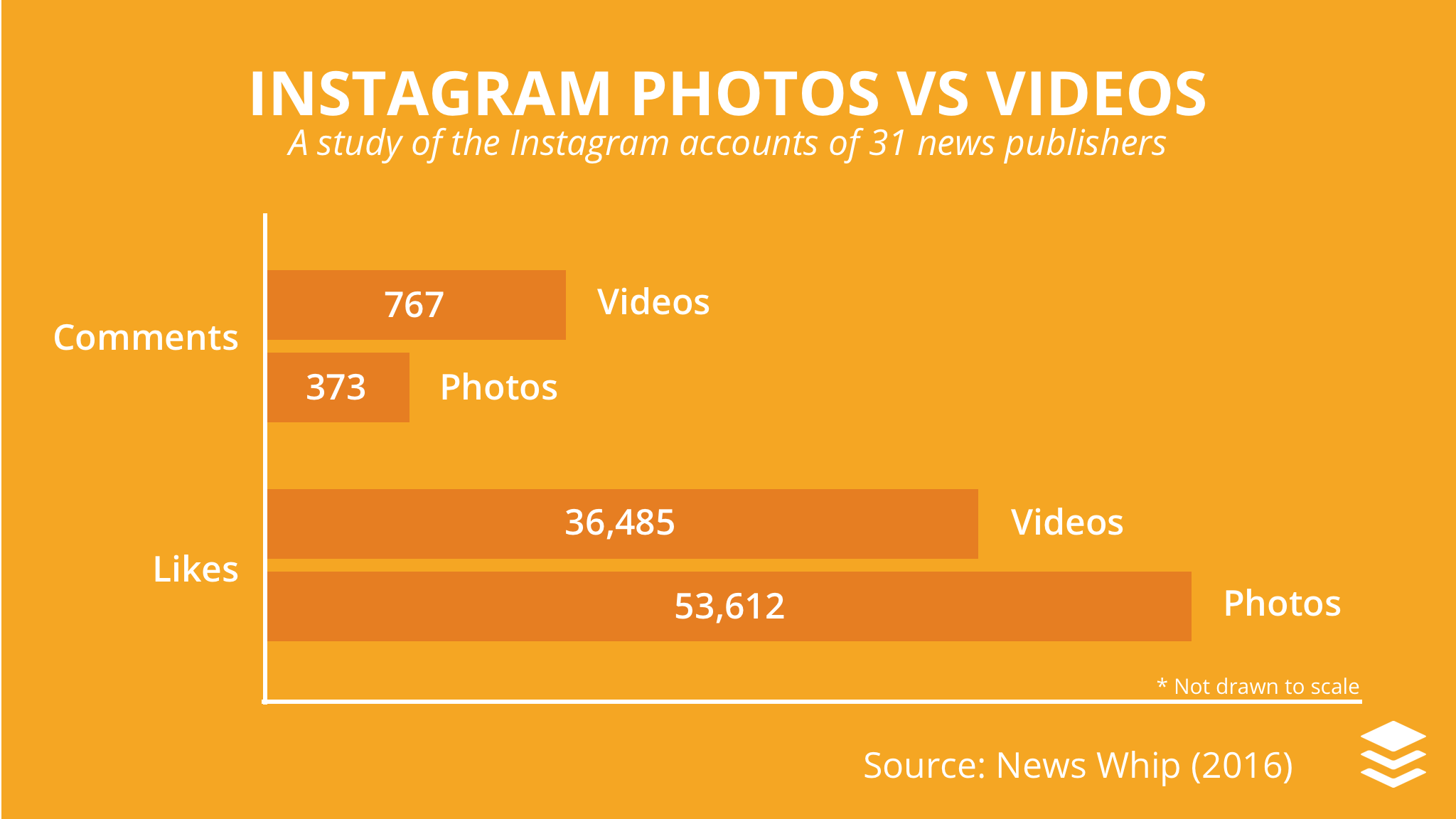 Throughout countless studies and experiments Sponsored Videos to get 2-3x more comments than Sponsored Photos. While Instagram has not definitely stated that Comments are more valuable than likes for ranking on the explore page. It's without question that Comments take longer & they inspire more thought out of the viewer.
Instagram's primary goal is to create social chatter & keep people on their platform as much as possible. If your content can accomplish either of those things you will go viral on the Explore Tab for sure. What better way to do that than with some video content!
Videos on Instagram are no longer restricted to 3-60 second videos, IGTV videos can now be up to an hour in length. This means content creators have more time at their disposal to create engaging/entertaining content.
2. Engagement Boosting to Go Viral
The Explore Page categorizes content in a very unique way. Not only does your Explore Page consists of content similar to what you engage with. It also consists of content that people you follow engage with. The interconnection of interests allows for a spider web network of content to form between followers.
This gives your content the ability to have greater reach and exposure, dependent on the accounts that you follow or engage with.
Just below we are going to help you use this knowledge to your advantage on How to get on the Instagram Explore Page.
Every Minute Counts…
One of the best methods of reaching the explore page is receiving engagement on your post within the first 45 min.
This short burst of engagement notifies Instagram that the post is of quality content, causing Instagram to push your content to more users.
Remember that spiderweb network of the content we talked about above?
Well when it comes to engagement, quality matters more than quantity. The accounts that engage with your content are avenues for pushing your content. Meaning the more influence they have the more reach/exposure your content and account will receive.
Here is a perfect example, if you were to receive engagement from 10 accounts with a 100k following. Then you're not only just reaching those 10 accounts, you're reaching their 1 million combined followings with a single post.
Plus, if those followers start to engage with your content, then their followers will start to see your content. So on and so forth, Mastering this type of content networking has the ability to make any post go viral.
The more influencer accounts that engage with your post, the easier it is to reach the explore page and grow thousands of followers a day!
How Do You Boost Instagram Engagement?
Here are a few tips to put into practice to increase engagement and help your post get on the Instagram Explore Page!
Due to the Instagram Algorithm Update in August of 2020, Instagram is now starting to crack down on organized & coordinated inauthentic behavior. This means that accounts using DM engagement groups, Powerlikes, & potentially Instagram Giveaways will start to undergo an Identity Verification Review Process that will last up to 30 days. 
Fear not! There are plenty of Organic Instagram Growth Hacks you can use to boost engagement, follows & more.
Create Captivating Content:
Finding content that is already going viral is a great start to grab some of the tail end hype to boost your engagement. Also providing quality content goes a long way. People want to see high-quality images with captions that are meaningful.
Create Call to Actions:
Some times followers just need a little push to engage. Some of the classic CTA's for engagement are "Double Tap if you Agree", "Tag a friend who needs to see this", or "Tell us what you think down below" these are sneaky ways to entice your followers to engage.
Tag People & Brands:
A great way to receive engagement from influencers or brands is to tag them. Network with influencers in your niche, engage with their post and start creating a line of communication. This will allow you to develop a relationship with them, which will ultimately help you grow in the process.
Use Proper Hashtags:
One of the hidden tools on Instagram that people don't use enough is #hashtags. A single Hashtag can boost engagement on a post by 12%! Utilize all 30 hashtags that Instagram lets you use, this will make your post spread farther through sub-niche categories.
[et_bloom_inline optin_id="optin_22″]
3. Use Hashtags on Instagram
We spoke briefly about hashtags just above. However, hashtags are such a vital tool when it comes to landing on the Instagram Explore Tab & understanding the Explore Page Algorithm.
That's why we wanted to give them their own separate explanation and section here.
Just like video content, Instagram is pushing hashtag content and the importance of using proper hashtags. Hashtags on Instagram have the ability to gain a following. Now hashtags can become like groups from Facebook and start to build a community around them.
These communities can be highly targeted audiences depending on how specific the hashtag is. The addition of this follow feature for hashtags is a small sign that Instagram is placing some importance on it's function.
Introducing "Related Hashtags"
It wasn't until the 2018 Explore Page Update that Instagram released "related hashtags" at the top of the explore page. This may seem like a small change that has no meaning.
However, as we spoke of earlier, you have to start seeing the trends that Instagram is taking in order to get ahead of the game. This small change has meaning, Instagram is pushing hashtag content. They want to start seeing more communities grow around hashtags.
This means it will be easier to gain exposure/reach by using specific hashtags. More users will be browsing through hashtag content more often, giving your posts better chances for going viral!
Instagram allows 30 hashtags to be placed on any post, make sure you're using all of them! Don't be generic with your hashtags either. Try to create a powerful list of hashtags that change from post to post. This is how my hashtag breaks down works for every Instagram account:
15 hashtags that pertain specifically to the niche my account is in.
These are broad niche-specific hashtags. You always want to have a couple of really big hashtags that are viral already. Then mix in someones that are highly followed.
10 hashtags: post/event specific.
Meaning these are fresh hashtags that you find for every post. They are specific in the sense that they apply directly to the subject of the content, the location, etc. Some examples include: #bugattichiron #youngentrepreneursclub #socialmediamarketingtips2018
5 Hashtags that are trending.
These can be any hashtag that is currently popular or trending on Instagram or your niche. This can be a great way to grab tag along for some of the viral energy around the hashtag.
Once again, understanding the importance of Instagram places on specific features is huge when it comes to manipulating the Explore Page. The power behind hashtags is monumental. Make sure you are taking advantage of that power.
What Goes Viral on Instagram?
The goal of Instagram is to have the user session time be as long as possible. The explore page is Instagram's testing site for content's ability to hold users on the platform.
Instagram uses the Explore Page to showcase trending/viral content to capture the attention of users hopefully. Viral content tends to have high-quality engagement, therefore their ability to capture and hold the attention of the user is strong.
Instagram promotes these posts to increase user session time. The best way to leverage the Instagram algorithm is to work with the algorithm.
If your content captures the attention of the user and causes them to engage. Then Instagram will be more than happy to boost your post to the explore page and make your post go viral!
4. Try Reposting Viral Content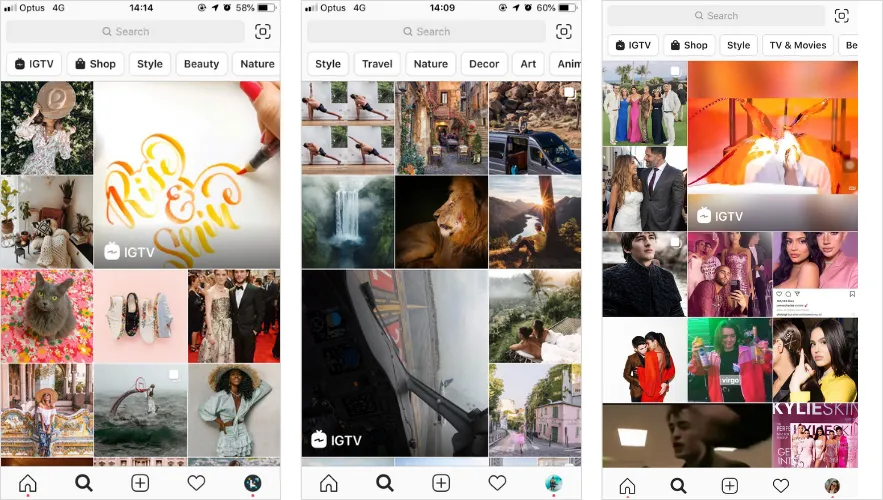 Some of us do not have the means nor the imagination to create such captivating content. But fear not! Instagram is space for sharing content.
That being said, there is a plethora of viral content on Instagram that you can repost.
NOTE: It is imperative that you always credit the original creators.
Leveraging viral content to manipulate the explore page algorithm is huge! Instagram is constantly looking for viral content to promote. The reason content goes viral is because a large number of Instagrammers are viewing/engaging with the content.
Thus the solution to increasing user session time on Instagram is by promoting viral content! Meaning if your content is going viral, Instagram will take notice of your account. Allowing your account to gain more reach and exposure, it's a win-win for both parties!
Viral Niche Content
In the 2018 Explore Page Update, Instagram introduced a new way to categorize the content. With the use of broad niche topics, small tabs at the top of the explore page have been created to help users find content in different niches. These niche tabs lead users to an explore page that is niche-specific.
This will allow followers to find content in niches they would normally not be browsing through. This is just another way for Instagram to push a variety of content to all users. The implementation of these tabs is going to cause serious growth in these niches. Currently, there are only a handful of niches that are listed. They include:
Shop
IGTV
Well-Being
Travel
Architecture
Decore
Art
Food
Style
TV & Movies
DIY
Humor
Music
Beauty
Tech
Lifestyle
If you are an experienced Instagrammer then these niche topics should appear as no surprise. These are the most popular niches on Instagram and they have been for some time. To dive a little further into each explore page, you will find that all the tabs showcase viral content only!
Having your content within these niche explore pages will be huge for growth. Not only will Instagram index your account and content as quality. But you will experience a significantly higher amount of growth than ever before.
This is due to the fact that you are not only gaining followers from the specific niche itself. In addition to those followers, you are gaining from the random users browsing through each niche explore tab. Who are not familiar with these other niches but are simply surfing around.
This cross-pollination of followers from all niches is going to bring about a more well-rounded content platform and of course more growth!
5. Instagram Stories are Powering Up!
Instagram Stories has been a dominant feature on Instagram for some time. Now, almost every other week there are new filters, stickers, gifs, etc. to spice up your Instagram Story.
Not to mention Instagram released Spark AR Studio, where anyone can go on and create their very own face filter for Instagram. This has added a whole new level to brand awareness and branding. Thanks to other social platforms like TikTok, face filters on Instagram go viral on a variety of platforms. For example, the "Which Disney Are You?" Face Filter from Instagram became a viral trend on TikTok.
In addition, Instagram has started to promote Stories on their Explore Tabs. Stories from Influencers that generate a lot of views are sometimes promoted in their respective hashtag community or Explore Tab! Giving even more power to Instagram Stories.
Start pushing more content to your Instagram Story, the best thing about stories is that they only last 24 hrs. This can be a great testing ground for new content that you might later push to your account feed.
Not only that, thanks to all the widgets that are available to Instagram Stories you can take polls, create quizzes, ask questions in order to learn more about your audience. After all, if you better prepare your content for your audience reaching that high engagement rates within the first 45 min. of posting will be a breeze.
6. Powersaves Are the New Powerlikes
Powersaves is the latest trend on Instagram. It is an important feature to help your posts trend as it increases social media engagement.
Powerlikes can be referred to as the likes your posts get in the first moments of disseminating a post from large prominent accounts, specifically, pages in your niche. They help you get likes from prominent accounts that have massive followers.
Powersaves endorses your content to very massive and prominent Instagram accounts, encouraging them to engage with your posts. This creates a connection between your account and a worldwide community. It also boosts the exposure of your content to a massive audience.
The number of accounts and followers is determined by the plan chosen. Your page must have a very extensive reach that escalates the impact of content posted.
Powerlikes are programmed likes that are created to hack and increase a social media page which boosts the chances of going viral and increasing followers.
In a nutshell, it can be said that powersaves are the new powerlikes because it is recent, and the method of getting more views and appearing on the explore page is vast and better.
How Instagram Explore Page Algorithm Work in 2023
As digital marketing evolves, Instagram remains a leading social media platform businesses and individuals use to promote their brands and connect with their target audience.
One of the most powerful tools on Instagram is the Explore page, which helps users discover new content and accounts based on their interests. However, many people are curious about how the Instagram Explore page algorithm works in 2023, and we are here to shed light on this topic.
Understanding the Instagram Explore Page
The Instagram Explore page is a personalized feed that displays posts, videos, stories, and reels based on the user's behaviour and interests.
When users click on the magnifying glass icon, they are directed to the Explore page, which displays a grid of content they may be interested in. Instagram's algorithm curates this content based on various factors, such as the user's search history, liked and saved posts, and the accounts they follow.
Factors that Influence the Instagram Explore Page Algorithm
In 2023, Instagram's Explore page algorithm relies on several factors to curate user content. Some of the factors that influence the Explore page algorithm include:
User Behavior: Instagram tracks user behavior to determine what content they interact with, such as liking, commenting, saving, or sharing posts. This information helps the algorithm recommend similar content to the user.
Hashtags: Using relevant hashtags in posts can improve the visibility of the content on the Explore page. Instagram uses hashtags to categorize content and recommend it to users who follow or engage with similar content.
Content Quality: The quality of the content posted on Instagram plays a vital role in determining whether it appears on the Explore page. Instagram's algorithm favors high-quality content such as high-resolution images, engaging captions, and informative videos.
Relevance: The Explore page algorithm prioritizes content relevant to the user's interests. For instance, if a user engages with fashion-related content, the algorithm will recommend more fashion-related content.
Account Interactions: Instagram's algorithm analyzes the interactions between users and accounts to determine which content to display on the Explore page. If a user frequently engages with a particular account, the algorithm will recommend more content from that account.
How to Optimize Your Content for the Instagram Explore Page in 2023
As a business or individual, you can optimize your content to increase the chances of appearing on the Instagram Explore page. Here are some tips on how to optimize your content:
Use relevant hashtags: As we've previously mentioned, research and use relevant hashtags in your posts to increase the visibility of your content. Ensure that the hashtags are relevant to your content and your target audience.
Post high-quality content: Ensure your posts are high quality, visually appealing, and engaging. High-quality content is more likely to be recommended by Instagram's algorithm.
Engage with your audience: Engage with your followers by responding to comments, liking and commenting on their posts, and sharing their content. This interaction will increase the chances of your content appearing on the Explore page.
Create content relevant to your audience: Create content relevant to your target audience's interests. This will increase the chances of your content being recommended to users who engage with similar content.
Post consistently: Consistent posting will increase your chances of appearing on the Explore page. Instagram's algorithm favors accounts that post regularly and consistently. Read about the best time to post on Instagram for better engagement here.
Engage Your Audience
You can engage your audience by putting polls on your Instagram stories or asking questions. You can add new sounds to your reels and ask your audience to use the sound and tag you. Another way to engage your audience is by creating new challenges on Instagram. You can use the newly improved Instagram filters to start a challenge and ask people to join. This way, people engage you, giving your account recognition and necessary growth.
Wrap Up
This will wrap up our guide to Unlocking the Instagram Explore Page Algorithm & How to Get on the Explore Tab. All the factors we have talked about are some of the major factors used to rank your content on the Explore Page.
Furthermore, seeing trends and analyzing actions will help put you ahead of the game. Start analyzing these changes as we have done so above. Small changes can lead to big clues about the importance that Instagram places on specific features.
Start using all the tips we have spoken about to grow your account to monumental heights!
Enjoy this Article? You May Also Like: