Instagram Direct Messages are one of the Most Underrated Tools on Instagram for businesses or influencers.
Instagram Direct Messages ( or Instagram DMs) are a standout amongst the most underused features on Instagram. They've been there the whole time but you've probably never thought about how you could use them to grow your business or brand?
Insta DMs give you a chance to connect with one or 15 people in a group through text, images, videos & more. Since they've always been there, they can often be overlooked as a great tool in your Instagram Marketing Strategy – but here's why you shouldn't discount them.
This direct line of communication is extremely powerful for creating long-lasting connections between followers. In addition, the ability to network with influencers is made possible with Instagram Messages.
In this article, we will dive into Instagram's Secret Weapon: Instagram Messages. 
Grab a cup of coffee & let's dive into this together.
Key Takeaway
Understanding how Instagram direct messages strategy works is vital for every brand. It goes a long way in helping a brand to increase its awareness and engagement level. It has been an ideal networking tool for building follower groups and share information about your brand. It also offers the opportunity to collaborate with a relevant influencer for brand development.
Table of Contents
How to Use Instagram Messages Strategy for Networking
What is possibly one of the most essential parts of growing an Instagram account? Follower Engagement of course! Without active & engaged followers, even the most highly followed Influencer accounts will be useless.
The major goal of building an Instagram community is to create a community of like-minded individuals that share and engage. Take out the engagement and activity and all you have is numbers on a screen, sounds useless right?
Well, what if you could increase your engagement, trust, and brand personality with a simple message?
Think about it, have you ever received a message from an account just after following them? If you have then you probably felt kind of important.
Thinking "Hey, this individual took the time to reach out and thank me for following them". This thought process is exactly what builds a brand's personality. It shows a level of care that not many accounts, even influencers are not taking advantage of!
A simple welcome message like the one below, not only increases a brand's personality and trust. But opens a line of communication between the account owner and follower.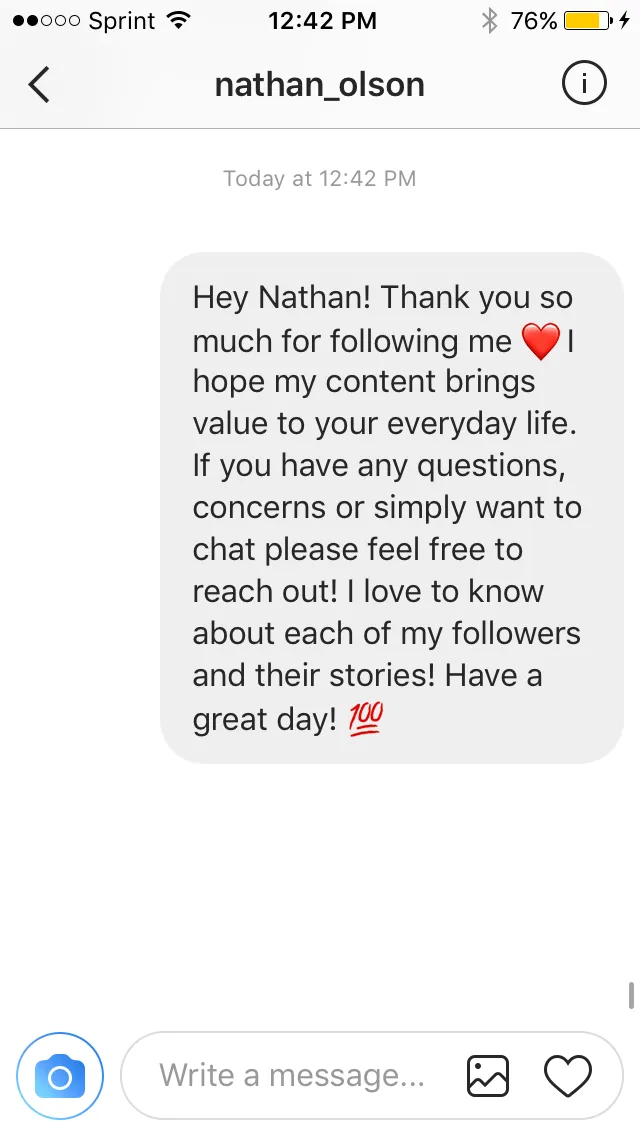 It's these types of messages that create long-lasting connections with your community.
When you put in the time and effort to show your level of care for each of your followers, they will do the same. It is this type of communication that Direct Messages are lacking. Take just 10 minutes out of your day to message your new followers. Start creating connections, you never know who is on the other side of the screen.
5 Ways to Network Using Instagram Direct Messages
1. Respond to Instagram Stories
Instagram Stories can be a perfect way for you to learn more about your audience & connect with them through direct messages. Thanks to all the widgets, stickers & tools on Instagram Stories you can learn so much about your community's tastes, behaviors, & interests. 
What's better is that when your audience interacts with your stories you can follow up with a conversation in Instagram Messages. This can really allow you to find out who the best people in your audience are & start connecting with them. Allowing you to build a stronger more unified Instagram following.
2. Provide Better Customer Support
Once you get past the personal photos of cute puppies & breathtaking landscapes, you'll find hundreds of thousands of brands are using Instagram.
Social Media has become one of the fastest-growing channels for customer support amongst brands. Twitter by far being one of the most highly used platforms for customer support, Instagram still is a primary channel for customer care.
Think of your social pages as an extension of your brand that's closer to the community. You need to be a good friend to your followers, which means offering support from time to time.
3. Create Follower Groups
Ever find a few followers that you think would get along well together?
Try creating a group out of some of your most loyal followers. This can be an excellent way to strengthen relationships as well as have a focus group for upcoming developments.
Some of the most dedicated brand reps come from being followers & supports. You never know who may be in one of your follower groups so always make sure to stay in contact and give back.
4. Offer Creative Discounts or Giveaways
If you really want to get people checking your Instagram page daily & messaging you on the regular. Then you need to host some giveaways or discounts in order to give back to your community.
There a ton of Giveaway ideas that you can use in order to promote your page. For Instance, you can do a Keyword Giveaway that's First Come First Serve. Contestants will need to be checking either your Instagram Story or Feed for the Secret Keyword. Then it's first to message the account owner with the exact keyword to claim the reward.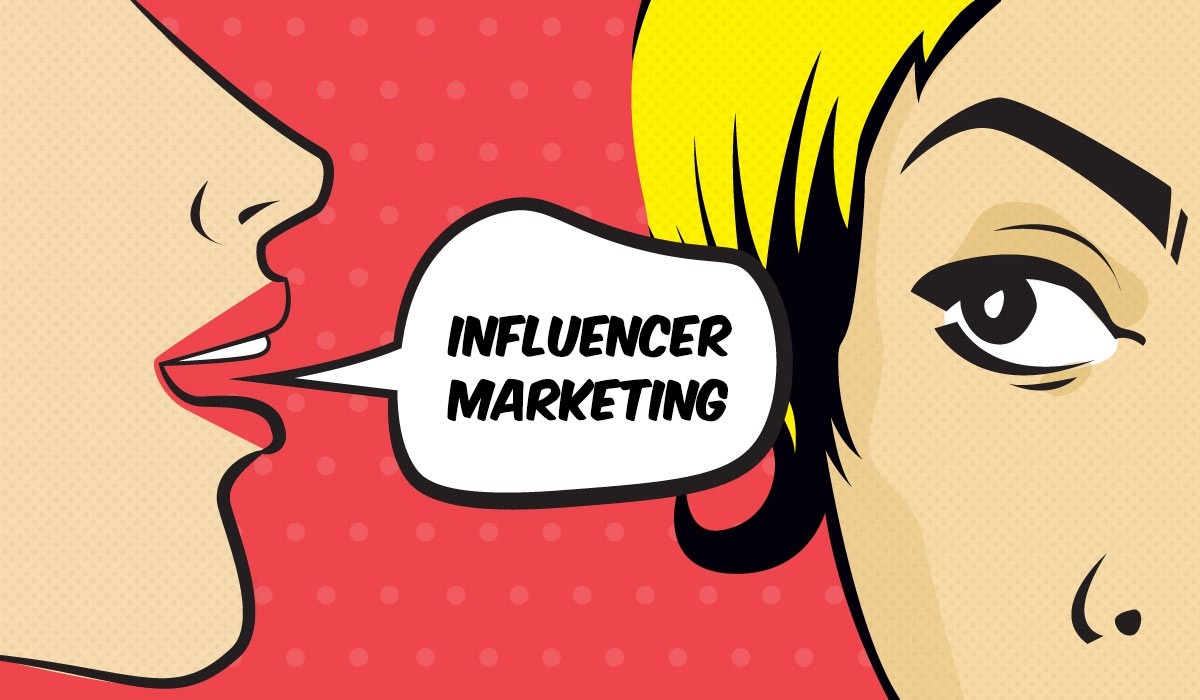 5. Connect & Collaborate with Instagram Influencers
One of the best ways to use Instagram Direct Messages to your advantage is to start reaching out to influencers within your niche & industry. Influencer Marketing has become a leading marketing strategy for brands across the globe. The reason being is that influencers connect better with consumers.
Thus, if you're looking to grow your exposure & awareness influencers on Instagram should be the first place you start. There are plenty of opportunities for Shoutouts, promotions and more. It's just a matter of starting the conversation with the influencer.
Using Instagram Direct Message to Network With Influencers
If you are trying to grow your brand, then influencer marketing is becoming a huge field used to grow brand awareness. Influencers whether big or small have highly engaged audiences that trust and respect their opinions. Opening dialogue with influencers is crucial for expediting brand growth.
Don't Ask Provide Value
It is imperative that you understand where the leverage stands. Influencers get thousands of messages a day from accounts looking to simply use the influencers without providing any value.
When asking for a favor from someone, you hold no leverage. They have something you want. You need to provide value to them before asking for any services on their end.
For example, if you are a content editor and looking to grow, you could start your message with "Hey there I am a content editor and I want to create free content for you for a month!".
Don't even ask for any favors until the line of communication is open. You have instantly provided value and have asked for nothing in return. One great concept to have in mind when building a business is to provide more value to others that you seek.
Helpful Instagram Direct Messaging Tips
Okay so you know understand the power behind Instagram Messages. Let's now go over some helpful techniques and cues that you can use to increase conversions, connections, and credibility.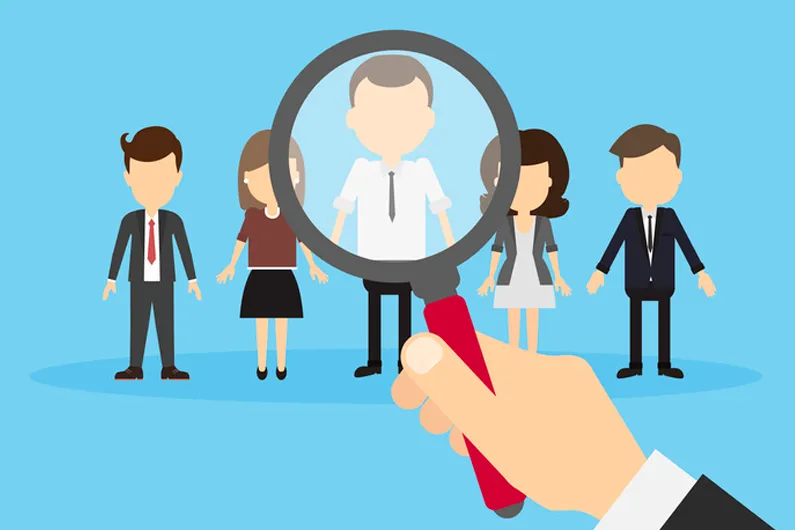 Be Personal
Direct Messaging is a personal line of communication. Compared to a post or a conversation in comments, Direct Message allows for a personal connection.
The language used should mimic that of a text message you would write to your friend. Use first names and emojis to break down the wall and create a personalized experience that is unique to each follower.
Even if your message is a "copy & paste" that you can simply send to the masses. Take the time to include a first name. Personally, if I really have the time I like to look at an accounts feed and send them a message about how much I like a particular post.
First Lines Say it All
Just like the subject header to an email, the first words an account can read in a DM is the first line. Use these first couple words to hook the attention of the account and drive curiosity to increase the chances of an open & reply. Just below are some messages I receive daily.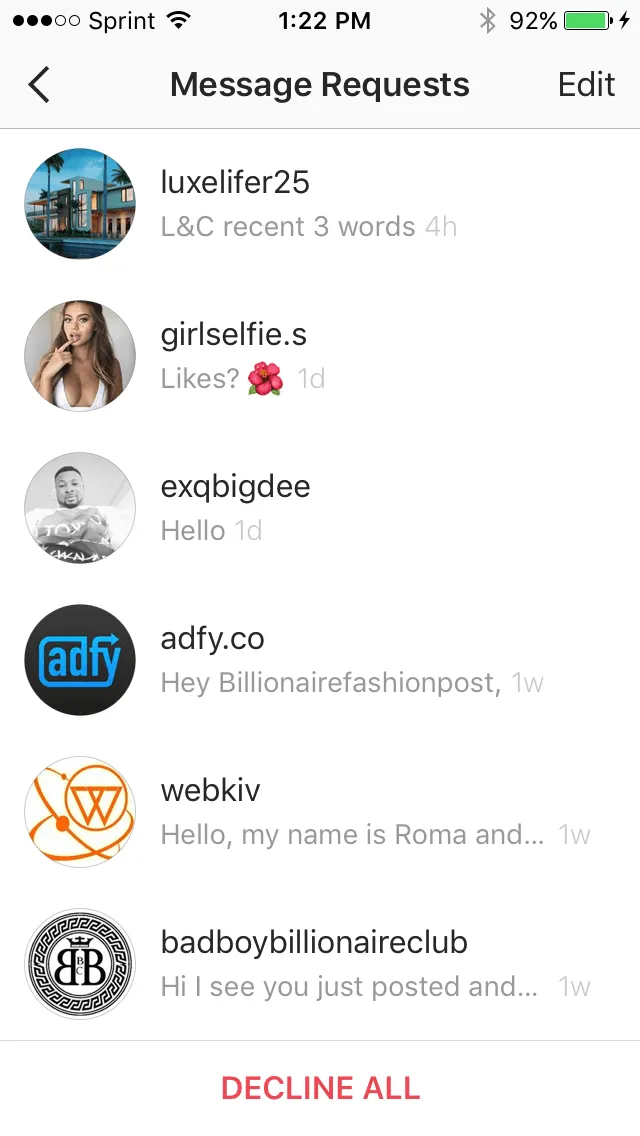 Notice how some of the accounts simply ask to engage on their most recent post. It is these types of messages that are considered spammy. They provide no value and simply want to utilize my engagement to boost their following.
However, take a look at the lower messages. They try to pique my curiosity by simply saying hello or telling me their name. Using first names is a great way to increase open rates because people, in short, are very self-involved and want to know what you can do for them.
Roma had piqued my curiosity, opening her message to read further this is what I found. She does a halfway decent job at providing value it could use some work but overall she has a nice message that I am sure receives a lot of replies.
One big thing that I want to point out is that she says "I would love to speak with you and see if there is anything I can do for you." This is a fantastic way to provide value!
One thing I would change is "looking for potential clients" this clearly indicates that she wants me to pay her for a website. This type of language can drive traffic away, your cutting straight to the chase that you want money from me. It is best to as Gary says "Jab, Jab, Jab, Right Hook!"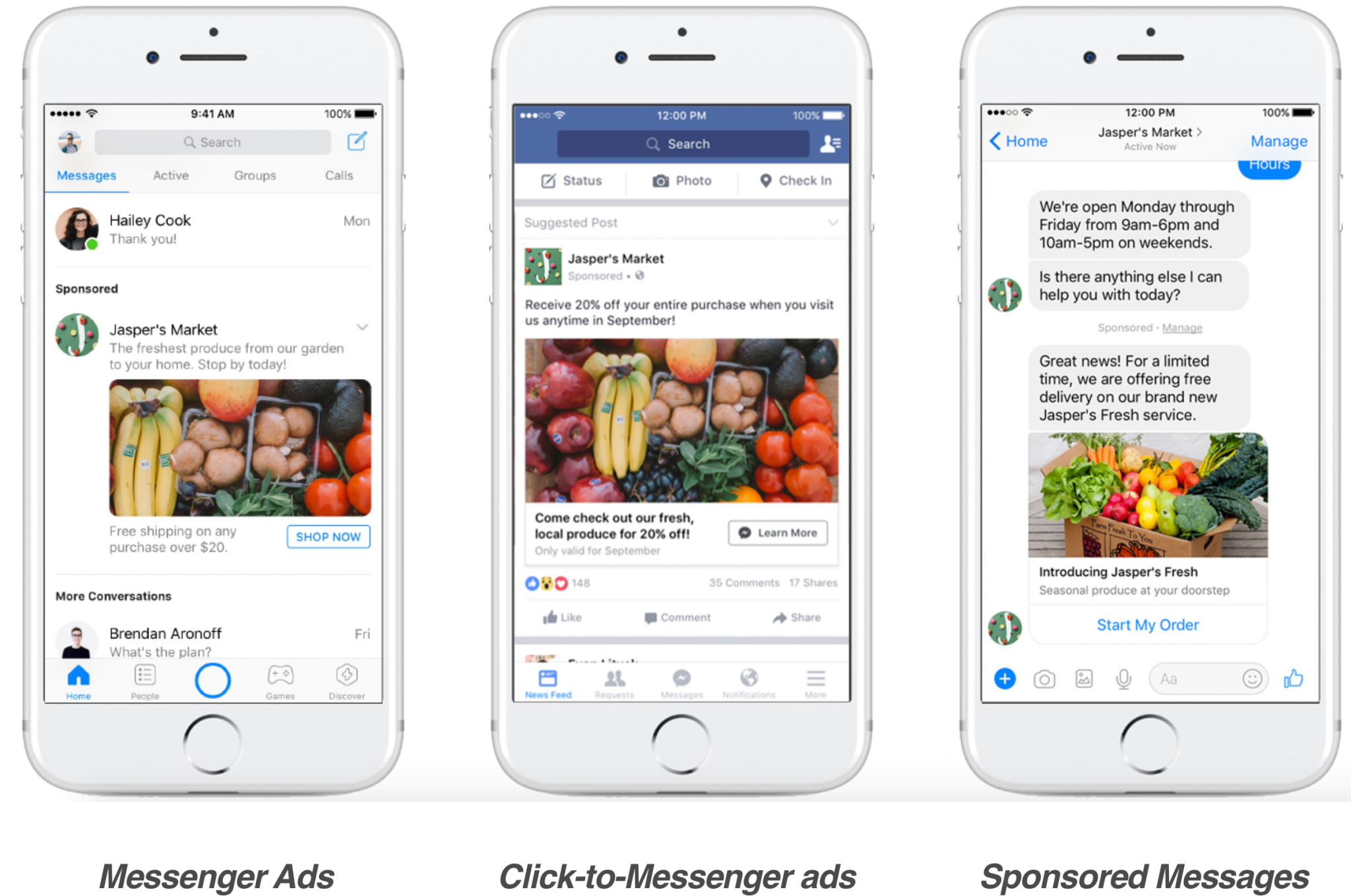 Using Facebook Advertising to Start Conversations
Since Facebook's acquisition of Instagram, the advertising potential on Instagram has increased exponentially. Now Facebook Business page owners can run ads on Instagram Feeds & Stories.
But best of all, you can direct this traffic not only to landing/product pages but you can send it to messages to start conversations with hot leads. This means you can create a fully optimized funnel to get daily conversations in your inbox.
Better yet, with Facebook tracking pixel & interest targeting you can start to test new funnels in order to reach new audiences. Before you would have to rely on organic reach & connections to interact with certain audiences. But now you can spend as little as just a few dollars a day to reach thousands of potential followers.
Instagram is becoming more & more like Facebook as time goes one. Which means that Instagram will become a pay to play platform. In order to reach new people & engage with new audiences you'll need to have some ad dollars behind your message.
Wrap Up
You know understand Instagram's Secret Weapon. Using Instagram's Direct Messaging properly can boost your engagement, increase long-lasting connections with followers, and assist in networking with influencers.
If you want your business to grow fast then you need to start using Instagram's Direct Message. The power behind this functionality is unparalleled with any other form of communication on Instagram. It creates a personalized line of communication that is unique to each follower, the value that it could bring to your business is priceless.
Start creating connections and start unlocking the secret power of Instagram Messages!
Did we miss anything? Drop a comment below if you think there is anything we should add to this article.
Enjoy This Article? You May Also Like:
How to Network on Clubhouse