Instagram is becoming the most optimal social media platform for businesses and brands. Brands like @Nike are spending massive amounts of time and resources to utilize this powerful tool. Instagram allows brands to create a social voice and visual aesthetic through images and video. I don't need to explain a brand's innumerable advantages when doing this. However, many brands forget one key factor in implementing an effective social media marketing plan. Let's take a look at how to make the most of Instagram business captions.
Captions! Captions create engagement, traffic, and a voice for your brand. Just as we spend time perfecting our photos & videos, we should be allocating some time to create compelling captions. Don't let your captions become spammy comments like "love this car!" or "wow, this is so cool!".
Try creating original captions that draw the users' attention, engage them, and drive them to a different location. Below, we will review some key elements for creating compelling Instagram business captions.
Key Takeaways:
You can do a few different things when creating Instagram business captions. First, you want to make sure your caption is attention-grabbing. Use emojis, calls-to-action, and power words to grab your followers' attention.
Secondly, you want to write Instagram captions that tell a story. Use your captions to give your followers a behind-the-scenes look at your business or product.
Lastly, you want to use your Instagram caption to drive traffic to your website or blog. Use a link in your Instagram caption to direct your followers to where they can learn more about your business or product.
What are good IG captions?
If you're running a business on Instagram, it's important to have captions that reflect your brand voice.
For example, if you're selling products or services that are luxurious or high-end, your captions should be elegant and well-written. On the other hand, if you're targeting a younger audience or selling more casual items, your captions can be witty and lighthearted.
Make sure your Instagram business captions are always on point, no matter what tone you choose.
What should I Caption my Instagram Business Post?
Instagram captions for businesses can be a tough nut to crack. You want to be witty and engaging, but you also don't want to come across as too casual or unprofessional. The key is to strike the right balance between the two.
A great way to do this is to use Instagram caption ideas specific to your business. For example, if you're a clothing company, you might use a caption that playfully describes the weather and how your clothes can help people deal with it. Or, if you're a food company, you might use a caption that talks about how your product can be a healthy and delicious snack option.
By using Instagram caption ideas that are specific to your business, you'll be able to show off your personality in a way that is both professional and approachable.
How do I promote my business on Instagram captions?
 Instagram is a powerful marketing tool (Instagram marketing)- if you know how to use it correctly. Many businesses make the mistake of filling their Instagram captions with useless hashtags and emojis. Your captions must be strategic if you want to promote your business on Instagram.
Here are a few tips:
Get to the point: Don't use Instagram as an opportunity to tell your life story. Keep your captions short, sweet, and to the point.
Keep it casual: No one likes being sold to, so avoid using hard-sell tactics in your Instagram captions. Instead, focus on building relationships and offering value.
Use keywords: Instagram is a search engine, so make sure you use relevant keywords in your captions. This will help potential customers find your business when they're searching for products or services like yours.
Be creative: Don't be afraid to show some personality in your captions. This is an opportunity to let your brand's voice shine through. Be creative, witty, and engaging.
Be witty: A little humor can go a long way on Instagram. If you can make your audience laugh, they will likely stick around and continue following your business.
Call to action: Every caption should have a call to action, whether it's inviting people to learn more about your business on your website or asking them to follow you on Instagram. Make it easy for people to take the next step with you.
By following these tips, you can start using Instagram captions as a powerful marketing tool for your business. So get writing and start promoting!
What do you caption when selling?
There's no denying the power of a great Instagram caption. Not only can it help you sell more products, but it can also score you some serious engagement. But what exactly should you say when selling on Instagram?
Here are a few tips:
Keep it relevant: Make sure your caption is relevant to the product you're selling. If it's not, people will quickly scroll past your post.
Be positive: Nobody wants to buy from a Negative Nancy. Put a positive spin on things, and show your followers that you're confident in what you're selling.
Be creative: Don't be afraid to get creative with your captions. Use humor, puns, or even emojis to catch people's attention. Just make sure not to go overboard – you don't want your caption to be more interesting than the product itself!
Use calls to action: A call to action (CTA) is essential if you want people actually to buy your product. Make sure your CTA is clear, concise, and easy to follow.
Seek out user-generated content (UGC): UGC is a great way to show off your products in a real-world setting. Use hashtags to find relevant UGC, then repost it on your feed with a caption that tells people where they can buy the product.
Following these tips, you can write Instagram captions that sell!
What makes a Compelling Caption?
A good Instagram Business Caption will attract the users' attention, have a compelling body with great content and drive the user to take action. Jenn Herman explains that Instagram only allows 2,200 characters in a caption and 30 hashtags. 2,200 characters are more than enough to get the job done effectively.
But this does not mean that your captions should be filled with distracting emojis or cluttered hashtags. Just as you would write any piece of web content, your caption should be grammatically correct, easy to read, and connect with your audience. Let's go over some key elements of effective Instagram business captions.
Attracting the User's Attention
With over 1 Billion active users. It is easy for posts to get lost in the Instagram explore page's viral nebulous. Image and video is the primary factor in grabbing the user's attention, but the caption is what holds their attention. The average user spends roughly 21 minutes daily on the app. This means having creative captions could be the difference between a post being scrolled past or engaged with. Now, images certainly do give brands a visual aesthetic. However, captions allow for an explanation of content, giving brands a social voice. This is where users connect with the personality and mission of a brand.
The first four lines are the most essential lines to grab the audience's attention. The above caption by @kevinhart4real is an excellent showcase of an attention-grabbing intro. His caption gives insight as to what the content will be about. In addition, right before the 'read more,' he used persuasive language to drive the user to continue reading. When the user clicks "more," the caption has accomplished two things. One grabbed the user's attention. Two peaked their curiosity, causing them to read more. Utilize these elements in your content strategy to boost engagement and conversions. Push Notification Apps such as Buffer are great places to write up draft posts and view them in an Instagram fashion. Remember to focus on the first four lines and intrigue your users.
Knowing the Audience
Nothing is worse than providing excellent content to the wrong crowd. Identifying the target audience is a huge factor in an effective content marketing strategy. Now, providing content that users will find interesting and engage with may seem like a daunting task. However, to find out precisely what the target audience responds best to, look at influencers in the niche and check out their recent post. Rather than wasting time and effort implementing hundreds of different variations of posts. It's best to learn by example, take the effective strategies influencers use, and incorporate them into your plan. After all, they have millions of followers for a reason; take what's working and alter it to fit your brand.
Here is a fantastic example from @natgeo. The target audience utilizes their feed to stay up to date on current events in the world involving nature and humanity. The captions are typically long but contain detailed context about the stunning images/videos they post.
The information is gathered by their staff, who are experiencing it first hand. So the content is valid and can be trusted. This is huge! The audience not only becomes informed but accurately informed.
Quality content that is informative, accurate, and target audience friendly is a huge benefactor to your brand's engagement. The culmination causes users to continue to read the future posts because of the level of care you put into them.
Consider Length
Instagram is a platform around centralized photos and videos. Users want to understand the image without having to read a novel. Keeping your captions short and concise gives the users the necessary information without losing their attention.
The last thing you want to do is provide too much information that the user gets lost and scrolls past the post. Even though you have roughly space for 400 words in a caption, you should rarely ever reach that limit. Jeff Bullas found that Facebook Post received 66% higher traffic when using 80 characters or less and 86% higher engagement with 40 characters per post.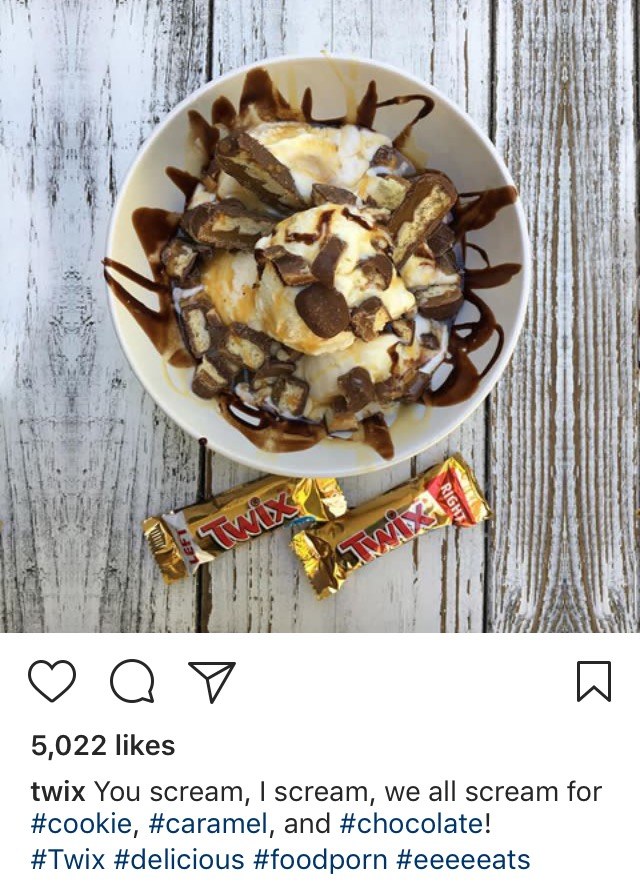 Here is a perfect example from the candy company @twix. Showcasing their delectable treats with a children's song is funny and unique. Post pictures of ice cream paired with their candy bars during summer. While having a concise but clever caption beneath are key ingredients to a successful content marketing strategy.
Pose A Question
One of the most effective ways to catch a user's attention is to ask a question. This makes them stop and examine your post. Asking a question also increases engagement, as users respond to the question in the comments.
Questions allow a brand to get user feedback, recommendations, and an overall better audience understanding. In addition, taking recommendations or asking for users' feedback creates trust between the brand and consumer. The user feels that the brand is listening to their opinion and taking it into account.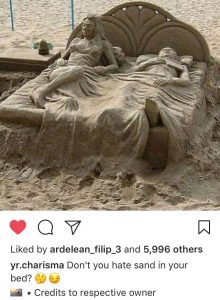 Yr.charisma uses questions to bring some humor to his post. Posing a question can be as easy as a simple "yes or no" or a more elaborate open-ended question. It's all about knowing your audience or what kind of information you want to pull from them. But questions are a two-way line of communication. This means that you need to respond to users' comments to show that you actually want to hear what they have to say.
Mention Others
A great way to connect with your fellow Instagram community is to mention others in your post. One of the best ways to better the relationship between brand and consumer is to mention them. In addition to strengthening the bond between follower and brand, mentioning can cause cross engagement.
Cross engagement occurs when users from the mentioned handle engage and follow the posting instagram accounts or vice versa. This method is excellent for B2B or B2C. Both help to cross-pollinate followers and engagement.
Mentioning someone can be as easy as saying who you were around for the day. For example, @simeonpanda mentions old friend @frank_stephenson and their wonderful day.
Encourage Call to Action
This is where the post goes from web content to lead magnet. Having a Call to Action (CTA) in the caption helps drive users to a specific location or perform an action. You have already peaked their curiosity and grabbed their attention with the image/video. Now it's time to turn their attention into a controlled action.
@tailopez is a CTA King! His ability to drive traffic from his 2.2 million followings is uncanny. He constantly gives back to his following with cash prizes, cars, and vacations. Tai utilizes mostly videos to explain his post. His captions typically consist of CTA's or announcing winners, like in the example above.
Using posts to drive traffic is an invaluable tool. The same followers can be directed repeatedly with CTA's to perform actions of your choice. Having a responsive and loyal Instagram following is much like having a high-converting email list.
The revenue generated from such a following is exponential. Start using phrases like "Go to the link in bio" or "Tag someone that needs to see this" to increase engagement and traffic to your posts.
Share Your Favorite Instagram Business Caption Strategies in the comment section below.
Enjoy This Article? You May Also Like: