Successful businesses today take advantage of social media for their business growth. Instagram and TikTok are indeed dominating the social scope, but the role of Snapchat cannot be overlooked either. Snapchat is still one of the popular social media platforms around the world. Becoming popular on Snapchat Spotlight requires a little push and effort. If you want to increase Snapchat spotlight views, you have to put in daily efforts. Snapchat, however, is different from other social media platforms that allow you to follow other users in order to build your audience.
Growing your followers on Snapchat can be a little tricky. Therefore, understanding the hacks to increase your views and followers will give you a headway. You can increase Snapchat spotlight views by posting engaging and exciting snaps that can attract your audiences.
Key takeaway
Snapchat spotlight allows Snapchat users to connect with their audience via captivating snap videos. Increasing Snapchat spotlight views requires you to post exciting and well-structured content. In addition, it helps business owners in building their brand and audience to generate more sales.
Table of Contents
How to Increase Snapchat Spotlight Views?
Snapchat offers opportunities for businesses to grow their brand. Snapchat boasts an incredible 280 Million daily users in 2021. Therefore, you should take advantage of Snapchat to build audiences for your brand.
Below are the steps to increase Snapchat spotlight views to grow your audience.
     1. Use your Snapcode as your profile picture
The first thing that will draw people's attention to your social media account is an attractive profile picture. You can only add new users not registered on your contact list through their username or Snapcode. It isn't easy to search for other users on Snapchat. But with the aid of Snapcode, it is much easier.
A Snapcode is a QR code that is unique to an individual's Snapchat account. You can use a Snapcode to locate another user's account automatically. You can do this by taking a picture of the Snapcode of anyone you want to add.
To earn more viewers, you should change your profile pictures on your social media accounts to your Snapcode. It will make finding you easier on Snapchat.
     2. Post exciting content frequently
Like any other social platform, the more you post interesting content, the more your views and followers. Therefore, Snapchat public stories are arranged so that the latest stories appear first at the top of the users' feeds.
This means that you need to post consistently for your post to reach your followers' feed. It will rank your post to the top and consequently increasing your views.
Avoid posing random posts that might make your followers lose interest in your snaps. Instead, you can develop a good content strategy that flows with your business brand and purpose.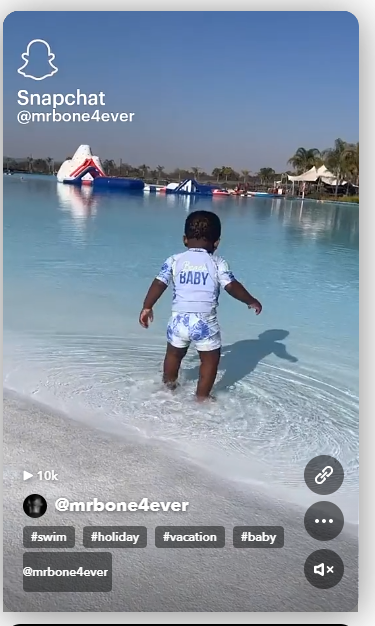 3. Have a structure
It is important to have a structure when creating content for your Snapchat account. Do not go out of context with your post. For example, if your first three snaps do not conform and have poor structuring, your audience will lose interest.
Do not share unending videos that will bore your audience. Instead, you can make it concise to achieve your purpose. By doing so, you can increase Snapchat spotlight views because people know your snaps are worth their time.
4. Promote your Snapchat account
You can make use of other social platforms like Instagram to promote your Snapchat account. This can be done by posting your Snapcode regularly on your Instagram page.
You can as well include your Snapchat link in your Instagram bio. It will enable your Instagram followers to add you automatically once anyone clicks the link.
Examples of Viral Snapchat Spotlight Videos
One of the trending viral videos on Snapchat Spotlight is the submitted content of @mak_judy.  He stood by the side of the TV screen to collect Cocacola drinks from the famous football star, Cristiano Ronaldo. The video became viral given the recent incident at the ongoing Euro 2020 tournament. The idea is to entertain Snapchat users.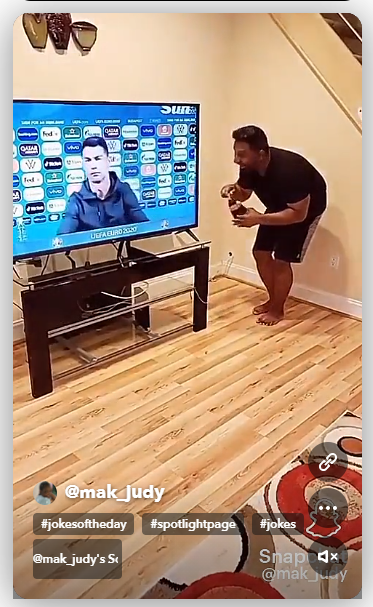 Another example is @vikkish04's video, where the little puppy watched how a drink was opened with a look-alike puppy. The puppy began to smile when he saw its owner approaching him with a drink. The reaction of the little dog was the highlight of the video.
Conclusion
Consistency is the key to success. Therefore, getting a successful head start with the Snapchat spotlight is not far-fetched. By utilizing the steps above, you can build Snapchat followers and increase Snapchat spotlight views.
Enjoy this Article? You May Also Like: