What started off as a knock off feature from Snapchat back in 2016, Instagram Stories are quickly becoming a media channel of their own. Instagram Stories allow Instagram Influencers and other IG users to publish content that wasn't quite good enough to make it to the feed. If you have been following along with this blog for some time, you already understand how you can use Instagram Stories to: promote your business or brand, market products, increase engagement & much more!
Instagram Stories has so much more potential…Instagram Story Ads are becoming the next big step for this channel. The new feature started out as a beta test run in early January of 2018 for 30 major brands like Netflix, Airbnb, & Nike. However, in March 2018 Instagram made the feature available to all Instagram Business Profiles. Just below, we're going to cover everything you need to know on How to Set Up & Use Instagram Story Ads. 
What Are Instagram Story Ads?
When Instagram Stories were first introduced a new section appeared at the top of your Instagram home page. This new section is dedicated to Instagram Stories that are published by people you follow or that follow you. Users view these IG stories by clicking through and watching one after the other until the user either swipes out or runs out of Instagram Stories to watch.
Now you may be asking yourself, "where does IG Story Ads come into all this?" Let me explain. Instagram Story Ads give marketers the ability to place advertisements in between users stories. IG Story Ads act like a short commercial break between Instagram Stories. The ads fit in the same format as the story, thus allowing you to slip in promotional content without interuppting the Instagram users flow. In addition, Instagram strives to show Instagram Story ads that will meet the users' interest to keep content consistent and create a better user experience.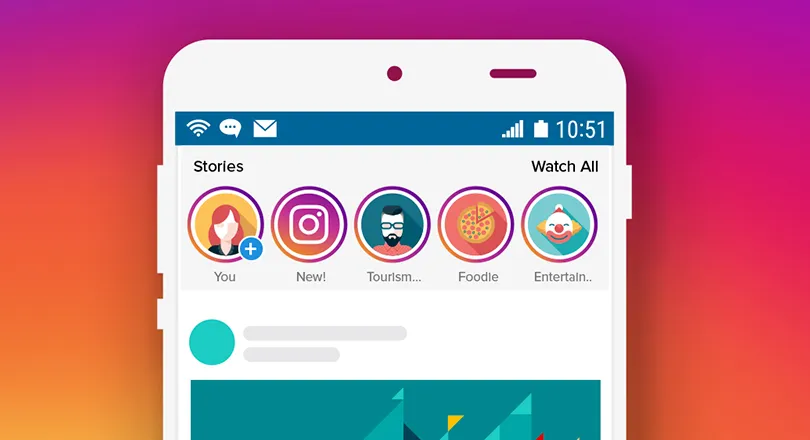 Time is of the Essense
Instagram Story Ads can be up to 15 seconds in length if it's a video and 10 seconds in length for images. One of the best features of Instagram Story Ads is that they take up the entire device screen. Meaning you get the end users undivided attention, even if it's only for a couple seconds.
However, just as easy as it is to consume the end user with your content. It's equally as easy for them to skip your content. In order to captivate the end user and get the most out of every dollar you spend on Instagram Story Ads, you need to create compelling & eye catching content.
Characteristics of Good Instagram Story Ad Content
When it comes to Instagram Stories, creativity is the name of the game. Social media marketers have only seconds to grab the users attention, convince them of the problem and convert them to take an action. Now, this may sound near impossible but good Instagram Story Ad copy & content can accomplish it all and then some.
A Picture is Worth a Thousand Words
If you plan on using an image for you Instagram Story Ads, it's important to keep a few things in mind. Remeber that you only have 10 seconds to capture and convert your audience. Use these tips below to ensure you get the most out of your Ad Content.
Only use high quality images. One of the fastest ways to get skipped in an Instagram Story Ad is to have low quality content.
Choose content that helps to tell a story. The image you choose should create an emotional connection with the end user. They should be able to interpret a message from the content. This will inform the audience without overtaking the screen with blocky undesired text.
Display a clear & concise call to action. You will see significantly higher conversions on your ads if you tell the audience to do something. CTA's are some of the strongest methods for enticing the audience to take an action.
Always display logo or branding. This will help to encourage brand recognition & loyalty. The more exposure your niche has to your business or brand the better.
15 Seconds of Fame
For those marketers that plan on using video for their Instagram Story Ads. Here are some helpful tips you can implement into the creation of your ad content to increase conversions.
It's important that you only shoot high quality videos.
Tell a story through your video. You cannot display any text during your Instagram Story Ad video. This means every second is important for adding detail and context for your audience. Make sure you are not wasting any time.
Keep the users engaged because you only have 15 seconds to get your message across. Plus, all the CTA's and branding will come at the end of the video. This is why it's important to keep the user watching until the end of teh video.
The last 2-3 seconds of your video should be a branded outro for your busines or brand. This last little bit of video will tell the audience who you are and what they should do next. This is the bread and butter of the campaign, the video is used to prime the audience. Now it's time to convert.
Video Requirements:
Video ratios: 9:16 and 16:9 to 4:5
Video File Size: 4GB Max
Video Length: 1 to 60 seconds
Video Captions: Not available
Video Sound: Optional
Video thumbnail images that consist of more than 20% text may experience reduced delivery. Learn more about text in images.
Now Let's Create Our Ad in Facebook Ads Manager
Create a stories ad.
Stories ads can run for as long as you wish and can be optimized to match the business objective that matters to you. Here's how you can create a stories ad using Ads Manager:
Step 1
Go to Ads Manager. You can either use Guided Creation or Quick Creation to create an ad. Click Create.
Step 2
Select the Brand Awareness, Reach, Video views, Conversions, App installs, Lead Generation or Traffic objective.
Step 3
In the Placements section, select Automatic Placements or Edit Placements. Instagram Stories is selected by default in both workstreams.
Step 4
Follow the rest of the steps to continue building your ad campaign. When you're ready, click Confirm to publish your changes.
These steps were pulled directly from Instagram Help Center.