Last Updated: August 2021
Instagram Stories are an extremely powerful tool for social media marketing as well as personal branding. Therefore, whether you're new to Instagram Stories or a seasoned veteran, if you're not seeing an increase in Instagram story views you're not growing an active & engaged audience. Story views are one of the easiest ways to measure authentic engagement & activity on an account.
Getting more views on Instagram Stories may seem near impossible at times, but today we are going to give you the most effective tips & tricks on how to increase Instagram Story views for free.
Just below we are going to go cover How to Get More Views On Instagram Stories with 10 Proven Methods.
Top 10 Proven Tips to Get More Views on Instagram Stories
1. Creative IG Story Content Always Wins
If you are trying to turn loyal followers & new story viewers into long-time Instagram Story subscribers. Then you need to start posting creative Instagram story content. There are a ton of Instagram Photo Editors out there that can create professional-looking stories to captivate your audience.
Although Instagram Stories was created to overtake its competitor Snapchat; which emphasizes candid shots and videos from everyday life. Posting on Instagram Stories can be as professional or unprofessional as you like.
When creating content for Instagram Stories, treat them like a normal feed post. Of course, changing the dimensions for Instagram Stories to 1080 pixels (width) by 1920 pixels(height), also means an aspect ratio of 9:16.
It's important that you don't sacrifice quality on your Instagram Story content either.
In order to get the most Instagram Story views for free, it's important to have high-quality content that is well-directed and edited. Also, having sub-par IG Story content will decrease the chances of returning story views. However, the good thing about Instagram Stories is that the content only stays up for 24 hours.
So, for those that want to test new content strategies or styles, this is the perfect testing platform before making it official on your feed. In addition, this 24-hour life span for content means you can get extremely creative, every single day, using a blank canvas.
Check out the best video editing apps of 2021 to improve your Instagram video content.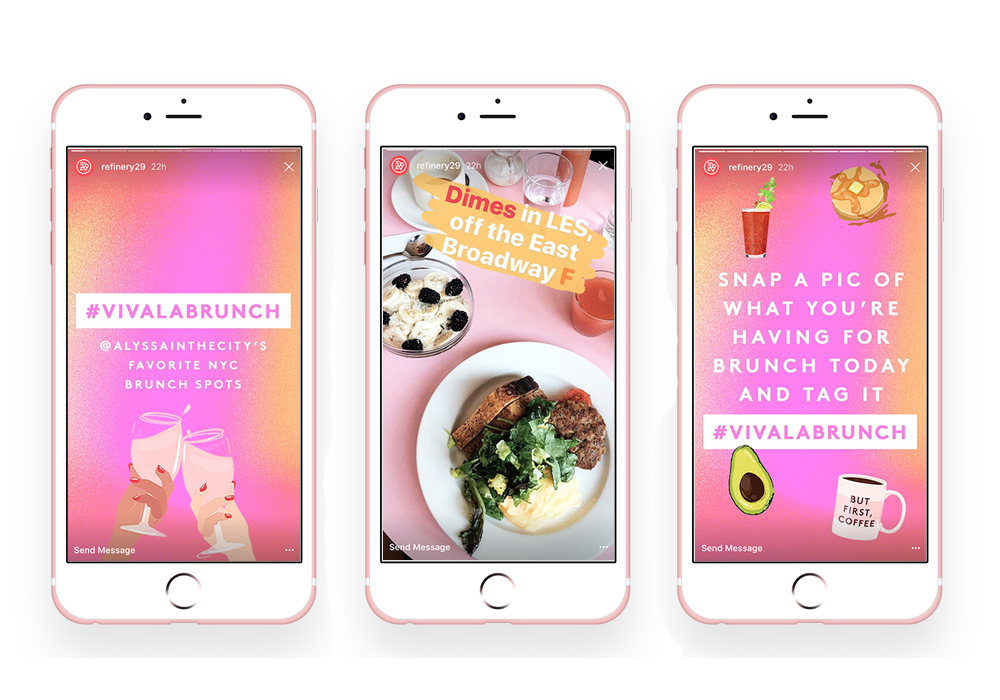 What Instagram Story Content Should You Post?
If you're trying to determine the Best Instagram Story Content for your account, then you need to check out the Instagram Analytics & Insights that comes along with every Instagram Business Profile.
Here's What you Should Know
In this section of your Instagram Account Analytics, you will be able to see Key Performance Interactions (KPIs) such as:
Reach, Impressions: A high amount of reach and impressions on a piece of content shows a peak in curiosity from your following and potentially the Instagram community. Thus, this is a perfect sign to an Instagram Story Content Creator because they know their content is doing its job.
Back, Forwards, Next Story, Exits: These are perfect indicators of IG Story Posts that are not interesting to your audience. As a result, a high amount of any of these actions indicates a potential bottleneck where you're losing a large amount of IG Story viewers. Specifically for the Back action, this could mean the previous content was of high interest and should be looked at for a feed post or an IGTV post to give more detail about the content.
Calls, Emails, Text, Get Directions, Website Clicks, Link Clicks: High User Actions on any piece of IG Story content could mean that the piece of IG Story Content is a perfect lead generator. As such, these actions indicate people were highly interested and willing to take a further step to learn more. In fact, these are very hot leads that you won't want to miss!
Replies, Follows, Shares: Instagram Story Post that has a high number of these actions indicate a perfect piece of content that interests your community as well as non-followers. In addition, these actions show that the viewers liked what they say on your Instagram Story and took the necessary steps to ensure that they see more content from you on a regular basis.
Use these KPIs in order to do an aggressive audit of your IG Story Content to really optimize your content strategy.
2. Post Content Consistently
How often are you posting to your Instagram Stories?
If you're like most IG users and only post once a day when it's convenient. Then you're drastically undercutting your IG Stories ability to reach its audience.
When it comes to posting on Instagram Stories, the more the merrier!
The way Instagram has its home page set up, Instagram Stories of people you follow are placed at the top. Also, the most recent stories are the ones that appear closest to your profile logo.
The keyword here is "recent" because only 4 Instagram Stories are viewable on the home page at once. This means in order to constantly stay in front of your audience, you need to outpost the people they follow.
However, not many of us have the time for this. We have busy lives & cannot spend 5 minutes of every hour posting content to our Instagram Stories.
Fear Not!
While posting constantly does give stories the maximum potential to reach their audience. Posting at peak times of user activity will also drastically increase Instagram story views on your account. In fact, you'd be surprised at the engagement & reach you can generate with an account if you simply post at the right times.
Peak times vary based on audience & location. However, here is an example of my peak posting times: 9 a.m. 1 p.m. & 8 p.m.
Instagram Explore Page Algorithm Update – Instagram Story Showing up in Explore Feed
During 2020, we experienced many updates to the Instagram Explore Page Algorithm. And, many of the updates were to combat third-party applications, cut back on automated processes, and move back to more meaningful connections between Influencers and followers.
Along with these updates, we got major features added to Instagram Stories one of them which allowed Stories to be viewed on the Explore Feed.
This now gave Influencers a whole new way to increase Instagram Story views on a daily basis. Specifically, being placed on the Explore feed gives your account incredible reach that it normally would not have access to.
There's no guaranteed method to get your content promoted to the Explore Page. Notwithstanding, creating unique and creative content is a prime way to get there.
[et_bloom_inline optin_id="optin_22″]
3. Ask Questions, Take Polls, & Create Quizzes
Ever wonder what your audience thinks of your content? Well, ask them!
One of my absolute favorite features that Instagram put on their stories was the ability to ask questions & take polls. Now, whenever you want to know anything about your audience you can simply ask them!
How do you like our new content strategy?
What do you guys think about our latest product?
Want to see the backend workings of our operation?
With some simple finger work, you can ask these types of questions and so much more. Allowing your audience to give their honest opinion or answer.
This is a digital marketers' dream come true.
Instead of guessing which products your audience will like the most, you can now get their direct honest opinion.
This type of data is precious, many companies charge hefty fines to collect such data.
The Instagram poll feature not only increases user engagement & retention for your IG Stories; it also gives you a platform to collect valuable data about your audience to build the most efficient & profitable marketing machine.
How to Increase Instagram Story Engagement
Looking to get more active Instagram story viewers? Then a good part of your social media marketing campaign will be creating interactive posts that will help increase Instagram Story Engagement. Moreover, Instagram has been adding so many new updates & features to Instagram Stories, they now let users create DM Groups & Quizzes.
A great way to spice up your Instagram Story content strategy is by integrating quizzes. Truly, the Instagram Story Quizzes provide a fun way to interact with your story viewers. Also, you can create Quizzes to test their knowledge about you, your personal brand, or your industry!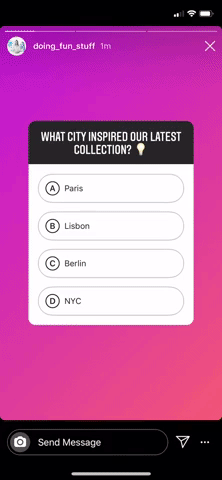 Creating quizzes is easy & fun. Give it a test run on your next Instagram Story posts and see how many of your story viewers are active & engaged.
Quizzes are great for testing users' activity & knowledge. But if you really want to get to know your Instagram Story Viewers and connect with them on a more personal level. Instagram Stories now has a Group DM widget that allows you to build DM Groups from your Instagram Story Viewers.
This is a truly powerful lead-gen for your business, think of it as an email opt-in lead generator. Instagram Story viewers are opting into a direct line of communication with your Instagram account. This can be a perfect way to interview your viewers to see what you need to change & what they like about your current strategy.
If your business, these DM groups can act as small targeted focus groups to test out new product ideas, content strategies, & marketing efforts!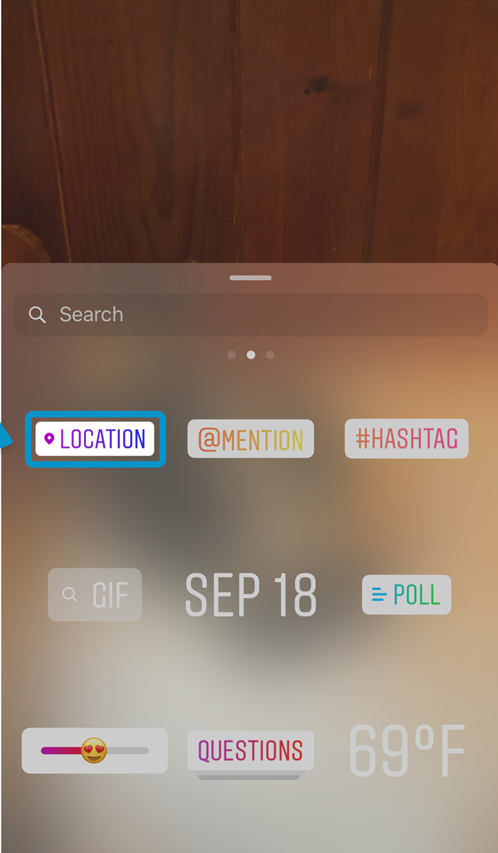 4. Location Tags
Looking to gain more followers from your surrounding area? Trying to generate more foot traffic into your local business?
Whether your an Instagram Influencer or a brick & mortar business utilizing location tags in your Instagram Stories can be a fantastic way to increase views, reach, & foot traffic.
But why do location tags help to generate more local views & brand awareness?
Instagram is constantly scouring the platform looking for user-generated content. They are notorious for reposting content created by their users; organizing content by location which acts as a framework for understanding the area.
Instagram users will be able to see businesses, people & activities for the area when searching for a specific location.
This can be extremely powerful for cities that have a high rate of tourism! Having a prominent foothold on your local Instagram location can generate massive amounts of brand awareness & foot traffic.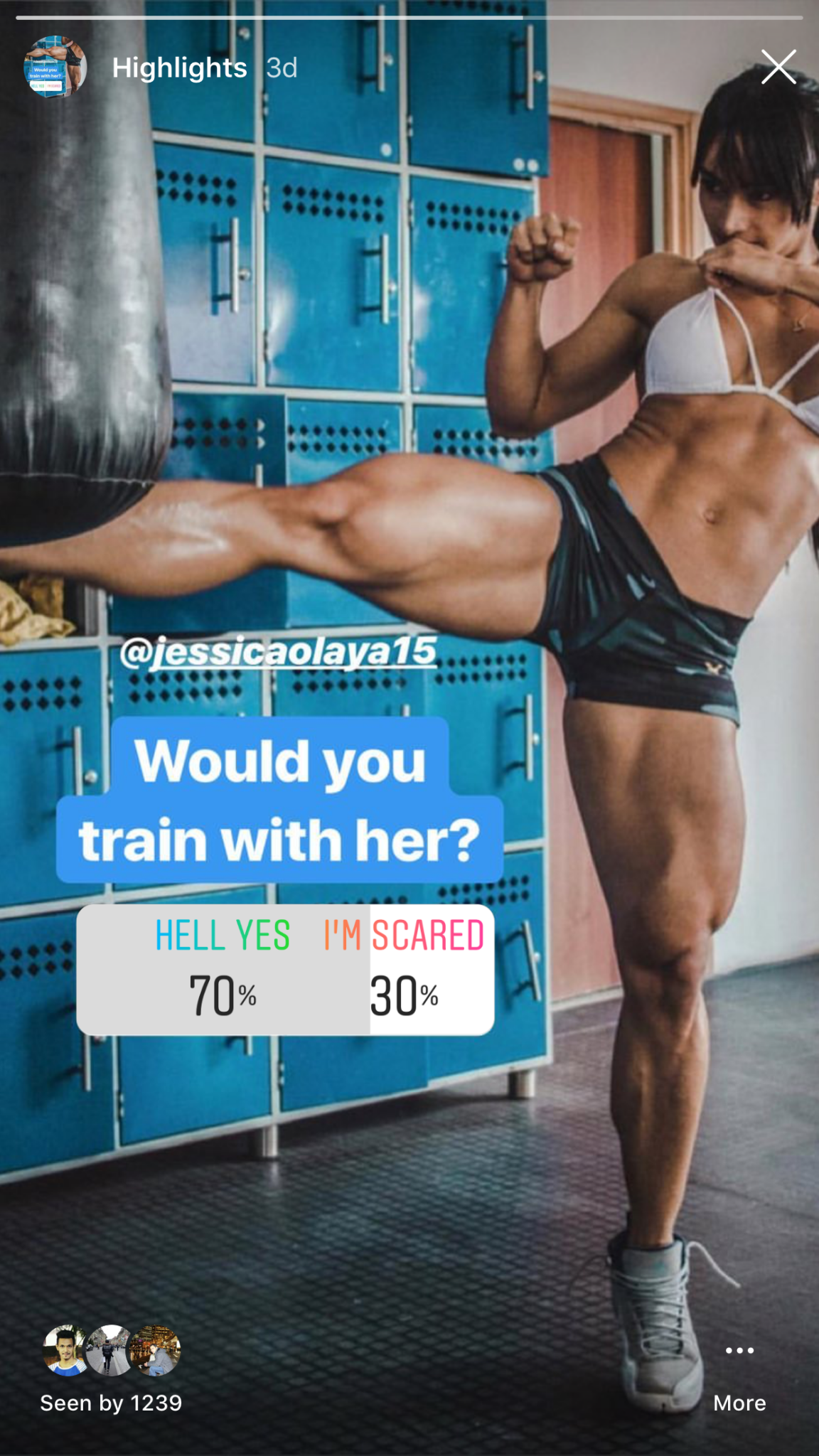 5. Mention Other Accounts
Whether you're trying to network or praise some loyal followers, @mentions are a strong way to increase Instagram Story views easily.
When it comes to networking with other brands or influencers. Mention or shout out those brands or influencer accounts to show your appreciation as a fan or even as a collaborative partner.
Brands are famous for reposting user-generated content, this could give your account a good chance at being featured. Allowing you to gain more active & engaged followers for your Instagram Account.
Showing gratitude & appreciation towards your followers is by far one of the best ways to strengthen your relationship with them. Shouting out loyal followers allows them to feel like valued members of the community.
Keep up with who is active & engaged on your account. Whether it be through your Instagram Storie views or engagement on feed posts. Take notice of those accounts that are constantly consuming your content. Showing appreciation can turn a loyal follower into a loyal customer.
6. Use Hashtags on Instagram
For those that follow proper engagement boosting techniques, you already know that Instagram allows 30 hashtags per post. Hashtags are extremely powerful because they open up your content to reach an exponentially bigger audience pool.
Thanks to the most recent updates to the Instagram Explore Page Algorithm, hashtags can now be followed.
Meaning that enormous communities have been created around hashtags like: #luxury #fitnessmotivation #harleydavidson. These communities are filled with niche-specific, active & engaged users.
In some instances, the communities built around certain hashtags contain incredibly specific audiences, for example: #kawssmalllie #offwhitejordan1.
Finding these small communities can bring some of the highest ROI for engagement, followers, leads, sales, & so much more!
In addition, Instagram started to organize Influencer content based on niches like fitness, DIY, food, music, etc. On these explore feeds they promote the top trending hashtags for the niche.
These hashtags are placed at the top of the explore page, allowing them to gain a significant amount of exposure. Meaning the content that makes up the hashtag is getting an incredible amount of traffic & followers.
With all this attention Instagram is placing on hashtags it is essential for you to start using hashtags in your Instagram Stories.
If you're looking for a way to reach highly targeted communities of active & engaged audiences. Then create a powerful post in your IG story with the appropriate hashtag attached to give your Instagram account the exposure & growth it deserves!
Bonus Steps
7. Host Instagram Story Giveaways & Promotions
Are you a brand or influencer looking to increase Instagram Story Views on your page? Then you need to look at your Instagram Story Community as a special community of your most active Instagram followers.
In order to show your appreciation & love for your IG Story community, you can reward them with special giveaways, promotions, and discounts that are only available to people that follow and check your IG Story on a daily basis.
Best of all these promotions will also only last 24hrs, thanks to the life span of Instagram Story Content.
Additionally, you can generate more Instagram Story Viewers by making it a requirement for reposting the giveaway on the participants' story in order to enter.
8. Take Advantage of Trending Widgets & Stickers
Instagram is always testing new features on their Instagram Stories. That being said, you can take advantage of trending Instagram story widgets & stickers to boost your overall reach.
For example, there are Instagram Story Stickers & Widgets like:
Stay Home
#Challenge
Support Small Business
Thank You
These widgets were published by Instagram to connect more people. The goal of these tags is to introduce your content & profile to other people using this widget. Thus, creating more connections with people that follow you and don't follow you.
Utilizing these widgets can help bring new Instagram story viewers to your feed. Make sure to always be on the lookout for future widgets or stickers that might help you easily increase Instagram story views.
9. Create a Compelling Instagram Profile
It is common among social media users to check a stranger's account on their first contact. So if you are running an individual or a business account, provide comprehensive information to viewers. A captivating profile induces users to follow you on Instagram.
Keeping your Instagram profile up to date makes it possible for Instagram users to visit your account for stories missed. Whatever you post on Instagram, stories should be part of your feed. Followers who love to see your creativity will go through your feed.
The above assertion is an indication that you need a complete profile to increase Instagram story views.
10. Includes Reels in your Instagram Stories
Recently, reels have shown to be effective in increasing Instagram story views. It could be the one created by you or based on trends in social media. Users check Instagram stories for entertaining content. That is why you need Instagram reels to create fun videos for your audience.
Instagram likes profiles that attract more engagement through the content posted on Instagram stories. Reels keep your followers engaged while they yearn for more. Your views will increase because users will be anticipating more entertaining posts from your account.
Enjoy this Article? You May Also Like: