Are you thinking about how to grow your followers using Instagram Giveaways in 2019? Or perhaps you're looking to gain traction on Instagram?
If yes, then this blog post is meant for you. Here, we'll talk about what Instagram Giveaways are and then show you how to grow your followers using Instagram Giveaways.
As an introduction, we'll like to state that Instagram Giveaways are very popular: and not just with customers alone.
Marketing agencies, influencers, and brands are all aware that giveaways are very efficient when it comes to driving engagement.
Instagram Giveaways are a very great way for businesses to get more followers and attract new customers. Also, they're a fantastic way to begin online conversations with your audience without being too promotional.
In fact, brands that hold giveaways can quickly achieve up to 70% more follower growth than brands that don't.
If you're finding it hard to gain traction on Instagram, then running giveaways could be your jackpot to getting attention from Instagram's millions of users.
After all, everyone loves free things.
We love the chances to snag some free swag, whether it's the chance to win a months' supply of free oil changes or the opportunity to buy-one-get-one offer on some goods.
When properly implemented, Instagram Giveaways means more follows, shares, and likes. Plus, these giveaways can also be a whole lot fun for you as well.
But you might be pondering within yourself that how do I effectively set up Instagram Giveaways? Or what can I giveaway that will capture people's attention?
Well, don't worry. This article will provide answers to the questions.
For now, just know that if you want to grow your followers on Instagram, then running giveaways is a great place to begin.
That said, let's dive deep.
WHAT ARE INSTAGRAM GIVEAWAYS?
Basically, Instagram Giveaways are time-bound promotions in which brands promise to give away a product and/or service to one (or more) lucky participants based to a specified set of criteria.
Instagram Giveaways allows you to offer something valuable for free in exchange for a follow, comment, like, or other pre-determined requirements.
If you spend enough time on Instagram, then you have likely seen a giveaway in action.
Brands and household names use Instagram Giveaways to reach new fans, create a buzz about new product lines, and grow their social followings.
In some cases, the giveaway prices are incredible while it can be a little lackluster in other cases. Irrespective of what you're giving away, giveaways can be a great way to attract new fans and create some buzz.
The more followers you have on Instagram, the more engagements you can expect.
Instagram Giveaways will also help you to build good relationships with people who can subsequently become loyal ambassadors for your brands.
Now that we've talked about what Instagram Giveaways are, let's look at the importance of running giveaways.
IMPORTANCE OF INSTAGRAM GIVEAWAYS?
Instagram Giveaways allow you to build brand awareness.
Just as we stated earlier, Instagram accounts that run giveaways grow 70 times faster than businesses that don't.
The reason is simple.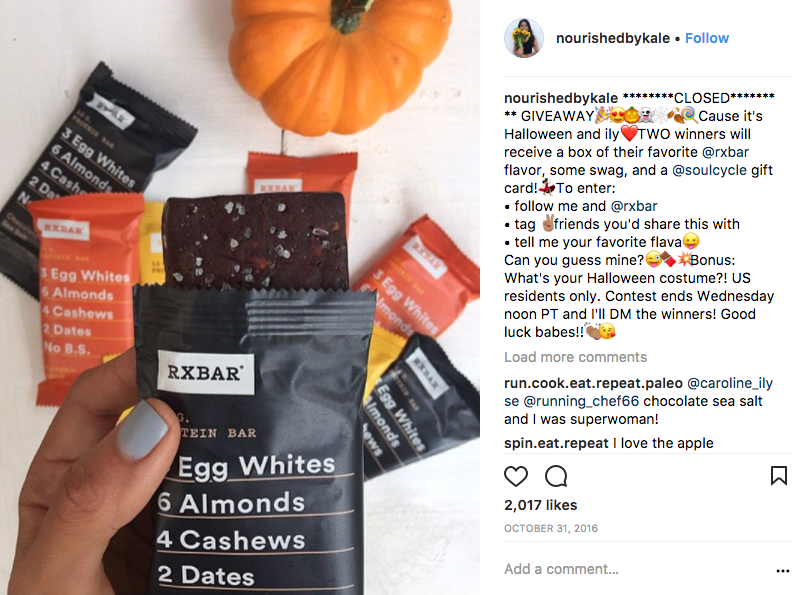 People love free stuff.
A lot of people might be keeping track of what you post on your Instagram account without following you. But once you persuade them to hit that follow button in exchange for specific prices, you can effectively grow your audience.
Also, these audiences are more likely to follow you if they can get freebies by tagging their friends. Those who get tagged on your post will receive an instant notification.
This will widen your brand reach and help you connect with a new audience that isn't aware of your existence. The new audience might further be inspired to participate in the giveaway by tagging their friends as well.
In the end, you'll get more people talking about your brand, and your brand's visibility will be enhanced.

FURTHERMORE:
Another great benefit of the Instagram Giveaways is that they enhance audience engagements.
A study by Tailwind revealed that when compared to other content, Instagram Giveaways get roughly 3.5X more views and 64X more likes.
Additionally, the use of a branded hashtag enhances brand visibility by letting your audience know about your brand. So, giveaways can allow you to improve brand awareness and establish a connection with your audience.
They also provide access to user-generated content. For example, when you run a selfie giveaway, you can effortlessly reuse the giveaway entries on your IG page.
In such cases, people who win the giveaway and get featured on your page will feel valued. They'll also be encouraged to become loyal advocates of your brand.
Subsequently, Instagram Giveaways can also help brands to generate leads.
When the winner of your giveaway is rewarded with free samples of your product, they're instantly drawn to your brand. After using your products, they might even consider buying from you and recommending others to purchase your products.
Now that we've talked about the importance of running Instagram Giveaways, it's time to show you how to grow your followers using giveaways.
How to Grow Your Following Using Instagram Giveaways
Even though Instagram Giveaways might seem quite straightforward and simple, many brands still find it challenging to grow their followers using giveaways.
If you want to grow your Instagram followers using Giveaways, then you need to ensure that the giveaway announcement gets to your target audience.
Also, you need to be cautious that the giveaway doesn't land you in any legal trouble.
But how do you ensure all of these?
Well, here are some ways to grow your followers using Instagram Giveaways.
FIRST STRATEGY: SET THE GOALS FOR YOUR GIVEAWAY
The first step is to define the goal of your giveaway.
There are many different reasons for running giveaways, and your goal will depend solely on what you want to achieve through your campaign.
For instance, your goal could be to generate more engagements on your posts, get more people to sign up for your email list, grow your Instagram following, or produce user-generated content.
It's up to you to choose what makes the most sense for you.
In general, Instagram Giveaways are a great way to grow your followers and expand your reach on IG. By setting a specific goal, you can precisely tailor your strategy and keep track of the impacts of your giveaway.
It's also worth noting that your goal will determine the rules and rewards of your giveaway.
SECOND STRATEGY: PREPARE A TRANSPARENT AND DETAILED DESCRIPTION FOR YOUR GIVEAWAY
After you've set a goal for your Instagram giveaway, the next step is to announce it on your IG profile. For you to achieve that, you need to articulate an inclusive description that outlines the following:
Prize: as much as possible, don't leave your audience unclear about the prize you're offering. You can feature the prize in your giveaway announcement to entice more users. Truthfully, without an enticing reward, many people might not feel persuaded to participate.
Eligibility rules and criteria's: if you want to target a specific age group or attract entries from a specific geographic location, ensure that you specify that in your giveaway advertisement.
Deadline: set a suitable length of time for your Instagram giveaway. When choosing a deadline, remember that balance is vital. If your giveaway is too short, there won't be adequate urgency to make people enter. on the other hand, your audience might forget about the giveaway if it's too long.
Winner Announcement: in addition to the deadline, try to specify the date and time when you'll announce the winner(s) of your Instagram giveaway. That way, you can strengthen engagements even further because your audience will be glued to your IG profile.
Mode of Entry: it's also essential to explicitly state what your audience must do before they can participate in the Giveaway.
Whenever you're drafting the giveaway announcements, ensure that it obeys Instagram's promotion guidelines.
For instance, don't encourage your audience to tag inaccurately just because you want to build your brand.
Also, instead of commenting on the picture used for the announcement, you can tell your audience to tag their friends in the comments section.
It'll also be awesome if you can use a quirky and attractive image to accompany your giveaway announcement.
THIRD STRATEGY: SELECT THE RELEVANT AND RIGHT PRIZE
In running Instagram Giveaways, it's good to always decide on the product and/or service that you'll giveaway as your prize. It's also good to offer the relevant and right prize.
Here's why.
Offering an expensive prize that isn't related to your brand might entice massive traffic who will eventually unfollow you. These are not the kind of audiences you want to target, right?
Well, the only way to curtail such instances is by offering something that's related to your brand. It could be in the form of loyalty forms, free membership, or even high-class gift baskets that contain your products.
With such rewards, winners of your giveaway will have a taste of your products and/or services. If they like what you gave them, they'll eventually turn to paying customers and loyal brand advocates.
This is an excellent way to increase followers, drive conversions, and increase sales. Also, note that your prize should be equivalent to the number of efforts required from participants.
With a few product samples, many people would be encouraged to follow your page and like your post. But if you want them to upload pictures and include hashtags, then you need a more captivating prize.
FOURTH STRATEGY: CREATE YOUR UNIQUE CAMPAIGN HASHTAG
Hashtags help to increase your visibility and simplify the entry process for participants of your giveaway. They also help your content to surface on the Explore channel.
If you want to spread awareness about your Instagram giveaway, then a compelling and unique hashtag is one indispensable tool.
With the help of branded hashtags, you can easily keep track of your participant's entry.
When creating your hashtag, make it concise, simple, and easy to read. For maximum impact, ensure that the hashtag showcases your brand name and is related to your products and/or services.
In the image below, @dunkindonuts used the #DDLoveContest hashtag. They encouraged followers to post content using that hashtag.
Such an excellent example.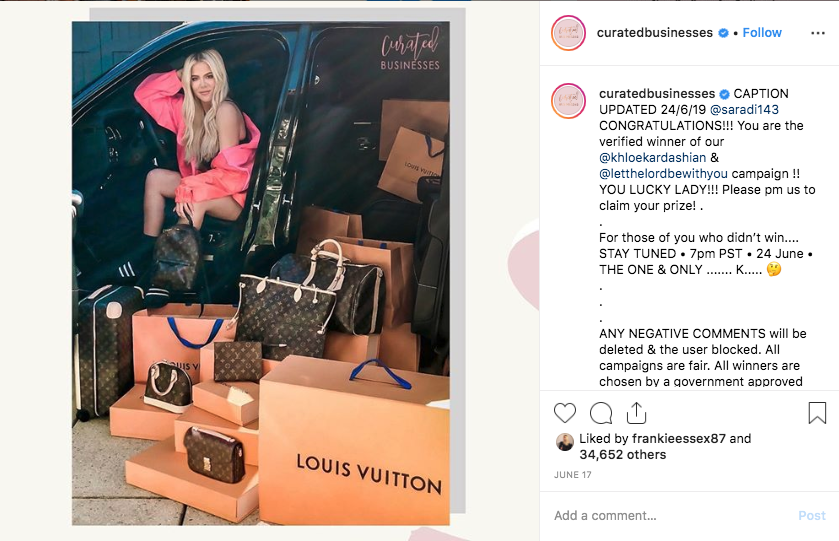 FIFTH STRATEGY: ANNOUNCE THE WINNER OF THE GIVEAWAY
Once your giveaway has closed, you'll need to select a lucky winner from the crowd of entrants.
Typically, your users will be eager to know who won the prize. So, it's essential to be as transparent, trustworthy, and punctual as possible. By delivering on your promise, you can create an impression of a brand that's reliable and true to your customers.
That way, you'll have the opportunity to grow your business, reinforce credibility, and promote trust.
One way to make the winner(s) feel more special?
Highlight their names and Instagram profiles on your Instagram page. This gesture can make your business to be identified as one that values their audience.
It can also help you to build a battalion of loyal and faithful brand evangelists. Immediately you announce the winner, ensure to edit every content that pertains to the giveaway by adding things like "Giveaway Closed."
So, once people see such posts, they'll be aware that the giveaway is over.
SIXTH STRATEGY: PROMOTE YOUR GIVEAWAY
A bunch of fancy giveaway ideas alone won't guarantee results or bring you more followers. As a matter of fact, even excellent giveaway idea might not produce tangible results in the absence of adequate promotion.
Now, this is where promotion comes in handy.
If you must solicit maximal support and participation, then you need to promote the giveaway on your social media platforms. You can use famous hashtags like #giveaway, #contest, #prizewinning, etc. when describing your giveaway.  That way, you'll get to maximize your reach and increase the visibility of your giveaway.
Additionally, you can also partner with influencers and ask them to post your giveaway announcement on their profile. That way, you can easily tap into the faithful and loyal fanbase of the influencer(s).
For example, in the partnership between HoMedics and Joceline Raad (influencer and mom blogger), Raad announced the brand's giveaway on her Instagram profile.
The post received over 1000 likes the same day it was posted. It was also flooded with many comments and likes from Raad's loyal fans.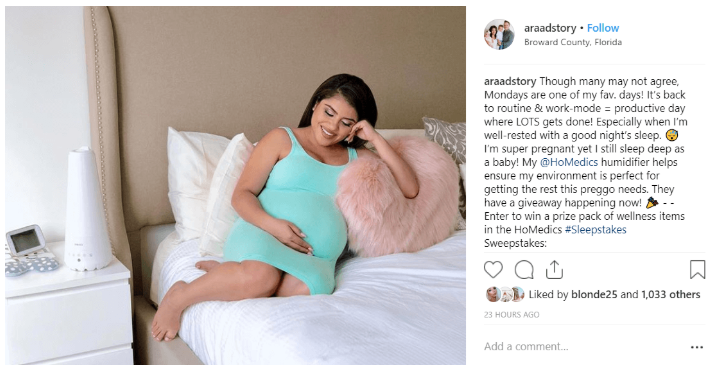 If you want to gain more followers using Instagram Giveaways, then you need to have an adequate promotion plan.
Period.
CONCLUSION
In summary, we talked about what Instagram Giveaways are and the importance of Instagram Giveaways. We then wrapped it with ways to grow your Instagram using Instagram Giveaways.
Without mincing words, Instagram Giveaways are indispensable when it comes to growing your followers on Instagram.
They're also great when it comes to reaching out to new audiences and engaging with them.
No matter what kind of business you're in, if you've not used Instagram Giveaways before, now is the time to hop in. Don't waste any time.
What are your thoughts about this article? Have you run  Instagram Giveaways for your business before? What were your results? Please share your views and experiences in the comment section below.
Enjoy this Article? You May Also Like: