The dynamic product campaigns use machine learning and help scale your ads by reducing the burden of 10,000 ad sets. As with only one campaign, you drive sales using personalization and various user recommendations for every product. Facebook dynamic product ads help you achieve lower CPAs and increased ROAS.
Also, you get a chance to save time in automating remarketing campaigns with confidence, helping you achieve improved engagement rates.
Table Of Content
How Does a Dynamic Product Campaign Work?
The moment a shopper expresses interest in a product from the catalogue, Facebook dynamically generates an ad and delivers it on a tablet, desktop and mobile to that particular person. These ads have a similar look to the carousel, single image, stories, or collection ads. The dynamic product ads can be run on Instagram and Audience Network apart from Facebook.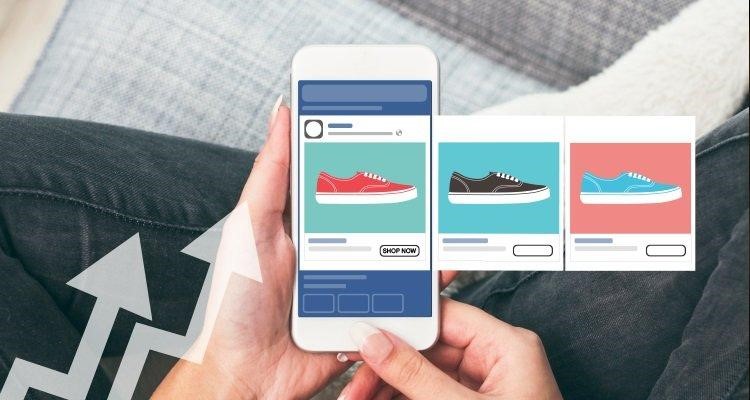 The dynamic product ads are also suitable for generating leads and app installs. If you have multiple apps and want to increase the app installs, add the catalogue at the ad set level. Doing this will prompt dynamic targeting options available under the Audience tab.
Why are Dynamic Ads Best?
Automated Campaigns – One does not need to optimize all of the items configuring each separate ad.
Personalized – The relevant creativity and the content matching to the potential audience gets delivered automatically based on the interests and behaviors.
Retargeting – Reminder to the viewer after viewing the items on the website and mobile app.
Cost-effective Advertising – There are multiple ways of controlling the target audience. With this form of advertising, advertisers can increase conversion by reduction in the abandonment of shopping carts and promoting the selling of related products.
With the help of broad audience targeting, if a shopper has not visited the website or app, then also reach new people interested in your product.
Creating Dynamic Product Ads
After adding standard event codes for different website actions to your funnel, you can start creating dynamic product ads.
Step 1 – Creation of product feed
 To run DPA campaigns, Facebook requires advertisers to list the products in a specific format. The data feed file can be .csv, .xml, and .tsv. You can also use third-party feed tools for easy creation. The below-mentioned fields are mandatory, along with the tips for instant approval:
| | |
| --- | --- |
| Field  | Tips to create an accurate description |
| Id | For dynamic ads, the id should be the same as the content id in your Facebook pixel code. |
| title |  The title should be unique, not exceeding 150 characters. |
| description | A plain text not exceeding 5000 characters covering all the product features is perfect. |
| availability | Any item not available, i.e., out of stock, then appears as out of stock only in sales and not in the ads. |
| condition | Mention supported values like used, refurbished, and new |
| price | Always use a full stop (.) instead of a comma (,). Also, there can be times when the ad might show multiple currencies, so use only one currency per catalogue. |
| link | Make sure the link starts from HTTP:// or HTTPS:// |
| image_brand  | JPG, PNG, or GIF are the only accepted image formats, must be at least 500×500 pixels and not more than 8 MB. |
| brand | You only need to mention one of these MPN, GTIN, or the brand name. |
Step 2 – Creation of product catalogue
Visit the Catalogue Manager under Business Manager and choose the most suitable type. Then, name your product catalogue and add the products by clicking the 'Add Products' button. Now, decide how you wish to upload the data.
For any issues, click on the 'Diagnostics' tab and identify what needs to be fixed. Once your product feed and catalogue are set, you can further create a dynamic ads campaign.
Step 3 – Dynamic Ads campaign setup
Choose 'Catalogue Sales' as the campaign's objective from Ads Manager. Now, you need to create a product set at the ad set level.
The next step is the crucial one as it's about choosing an accurate audience. 
For remarketing to your previous visitors, choose using pixel or app for info and create a retargeting audience. You can also let Facebook optimize your ad, making it visible to new shoppers.
Below the connections menu, you can click the 'Show Advanced Options' to refine your audience and optimize your budget by excluding people who have already made a purchase.
Optimizing the right event type is another crucial factor. You can choose events like (Add To Cart, Purchase, or View Content). Also, you can set the conversion window as per your requirements.
You can choose the ad format, which can either be single or carousel. Try opting for landscape images as they look good with a single image ad format. For a carousel, you can choose vertical photos.
Kindly Note – As you're creating dynamic ad copy, there is no need to insert product name, description, or other product information. Make use of the '+' button inside each box to pull the catalogue field from the available product field.
Dynamic Product Campaign Ad Tips you must Follow-
Each product page should have ViewContent
Purchase page or Thank You Page should have Purchase event
AddToCart event to every shopping basket pages
To reach a large audience, include ViewContent and Search events.
How to Show Specific Colors of a Particular Shoe? 
With the help of an individual product Id, you can show specific colours of a particular shoe. In case a product has various variants, like sizes, and only one recommendation should be displayed, one can use product group ID. The product groups are beneficial in distinguishing products identical in nature but with minor variants like material, size or pattern.
Double Check Setup with the Product Events Page   
By visiting the product catalogue section available in the Business Manager, you can identify pixel setup and product catalogue problems. Double-check that 100% of the product ids match the catalogue with the help of a troubleshooting tool.
Conclusion
Make use of Dynamic Facebook Product Campaigns and reach your audience wherever possible. As advertising on Instagram and Audience Network along with Facebook, deliver your ads in real-time. For best practices, try to direct your audience to a mobile application through which you'll be able to achieve higher conversion rates. For improved conversions, set your budget as high as possible, and plan in advance to deliver your ads to the people who are more likely to take action.  
Enjoy this Article? You May Also Like:
Author Bio:  
Bio: Khushali Raval is an Author at Phoneier. Having experience with 5 years of writing about phones and other gadgets. He loves to explore and write different gadgets from android phones to wearable gadgets.