The Clubhouse has been gaining much attention in recent times, given the distinct feature it brought to the social space. As an audio-based social media network, it allows participants to chat through voice messages. Many users have benefitted from its networking potential, especially those in the UK and US. So benefiting requires to host a room on Clubhouse because connections bring out the quality of a room.
However, you can only be part of a chat room if you get an invite. You might be wondering – What makes a successful room on Clubhouse? How do I host a great room on Clubhouse? Don't worry, you'll find answers to your questions shortly.
Read on…
Before we jump into the discussion, here's an overview of the Clubhouse.
What Is Clubhouse?
As explained in our previous articles, the Clubhouse is the latest audio-based social networking app with a unique feature different from the other social media sites.
Clubhouse joined the existing social media networks in May 2020 when Paul Davison and Rohan Seth came up with the innovation. It grew to become an engaging app with many world celebrities joining discussions on the app
Discussion of relevant topics, such as business, politics, and lifestyles is a significant contributor to its rapid growth. It is one of the most discussed social media apps recently.
What differentiates Clubhouse from others is that not everybody can get into this great social network. It is an iOS app for iPhone and iPad users available on Apple store. You can only join through an invite.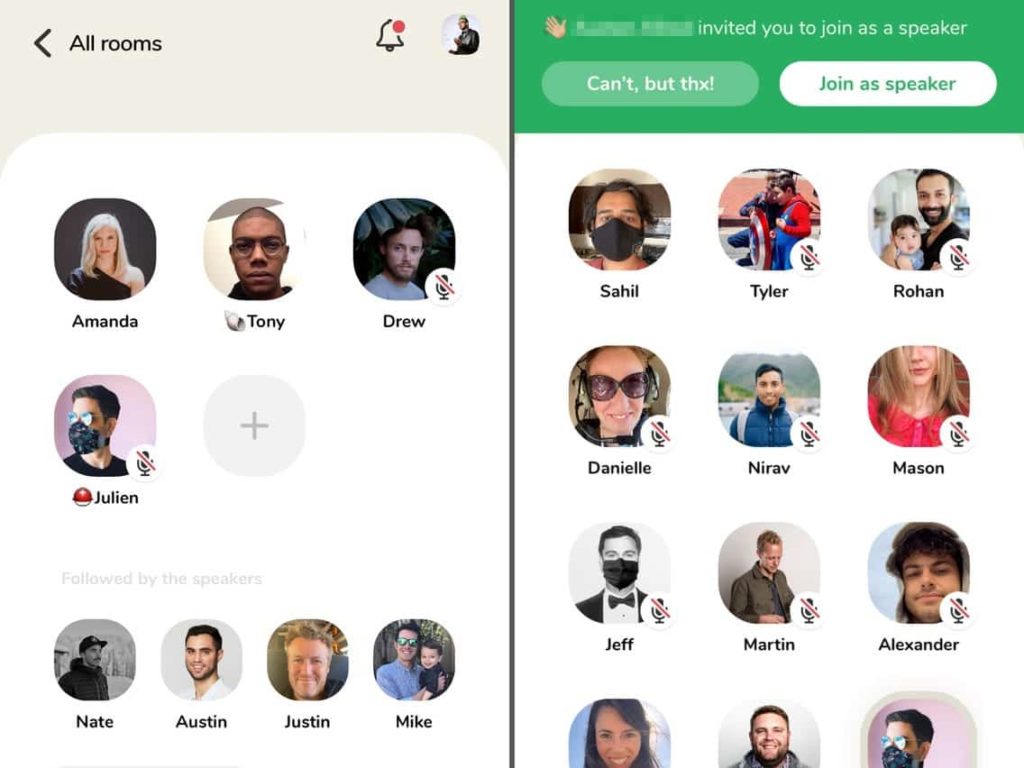 Creating A Room On Clubhouse
Let's take you through the step-by-step guides to starting a room on Clubhouse.
Creating a room on Clubhouse requires tapping the green button below your feed. To proceed, you need to tap the "Add a topic" to provide the room's area of concentration. This is to give participants an idea of what the room entails.
Alternatively, it is possible to schedule a room through the events feed. When you are on the events feed, you will find a top bar calendar meant for scheduling. What this implies is that the event will be held in the future. Every user following you gets a notification of the event scheduled. They will also be notified when it is time to start the room on ClubHouse.
What Next After Starting A Room?
After starting a room on Clubhouse, you will get access to many features to control the room activities. There are stage and audience levels.
At the stage level, participants can contribute by speaking because you granted them access. You can restrict users from speaking by setting the audience level for people to listen only.
There is a green asterisk indicating there is a moderator for the stage, including speakers. Every participant can mute and unmute themselves to keep the conversation useful.
Your Role As A Moderator
Granting access to users who raise their hands to contribute to the discussion.
Adding people to the audience level to restrict them from speaking
Mute users that might be generating noise from the background or if you notice misconduct.
Unmute users to allow them to speak and be part of the discussion
Every participant gets an opportunity to invite a new user to the room. If you are opening a room on Clubhouse, you are permitting members to invite new people. To add a new member, you will tap the + sign in the chat room. They will receive a notification of your invite.
Now, to the real deal…
Hosting A Great Room On Clubhouse
This is where the interactive nature of the Clubhouse comes into play. Increasing the engagement in Clubhouse rooms requires inviting people who can add value to the discussion.
Below are what you need to do if you want your room to be one of the best on Clubhouse:
1. Define The Rules And Regulations
The first step to hosting a great room on Clubhouse is defining clear rules. The control you have over the room tells a lot to your followers. It is a way of developing a perception about what your room will be offering.
You can choose a broad or a focused topic, depending on the participants you will be inviting. Bring speakers to the stage to share their perspectives for a few minutes.
Your rules should hang around the topic set, your personality, and consider the participants.
2. Think About Quality Connections
Clubhouse chat room is not about numbers; it's about the quality connection it possesses. I can bet that that is the ideal way to get more followers in your clubhouse rooms.
According to the Clubhouse developers, the goal of hosting a room on Clubhouse should be to garner quality connections. This helps to share values relating to business and other vital aspects of life.
Quality connections bring a higher level of engagement, which will, in turn, create value in your clubhouse rooms.
3. Your Room Title (Topic) Must Be Catchy
You might be wondering how to get more followers in your clubhouse rooms. It is pretty simple. Naming your room with a broader topic triggers people's curiosity. Hence, they want to be part of the discussion.
Also, a narrow topic pulls followers, but in a different way. It increases the engagement and conversation level than the broader topic where followers prefer to listen.
4. Don't Flood Your Stage With Many Speakers
Do you know how to create value in a clubhouse room? For those who don't have an idea, speakers should not be more than eight at a time. When people raise their hand to speak, you can move an existing speaker to the audience level. This is to create space for new speakers.
Overcrowding the stage may cause issues and may reduce the quality of your clubhouse room. To move a user to the audience level, you should tap on their image to do the needful.
5. Create Room For New Users By Removing Inactive Participants
As a moderator of a clubhouse room, you should know when the time is right to remove participants in a state of inactivity. If they are not contributing, the quality of your clubhouse room may drop.
Listeners may find no value in your room when there is a high number of inactive users. The goal of your room should be to offer the best possible experience. You can only achieve this through active users providing quality content to listeners.
It is through active participation that you build genuine connections.
6. Bring On Board Amazing Moderators
Your ability to grow your network depends on the caliber of people participating in your room. You will need moderators to assist you if you are hosting more than one room on Clubhouse.
Find competent people that possess what it takes to influence people. Convince them about your intention to make them moderators in some of your created rooms. You can build your network gradually through the chains of all your created group.
Conclusion
The Clubhouse is a fun-filled and engaging social media app. You can familiarize yourself with it in a short time. The few tips we have outlined will help you on how to host the best room on Clubhouse.
It offers everyone the opportunity to learn something new, build relevant connections, and network with people who share the same view.
Enjoy this Article? You May Also Like: