The holidays are just right around the corner, and as an Amazon FBA seller, it's an excellent time to take advantage of the influx of people doing their annual Christmas shopping. Let's take a look at the top ten holiday content marketing ideas for small businesses.
Regardless of your niche or category, you can expect an increased sales volume for the season. That said, there are thousands of other sellers with the same idea, looking to take advantage of this opportunity while the holidays last. Whether they're direct competitors or not, sellers across the board recognize this as a prime occasion and are scrambling to get the market's attention.
So, to stand out among the chaos, here are ten-holiday e-commerce lead generation tips and content marketing ideas you can try to boost your business' visibility. We'll cover three areas of your e-commerce store that you can update just in time for the season – social media, email marketing, and e-commerce website.
Social Media Marketing
     1. Share holiday greetings on your social platforms.
Share a warm greeting about the season's approach as a pleasant way to ring in the holidays. It's a great way to show off your festive spirit and promote your brand's offers! If you're planning on hosting a significant sales event, you can even consider creating an event on Facebook inviting brand followers to participate.
When posting on social media, don't forget to use relevant and eye-catching graphics to grab your audience's attention. You can also apply holiday-related hashtags to increase the visibility of your content and take advantage of the traffic.
Some of the most popular hashtags this time of year are #Christmas, #holidayseason, #holidayspirit. These are highly searched keywords throughout December, so it's worth giving it a try to raise awareness of your brand's presence.
     2. Share your brand's culture by highlighting how your team celebrates the holidays.
This is another effective holiday content marketing ideas for small businesses because being personable and relatable is an excellent way to connect with your customers. Use social media to be positioned as more than just a product, but as a brand that provides value in various ways. These social communications are essential to building relationships and illustrating what you have in common with your audience.
PPC and Amazon DSP are great communication tools to help promote your product, but social media provides a different angle to connect with your potential customers. Consider using platforms like Instagram and Facebook to highlight ways you relate.
A common way of doing this is by introducing your staff and showing off the office culture. E-commerce can often feel impersonal, so seeing the people who work behind the brand can help bring a level of relatability to your business's image.
Some great ways to show off your brand culture for the holidays are:
Share images and videos of the annual Christmas party
Introductions of the staff and their favorite holiday meal
Snapshots and candids at the office
Sharing how your brand participates in holiday events (fundraisers, donations, dinners, etc.)
Remember, when creating these types of posts, you should be aware of relevant events to your audience. If you target your audience based on location, consider events surrounding that area. Alternatively, if you target your audience based on interest, find related events based on those interests.  The more you learn about your market, the better you communicate with them.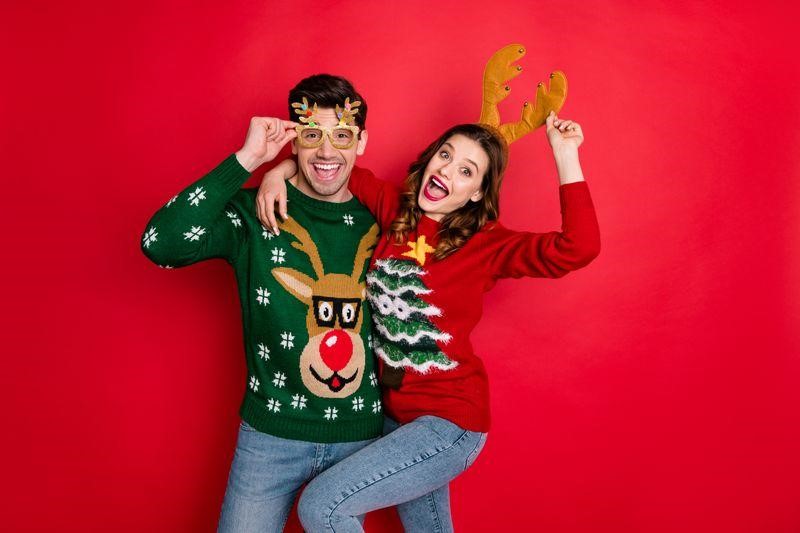 3. Run contests in line with the holidays to win prizes and increase engagement.
Holiday-themed contests are a great way to engage your audience on social media platforms. Depending on the type of contest, you can take this as an opportunity to learn more about your audience, request a favor, or increase exposure.
Typically you would start these contests a couple of weeks or days ahead of the holiday season, but before getting started, you should be able to answer these questions:
What are you trying to achieve by running this contest?
How long will you run this contest?
On which platforms will you host this contest?
What will be the contest prize?
How many winners are eligible to win a prize for the contest?
What targets will you set to consider this campaign a success?
Now that you have the elements to build a contest campaign, it's time to spruce it up for the holidays. Schedule your contest in a way that aligns best with the holidays – then use creative elements to show off your festivity.
Remember, this is an opportunity to engage with your audience, so avoid coming off as promotional! Instead, give people a chance to win prizes while gaining exposure and engagement for your brand.
     4. Gift free products for every minimum purchase.
Who doesn't love gifts? giving out free gifts is no doubt one of the most effective holiday content marketing ideas for small businesses. Using freebies as a gift for minimum spend is a great way to make your brand memorable and be on-brand for the holidays. By doing this, you encourage repeat purchases and positive reviews to build your brand's reputation. You can also offer coupons to bring your customers back for more purchases as an alternative to a free product. This is a great way to show your gratitude towards customers who support you, giving them more of a reason to share your brand with friends and family.
Another way to maximize this initiative is by partnering with other brands. By collaborating, you can help each other gain exposure with combined audiences to their benefit. Consider a complementary product/brand as a freebie for purchases from your store. For example, a brand selling baby food would be a great partner if you sell children's apparel.
Website
     5. Create a holiday gift guidepost.
An excellent way to gain exposure for your brand is by writing blog posts, and a great piece this time of year is a Holiday Gift Guide. The gift guide helps simplify shopping for people looking for the perfect present by making suggestions based on previous purchases or top sellers. For example, apparel shops can suggest the ideal Christmas outfit, or a children's store can list their most wanted toys!
Use creatives to help it draw some attention and keep it on theme – this can help your readers associate the post with holiday solutions. Remember, content is a great way to supplement your website with additional resources and informative content – use this to your advantage
     6. Create an interactive blog post on how your customers are planning to spend their holidays.
Consider inviting customers to share their holiday stories on your website as a way to connect and involve people in your brand's festivities. You can hire an SEO expert to ensure that everything is optimized. Content can be submitted via social media, email, video to demonstrate the community that revolves around your brand.
     7. Add a countdown calendar to your website.
From advent calendars to the count to midnight on New Year, countdowns are always a hit this time of year.
Online countdowns or calendars on your website are a great way to get customers to re-visit your website. Use festive creatives to stay in theme with the holidays and draw attention to your brand. Consider adding games, tasks, and prizes for a little more involvement!
Email Marketing
     8. Send emails and newsletters with holiday greetings.
One of the best ways to stay in touch with your customers about brand updates, promotions, and events is by email. Emails are a creative and versatile solution to communicate with an audience.
The holidays are a perfect time to send out email content. From greetings to deals and offers, the options are endless. Use newsletters to share holiday tips and tricks that revolve around your products and throw in a couple of campaigns to greet people during this time of year.
     9. Create a holiday wish list
A crowd favorite for the holidays is the Christmas wish list. Using a wish list as content for an email marketing campaign can help keep your brand in mind when selecting gifts for friends and family.
You can craft this list in different ways for your audience. For example, invite people to build their wishlist directly on your store or site or suggest specific items you think would fit their holiday wish list. You can recommend specific items based on their viewing/shopping history or share a list of your top sellers.
     10. Create a "year-in-review" email highlighting your brand's best sellers.
In December, a popular piece of sharable content is the 'year-in-review.' People love to see summaries of what's happened in the past year, making it a perfect option for holiday content. The year-in-review post can either share the best-sellers throughout the year, outlining the different trends coming and going, or even showcase how your brand has evolved!
Summary
Increasing brand awareness when you're just getting started as a small business owner can be a challenge, but it's worth the effort. By working on these marketing initiatives to promote your brand, you'll be able to see better results and get to share with people who wouldn't have known about your brand otherwise.
Take advantage of the traffic this time of year, and use assets like your website, social media, and email marketing to connect with your audience. You'll see the benefits of communicating with your customers and followers regularly in no time if you follow the holiday content marketing ideas for small businesses which we have discussed in this article!
Author's Bio
Jayce is the managing director of Seller Interactive, the number one Amazon advertising agency based in Canada that helps brands build their business on Amazon. His content marketing expertise has led him to work with brands such as Toyota and GoDaddy, producing content that has reached over 20M views in a month.
Enjoy This Article? You May Also Like: