Getting new people to discover your website sounds easy. You can pay for ads to find potential customers and gain some leads. However, there's another way and it can give you exponential growth. In this article, we'll walk you through our top 5 strategies to gain organic leads! With these tips, you'll generate online leads that will most likely convert into long-term customers. Let's get started!
What are Organic Leads?
Organic leads are clients who find your brand's website by searching for a query or product on a search engine such as Google. Usually, these prospects didn't know about your company before doing an online search.
You generate these leads through organic search rather than using paid ads (these leads don't usually stay for long), or from people visiting your site directly.
What are the Most Effective Strategies to Generate Organic Leads?
Keyword Research
Any SEO expert will tell you that researching keywords is crucial for organic growth and lead generation. It allows you to pinpoint what search terms your clients are using on search engines. You'll better understand what keywords drive organic traffic to your site, which ones are relevant for your business, and the competition those keywords have. To boost your website traffic, you should analyze data to identify:
✔    The highest volume of keyword searches and lowest degree of difficulty
The search volume is how many searches are made monthly for your keyword. The higher, the better. If you optimize your site for a highly searched keyword, it's more likely to positively affect the traffic of your business.
The level of competition that ranks at the top of Google SERPs is something every marketer should take into account. Choosing less difficult, high-volume keywords will save you the frustration of creating excellent content that doesn't generate traffic.
Image source: WordStream
Remember to maintain a low-competition to high-volume ratio and select keywords that align with your campaign goals.
✔    Keyword gaps
This process uncovers keyword opportunities by analyzing what keywords drive traffic leads to your competitors instead of your website. It will guide you in your content creation and enable you to complete your site with the information your ideal clients are already looking for!
✔    Long-tails keywords
These are detailed search queries, usually over three words long. Though they have lower search volume, they have much less competition and higher conversion rates than short searches. For example:
Image source: OptinMonster
To find these keywords, you can search some of your go-to keywords on the Google search bar and allow Google to list out suggestions. There are also many SEO tools available online such as the SE Ranking keyword suggestions tool. It will enable you to keep track of all this data. Remember to check what ranking your website has and where your organic visitors usually come from.
Creating Your Customer Profile
Focusing on keywords will make it easier for clients to find you, but you still need to offer rich and informational content. Creating your customer profile helps you identify your ideal customer and gives you an idea of the content you need to make to resonate with them. This will boost your organic rankings, and consequently, increase organic leads.
Determine what your buyer's persona is, characteristics, demographics, etc. You can even create multiple personas. Ask yourself these questions to create your ideal customer profile:
What problems are they looking to solve?
What drives new customers to you?
Also, what are leads and their spending habits?
Who are they: where do they live? What do they do for a living? What is their education?
How to "attach" selected keywords to customers and their intents
Based on their intent, users will search different keywords. With this in mind, you can create content to present for each type of search, as listed below.
Informational
These search intentions are to answer a question or learn something on a given topic- i.e., "best PPC software." This tells you to create informational articles that will answer the user's questions.
Navigational
These are to find specific sites by simply typing the brand instead of the web address.
Transactional
This one is crucial; the search to buy something- i.e., "buy PPC software."
Work on Website Navigation
Identify your readers' flow through your site. Once you know where your users are coming from, what pages they choose to go to next, and what causes them to leave, you can optimize your website to improve your users' experience. Google Analytics offers the User Flow tool to do this.
How to organize your information on the website
Structure out the information. Some common categories to add to your site are homepage, about, contact, FAQ, terms, conditions, etc. Include this in the menu since most users use the menu to orient themselves. Keep a balance between functionality and design. That is a great way to generate organic leads.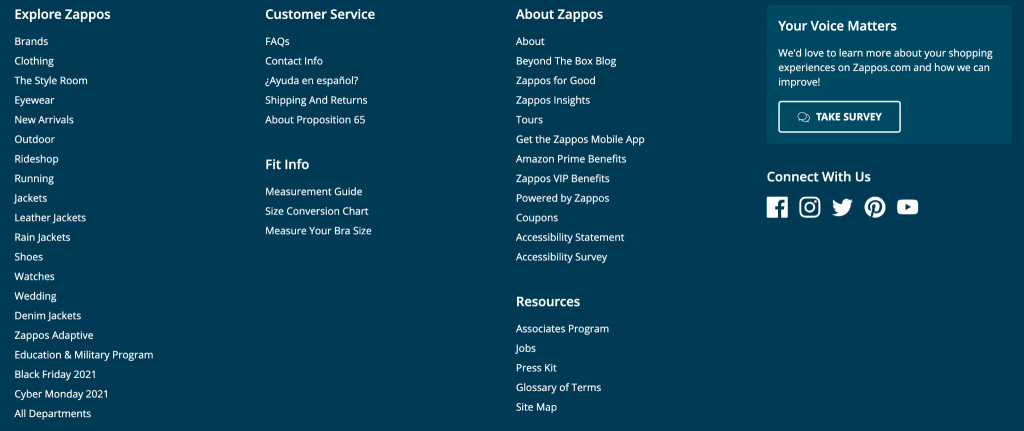 Image source: Zappos
Develop your lead/sales funnel (what you have to consider in terms of website navigation)
Any good digital marketing agency will help you define your sales funnel. A marketing or sales funnel tracks your users' progress, step-by-step, from visitor to paying customer. These are the stages:
The top is the marketing that attracts potential clients.
The middle involves everything that happens before the sale.
The bottom is the purchase.
Understanding your sales funnels will let you see where it's working and where it's not. You can improve the site's messaging to convert more visitors into customers by identifying where potential clients drop out. To create a quality sales funnel, you must:
Create a landing page
New users land here after clicking an ad or a link, so this is your chance to introduce your brand so they can learn about your product or service. Include a way for them to leave their contact info.
Offer value
Give them a reason to leave their info. Offer to reach out to them with some kind of helpful information.
Inform
Once the prospect provides you with their email address, stay in touch (but don't spam them) and keep them updated about your business.
Close the deal
Make an offer they can't say no to, such as a free trial or discount.
Don't stop there
Even if they drop out, continue to build your relationship with them and offer great service! Once they become a paying customer, keep them! Communicate with them to build loyalty.
Check and improve your sales funnels
Evaluate each of these steps. Where are clients dropping out? What is causing them to leave? Test and change as many things as you can to figure out where you need to improve.
Usability (mention page speed)
Navigation, typography, buttons, and layout. You need the best first impression so that users that discover your site will want to come back. Keep the design intuitive to make it easier to navigate.
Follow the rule of thirds for the design of your layout
Cap line length: 30-40 characters for mobile, 40-60 for desktop
Keep the search bar in the same position on all pages
Keep text easy to read and use no more than three font styles
Take time to make sure the site loads quickly. According to statistics, around 83% of users expect websites to load in less than 3 seconds, and 53% will leave if it hasn't loaded within that time.
Internal linking for lead conversion
Internal links are usually texts with a hyperlink that lead your user to another page inside your domain. Inbound marketing is helpful because it:
Increases Awareness by passing authority from each page to the next
Shows consideration for the visitor by guiding them to valuable content
Calls to Action by prompting them to follow through on an action (preferably to leave their contact information)
Image source: Orbit Media
Link building is one of the marketers' priorities. A website gains authority when referenced from another page, increasing its chance to rank on a search engine's results page. Even though internal links don't increase your domain authority, they do give "page authority."
You should follow these tips to get the best results:
Link high-authority pages to others that have fewer external links to increase their authority.
Link highly linked to pages to ones that rank lower on SERPs (the authority increase may boost rankings)
Create these links for your readers, not just SEO. Instead of " click here " buttons, add hyperlinks to phrases that indicate what that link page is about instead of "click here" buttons.
CTA
CTA's, or calls to action, help your user navigate your site easier. You tell them where to click to move on, and it can be as simple as a "Sign up" or an "Add to cart" button.
Image source: UX Movement
Make these visible. Use a contrasting color to make these buttons stand out. People associate buttons with rewards and satisfaction, so show the button push down once they click it and make it worth their while.
Provide Attractive Deals and Seasonal Discounts
Who doesn't get interested when there's a money-saving opportunity? Up to 50% off sales can catch a new customer's attention. It's exciting if they can earn discounts, coupons, and other deals from social media polls. Give something to your clients, and in return, you'll receive valuable interactions and engagement.
Seasonal discounts are a great organic marketing strategy, like 2 for one chocolate on Valentine's Day, 4th of July beer discounts, or even Black Friday. Use these discount tricks to attract new people whenever important dates are coming up that somehow relate to your business.
Create Selling Conversion Pages
Shoppers abandon the checkout page for various reasons. Follow these web design tips to make your checkout page as attractive as possible.
Allow them to shop without creating an account
Give them a reason to sign up, like discounts for registered users or not having to fill in multiple fields (since it's already saved) on their next checkout. By allowing them to shop without an account, these one-time buyers might turn into regular buyers. Be sure to ask for their email to contact them in the future.
Keep it simple
Let them focus on the checkout. Remove distractions such as the store's header. Your client probably won't want to fill out too many fields. Mark which ones are optional, and you can use these for marketing data.
Show clients what they're buying and let them edit
Add photos and summaries of the product in the cart so they can remember what they ordered. Allow them to easily change the info (dress size, quantity, address), so they don't have to go back and forth on your site to do it.
Show accurate prices
If extra service costs pop up at the end of the purchase, customers will probably back out. Let them choose their preferred delivery method. Make the check-out look secure as well.
What do we do if clients abandon the cart?
Shopping cart abandonment Recovery Emails
If they left you an email and completed most of the form, it probably means they left the cart for some unforeseen reason. Send them an email reminder about the product(s) they were about to buy. According to the data, 17.6% of these shoppers return to purchase after receiving recovery emails. It's an effective and cost-free strategy!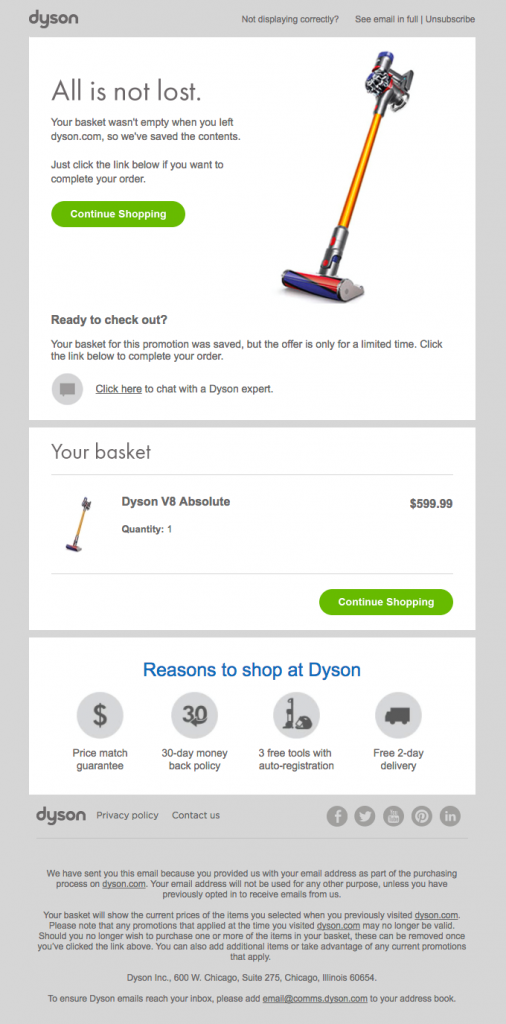 Image source: Really Good Emails
Reach Out Personally
Send personalized emails, direct mail, or even call them. Phone campaigns convert more than half of the customers who abandon the checkout page. Kindly offer to help them with their purchase.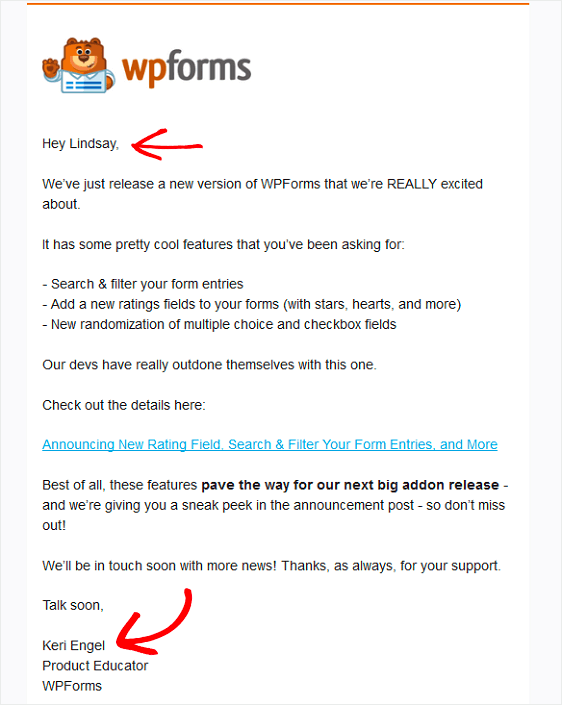 Image source: WPForms
If you don't have the time or staff for a phone call service, you can always incorporate personalized emails to create a similar experience. You can use these emails to warm up leads, gather reviews, get insights on customer satisfaction, audience research polls, and so much more!
Web Push Notifications
These are pop-up notifications that appear on desktop and mobile phones. They have a click-through rate of over 21%.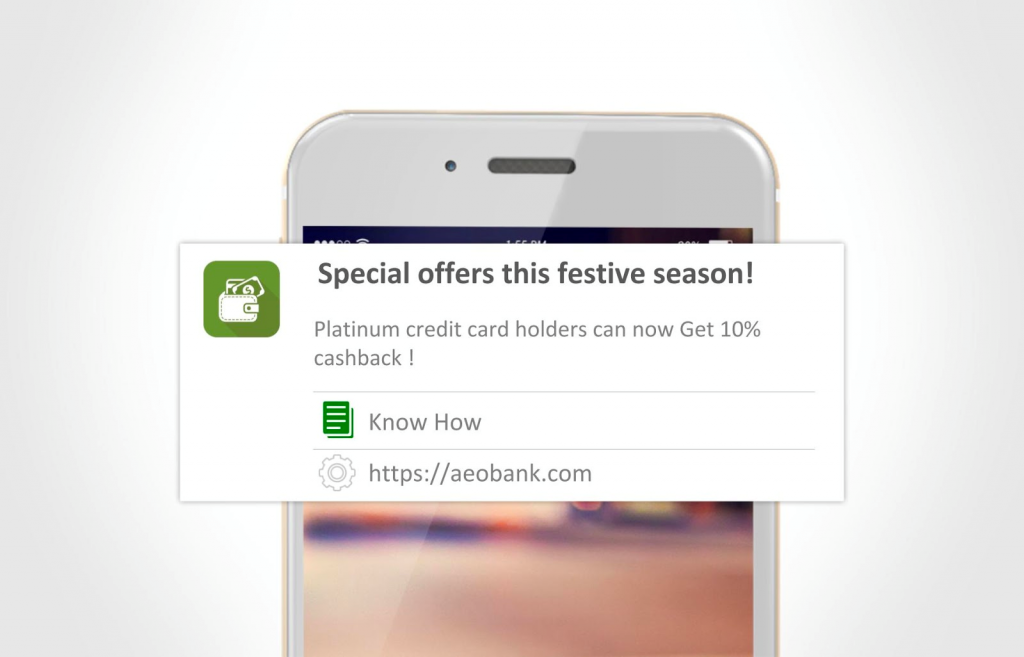 Image source: iZooto
Conclusion
By following the strategies in this article, you'll see an increase in leads, overall growth, and the quality of your brands' website. You should prioritize simplifying the visitor-to-customer process by optimizing every aspect of your site to get more leads and organic traffic.
Enjoy this Article? You May Also Like: