Are you thinking about how to find and join Instagram Giveaways to grow your following on Instagram?
If you are, then you've come to the right place. In this article, we'll show you ways to find and join Instagram Giveaways to grow your following.
Afterward, you should have an idea of how to enter several giveaway contests and increase your possibility of winning.
That said, we'll like to begin by saying that they're many Instagram competitions where people win and receive valuable prizes, reward programs, and coupons.
And, you wish to be a winner as well, right?
Don't worry; we'll show you how to find and join a giveaway and increase your chances of winning great prizes.
So, drop a cup of coffee close to you, and let's dive deep together.
TABLE OF CONTENT
THE WORKING PRINCIPLE OF INSTAGRAM GIVEAWAYS
Basically, there are many ways in which brands get their followers to participate in a giveaway.
Most Instagram Giveaways have laid down guidelines to either tag friends or like the post to join the giveaway. That's because businesses are now aware of the importance of persuading their followers to tag people who aren't aware of their brand. Such people will eventually become followers, and in most cases, they're even transformed to lifelong customers.
In the same vein, some brands either team up with social media influencers or another business.
The reason is straightforward.
If a modern industry or influencer announce their Instagram Giveaway, they'll likely capture the attention of a broader audience.
Brands run Instagram Giveaways by telling their followers to share a photo to enter. They also use fun and innovative hashtags that are suitable for their brand.
Additionally, some businesses mark their birthdays by celebrating their customers and giving them the chance to win great products.
Well, that's how Instagram Giveaways work
Now, let's dive into the different types of Instagram Giveaways.
TYPES OF INSTAGRAM GIVEAWAYS
Ideally, when looking out for Instagram Giveaways to join, it's essential to know the different types of giveaways that exist.
That's what we'll cover in the section.
Instagram Giveaways can vary from anything as simple as asking followers to like a post or encouraging user-generated content.
All these depend on a brand's end goal and the rewards they have to offer the winners.
We'll now briefly look at the different types of Instagram giveaways.
TAG A FRIEND:
This is one of the most useful giveaways that businesses use to grow their audience.
The "Tag a Friend" Instagram Giveaway is self-explanatory and simple.
Participants need to tag their friends in the comments sections before they can be qualified to win the prize. Those who are tagged can also participate in the giveaway by tagging their friends as well.
When people get tagged in a brand's post, they'll take note of the Instagram profile and giveaway announcement. That way, brands can reach out to an audience that they aren't able to access elsewhere.
The "Tag a Friend" Instagram Giveaway is one of the well-known Instagram Giveaway ideas.
Atlanta Bucket List (one of Atlanta's famous food-based IG accounts) usually collaborate with brands and restaurants to announce such giveaways.
For instance, they collaborated with Honeysuckle Gelato to freely give away their desserts.
In this particular giveaway, participants were asked to follow both Honeysuckle Gelato and ATL on Instagram. That way, both brands were able to grow their audience speedily and effectively.
Another variant of the "Tag a Friend" Giveaway is when a brand tells participants to recommend their friends for a prize. Rather than winning the prize for themselves, participants can (in a way) reward their friends with the freebies.
FOLLOW TO WIN:
"Follow to Win" is another type of Instagram Giveaway in which participants need to follow a brand's Instagram profile before they can win a prize.
Many brands are using this method to build brand awareness and grow their follower count.
Some other brands combine the "Follow to Win" with other giveaway ideas.
Found Wild Project (a photography collective) usually host Instagram Giveaways.
To win a pair of polarized shades, users need to follow Found Wild Project on IG and also tag at least three of their friends.
CAPTION CONTEST:
This is perhaps one of the simplest and common Instagram giveaway ideas.
Here, the host posts a picture without a caption. The idea is to persuade users to post their captions in the comment section below and the best caption for the picture is awarded the prizes.
The reason this is such an effective strategy is due to the fact that high-quality comments give your account enormous social reach. Instagram, like most platforms, place heavy weight on comments because their goal is to generate social chatter on their platforms.
In this giveaway, the winner is rewarded with freebies. Afterward, he/she can also edit the post to reflect the winning caption.
PHOTO CONTEST:
In this giveaway, participants are asked to regularly upload content (videos, selfies, and photos) on Instagram.
Most brands incentivize this behavior to their benefit by encouraging participants to upload a picture of their brand or product.
In most cases, the participants are also asked to use a branded hashtag for maximum brand visibility.
This is one of the useful Instagram Giveaway ideas that brands use to boost engagement and awareness.
When participants upload content with the branded hashtag on their profile, their network of friends and followers are also notified about it.
So, some brands go as far as persuading some people from this extended network to join the giveaway.
This giveaway idea is prevalent because it provides the opportunity to access an endless pool of user-generated content.
Gladly, the content can be repurposed anytime a brand runs short of creative ideas for Instagram posts.
Usually, winners of photo contests are given material rewards and also featured on the Instagram page of the giveaway organizers.
LIKE AND SHARE TO WIN
"Like and Share to Win" is one of the simplest giveaway ideas that many brands use to encourage participants to like their post and also share it on their profiles.
Participants can even use exceptional hashtags when reposting the announcement on their profiles.
By getting their content shared, a brand can increase brand awareness and also attract more people to their Instagram account.
The image below is an example of the "Like and Share to Win" giveaway idea from Gardenscrapes (a mobile game).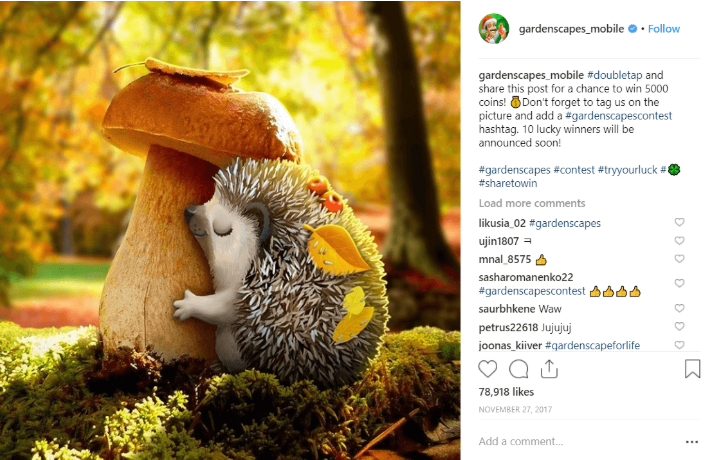 In this giveaway, participants are given a chance to earn coins for liking and reposting the announcement.
Well, this is how many brands reach out to a new audience without using overly promotional content.
Now that we've talked about the types of Instagram Giveaways, we'll look at how to find and join Instagram Giveaways.
FOLLOWER LOOP GIVEAWAYS
A loop giveaway is a marketing strategy that tries to draw millions of followers by rewarding the winner of a particular contest a huge sum of money. Truly, it has been used successfully in years by social media influencers and prominent personalities.
While some followers who engaged in the loop giveaway may unfollow after the cash reward winner is announced, research revealed that up to 75% of the new followers will be retained. That is definitely a good return on investment.
The main objective of loop giveaway is to offer big rewards for little or no efforts to followers who participate in challenges or trends. It has served as an incredibly effective social media growth strategy.
Brands and influencers can effectively increase followers with loop giveaways.
HOW TO FIND AND JOIN INSTAGRAM GIVEAWAYS
Currently, there are many techniques that you can use to find Instagram giveaways.
Irrespective of the type of giveaway you're joining, a combination of all these techniques will help you to get the best results.
Let's dive deep.
PERFORM A HASHTAG SEARCH
Searching for Hashtags is one of the ways to find and join Instagram Giveaways.
One of the easiest ways to find giveaways is to perform a simple hashtag search on Instagram. You can search for specific keywords like #giveaway, #contest, #competition, etc.
Well, no matter the results you get, don't give up. If you painstakingly scroll through, you'll soon begin to see the word GIVEAWAY OR WIN featured on photos. You might also see pictures of prices as well.
Once you're able to find any of the two, open the photo to find out more information. Look for the terms and conditions, and scan for the dollars in the prize details.
SEARCH GOOGLE
The second way to find and join Instagram Giveaways is by searching google. If you're going with this option, then you'll have to try different phrases and keywords.
For instance, you can search for keywords like win Instagram Giveaways.
Scroll through the google search results and find the giveaway that you like.
Afterward, you can then read the terms and conditions, the prize, and information on how to join the giveaway.
SEARCH TWITTER
Even though you're not a Twitter user, it's a very excellent resource that you can use to find and join Instagram Giveaways.
How to do it?
Navigate to twitter, look for strings like "upload photo Instagram win," "win Instagram competition" or other related strings.
You can do several things with the search results- click on all the PHOTOS and look for the ones you can join or click LATEST at the top to see the newest tweets.
Many promoters send tweets without linking to their IG accounts. You can try their Twitter username first; else you might need to ask by sending them a tweet.
TURN ON NOTIFICATIONS
Right from your Instagram page, you can turn on post notifications by clicking the More (…) option that is situated at the top of your profile page. Once you're able to turn on the notifications, you'll be notified anytime there's new IG content.
You can use this technique to track your favorite brands and busy compers, and you'll be amongst the first persons to be notified anytime they share any information about the giveaway.
Now you've probably found and joined an Instagram Giveaways.
But how do you increase your chances of winning?
Well, we'll talk about that in the next section.
HOW TO INCREASE YOUR CHANCES OF WINNING INSTAGRAM GIVEAWAYS?
Even though they're no secret success formula for winning an Instagram Giveaway, we believe that they're many ways to increase your chances.
Here are some recommendations:
CAREFULLY STUDY THE GIVEAWAY RULES
It's often said that knowledge is power. The same principles apply to Instagram Giveaways.
If you want to increase your chances of winning a giveaway, then you need to take out some time to carefully study its rules and regulations.
When you're doing so, it's possible to find some vital information in between the lines.
Such knowledge will give you a computational edge.
What does the giveaway rule say about the use of hashtags? How is the winner picked? Does the giveaway allow you to share photos and invite friends? Can you upload as many contents as you like?
Once you're able to study the rules carefully, you'll get answers to some of these questions. And thereby increase your chances of winning.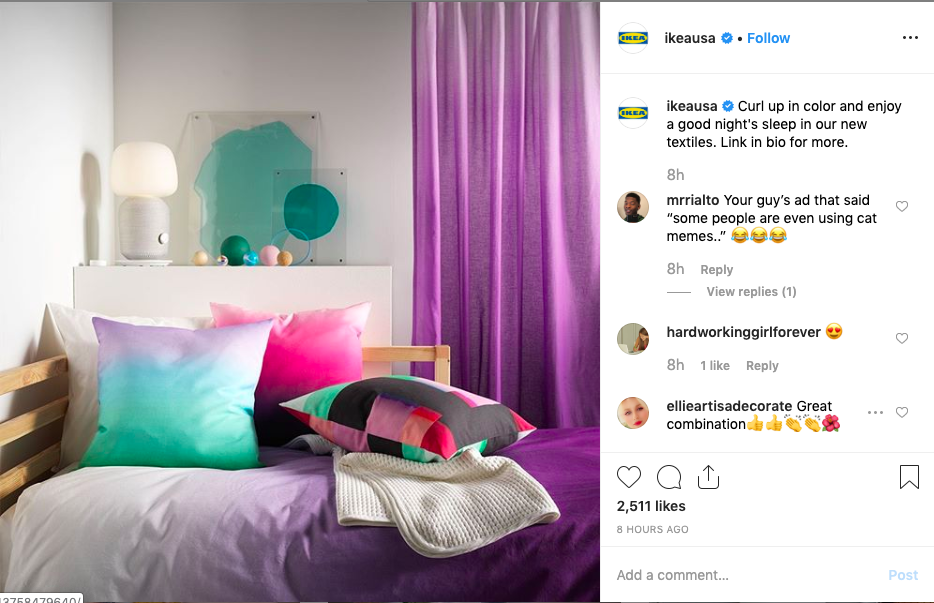 BE AN ACTIVE FOLLOWER
If you're always commenting and liking the posts on a brand's Instagram page, they'll notice you. If you wear their clothes, use their products or even visit their office, ensure to tag them in your photo before sharing it to Instagram.
Once you're an active follower, the brand you're following will have you in mind anytime they're organizing a giveaway. To see you as one of the participants? That's a great way to win.
Besides, will you prefer to give away to someone loyal to your brand or someone who isn't?
Ideally, companies like to reward their loyal followers and fans, and a giveaway price is an excellent way to do it.
TAKE A PICTURE OF EVERYTHING
In most cases, Instagram Giveaway winners are people who share their original photos. If you want to increase your chances of winning, then you need to start taking pictures of everything.
Meals, selfies, family moments, sunsets. If your hairs, shoes, dinner or outfit looks stunning, just snap a photo. You never know when it'll come in handy.
Don't be scared to post about your everyday moments- add filters, crop them cleverly, and you'll be shocked how Instagram can transform a somewhat dull photo to life.
Also, note that you don't need to upload all your photos on Instagram. Just save some on your phone and await the right giveaway.
USE GOOGLE AND INSTAGRAM TO SEARCH FOR LOW ENTRY INSTAGRAM GIVEAWAYS
Basically, most brands tweet about their Instagram Giveaway on Twitter.
So, if you want to increase your chances of winning, you can make use of Twitter's advanced search to look for such tweets.
For efficient results, you can try combining Instagram with words like prize, giveaway, competition, win, upload, share when searching.
Afterward, select Live to view all the recent tweets.
Once you're able to find a low-entry giveaway that you like, save it.
This will make it very easy for you whenever you're searching for such related keywords again.
Additionally, you can also use google search to look for the same word combinations.
Ensure that you go through the results carefully and then select the giveaway that suits you.
CONCLUSION
Just a recap.
In this article, we talked about the working principles of Instagram Giveaways, types of Instagram Giveaways, and ways to find and joinGiveaways.
We concluded by talking about how to increase your chances of winning Instagram Giveaways.
When it comes to growing your following, Instagram Giveaways is one of the most excellent ways to achieve that.
What are you waiting for?
If you've never found or joined any giveaway before then now is the time.
What are your thoughts? What do you think about Instagram Giveaways? How can someone find and join an Instagram Giveaway? Please share your opinions and experiences in the comment section below.
Enjoy This Article? You May Also Like: