Facebook is an underrated social platform, yet the most powerful tool for online marketing. The world is now a global village. Thanks to the evolution of social media. But, are you aware of the influence Facebook marketing can have on your business, given its over 2 billion attentive users?
Keep reading, as you are about to discover an effective Facebook marketing strategy that can bring your business closer to your prospective customers.
Next to this, we'll talk about the big Facebook influencers and What they won't tell you about Facebook Marketing.
7 Tips for a Successful Facebook Marketing Strategy
Facebook ranks high among social media platforms in terms of popularity. Its advertising power lies in the vast number of users that make use of the platform hourly and daily.
Based on this fact, Facebook marketing might be the ideal business marketing strategy that your business needs to grow. With the right Facebook marketing strategy, you stand higher chances to turn followers into customers daily.
So, what do you need to maximize the benefits of this powerful social media platform?
1. Create a Compelling Facebook Page:
If your business does not have one yet, don't hesitate to create one now. Facebook has gone beyond a platform for just interacting. Media personnel and marketers make use of it to reach a larger audience. Setting up a Facebook page for your business doesn't cost a dime. This is the basis of bringing your business closer to prospective customers. Creating your Facebook page to be compelling is important because it represents your business.
2. Define Your Facebook Business Page Objective
Like we pointed out earlier, you need a Facebook page to create awareness for your brand and products. However, it would be best to define what you would like to achieve through your business page. The best way to go about this is by researching to check the feasibility of your objective.
If your interest is in brand awareness, your content should provide beneficial information on your page. If your priority is sales and leads generation, your focus should be on sharing promotional links, images, and fliers. There are varieties of goals you can set for your business. Irrespective of what your goal is, you can make use of the Facebook marketing strategy that suits your goal.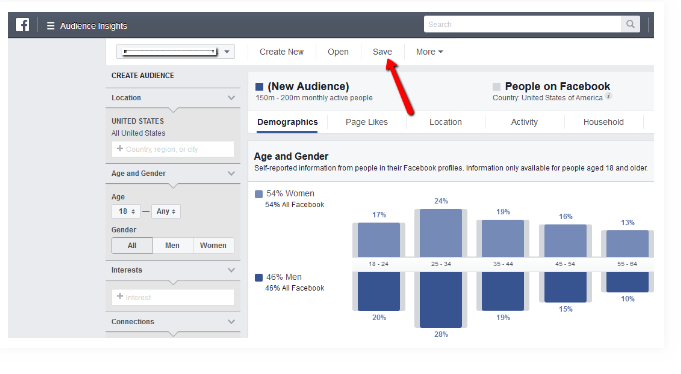 3. Identify Your Audience
Without adequate knowledge about your audience, it won't be easy to know the best Facebook marketing strategy to utilize for your business campaigns. By creating a well-defined target audience your Facebook marketing efforts will have greater success. Facebook keeps data of every user, which will be useful for audience targeting.
Some brands and products are gender-related. Take, for example, a business that deals in hair extensions should be targeting females. It's important that you analyze your audience insights on a regular basis to create powerful personalized messages for your audience.
After you must have understood your personal Facebook statistics, identifying their preferences and lifestyles won't be difficult. Based on this, you can channel your energy into engaging them with content that suits their way of life.
4. Keep Your Facebook Business Page Active
Don't create and abandon your Facebook page. It would help if you leveraged the power of Facebook to present your brand or product to the world. The next question on your mind is, "How do I go about this? It's simple! You should always update your Facebook business page with relevant content that creates awareness for your brand. It's a simple Facebook marketing strategy that advertises your products to the world.
Your business page must say a lot about the value you have to offer. One thing worth noting is, uploading contents, such as links, images, posts, banners, and fliers, key your brand and product active in your audience's memory. Getting tired of engaging people will do your business no good. The time spent to get this done is worth it.
Understanding your key audience to share things that will suit their preferences. However, ensure the things you share speaks a lot about your business. Facebook insight is an ideal way to identify what suits your audience.
5. Plan your Facebook Advertisement (Ads)
The best way you can create awareness for your brand or your products is through Facebook ads. Your goal of creating a Facebook page is to bring your business to the internet marketplace. However, you must know that Facebook ads are the marketing strategy that helps you to target the right Facebook users.
Facebook ads appear at the top right corner of every user's page (Desktop view). It comes in between lines for Facebook users using their mobile. Facebook ads campaign is an effective Facebook marketing strategy that drives clicks and likes to your page. These are leads that can converts depending on your content if it is attention-catchy.
[et_bloom_inline optin_id="optin_23″]
How can you get the best out of Facebook advertising?
Make use of Facebook user's demographic statistics, such as age, gender, country, state, education, likes, occupation, and engagements.
Set your budget to capture the demographic status that aligns with your brands and products
Deploy different ad campaigns to compare and contrast their efficiency. This is a form of ad testing.
Be conversant with your analytics
Target the areas that are closer to your business locations – Cost-effectiveness
Facebook ads are an ideal way to increase the followers of your business page – the moment they click the like button, your content automatically becomes part of their Facebook news feeds.
6. Know Your Competitor
Just like you, there are other businesses on Facebook trying to connect with your target audience. For this reason, you must spare some time to conduct extensive research about your competitors. Understanding what they do enables you to use a Facebook marketing strategy that differentiates your business from theirs.
An ideal way to go about this is by using your Facebook Insight tab to check similar pages. Select and add a few of the competitors' pages you would like to observe. Although you might not get in-depth information from this method, it helps to see how they perform.
No time is too much to evaluate your competitor's pages. The insight you will be generating from this evaluation gives a headway for the uniqueness of your business. Through this analysis, you will be able to;
Create a unique Facebook marketing strategy for your business.
Identify the things you might be doing wrong.
Borrow ideas from your competitor's marketing strategy.
Strategize to be the leading brand.
7. Leverage on Power of Content Mix and Facebook Posts
Don't limit your marketing to your Facebook business page and Facebook advertising. With the series of updates on Facebook,  users get the opportunity to add content on Facebook stories, start a live video broadcast, share images, and upload recorded videos.
However, determining the content type that suits your brand and products is essential. It is advisable to go with the mix that is within your capability. Also, you can get ideas from your competitor's pages to create your business content mix.
Research has it that Facebook Live broadcast and videos are the leading content strategy to capture the audience.
WHAT STEPS DO YOU NEED TO TAKE?
With the above listed Facebook marketing strategy, isn't it something you would like to implement to grow your business? Although the transformation will not be happening overnight, you will realize its impact in the long run.
Take your time to study these strategies, build and implement the strategy that is perfect for your business growth. It might take a little while to get things to work together perfectly. But one thing is certain – You're sure to succeed if you plan your Facebook marketing strategy the right way.
Work with your performance data and your analytics so that you can outperform your competitor. Understanding your business and being conversant with your competitor's pages can give you an edge in the future.
Enjoy this Article? You May Also Like: