Hey there, hope you're keeping safe during this quarantine period? While you stay at home and wait for the world to recover from the pandemic, we bring to you another beautiful piece centered around utilizing Facebook ads for business growth.
Whether you like it or not, social media is here to stay, and many brands are making big money from Facebook (and Instagram) advertising.
Statistics revealed that in 2018, American advertisers alone spent $23 billion on Facebook. You don't want to spend such a massive amount of money on something until you're sure to get an incredible ROI out of it, right?
Though, this might look a bit intimidating to small entrepreneurs and businesses new to online marketing. Well, it doesn't have to be so.
With guides & walkthroughs like this, you too can be on your way to Facebook advertising success.
In case you have any doubt, Facebook still reigns supreme.
With a massive 2.7 billion userbase, Facebook is in the pockets and on the screens of over one-third of the world's population and so, your business should too.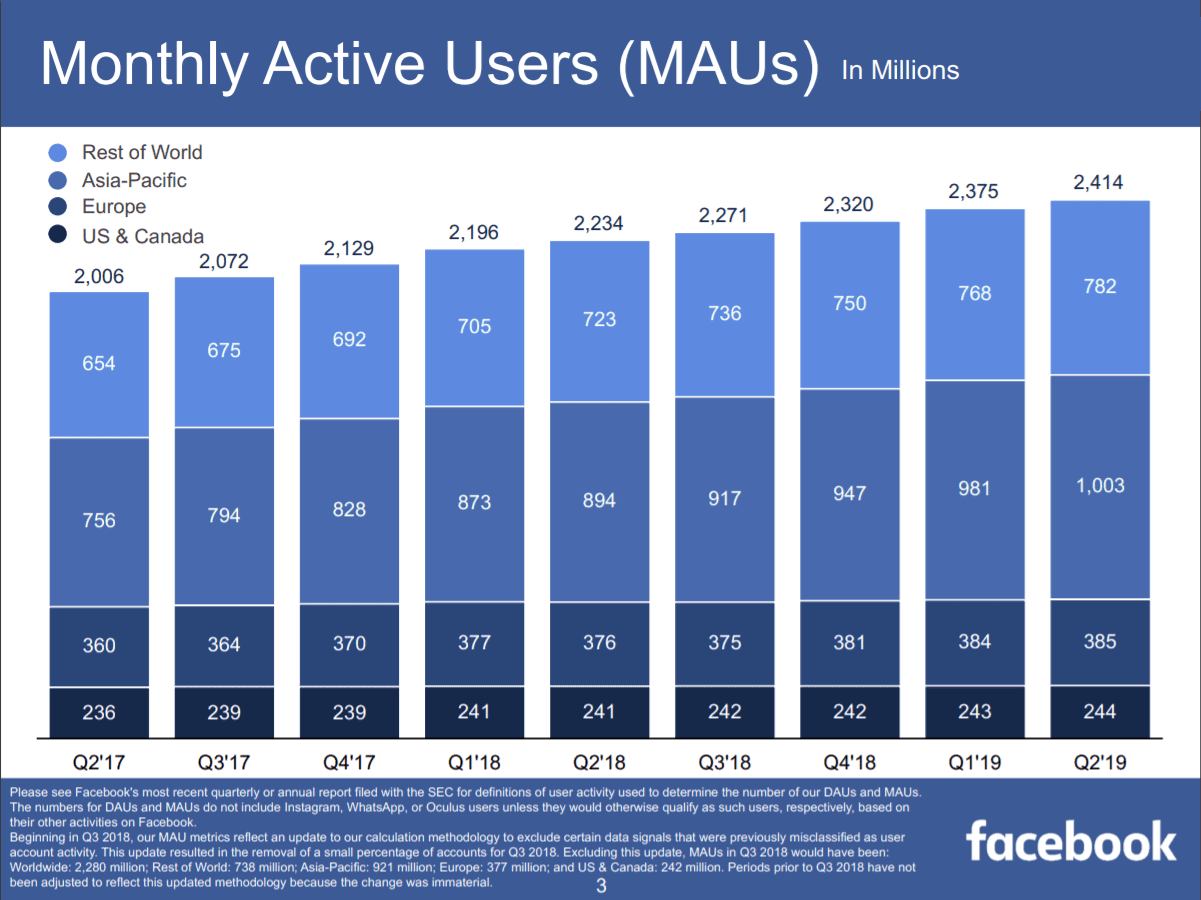 If you want to get in front of your target audience and stick, there's no better place to look than Facebook. Facebook & entrepreneurs seem like a better match than peanut butter & jelly. Interestingly enough, Facebook ads for small businesses are an even better fit.
If you've been running ads before now and you do not see the ROI you like, or you're just getting prepared to dip your toes in the water, then this article is for you.
This Facebook ads for beginners' guide will give you a clear sense of how to create a Facebook marketing campaign and show you how to maximize your results and ROI from Facebook- one of the most powerful ad platform in the history of marketing.
That said it's time to get started.
[et_bloom_inline optin_id="optin_23″]
WHY USE FACEBOOK ADS?
When it comes to the subject of spending marketing and advertising budgets, there are a lot of options to consider.
If you haven't used Facebook ads before, then you might find yourself asking questions like: can I advertise on Facebook? Is it worth my resources and time?
Well, the answer to both questions is YES.
Undoubtedly, Facebook advertising is one of the most effective tools that small businesses can use to create loyal customers, grow their business, generate sales and leads.
At the moment, over 3 million businesses are advertising on Facebook, and there's no better time to get on the bandwagon than now.
Just like we mentioned above, there are over 2.7 billion active users on Facebook. So, the chances are high that most of your target customers are using the platform. The only challenge many businesses encounter is the inability to reach their target audience effectively.
Facebook ads offer entrepreneurs and small businesses with wide-ranging targeting options. Remarkably, you can reach out to people not just by location (zip codes, cities, states or countries), age, gender but also by life events, behaviors, interests etc.
Additionally, there are no restrictions on the type of content you can promote using Facebook ads tools. You can also promote photos and albums, videos, offers, events, text posts and even links to your website.
When you combine the incredible targeting options, variety of ad objectives and enormous user base, it becomes obvious why Facebook ads help both new and established brands to grow.
FACEBOOK ADS FOR BUSINESS – HOW TO GET STARTED
In this section, we'll show you how to create your first Facebook ads. Please, get yourself a cup of coffee and let's dive deep together.
1. CREATE A FACEBOOK BUSINESS MANAGER ACCOUNT
One of the prerequisites to setting up your first Facebook ad campaign is that you need to sign up for a Facebook Business Manager account.
A Business Manager account will help you to access Facebook's ad manager- a useful tool for creating and tracking advertising campaigns on Facebook.
If you don't have a Facebook business account yet, you can click on this link and follow the steps outlined. When setting up your Facebook Business Manager account, always remember to connect it with your brand's Facebook page.
Once you're done creating the Business Manager account, you can easily assign access to other users who want to help run your brand's Facebook ads or page.

2. SET UP ADVERTISING ACCESS
After creating a Facebook business manager account, the next step is to set up your advertising access.
How to achieve this?
Open the Business Manager Settings and click on "Add New Ad Accounts". Afterward, Facebook will ask you to set up a payment method. Always remember that the option selected is what you'll use to pay for your ad campaign.
3. NAVIGATE TO THE FACEBOOK ADS MANAGER DASHBOARD
When you navigate to the Facebook Ads Manager dashboard, you'll notice that it has the following tabs:
ACCOUNT OVERVIEW:
The account overview dashboard displays a summary of information concerning your audience reach; link clicks, impressions and amount spent. You'll get to see information like the type of audience your campaign reached including the time they viewed your ad, their gender and age.
AD SETS:
This is the page where you'll see all the ads connected with your selected campaign. You can easily define your bidding, target audience, scheduling, budget, and placements for your advertisements through the ad sets.
CAMPAIGNS:
The campaigns tab contains a summary of all the campaigns you're currently running and the campaigns that have concluded. This is the tab where you can set up your ad campaign and other marketing objectives. You can also see the results of each campaign on this tab.
ADS:
This is the place where you can create Facebook ads. It's on this tab that you can also choose the video or image you wish to use, your CTA, description, headline, and more. You can also see a preview of your Facebook ads on this tab.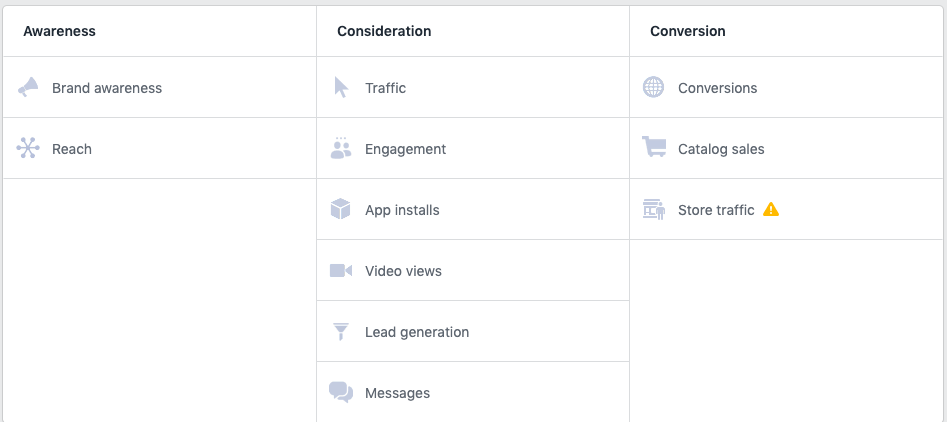 4. CREATE YOUR FIRST ADS CAMPAIGN
To get started, simply click on the "Create Campaign" button that's situated in the top left corner of the Campaigns tab. It's at this stage that you can select the marketing objectives of your campaign.
You have the following options to select from:
AWARENESS:
Reach: this marketing objective allows you to display your ads to a predefined amount of people.
Brand Awareness: with brand awareness, you're trying to display your ads to people who're more likely to be interested in your product or brand.

CONSIDERATION:
Messages: this will encourage users to send messages to your company via WhatsApp or Facebook Messenger.
App Installs: suitable for generating more app downloads.
Video Views: suitable for getting more video views
Lead Generation: drive sales by requesting user emails.
Engagement: this option is suitable for increasing the engagement on your images, videos or Facebook posts.
Traffic: this marketing option is suitable for sending people to a specified destination (such as your website or Facebook page) from your ads.
CONVERSION:
Store Traffic: this marketing objective is suitable when you want to encourage users to visit your physical store anytime they're close to your location.
Catalog Sales: you can use this to create ads that feature all the items in your store catalog.
Conversations: suitable for driving actions on your app, website or Messenger
After selecting the marketing objective, the next step is to assign a name to your Facebook ad campaign.
You can also choose to carry out an A/B test (a Facebook ads strategy where you create two dissimilar ads within your campaign).
In such cases, Facebook will run both ads and divide your budget between the two campaign. It'll also measure the ad that performed better.
If there's an obvious winner before your budget is fully used, Facebook will allocate the budget of the loser ads to the winner ads for the remaining period of the campaign.
As you gain more knowledge about Facebook ads for business, you can effectively use A/B testing to create effective campaigns.
5. CREATING FACEBOOK AD SETS
Immediately after you've selected your campaign objectives, the next step is to create Facebook Ad Sets. Below are some helpful pointers:
SPECIFYING YOUR AUDIENCE:
Before creating your Facebook ads campaign, it's essential always to identify the audience you want to target. Facebook allows you to either create a new audience or even use a saved audience.
Given that you're beginning from scratch, you'll have to create a new audience using the following parameters:
Age: this parameter is pretty clear. You can set the age range for the class of people you want to reach.
Location: you can also set the locations by adding the areas you want to target or excluding the areas you don't want to target. You can also set proximity for the target area (for instance, you can target people who live 10-50-mile radius away from your target location).
Connection: this helps you to target users who have some kind of connection with your brand. For instance, people who responded to one of your events, those who used your app, those who liked your company page, etc.
Language: you can select the language spoken by your target audience.
Detailed Targeting: this feature helps you to pinpoint specific users on Facebook. For instance, you can add the behaviors, interests, demographics of your target audience.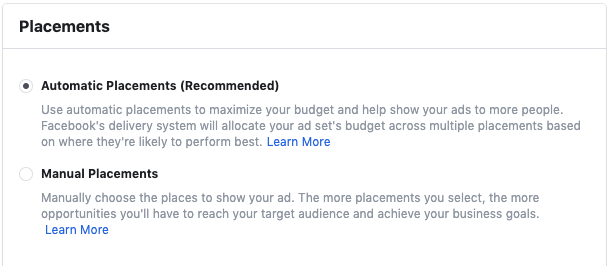 AD PLACEMENTS:
One of the best ways to effectively utilize this option is by choosing automatic placements. That way, Facebook's algorithm will assign your budget across several ad placements depending on where your ad is likely to perform better.
This is a very suitable option for those who aren't familiar with Facebook's platform. But, if you want to be in charge, then you can determine where your ad is placed.
Always remember that you're more likely to have a bigger potential audience by selecting more options.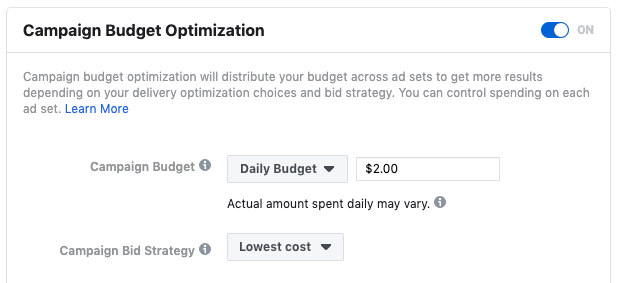 BUDGET AND SCHEDULE:
It's in this section that you determine how much you want to spend on your Facebook ads campaign.
Before you could either select a daily budget or a lifetime budget.
If you select a daily budget, then you can assign the budget for each day. On the other hand, a lifetime budget is equivalent to the total amount of money you wish to spend throughout the campaign.
However, Campaign Budget Optimization will distribute your budget across ad sets to get more results depending on your delivery optimization choices and bid strategy.
You can control spending on each ad set by choosing either Lowest Cost or Bid Cap. Utilizing Lowest Cost will allow Facebook's AI to lower your bid depending on the supply & demand of your targeting. This is one of the best Facebook ad strategies to maximize conversions & lower cost.
6. CREATING A FACEBOOK AD
At the stage, you've already defined your audience, budget and placement options. The next step is to create the ad that'll be featured throughout Facebook's channel.
Here are some things to consider:
IDENTITY:
When creating a Facebook ad, always remember that your ad will need an identity. You can select the identity from either of your company's Instagram account or your Facebook pages.
However, the best way to make an ad with a strong identity is to have a firm company voice & a deep understanding of your target audience. This allows you to use content & text that connects strongly with your audience but you convey them through the lense of your brand.

FORMAT:
In addition to selecting the identity of your ad, you can also determine the format of the ad. Some possible options are single video, image or image slideshow of all the photos you uploaded.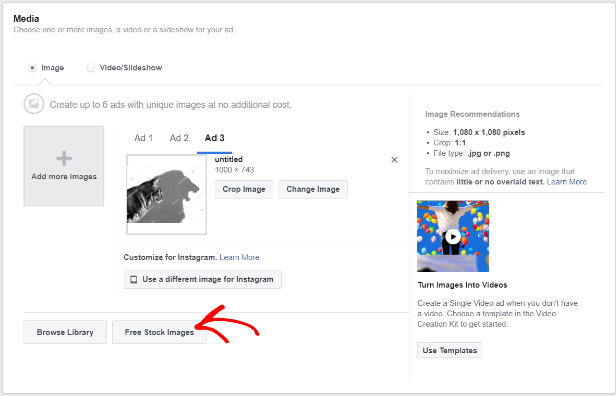 MEDIA:
It's at this section that you choose the media assets that you wish to add to your ad. You can either upload images directly from your computer or select from videos or images previously added to your page.
When creating a Facebook ad, you have the freedom to select up to 10 pieces of media.
Always remember that your media is the most significant aspect of your ad. So, you need to make it as attractive as possible.
If you're struggling to come up with creative ideas for your Facebook Ads or need some content produced for your next Inbound Marketing campaign, check out our exemplary services here.
TEXT AND LINKS:
It's in this section that you'll fill in your copy. When you look at the right position, you'll get an overview of what your ad will look like on different platforms.
Additionally, you can add up to 5 different headlines and Facebook will position and display them at different intervals. The same applies to your website URL and description. You can add up to five options.
It's worth noting that your headline is one of the essential aspects of your Facebook ads. It's typically positioned at the bottom of your ads, next to your CTA button. Always make your headline catchy and alluring. That way, users will be persuaded to click your call to action button.
On the subject of CTA, always ensure to attach to proper link to your ad. Your entire Facebook ads campaign can be a waste if you forget this step.
NEXT STEPS?
Once you click on the "create" button, your ads will be sent to Facebook, and as soon as it's approved, it'll begin to run on your set date and time.
When you navigate to the Facebook Ad Manager dashboard, you can see the performance of your ad.
At the end of the campaign, you can always examine what worked and also adjust the campaign accordingly. Furthermore, you can also choose to create a new campaign or go back and alter your existing campaign.
One school of thought is to start by testing your Facebook ads with a lower budget. That way, you can quickly determine the Facebook ads strategy that worked and eliminate those that don't. It's important to always test your strategies and make decisions based on the data gathered from the campaigns.
If you want to take your Facebook Ads to the next level then remarketing ad strategies are essential. You will need to have a Facebook Pixel in place in order to track website visitors, conversion, social impressions & so much more. Retargeting allows your brand to connect with people that have already seen your brand, leading to higher conversions & lower costs!
When you start to notice positive results, you can adjust the budget to meet your advertising needs.
CONCLUSION
This Facebook ads guide pretty covers everything that you need to get started and create your first successful ad campaign.
We're sure that you now know why more brands are diving into Facebook's advertisement options and finding out different ways to benefit from them.
With so many advertising objectives available, many brands find it hard to pick the right one. Especially brands that don't know what exactly they want to achieve.
We admonish you to stay focused on your key objectives and try not to get distracted by shiny whistles and bells.
Pay close attention to what's essential to your brand and your campaign goals, and use the appropriate format for your target audience.
We're still reiterating: if you're a small brand and you're still new to Facebook ads, you can begin with a low budget. You can always increase the budget when you're more comfortable to roll your ads on a larger scale.
We do hope that you find this Facebook ad guide useful.
Meanwhile, we'll love to hear from you.
What are your thoughts about Facebook ads, and how do you think small businesses can benefit from it? Got any idea on how we can make our subsequent posts better? Please do well to drop your comments below.