Whenever you want to create a Facebook ad, you have two options to select from.
You can either follow the crowd/go with the flow or pave your way and be fully accountable for the outcome. In other words, would it be more profiting to follow Facebook ad examples or to come up with your own best practices?
If you ask us, then we'll suggest that you go with the former option- do some research and learn what's working for other brands both in your industry and outside your industry.
Anyone can launch a Facebook ad campaign. Where the challenge comes in is the launching of a campaign that results in a massive ROI.
The reason is simple: there's a science behind launching Facebook ads.
You can't just throw out an image, or some helpful content and call it a day. You need to know what you're doing and why you're doing it.
If you want to get the best out of your Facebook ads efforts, then you need to be strategic and intentional. Once you're able to figure out the science, then you have higher chances of succeeding.
You might ask, but how can I be strategic and intentional? How can I figure out the art?
One of the ways is to look at the best Facebook ad examples– all you need is to know what works and then figure out how to do something similar for your business & product.
To make it easy for you, we've compiled the Top Facebook Ad Examples & Case Studies that you can draw some inspirations from and also use to come up with your creative ideas.

Without much ado, it's time to put on your thinking cap and let's get started:
Top Converting Facebook Ad Examples & Case Studies

Slack is a communication software for brands, and they've always been excelling at speaking to its core audience.
Remember those days when you had to send emails back and forth before getting a response? Well, you don't need that again because slack has made things easier. Now, you can easily communicate in a more organized and seamless way.
Additionally, their Facebook ad was lively, and it leveraged the imagery and internet parlance to make things more relatable. Their CTA was also correctly positioned.
Slack's value proposition was very strong, and they followed up their ads with a free trial. The campaign is an excellent example of a Facebook ad case study because it combines both universal truth and super unique aesthetics. This alone is even enough to attract people's attention.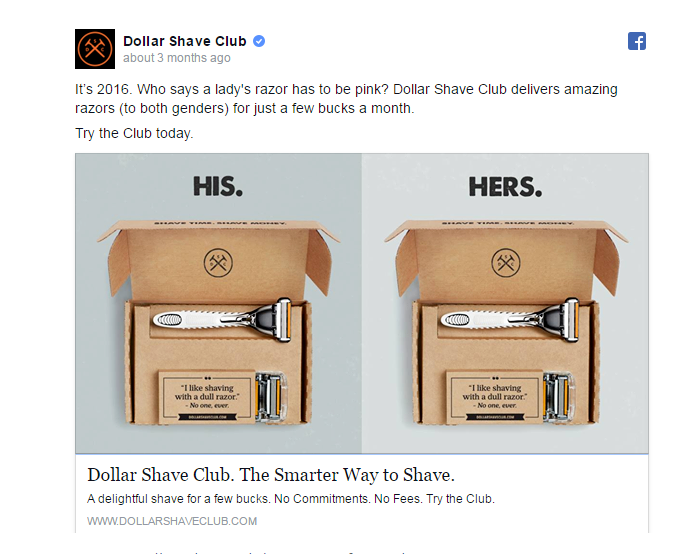 The men's grooming industry is a very competitive and tough market. As a matter of fact, the industry brought in approximately $21 billion in 2016.
Despite the challenge in the niche, Dollar Shave Club was able to differentiate and stand out from the crowd.
Their Facebook ad was extremely crafty, and they didn't try to entice the gender-normative ad creative favored by some other shaving brands. Instead, they marketed their products to a completely different audience- women.
Dollar Shave Club saw a massive target audience that wasn't being utilized by the industry. They are going to be able to create a widely recognizable brand while still maintaining their brand personality & ideals.
Popularly known for its humorous nature, this ad campaign from Dollar Shave Club was excellent, and it resulted in a 1.5x increase of subscribers.
This Facebook ad was useful because it cuts directly to the point. The competitor calls out, and the curiosity-driven copy was enough to entice users' interest and drive them to the comments section.
This is another example of a brand that's doing well in terms of Facebook ads. Their ads are very compelling and enticing to even someone with only a passing interest in the product in question.
In their ads, Google got a lot of things right.
First of all, the visual connection between the ad and the rest of Google's brand reinforces the brand behind the offer. Additionally, Google used simple but active verbs and aspirational languages to create some excitement about their product- its cloud computing platform.
They had the option to focus on several features of the platform, such as security or speed, but their ad was tagged "building what's next." This made the ad more convincing and helped viewers to envision what they could do with the platform.
Pro-Tip: This strategy of allowing the viewer to envision certain aspects is an old Hollywood Movie Film trick. It's meant to allow the viewer to utilize their imagination, making them think of something personally gratifying. This allows for a very basic ending that can be seen a million different ways through different lenses.
That's not all. The color of the ad is worth commending- it fits perfectly with the mostly blue palette of Facebook. Also, it reinforces the emotional influence of the blue color, which is stability and trust.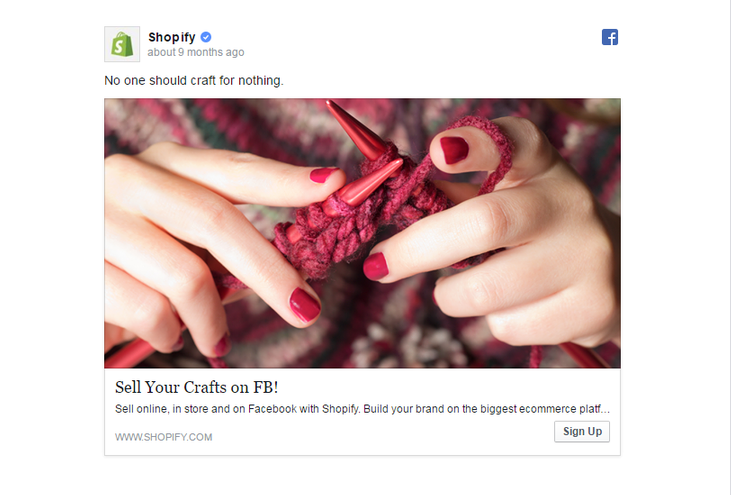 If there's one brand that did well with Facebook ads, it's Shopify. Their Facebook ads are amazingly compelling and reveal a keen awareness of the brand's target markets and core demographics.
Shopify understands that many of its potential users have never thought about monetizing their craft products and hobby. Not to even talk of opening their eCommerce store. This is what makes their ads so persuasive.
Shopify knows its target audience, and they used this tempting positioning to target their first-time eCommerce craft retailers.
Imagine that you've been making scarves for years, and your family and friends have been telling you that you can sell the scarves and make a massive fortune from it. How do you think you'll feel when you see Shopify's ads?
Perhaps, you'll reflect for a moment and then think within yourself-aha, this is the perfect time to sell my scarves.
At this point, you've already bought into Shopify's message and might have even start thinking of getting started with the platform.
The two-element that's common in Shopify's Facebook ads is their aspirational messaging and language.
Once again, it's worth stating that Shopify understands its target audience, and they used Facebook ads to create a compelling, clean, and minimal experience.
The ad is a tempting proposition because it poses a question to potential eCommerce store owners that they might have even asked themselves before.
On a basic level, the ads from Shopify is a perfect example of how brand continuity across numerous ads can be beneficial and compelling. In addition, understanding your target audience is crucial to deliver a powerful message that resonates well with them.
How to Create the Perfect Facebook Ad Creative
Even though the motivation behind each Facebook ad is different, most ads have similar structural elements.
Here are some essential elements that you should necessarily pay attention to when creating a Facebook ad copy:
Summary: this section should contain an overview of what your brand is offering
Description: the description section is the best place to talk more about your product and offers
Post Text: the post text is placed directly above or below your image. It's usually the first text a viewer will see when they come across your ads
Call to Action (CTA): traditionally positioned at the bottom of your ads, your CTA educates viewers on what to do after viewing your ad
Media: this is your video or image. It's usually the largest part, and it inspires viewers to look more closely at your Facebook ad.
That said, it's worth noting that the content of each Facebook ad is unique to your business. Below are some Facebook ad best practices that you should use when creating a new Facebook ad.
Even though it's not a hard-and-fast-rule, these tips will help you to craft creative and persuasive copy:
1. KEEP YOUR TEXT CONCISE AND TIGHT:
To a great extent, the success of your Facebook ad campaign relies heavily on its concise delivery and wording. It's always advisable to make your headline as appealing as possible. One way to achieve this is by crafting out a tight copy.
2. FINE-TUNE YOUR CALL TO ACTION (CTA):
Brands use CTAs to educate viewers on what to do after viewing their ads. Here are some common CTAs that you can choose from:
Sign up
Learn more
Book now
Shop now
3. CHOOSE YOUR WORDS WISELY:
It's a good practice always to remember that brevity is not an end-all, be-all of your ad copy. Even though you try to be as concise as possible, your choice of words is essential.
Based on the psychology of Facebook ads, below are some words that advertisers use to get better results:
Free
Because
New
Now or instantly
You
In as much as these words are essential, you should always use them when and where appropriate.
CONCLUSION
That's it for this article.
Hopefully, these Facebook ads examples will give you a few Facebook ad ideas that you can implement in your campaigns.
Now that you've got some excellent Facebook ad copy to mode, you might want to get started by creating an ad for your business.
We want to hear from you. Which of our Facebook ad example do you prefer the most? What strategy are you most likely to replicate? Are there other Facebook ad examples you'll love to share with us? Please, don't forget to leave your opinions in the comments section below.
Enjoy this Article? You May Also Like:
Practical Facebook Advertising Tips for Increased Traffic