In recent times, experiential marketing has bridged the gap between producers and their customers. It proffers solutions to the problem faced by companies who use traditional methods to reach their audience.
The goal of every business or company is to make sales by reaching their target market. The ability to have an effective engagement between the company, product or services, and consumers can help achieve this.
Key Takeaway
Connecting the dot between firms and their customers has taken a new turn over the years. Gaining customers and increasing sales requires an advanced advertising strategy. Experiential marketing offers active engagement to ensure a brand stays glued to the mind of its customers.
What Is Experiential Marketing?
Experiential marketing (EM) is also referred to as engagement marketing. It is an advertising strategy that uses innovative methods, such as exciting virtual events, to help consumers interact with a brand's products or services.
This is attainable by engaging them or creating emotional and physical connections with the product. Also, it helps brands in many ways to earn the customers' loyalty and trust.
It is important to note that experiential marketing is not the same as a publicity stunt. The goals of both strategies are not the same.
What Are the Main Goals of Experiential Marketing?
There are three main goals of experiential marketing. A brand has to create a bond between its services and customers. These goals are explained below:
Active Participation And Engagement: It is essential to actively engage your audience with the brand when creating experiential marketing. There are many ways to engage your audience, especially on social media. An example is posting your product online and attaching a game to which your audience can actively participate. A beverage company can create a game with a theme that a family should upload a short video of them taking their tea. This will give the audience a chance to work together with their family to create the best video. Hence, it will attract more people willing to experience the product and interact with the brand.
Promoting Brand's Message and Values: Promoting a particular product goes beyond putting it online for people to see. It's about the audience getting the actual message you are trying to pass across. Good EM sends captivating messages to the audience. Messages that allow customers to experience the product. This allows your audience to get the right message and interact better with the brand.
Provide long-lasting value: many brands focus mainly on providing short-term value to their consumers. They forget that providing long-term value will retain customers in the long run. Experiential marketing allows your audience to know the significance of the product. This will make customers remember the experience they had with it.
Why Do Brands Use Experiential Marketing?
What better way can you engage your audience than to have a thoughtful interaction with them? Many brands can achieve this interaction and engagement through EM
When done the right way, experiential marketing will make your brand stand out among the crowd. Give your brand a unique tag that differentiates it from others. It makes your brand take the spotlight and lingers in people's minds for a very long time.
Your brand might not be the one everyone can't live without. However, it will be the one everyone can't stop thinking about. Experiential marketing aims to connect your audience to the brand. It ensures they look and feel the products in a way that promises them the value they need.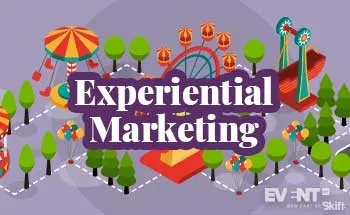 Image Source: EventMB
What Brand Use Experiential Marketing
Any brand can use experiential marketing in engaging its audience. Whether your brand is fully established or upcoming, you can use the experiential marketing explained below.
Classes and Workshops: This is a common type of experiential marketing. One way to do this is by organizing a class or workshop event to connect with your target audience to educate them. It is not necessarily an offline class. You can hold the class online and still serve the same purpose.
Single-Person Event: Sometimes, experiential marketing is organized to capture just a small group of people. You need to create an experience that sticks with people. The ones that ensure the people leave with a mind-blowing experience that touches their lives.
Product Showcases: Experiential marketing aims to make more sales by retaining existing customers. If your goal is to attract new potential customers, this is a path you should follow. What better way to engage your target audience than allowing them to see the value of your product?
Direct Mail: Sometimes, it is not just about a creative event. Directing creative mail to your customers also influences customers' decisions. Appealing messages can sometimes touch the heart than any other thing.
Top Best Examples Of Experiential Marketing
Below are the top best examples of experiential marketing that you can learn from while developing your creative ideas:
WeighThis campaign by Lean Cuisine: This campaign went viral and became the talk of the town. Women had mind-blowing experiences by weighing themselves based on their educational, personal, and career achievement. Many people expected a literal weight measurement. However, the brand and its customers were able to create a bond with inspiring encouragement.
Donut pop-up shops by Google: This Experiential marketing took place in UK and US. It was a promotion for its voice-activated mini speaker where google offered free home minis as the prize.
Rick and Morty- Rickmobile: Cartoon network sent a car around the US. The goal was to promote the show titled "return of the animated Adult Swim series Rick and Morty." The car looked like the main character of the show Rick. The campaign went viral, and people followed where the Rickmobile was via the adult swim site.
Other examples include;
What does it cost to start an experiential marketing campaign?
As we mentioned earlier,  EM campaigns involve strategies that attract customers to engage with a brand. They focus on motivating customers to understand brands better and interact with them. If brands want to create a better user experience, EM campaigns are the go-to.
The cost of experiential marketing campaigns is customized to suit brands' budgets and needs. We will be exploring the range of costs for experiential marketing campaigns in this article.
Marketing campaigns can cost quite a lot and experiential campaigns are no different. EM campaigns don't have fixed costs. Depending on the budget and need of the brand, the cost might be affordable or expensive.
EM campaigns are designed to effectively build brand awareness. Ultimately, they increase sales through effective brand positioning through social media or other media formats. Examples of such campaigns include PR stunts, pop-up marketing, and marketing tours amongst others.
The cost of experiential marketing campaigns varies depending on the aims, needs, and budget of the brand. As a brand, you can spend from a few thousand dollars up to a million dollars. The cost depends on the size of the brand and the audience it aims to reach.
Lastly, experiential marketing campaigns focus on prospective customers for brands and creating experiences that will encourage them to interact with brands. Therefore, there is no fixed cost for EM campaigns as the cost varies
Conclusion
Earning trust and loyalty is feasible for every brand if they follow the right procedures to earn it. Experiential marketing is the channel that brings a brand closer to the heart of its customers and prospects. Often people do not trust a brand or product they do not relate with.
But by making them experience the brand in your creative way, you rest assured of the spotlight your brand needs to stay on top.
Enjoy This Article? You May Also Like: