The homepage is the face of every SaaS website. The majority of people who visit your site land on the homepage, and even if they first come to some other landing page, chances are they will check out your homepage next. 
This is why it's essential to get your homepage right. 
A good homepage will provide clear information on what your SaaS is about, how it solves your visitors' problems, and what they need to do next to have their problems solved. 
But, we can theorize for days on end here. Instead, let's take a look at some examples of great SaaS homepages that have it figured out.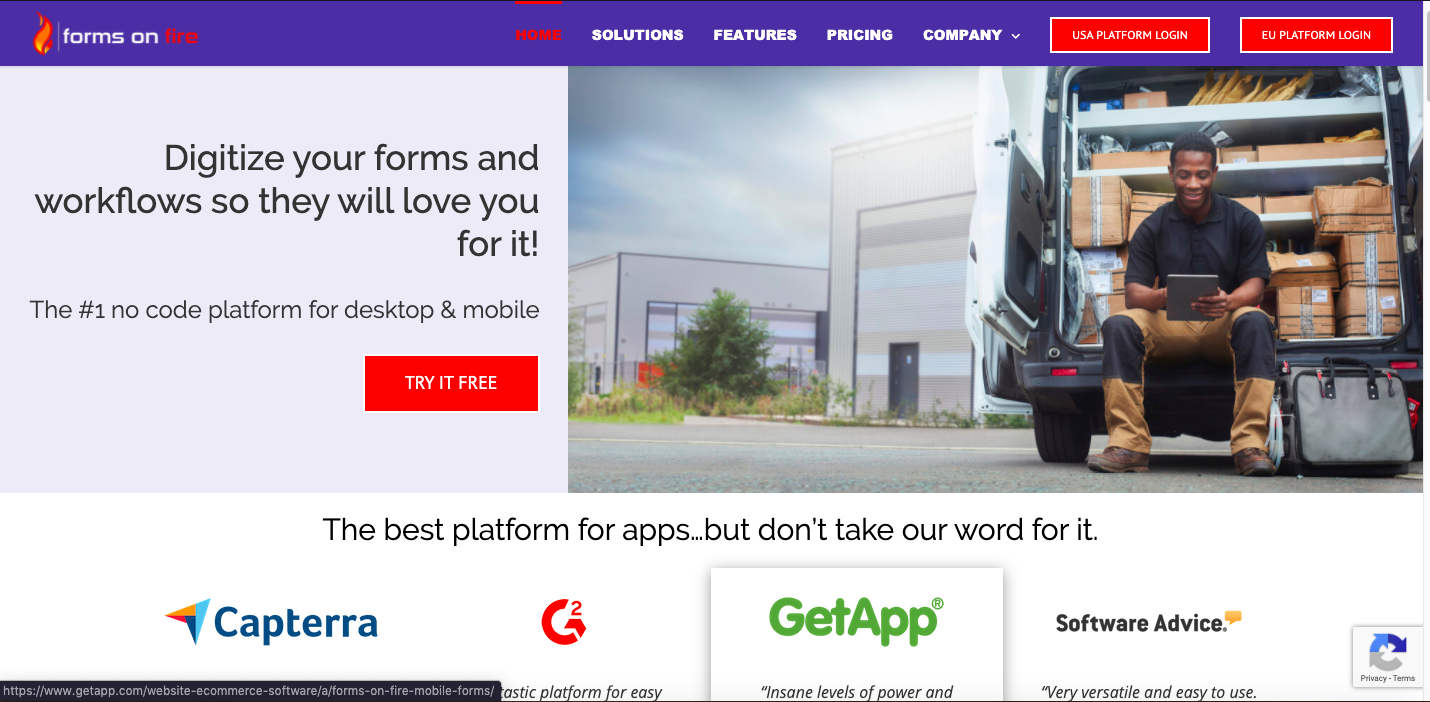 Source: formsonfire.com
Forms on Fire's homepage boasts an optimal combination of essential information and clear design. This ensures visitors understand very well what kind of a product this is, but it doesn't overload them with unnecessary copy. 
In the above the fold section, it states very clearly that it is a platform which allows users to create no-code digital forms and workflows. It also features an uncluttered header and a quick login for existing users. 
The next sections feature: 
reviews from the leading software review websites

the option to play an explainer video (a good alternative to embedding it on the homepage and thus slowing it down)

additional explanations of features

the list of the most reputable companies that use Forms on Fire.
Lastly, the CTAs are well placed and visible without being overbearing.
In short, it's a homepage that would make sense even to a person that never saw a website before in their life. 
Souce: studiopress.com
StudioPress boasts a homepage that does everything with a minimum amount of content, both text and images. 
Their tagline is as simple as they get and tells you exactly what you get from them – the ability to build great WordPress websites. 
The illustrations are wonderfully old school hand-drawn cartoons with short and to-the-point CTAs that are not in any way confusing. Their header features links to their different products.
This is followed by special offers that are visually different from the above the fold section and capture the eye almost immediately. The homepage also shares some very impressive numbers, provides user testimonials, and gives more information on their biggest sellers. 
Above all, the StudioPress homepage is easy on the eyes. It's like a vacation from the all too jarring online content that most of us deal with for the better part of the day. Nice.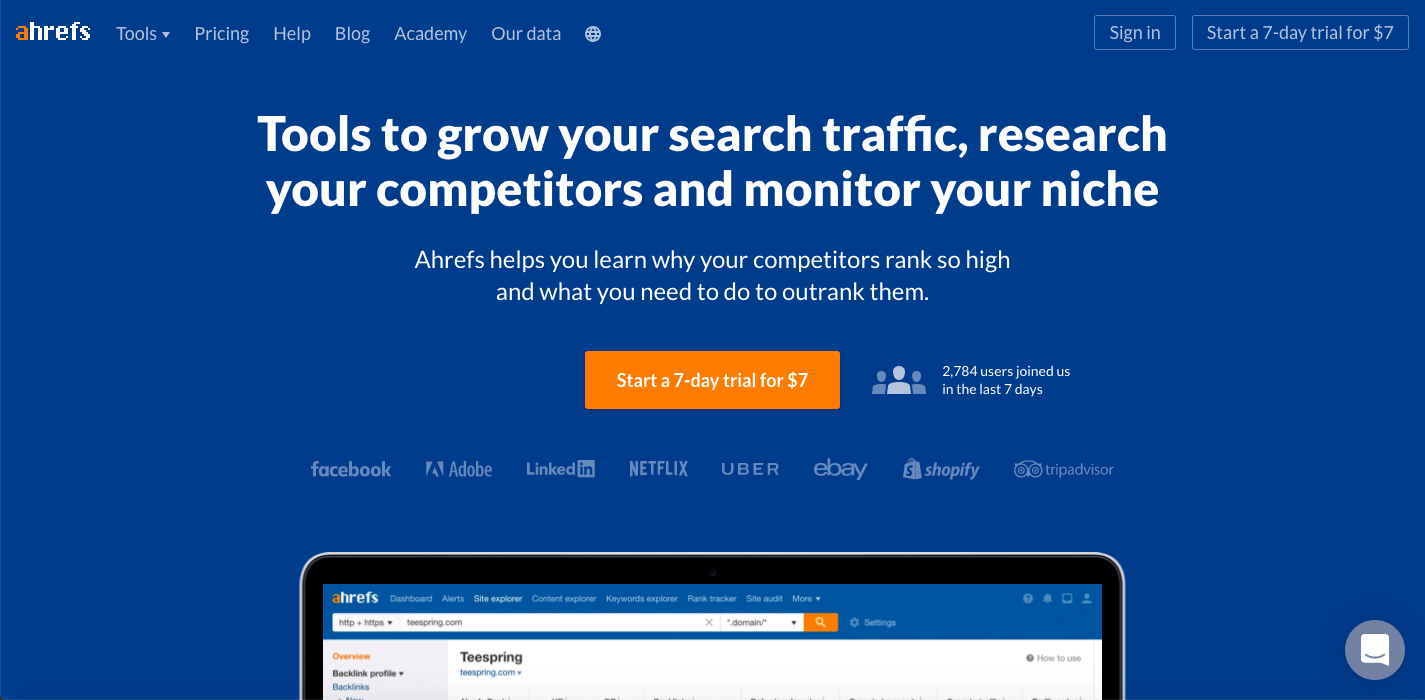 Source: ahrefs.com
You'd expect the folks behind one of the finest SEO tools in the game to get their homepage right – and you wouldn't be wrong. 
Their color palette is a combination of warm dark blue, white for the copy, and orange for CTAs. And there's a reason why all movie posters are blue and orange – people notice it and like it.
But it's not just about the color.
Their copy is tight and addresses the pain point for most people who start doing SEO – how is it that my competitors are doing better than me?
Ahrefs promises to solve this, and there's no better sales pitch than that.
Their homepage also features screenshots from their tool, as well as the incredible numbers that have made Ahrefs such a powerful player. They also share testimonials from their real users, as well as the list of companies that use their tool. 
In SEO, trust is everything – and they know how to play that card well on their homepage. They also understand that they have some of the best content and learning materials in the game, and they share those on their homepage as well. 
Source: timetackle.com
TimeTackle is a SaaS that also approaches the design of its homepage in a no-nonsense way. For a piece of software that exports calendar data to Excel and Google sheets, this is the best approach, really. 
Their copy is very straightforward without a single fluff word in it. The explanation of what their product does is very clear and succinct. The design is a pleasant combination of different hues of blue and white, including CTAs that pop from the page and tell a clear story. 
The Watch Video button on the home screen is a welcome addition, immediately showing the visitors what the product is about, in case they had any questions.
The homepage also provides quite a list of high-profile users, such as LinkedIn, Uber, Airbnb, and others. 
They also illustrate how simple to use their product is by going step-by-step over how to export a calendar. It really shows the potential user that this is not another cumbersome tool that requires weeks of getting used to. 
Of course, they also add customer testimonials to the homepage, including Seth Godin, btw.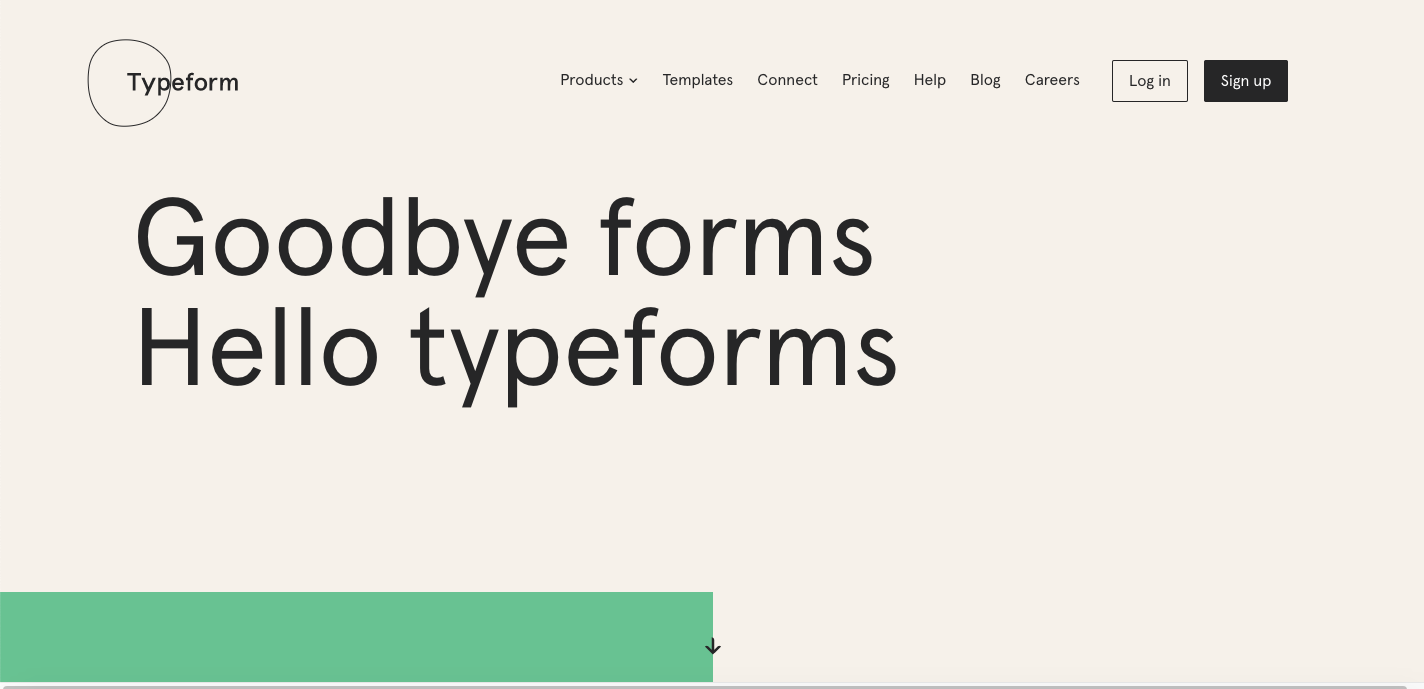 Source: typeform.com
If you did a survey in the last 12 months, chances are you did a Typeform survey. And while most of their success has to do with a great product, their homepage doesn't hurt them either. 
The design is contemporary with a color palette that doesn't revolve around either blue or green and white, which is immediately a breath of fresh air. 
The tagline instantly sells you on the idea that these are surveys that are not a chore to create or complete. The rest of the copy emphasizes the importance of the right information, and the whole homepage is a story on how Typeform helps you get that information (without boring everyone to tears).
A big thing to notice is that the second CTA in the above the fold section (besides the Sign Up Free one) invites you to check out examples of forms and surveys that you can create with Typeform. For 95% of people, this will be the first thing that they will want to do when they visit their homepage. Show me what I can do.  
The rest of the homepage is a great combination of products and people who use it, all tied up with the recognizable free-form lines that have become part of the Typeform brand.