You own a small business and you're tight on budget for SEO services and prefer a do-it-yourself method? Can you perform a brief SEO audit for your website? Here's a simple DIY SEO Audit guide.
Findability Check: Check If Your Site Can be Found
First off!
You can do a 'site: search' on Google. Compare it with the number of pages indexed in the Google search console. It should be around the same. This is to track if Google is indexing your website well. Check if there's a sitemap listed on the Google search console and Bing Webmaster.
Google Analytics Check
Look at Google Analytics Data
Looking at data from Google analytics will give you a rough gauge if your website is doing well, or is your web traffic generated from targeted search results? If you're running a flowery business, are you generating traffic from terms related to flowers?
Look at User Acquisition
Look at Landing page queries.
This is correlated to the relevancy (and how well optimized) of the content that you put out.
Google Search Console Check
Track Keywords Rankings from Google Search Console
Checking what you are ranking for from the Google search console is one of the free methods you can use to measure the success of an SEO campaign. Or you can use a third-party tool such as SerpLabs.
Check for Penalties
How to know if your website is penalized?
If so, you'll receive a direct email in your Google search console stating that your website is penalized. I advise avoiding penalties altogether by learning about them beforehand.
Submit for Reconsideration
If your website is penalized, you'll want to fix the penalty and then submit for reconsideration to Google.
Check for Crawl Errors
Search engines aren't perfect in nature, and there are complexities to how search engine robots crawl the internet index. There are file formats or content that Google is unable or only partially able to index on their search engines.
You might have crawl errors, robot.txt errors, or redirect problems. These errors stated above can be checked in the Google search console.
Basic Site Performance Check
Here, we check for:
PageSpeed
Mobile Friendliness
UX Factors
User experience is a ranking signal. Yes, design and layout affect the overall user experience. It affects conversion, branding, and trust. Did you get pop-ups that ruin the user experience? Google advises against pop-ups, newsletter prompts, etc.
Content Audit
Check for duplicate content!
20-30% of the web is copied. Google will not penalize your website for duplicate content. However, Google definitely won't be ranking your content if it's duplicated.
Sometimes, you might have multiple URLs on the same domain but similar content under these different URL versions.
This is a common problem shared among web users and webmasters. The canonical link element can be used when you have similar content accessible under multiple URLs or on multiple websites.
In today's information economy, information is a luxury. To stand out and beat your competition. Generic, outsourced content isn't enough.
You should ask yourself: why should anyone be reading and staying on your site compared to the hundreds of other sites?
If you're starting off as a business owner with a fresh website, you do not have the luxury of the authority of the press or other publications that have set up base way before you.
One of the best ways to stand out is to publish useful, engaging, long-form content that helps your audience.
This way, you help your SEO rankings and position your business uniquely for your customers.
On-Page SEO
Here's a simple checklist:
H1 Title Tags – Does it exist and is it compelling?
H2 Tags
Quality Content – Is Your Content Relevant to the Search Query and of Quality?
Meta Description – Does it exist and is it compelling?
Check for Broken Links
Check for broken links using a broken link checker tool. Hint: Ahrefs has their own. It is one of the most straightforward DIY SEO Audit tasks. This way, you don't lose link equity across your site.
     CRO: Conversion Optimization
High Keyword Rankings but No Sales and Leads?
Now, you may have higher rankings than your competitors; however, what if you aren't converting as much as them?
Your offer is the part that most SEO experts and consultants miss out on.
Can you re-write your content in a more engaging manner? How about your bounce rates and time spent on the page? These are metrics that can signal you if you're putting quality content that fits your user's needs or not.
Bounce Rate
 Have you ever gone on one of those websites and all you see is spammy content, and all you want to do is to X it immediately?
That was a problem with one of my projects a couple of months ago. I outsourced the majority of my content for cheap. Hence, I got spammy, generic content that nobody cared about.
If people are clicking on your site, but leaving almost immediately. This means that you have a high bounce rate.
A website's bounce rate is highly debated to be a direct or indirect SEO ranking factor in the SEO world.
However, whether it be direct or indirect, bounce rates can have a large influence on your SEO rankings.
If people are leaving your site almost immediately, it just goes to demonstrate that a particular page doesn't fulfill the particular need of the user, and hence, is a low-quality page.
From a High Bounce Rate to a Low Bounce Rate: Case Study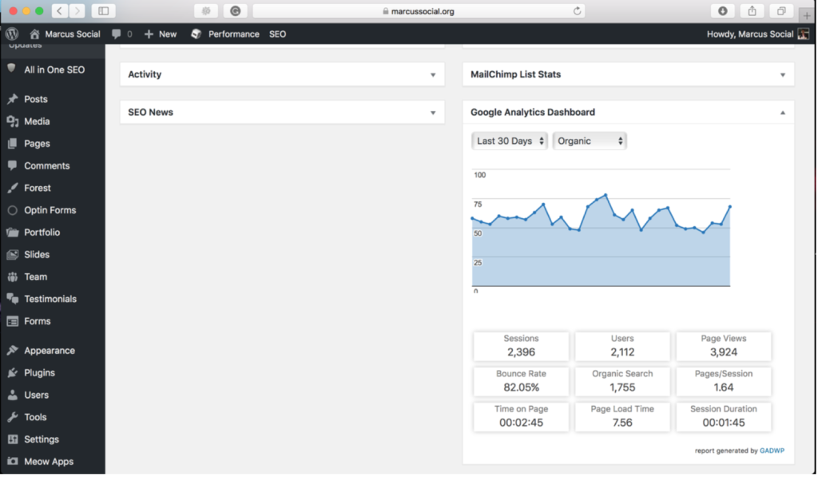 Sometimes SEO services are about subtraction rather than addition – a Simple DIY SEO Audit hack!
One of the sites I manage had 136 posts on it, and most of those articles were low-quality content. No one cares about your low-quality content on the web. I cut my website blog posts from 136 to a slim 49. I also rewrote most of my posts. That's a 50% cut.
I changed the homepage to display blog posts.
This puts valuable information right in front of my users, adding to the user experience of my site. I deleted half of my site articles and re-wrote a lot of them.
That all led to a reduced bounce rate to 0.87%. I outranked my competitors with little to no backlinks.
My bounce rate lowered over the next 30 days. I also realized that I had increased traffic despite removing more than half of my articles on the site.
This is because my lowered bounce rate signals to Google that my site/post/page is quality information, which boosts my visibility. Secondly, I also received personal emails saying that my content has personally helped my audience and readers.
Off-Page SEO Audit
Social Media Links/ Profiles Check
It is suggested that if your content is retweeted and shared by a page or account that has higher authority, it's safe to say that you'll get more weight out of that share or retweet.
However, Tweets and Facebook shares have minimal impact on SEO rankings. Google has also established this by talking about popularity versus authority.
Social media links are no-follow and don't pass any page rank. However, no-follow links are a way to signal to Google that you have a natural linking profile. They are known as social signals.
Hence, check if you have an essential Facebook, Twitter, and Linkedin company page set up!
Backlink Profile Check
This is done using the Google search console: check if the links pointing to your website are relevant and of quality.
Disavow Negative Links Using the Disavow Tool in Google Search Console
You should be mindful of this crucial part of the DIY SEO Audit. Your competitors might take part in negative SEO activities. If you find yourself getting many low-quality links, you will need to disavow those links.
Enjoy This Article? You May Also Like: