Digital signage has become a popular strand in a marketing strategy. This electronic marketing tool is effective both in-store and outside to catch the attention of browsers and passers-by. With strong visual content, it is aimed at engaging specific target groups. This is what you need to know.
Start with a Plan
Having an organized approach to your digital signage marketing strategy is important for clarity and making sure the whole team is on the same page. There are some important elements to a marketing strategy: defining your goals, content development, understanding your audience, positioning, scheduling, measurement, feedback, and improvement. We look at each of these in turn before laying out a few considerations such as brand visibility, multi-location capability, promotions, and creative design.
Goals
Your overall marketing strategy needs clearly defined goals with a percentage portion of the budget allocated to each sub-strategy. Do you want to raise brand awareness? Expand your social media presence? Increase sales? The content of your digital signage marketing strategy will be based on these goals.
Audience and Content
Define your ideal customer persona first. Assess what motivates this type of customer. Your existing promotional material can easily be transposed, such as items from your social media account, images of the business, or videos. However, this must be relevant to your goals and not simply rehashed. You can make use of user-generated content too. But aim for creativity using the digital signage capabilities.
Positioning
Some good places for digital signage are in areas with high foot traffic such as next to elevators and stairs, and behind checkout counters. Signage outdoors can attract customers into the store. Make sure your messages are appropriate and relevant to the groups of potential customers that will see them. For example, focus on brand recognition where people are waiting in queues as this has a positive impact on your brand image.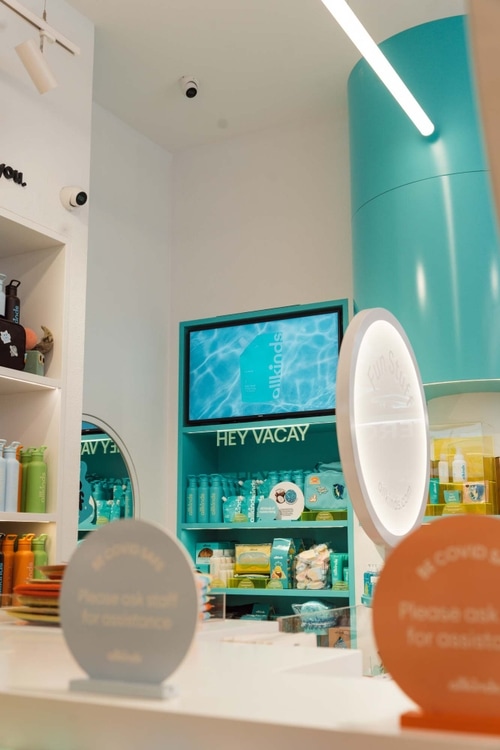 Scheduling
You can use digital signage software to set the schedule according to the messages you want to display consistently. This should focus on upselling, upgrades, and cross-selling if your aim is to increase sales. Consider how customers may behave differently in the morning (more relaxed) and the afternoon (more rushed). In restaurants, take note of changing menus.
Make use of storytelling when customers are exposed to digital signage messages for longer than a couple of seconds. You can include action sets, testimonials, stories, and case studies. Slides should flow smoothly without big pauses.
Measuring the Effectiveness of Strategies
Metrics are an essential part of digital signage strategies. You need to know what worked and what didn't. Social media analytics will reveal if your strategy was effective at capturing consumer interest. Some metrics to consider are polling, voting, competitions, participation, live data, and user-generated content.
Getting Feedback and Improving
Offer a gift to customers who are willing to spend a few moments providing you with feedback. Find out what annoyed them and what they liked. Use this information and your metrics to improve your strategies in the future and even tweak the current one. This, we can easily with digital signage. It is far better to change your content as soon as possible if it had no impact on the customers you interviewed or was not well-received than to continue with a message that doesn't achieve your goals.
Brand Visibility
If you want to increase your brand awareness among consumers, then you need to make sure your brand has high visibility and can be distinguished from other brands.While this doesn't lead directly to sales, it makes potential customers aware of you when they start shopping for your goods or services. Thus, the impression you make is vital to be remembered and preferred.
Because every business competes with similar ones, you need to create brand awareness and stand out from your competitors. Digital signage, when done effectively, is thus key to your marketing strategy.
Digital signage is instantly visible to a broad spectrum and huge numbers of consumers. Its reach covers different market segments. Leveraging an omnichannel, cross-promotion approach enhances brand recognition and underscores your sales message.
Multi-Location Capability
In the past, retailers had to design, print, and transport their promotional material to various outlets. Then the posters needed to be put up, banners hung, and leaflets arranged. Digital signage has done away with this expenditure of time and money, with the initial investment paying for itself.
With a cloud-based system of digital signage, it is simple for retailers to design their digital content, even using existing promotional material in it, and in moments they can have the information sent live to the digital display screens at each location. This results in a faster, cheaper, and simpler process that one person can handle alone.
Promotions
The versatility of digital signage linked to a cloud network is that a displayed message can be changed as often as desired. We can also use flash messages to promote no-notice sales to get surplus stock moving. This works well for clothing items when a season comes to a close.
Not only retailers, but restaurant chains can alter a message to advise customers of specials. Prices displayed can be readily changed. Breakfast, lunch, and dinner menus can display at the appropriate times. There is no need to make the change at every store manually as it is all accomplished digitally.
Design Content Creatively
The reason for a digital signage marketing strategy is to attract and connect with customers. While your team may have been creative in the past, with their paper signs and posters that were limited to text and pictures, you now have the opportunity to include videos, music, and moving graphics.
Customers are now welcoming digital signages than traditional printed signs. Interest is generated from the visuals produced by spinning or flashing text so if you want to advertise a promotion, this is useful for informing them of a percentage off in swirling, bright text. Creatively designing your content will boost customer engagement and sales.
Digital signage is set to become a fundamental part of overall marketing strategies for businesses.
Enjoy This Article? You May Also Like: