Pamphlets remain relevant even in 2022. Your company's pamphlet contains essential information about services, products, promotions, etc. Before we discuss the tips for designing a pamphlet, what is a pamphlet?
A pamphlet is a non-periodical publication of your company that often comes without a cover. It is a cost-effective way to improve brand awareness about your business which is less costly than the traditional advertising methods.
It's important to get a little creative to grab audiences' attention and entice them to take action. After all, the main goal is to help your audience take action and move ahead in the sales pipeline or just educate them so that you can turn them into a client.
In this article, we are going to explain key tips for designing a pamphlet that doesn't suck. Read till the end because we are going to have a bonus tip for you.
Let's get started!
     1. Think simple
Simplicity wins when it comes to design. It is very easy to add more details to your pamphlet using shapes, colors, and illustrations when it comes to effective design, but simplicity always wins. The reason is that you have very limited space, and it would look too complex to add too many elements.
It is incredibly effective, engaging, and grabs audiences' attention easily. A clean typeface with clear background results in a winning design. Try to have a modern, clean design that doesn't have too many design elements.
Less is more and the same applies to great designs. A pamphlet that is simple looks great. It's far engaging and better than a book full of information. Get a little creative to bring small surprises for your views, it often creates a big impact.
     2. Set a goal
When starting designing a pamphlet, always start with a purpose and have a specific goal in mind. Having a purpose ahead of time gives you a roadmap of how you would be taking your new project of designing a pamphlet forward. It will be reflected throughout your pamphlet design. It will enable your prospect to know it just by looking at it.
For example, if you are designing a pamphlet for introducing a new product, your pamphlet will showcase the details of the product, its benefits, features, and how it stands ahead of all the market competitors.
Your purpose could be any of it,
Promote your new product, or promote a sale
Introduce a new product
Let your audience know about any upcoming event
Make it educational material to inform and educate your audience
Make a tutorial about a product or service
     3. Design your pamphlet keeping in mind your target audience
Keep your audience in mind as you design your pamphlet. Just like any other business decision, keeping your audience in mind is crucial as you design your pamphlet. Pay attention to all the significant business parameters because if you design something that's not according to the liking of your target audience, they won't be interested at all. Thus, including age, income
profession, gender, interests, etc is key to a successful pamphlet design.
Before you could start the design take time to brainstorm and ask yourself the following questions:
What my ideal customer looks like?
What information/knowledge my ideal customer is looking for or would love to read?
Also, what visual content they would be more interested in, images, text, pictures, graphics, etc?
What kind of copy would engage them better? Humorous, serious, professional, conversational, or corporate tone?
What's the best possible way to grab their attention?
Once you get all the answers to your questions, use the information to steer your design decisions. You will be able to design a pamphlet that would feel true to them and it will result in a higher chance of success.
For example, if you are designing something for your young children it should not contain too much text. Rather, a fun design that features Disney characters, or colorful cartoons will grab their attention. Alternatively, you will have to choose an unconventional, and bold design that sounds crazy for the teens.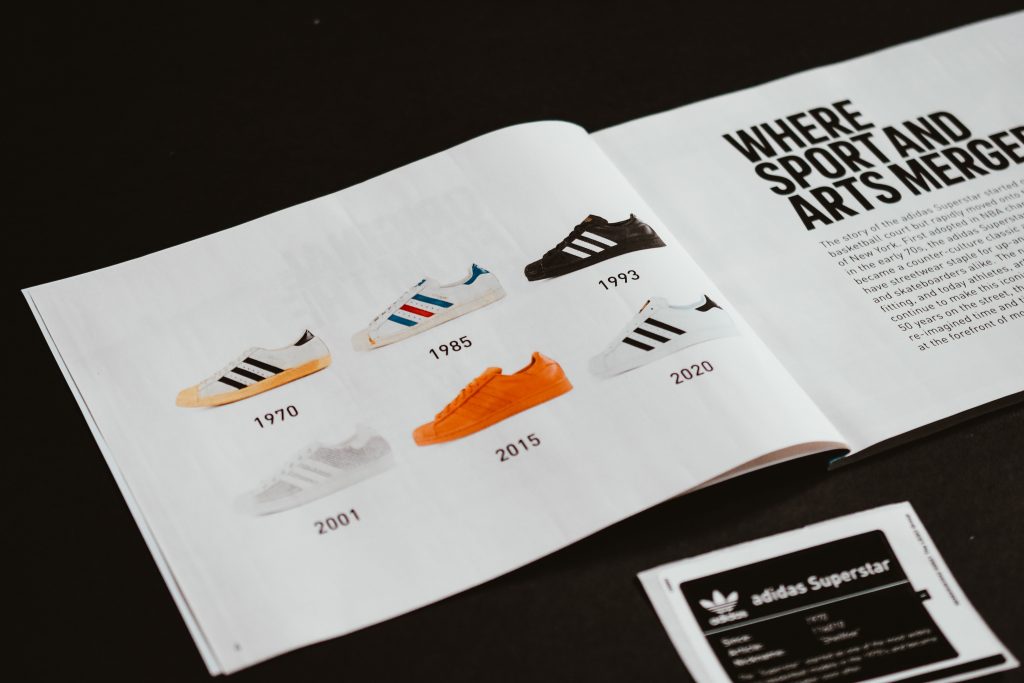 4. Find your elements
There is no one 'great fit for all' design when it comes to designing a pamphlet. Get creative and bring impact with simple shapes, visuals, and elements.
a.  Try out a variety of typography and use contrast to highlight content
It's 2022, and most designers are not going to stick to one typography. Play around with the fonts and try to incorporate the kind of typography that works well for your brand. Bold typefaces are great as they catch the customer's attention very well but again the final decision depends upon who you design it for i.e your target audience.
Follow a mix of typefaces, because they can bring a fresh perspective to your pamphlet.
b. Use contrasting colors
Using contrast colors that differentiate the various content sections is the key to designing an engaging pamphlet. It's easy for the audience to grab ideas and differentiate between the various content themes.
Use the white space well. It's often the background of the image that's called white space.
It includes the space of a design that's not taken up by any other element that might include illustration, images, or texts.  Color psychology plays a critical role in delivering content to the end-user. Times are changing, and you can try out different color patterns and gradients to design an appealing pamphlet.
c. Use the grid
Great designers know that the grid keeps the content aligned. It helps to create an organized layout with a clean and neat design. However, sometimes it's okay to avoid using the grid in graphic design. Many graphic designers have been using grids in pamphlets quite frequently.
d. Use consistent visuals in your brochure design
If you don't have enough budget for beautifully styled product shots, it's great to use some consistent visuals including illustrations, images, or icons.
Try to avoid stock photos because they will not give your audience personalized touch. Try getting into a personalized approach by using a headshot of your marketing head or CEO, it gives a personal touch to your copy.
     5. The focal point should be your CTA
Let's go back to point number 2 which is setting a goal. It means the ultimate goal of designing a pamphlet is to help your audience to take some action. You need to get creative and encourage them in a big way that would entice them to take an action.
Don't bury your CTA in among the text where it is invisible, it must be placed in a way that it is visible, and grabs the audience's attention quite easily. If you are going to place it on the last page of your pamphlet and place it among huge text, your audience is going to miss it. Therefore, make it bold, and big so that it is easily visible.
Put your call to action in more than one place throughout your pamphlet, and give your CTA a center stage. No matter how far they read your pamphlet just make it center stage so that people will actually take action.
     6. Choose the right pamphlet type
Just like choosing the best font for your CV to impress hiring managers, choosing the right pamphlet type will bring impressive results to your business. The kind of pamphlet type you choose will depend upon what kind of business you have and what results you want to achieve. Choose the one that meets your objectives and goals in the best way.
Ask yourself whether you want to print the pamphlet or not? A bifold pamphlet is great if you want to design guides, image-heavy documents, or invitations, and also print them. There is a laundry of options when it comes to pamphlet types, particularly in this digital age. Some of them include:
Tri-fold
Z-fold
Parallel fold
Roll fold
Accordion fold
Single gatefold
Double gatefold
Half+half fold
Half-fold
Half +trifold
The kind of brochure you are going to choose will depend upon the content you have finalized. If you have a lot of information or knowledge to know, you might choose a Classical Tri-Fold option that provides you with a myriad of spaces to allow you to place content.
Alternatively, if you want to have a step-by-step tutorial for the new product demo or launch of the course, you might choose a four-panel roll fold which makes it easier for the reader to go through it.
Bonus point
Collaborate! Collaborating With Other Designers Will Be Much Easier. Collaboration always brings great results. Take time to brainstorm ideas and share them with other designers to bring the best design out for your business.
 Your pamphlets bring about your brand personality and brand awareness among your audience and prospective clients. So make sure you design it well. If you design it well using the key tips that we have discussed in this article, your design will not suck and bring in great results.
What tips do you have for us to design incredible pamphlets for your company? Let us know in the comment section below.
Enjoy This Article? You May Also Like: