You might need to show something quickly to a client, and at the same time, may not have a professional designer close to you. In this case, you don't have to worry about anything because many design tools are great for your marketing business and don't require you to be a professional designer either.
Let's dive right in and see the top 10 design tools that can boost your online marketing strategy.
     1. Piktochart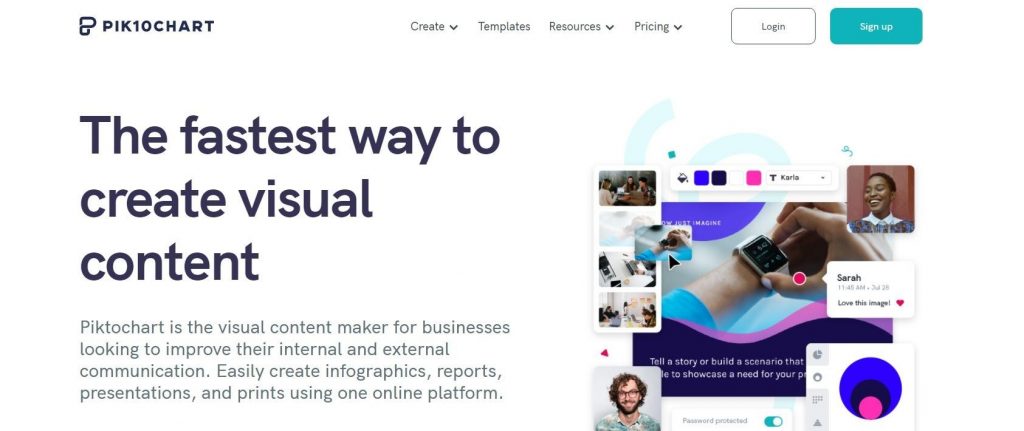 Many will tend to use Canva because that is the only design tool they know of, but there are many Canva alternatives out there, and Piktochart is one of them.
If you want an excellent tool for creating infographics, reports, presentations, and even templates, then Piktochart is the best tool you can use.
With this design tool, you get many great templates that are created by professional designers themself. If you're going to design many infographics, reports, charts, you can try making your own template for using it over and over.
What makes Piktochart such a great tool is its many choices available for charts and maps. So, if you are looking to use many visuals, this tool can't be bad to use in any way.
Regardless of the plan, you are using with Piktochart, you get access to all templates and photos. Additionally, you can purchase individual downloads when you are part of the free plan without paying any fee for it.
     2. Adobe Spark (Now Adobe Express)

Adobe Spark is an online and mobile design app that allows you to create some seriously stunning social media graphics, short videos, and animations in a short period of time.
It allows you to combine slideshows, videos, text, and photos into one single web page. The best part of Adobe Spark is that it is free to use and gives you the power to log in through your Facebook, Google, and Adobe accounts.
You don't have to be a professional designer to use Adobe Spark, even if you lack the skills, you can still create graphics for social media, animated videos, web stories, all of which don't require technical knowledge to do so.
Let's not forget that Adobe spark has some excellent templates out there too. They are all designed by professional designers and can be used for creating social media posts, logos, posters, stories, and much more. You don't need to do anything except download these templates and use them.
     3. Snappa
Snappa is another great option with many templates and royalty-free photos to choose from. Additionally, Snappa allows you to even upload your own custom photos for usage.
With their free plan, you get up to five downloads per month. So, we recommend you go with their premium plan that offers you all features.
Snapp is excellent because you can share images on social media channels without leaving the interface. How great can it get!
     4. Tailor Brands
Tailor Brands is the all-in-one solution for businesses that require a logo, website, or even brand design.
The AI platform is there to find the right solution for you, all you have to do is enter your brand's name, style, and industry you are operating in. Otherwise, you'll be presented with many different logos you can choose from. Let's not forget that you can also customize these logos or even start from scratch if you need to.
Tailor Brands will automatically generate personalized templates for your brand that match its logo and style whenever you complete editing your logo. Additionally, you have the option to print your logo on t-shirts, bags, notepads, business cards, and more.
     5. Canva

Source
Canva is a top-rated design tool most of us have heard about. It is a free tool that makes designing presentations, infographics, social media photos, and ads reasonably easy.
There are thousands and thousands of high-quality templates that are designed by one of the best designers around. Canva includes a drag and drop interface that allows anyone without any professional designing skills to create some impressive work along with many fonts, shapes, and icons to choose from.
You can use Canva with your browser from your desktop or even download it on your iPad as an app.
     6. Pixlr
Pixlr can be considered a great alternative to Canva whenever you think about accessing an advanced photo editor. Pixlr gives you the power to add textures, light streaks, glitter, and much more to your images.
What is unique about Pixlr is its AI-based Cutout feature. If you are trying to cut out apart from your image or even blur it out, this feature will be great.
When we compare Pixlr to the rest, we can say that it is elite in photo editing. Compared to others, editing images is much easier, smarter, and faster. So, if your main focus is photo editing than anything else, we definitely recommend using Pixlr.
     7. Animaker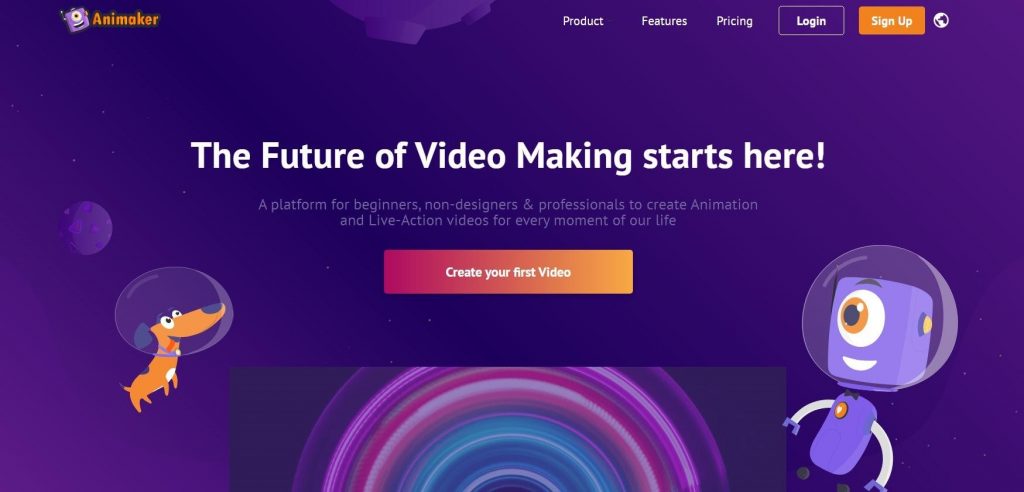 Animaker doesn't require you to be a professional digital artist to make impressive animated videos.
Animaker has a special drag and drop builder along with customizable templates. By using these, you are able to create and animate characters that can move. Additionally, these characters have facial expressions, and auto lip-sync with the power of your voiceovers.
Wait, it doesn't just end there. Animaker allows you to include animated items like bouncing balls and balloons, where you can add subtitles, watermarks, images, stickers, and even create overlays of text. You can choose between the paid and free versions, although the paid version gives you the premium features.
But don't forget one thing, Animaker is mainly used if you are a business that wants to create animated videos. If you aren't part of this field, then it isn't a good fit for you.
     8. Infogram
Infogram is a well-known design tool that seeks to combine complex ideas with data through engaging visuals. With Infogram, you get to create and share visuals along with pie charts, bar charts, interactive maps, and much more.
The tool also offers many custom-designed templates that are available both with their business and enterprise plans. You can include your brand colors, icons, graphs, and logos with these customizable templates as well.
      9. Crello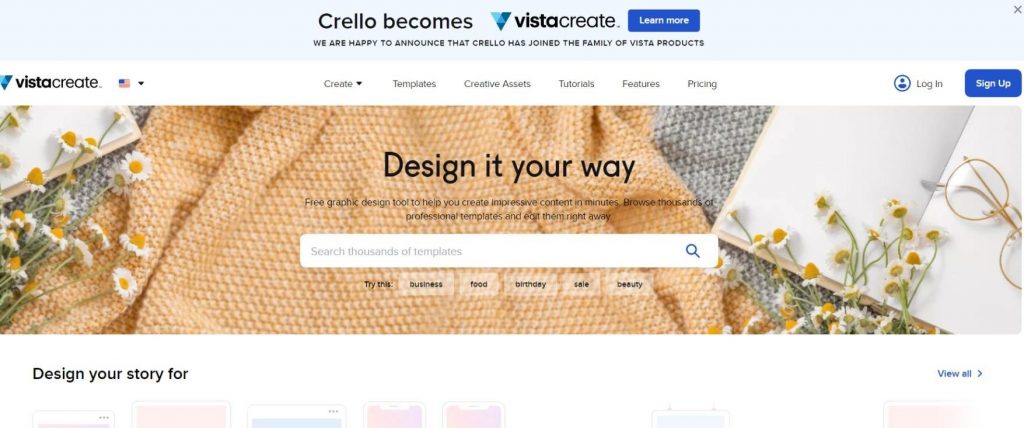 Similar to Canva, Crello allows you to create graphics for ads, blogs, events, social media, promotional materials, print, and so much more.
With Crello, you get many templates to choose from, including illustrations for different formats and platforms. You are offered a free plan along with these, but if you want to use their animation maker feature, you will need to subscribe to their premium plan.
What separates Crello from other design tools is its animation maker suite. Many design tools don't offer that, so you have the needed features for creating animated objects and have many customizable templates for creating more videos and photos.
     10. Fotoram

If you want a free photo editing tool, then Fotoram is the right choice for you. Fotoram includes a photo editor, a collage maker, and an art photo maker. The tool allows you to perform many edits such as flipping, cropping, blurring, adding different effects, and much more.
Fotoram's most impressive feature is its art maker. The art-maker feature allows you to create an image quickly that is of high quality. Or, if you don't want to make any images, you can always download them free of charge. The best part about it is that you don't have to create an account with Fotoram to download these images either.
Overall, Fotoram is focused on photo editing more than anything else. You can also create different images for data visuals, banners, presentations, social media, and much more. So, if you want to create photos from scratch, Fotoram may not be your best bet.
Looking for amazing free editing tools? Check out Photo Aid.
Wrapping it up
Well, that's for this article. We hope you got a clear picture of which design tools are suitable for your business. Every listed tool is of high quality and will give you the necessary solutions you need for your online marketing strategy. Although, what is best for your business is all up to you.
Ten design tools listed have been carefully researched, so now, it is up to you to carefully research and see what would be the ideal design tool for you. Carefully go through each of the tools and try to analyze how they compare.
Otherwise, whichever tool you choose won't be a bad choice anyhow. You are on the path to having an excellent design tool, even if you aren't a professional designer yourself!
Enjoy this Article? You May Also Like: