Changes in consumer preference are why you cannot totally predict their behavior. Understanding the customer journey map can provide an insight into what induces buyers to make a purchase. Seeing from the perspective of buyers brings you closer to satisfying their needs.
Businesses think distinctively with their mind concentrated on selling more products. Sales growth most times overshadows customer satisfaction. A brand may feel fulfilled at first, but it affects the buyer-seller relationship in the long run. It is impossible to overemphasize the customer journey in business growth.
Do you want to develop a consumer mindset to grow your business? Then, this article is for you.
Key Takeaway
A customer journey map is a business strategy that enables a brand to thoroughly understand what influences buyers' behavior. It involves identifying the challenges faced by customers and offering the ideal solution. Consumers react differently at every point in a sales funnel. Businesses need to capitalize on their reactions to answer their most pressing question. Customer journey map example includes documenting buying experience in your organization location.
What is a Customer Journey Map?
It is the act of visualizing the path customers follow to use an organization's products or services. It helps businesses to gain an in-depth understanding of customers' experiences. A brand can discover what influences customer purchasing decisions with a customer journey map.
By identifying what the consumers feel, a brand can develop a suitable mechanism to improve customers' experience. The ideal is to boost conversion rate, not through sales strategy but through buyers' feelings. Being able to think like a consumer and attend to their needs accordingly leads to customer retention.
Whether a business likes it or not, purchases will start from the interaction. Between interacting are the occurrence of several events that shape buyers' experiences. That is where the customer journey lies. If everything turns out well, the brand will record a successful transaction.
In essence, the physical experience garnered by a buyer from the interaction point makes up the customer journey.
Does My Business Need the Customer Journey Map?
Customers are the lifeblood of every business, without which survival will be impossible. It is imperative to understand a buyer to serve them to their satisfaction. One factor companies should never overlook about their customers is individual differences.
Two customers buying the same products may have different physical experiences. That shows how complex it can be to understand the customer journey from a layman's perspective. Getting it wrong can lead to slow growth and an unpleasant reputation. Businesses have a lot at stake if they want to remain in existence.
For that reason, it would be ideal to take the customer journey as seriously as the products and services offered. Consumers see value in how well a business can attend to its needs. They will develop a perception of your brand and products from when they find you.
Your marketing campaigns create awareness, which triggers prospective customers' curiosity to inquire about it. These are checkpoints on the journey that shapes their decision. An organization must be conversant with the steps and consequences for effective customer journey mapping.
Importance of Customer Journey Map
Mapping your customer journey comes with several benefits for businesses, particularly seeing from their perspective. It gives brands a perfect idea of what buyers pass through due to their needs. The knowledge you garnered will serve as the basis to improve their experience.
The long-run effect of satisfying your buyers through customer journey mapping will lead to the following:
     Sales Growth
Although the intention is to improve customers' experience, it will affect sales indirectly. Satisfied customers are highly retainable, which is an assurance they will come back for more. Most buyers will become loyal if they are happy with your services.
     Revenue Growth
You can relate to the buyers' intent through customer journey mapping. Data are available to leverage to position your business to generate more revenue. The information can help you build good relationships with your customers.
     Identify Irregularities in Customer services
It allows you to discover if your customer services are effective or not. It reveals the customer journey stages where communication is ineffective. From that point, you determine the next step to take to rectify it.
     Data Availability for Decision making
If done rightly, a customer journey map will generate a lot of insight for the business. That will enable an organization to build comprehensive customer profiles for future engagement. It does not end at the point of sales.
     Understand buyers' feelings
There is no better way to feel your customers' pain than to map their journey. You can monitor their movement at every checkpoint. You can determine if they are making the next move or not, like moving from conversation to purchasing the product.
     Components of Customer Journey Mapping
If you want to map your customers' journey successfully, these five components are essential. Maximizing these key ingredients will make your customer journey map effective.
     Timeframe
Time plays a significant role when visualizing the customer experience journey. It shows customers' thoughts, actions, and emotions in a cycle.
     Customers' Activities
It is impossible to underplay the actions taken by the buyers within the timeframe. People search online for products and reviews for making decisions. These are things businesses should know.
     Customers' Emotion
The visualized map will reveal the challenges faced by a buyer because of their needs. The journey can fluctuate, indicating when things are fine and not.
     Profile
Don't mistake mapping two customers together because their wants look related. The journey will differ, which should be the basis of your map. Have distinct profiles for all customers.
     Data
Hidden in data are many insights, and it could serve as evidence to ascertain customer pain points. That is why you must note how a buyer reacts during the interaction. It says everything about that needs. That is invaluable data for your brand.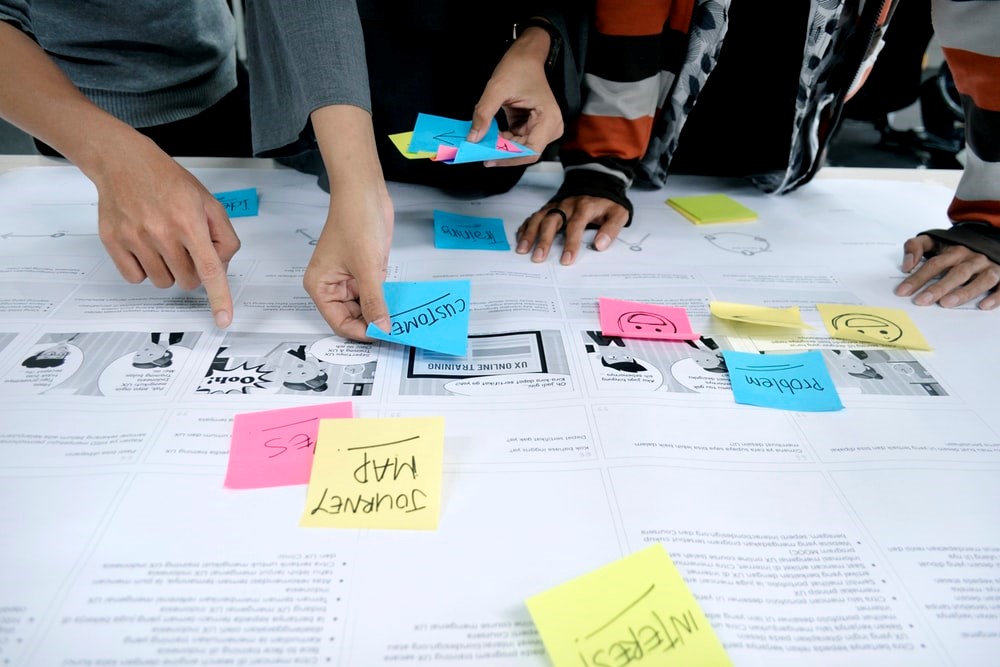 Creating a Customer Journey Map for your Brand
With the information above, let's see how you can grow your business with mapping.
     Have a Mapping Objective
We said every business needs to map buyers' experiences. Yes, but you need to have a clear objective. Mapping generates an all-inclusive report. Setting a target helps you to know the aspect of the report to tackle.
     Engage in thorough research
It is good to know what customers are saying about your product and services. You can discover that through research. Surveys are suitable for gathering relevant, valuable info for mapping. Ensure you engage those who can relate to your brand's service if you are doing that.
     Spell out the Personas
The opinion you gathered from the survey can guide you to highlighting customer personas. Sort customer experiences based on close relationships between them. Don't make it too narrow to avoid missing out on some customer journey.
     Work with all possible Checkpoints
Make sure you consider every interaction point when customers reach out to your business. This is one of the most critical customer journey stages that requires utmost attention. Being conversant with each checkpoint can help you understand the plight of the customer journey.
     Hypothesize your Map
You need stakeholders to review your progress at this stage. Ask for critical evaluation and addition to ensure your map captures customer journey at a great length. You should be able to determine if you possess the required resources to meet customers' demands at this point. Based on the amendment at this level, you can proceed with the mapping.
     Develop an Attractive Customer Journey Map
This is the point where you visualize the map developed. Endeavor to make it appealing such that anyone can understand your story at a glance. Employ all map attribute to make it persuasive.
     Activate your Visually Attractive Map
This is the point where stakeholders can see the final output.
Conclusion
If you are reading this, it implies you have benefitted from the value we shared. In addition, what comes next is to build your customer journey map to understand your customers' physical experience. Lastly, it is necessary to see customer satisfaction as important as your value proposition. Take the step now and watch your business grow exponentially.
Enjoy this Article? You May Also Like: