What is the first thing you do after waking up and the last thing before going to bed? Pretty sure, it's flipping apps on your mobile to see if you've missed something and to consume a tad bit more of that content. The 21st Century is a digital age with every person surrounded by either mobile phones, laptops, or tablets. Thus, having a digital presence is a need rather than a choice. If your goal is to increase brand awareness, generate leads, sell a product/service, or simply interact with your audience, traditional marketing will not cut it.  We consume content every day, be it that article on cooking rice, the video on how to create a website or the ebook on how to be a millionaire. This constant need and demand to consume content have changed the concept of marketing from traditional to digital. Since digital marketing revolves around content creation and its distribution, content marketing, and social media play a significant role. This is the ultimate guide for you aligning your social strategy with content marketing to generate 10k+ customers and work your way towards the top. Let's get the show on the road!
Content Table
What is Social Media Marketing?
Source: Cognovision Social Media Marketing is the process that involves the creation of quality content and its distribution on various social media channels such as Instagram, Facebook, LinkedIn, and Twitter to achieve the company's marketing goals. Social media is a hangout place for people, where consuming bite-sized and targeted content is easy and effective.  The idea is to provide your target audience with content that strikes a chord and solves their problems. It is an indirect way of marketing by engaging the target audience with meaningful discussions related to your industry. They become a part of your community, which makes it become easier to promote your brand or sell products and services to them.
What is Content Marketing?
Source: Aspiration Marketing  'Content is king' Haven't we heard this term a lot of times? Let's re-frame it: 'Content is king & Marketing is queen, together they can reign over the world' What is Content Marketing? Content marketing is an effective marketing strategy that involves the creation and distribution of relevant content in different forms.  It involves content creation, syndication, and repurposing to engage the target audience to compel them to take action. Content marketing involves the creation of content in the form of webpages, blogs, ebooks, webinars, guides, videos, podcasts, and more that is easy to understand and consume.
Content Marketing vs. Social Media Marketing
By now, you might be confused as the two concepts could overlap, but they don't… Content marketing is a tactic, that aims to educate the target audience to solve the problems they're facing. This results in a change of behavior, which leads to increased demand, leads, and sales. It includes long-form content such as blogs and ebooks.
Source: LYFE Marketing Social media marketing is a channel that brands use to communicate and engage with their audience to establish a relationship beyond buying and selling. It involves the creation of content on different social media channels such as infographics on Instagram and 1300-character posts on LinkedIn. Social media is a two-way street where brands communicate their ideas and strike discussions, and where the audience can share, take part, appreciate, or criticize the brand's efforts.  Content marketing and social media are correlated. Why? Content marketing involves creating content, but social media pushes this content to the people in easy-to-consume forms. Thus, we can say: A content marketing campaign aligned with a social strategy can hit the right chord and achieve the results. It's important to devise the ideal content marketing and social strategy to understand how you can align both of them to achieve stellar results. It might even be great to create a business plan to communicate it to employees for a better understanding Let's dive into it!
The Ideal Social Media Strategy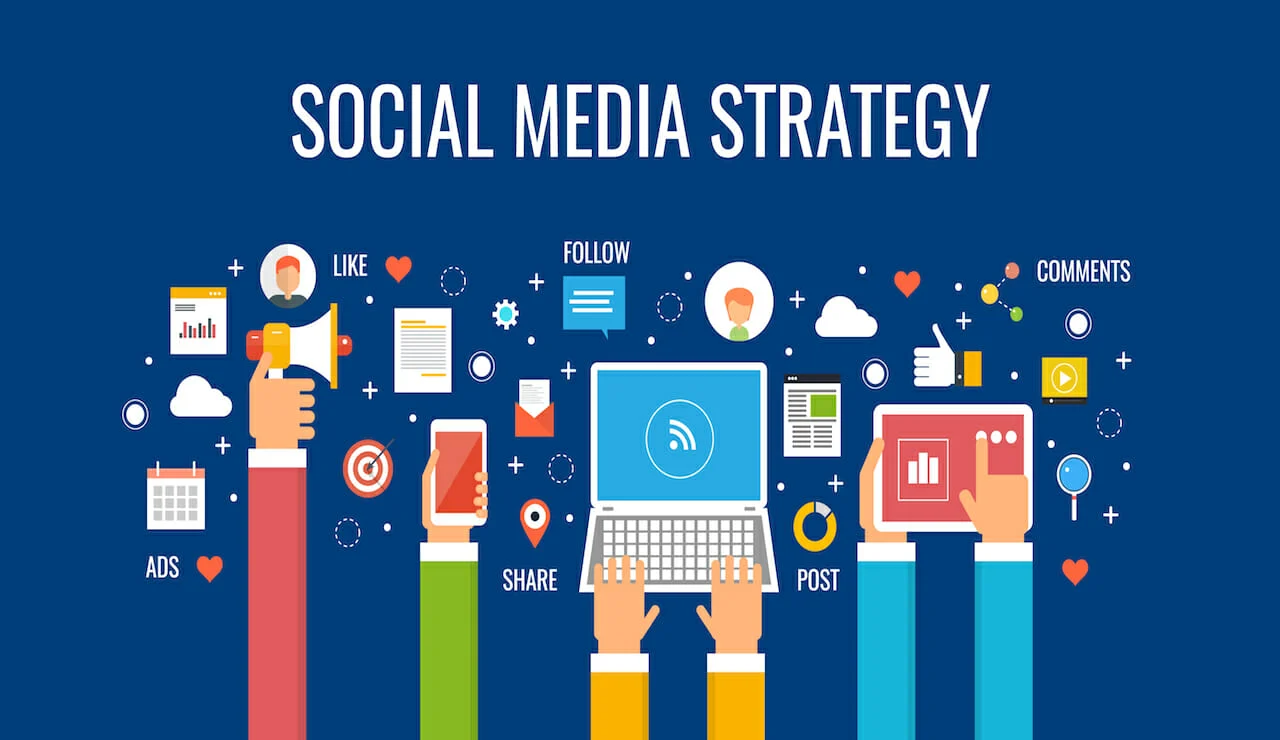 Source: Single Grain 84% of consumers will buy from a brand they follow on social media over a competitor. This makes it an essential aspect of your marketing strategy, but how does an ideal social media strategy look? Designing a social media strategy that serves your target audience, appeals to your readers and compels them to take action is not a piece of cake, because of the changing algorithms of social media platforms for engagement. However, with the right approach, you can steer clear of uncertainty and make the most of the boon 'social media.' Here are some must-know social media statistics for 2020, which can help you frame your strategy. Some factors essential for an active social media strategy: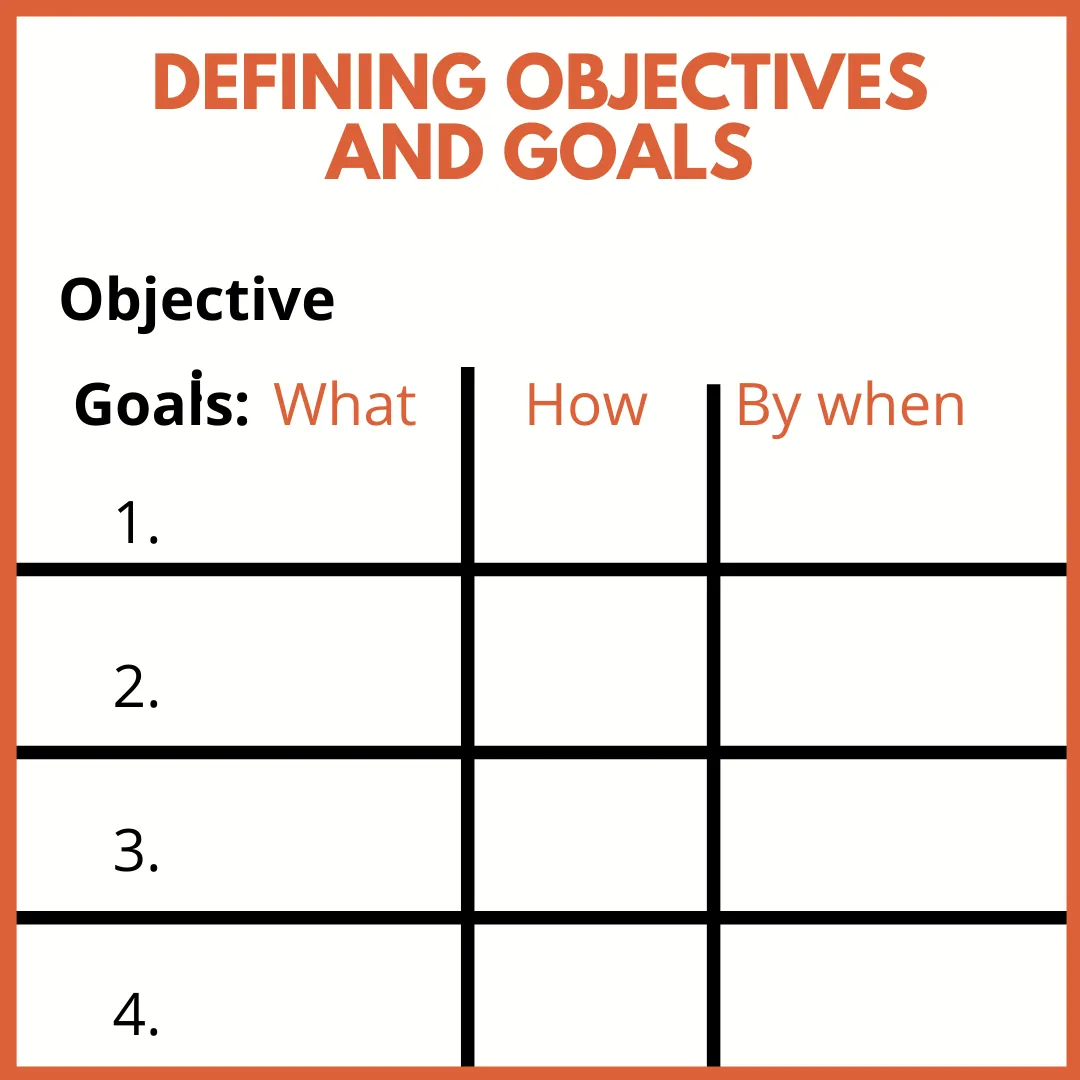 1) Define your objective and set goals to achieve it
Just like any other campaign, social media marketing also requires an objective that guides the action plan. These objectives could be brand awareness, lead generation, product/service promotion, building a community, or boosting brand engagement. Once your objective is defined, and in place, the next step is to establish goals. Example: If your objective is brand awareness: you may want to create content that relates to your target audience through which they can relate to the brand.  A smart goal for this could be 'Increasing Instagram likes by 40% in 2 weeks through carousels and bite-sized videos' This defines what you have to achieve, by when and how. Consider using a similar template. You may have over one objective but keep it as plain as possible to avoid confusion.
2) Identify your target audience
Every social media channel has a unique set of audience with no content which fits all platforms at once. Here are some prominent findings by Sprout Social:
Facebook consists of an audience in a prominent age group of 18-49, with 74% of the individuals with a high-income capacity.

Instagram consists of a predominant generation Z population.
Source: Inc. Thus, the content needs to be designed based on the following questions:
Who is your target audience? (interests, likes, dislikes, demographics)

What do they like to read about?

What social media channels do they use most?

Which type of content do they engage in most? (text, image, video)

What brands do they follow that provide content similar to yours?

Which type of content do they find worthy?
Identifying your target audience can help define your goals much adequately. It also gives you an idea of where to maximize your resources and in what format. Without a target, you will shoot arrows, assuming to hit the bull's eye at least once. Narrow down your audience, find out the answers to those questions, and let it guide your social media strategy.
3) Keep a keen eye on your competitors
Running a competitive analysis can be very beneficial in identifying what and how they are doing.
Source: SlidePlayer Here's how it can help you:
What type of content works?

What topics do people engage in the most?

How do they react on different platforms?

Which hashtags do they trend for?

How do they use the platform to attain their objective?
You can even leverage this analysis to your own advantage. Say, Competitor A is focusing on Twitter and Facebook but not much on Instagram. You can take this opportunity to establish an edge by focusing on Instagram in the initial phase.
Click here to read more on 'How to run an effective competitor analysis' and get a similar template.
4) Establish metrics for analysis
Before you consider planning a strategy for content creation, it's crucial to have evaluative web metrics in place to assess the success of your strategy and efforts. Here are some metrics to keep a check on:
Reach
:
This defines the number of unique users who saw your post. It helps in determining if your post is reaching the target audience and how far across it's spreading. This is a difficult metric to track because of the evolving reach algorithms on social media channels, but still holds a lot of importance.
Source: Dasheroo
Engagement:
The people who interact with your content define your engagement levels. This will give you an idea about the type of content which gets the most with your target audience.
Source : ebulkemailmarketing
Clicks
:
One of the most important metrics, clicks tell you how your target audience reacts to your call-to-action (CTA), which may be your company content, blog, website, or logo. This helps you assess how the users are moving towards the marketing funnel.
Source: Uhuru Network
Hashtag performance
:
These are an integral part of social media, which makes you and your content discoverable and searchable with industry-relevant keywords. This will help identify the best hashtag you used and which brought the most engagement to guide your future strategies.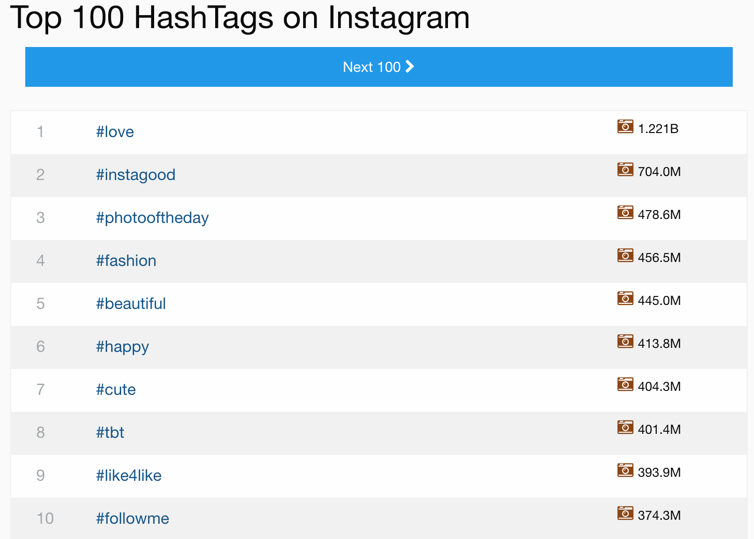 Source: After Offers Remember, your objective defines your metrics and varies with different social media channels. For example: On Instagram, you may want to track comments, mentions, and referrals to assess engagement while for driving traffic from LinkedIn, you may track the click-through rate (CTR) To successfully devise a strategy, implement it, and maintain consistency in results, tracking metrics are important. Hootsuite's 19 social media metrics and how to track them will give you further insights on this topic.
5) Set a social media content calendar in place
Creating engaging, relevant, and share-worthy content is the backbone of a social media strategy: however, it can be quite a tedious task without a proper social media content calendar. This calendar should comprise:
Date and time

Channel

Topic

What time will it be published

If you have a team (who will create content and who will publish it)
Planning a social media content calendar for 2 or 3 weeks in advance can help you adjust and work out a schedule with your team members, including any freelancers on board, to maintain consistency in creating and posting content.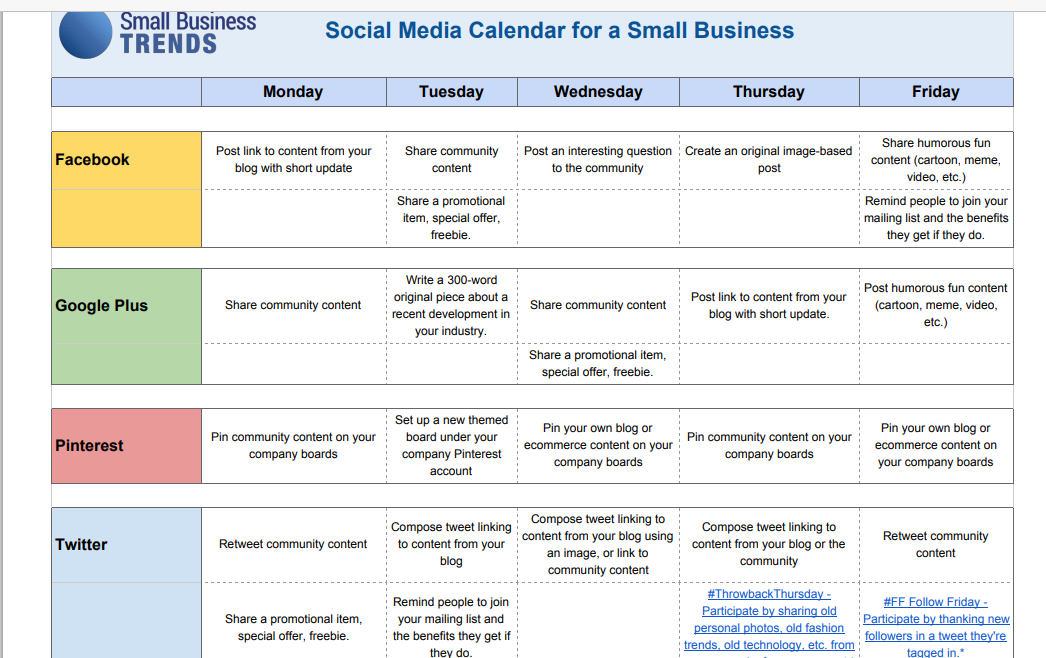 Image source Once your calendar is in place, you can schedule content posting for a week using content scheduling tools like Hootsuite.
6) Hire experts for creating content that drives results
Struggle coming up with quality content ideas? Not everyone can create a killer copy, graphics, videos, and carousels: to achieve the best results. You need to hire the best to do your job. 
Less is more with social media, and so you need people who can:
Write engaging short-form content, one-liners, taglines, 2-liner memes and so on

Design engaging graphics

Plan, execute and edit videos relevant to your industry
For this purpose, you can hire full-time workers or remote workers as per your convenience and budget. Here are some tips to help you manage a remote team effectively.
7) Review, discuss and improve your strategy
There is no fixed algorithm or hard and fast rulebook of what works and doesn't. The purpose of a social media strategy is to keep changing it as you review your work through metrics and assess its success to arrive on 'that' strategy that works for you. Hit and trial, fail, learn, and change is the way to go. As you move forward, implement and innovate with different types of campaigns: you will see what works best for you.
Source: And Now U Know Here are some ways to assess your strategy and action plan:
Metrics give you the best summary of your efforts to test the strengths and weaknesses of your strategy.

Conduct surveys to understand your target audience better

Follow up with your audience through newsletters and feedback forms if you can improve the content in any way
Allow this analysis to guide your next strategy. Social media is always changing, and to succeed, you will have to re-evaluate and adjust your strategy with the changing trends.
The Ideal Content Marketing Strategy
You know you have to create content to build a community, portray your industry knowledge, add value to people, drive traffic to your website, and ultimately, to generate leads but, how do you do it? Gone are the days when content creation meant blogs and social media. The audience now requires more than they expect, and the brand which delivers them what they want without asking for it is the one who wins. But how do you do this? By creating a content marketing strategy.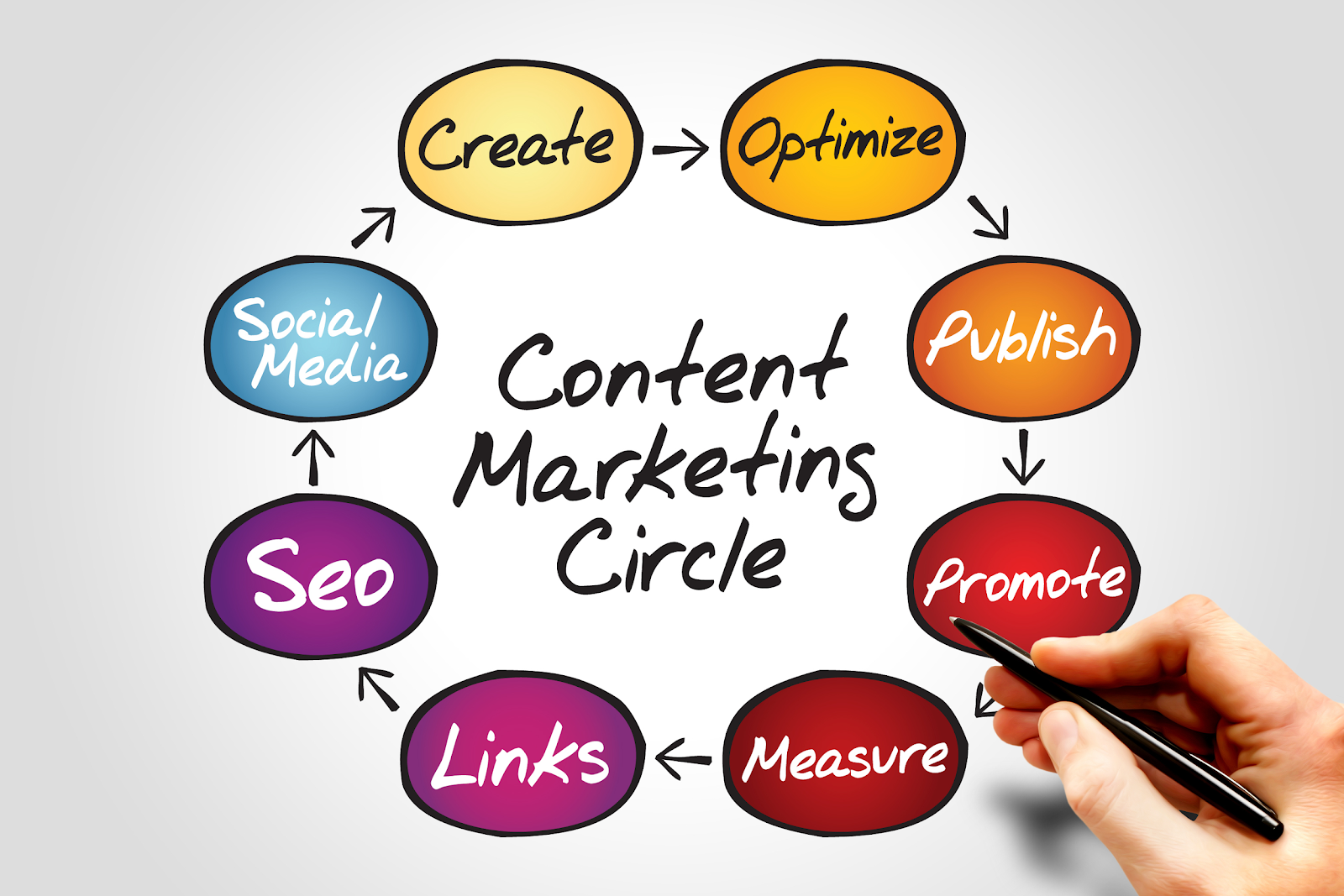 Source: Exit Bee Blog With a clearly defined result-driven and action-oriented strategy, you can meet your goals. Here are some factors essential for building an effective content marketing strategy:
1) Identify your target audience and create a buyer persona
Perhaps the most important step in any business strategy is to identify your target audience. This is essential because you want your content to reach the right audience who is looking for it and will engage with it.  The needs of your audience are constantly changing, so even if you know your target audience, run by it again to see if you're still producing relevant content. Here are some best practices to identify your target audience:
Run a competitor analysis to see what type of content they are creating, which type of content does the audience engages with the most, which channel is the audience most active on, and how are they responding to their CTAs.

Conduct a content analysis using – 
Blog – Unique page views and referrals using Google Analytics Email – Click-through rate (CTR) and open rate using Sales Handy Social media content – shares and comments using social media insights E-books- number of downloads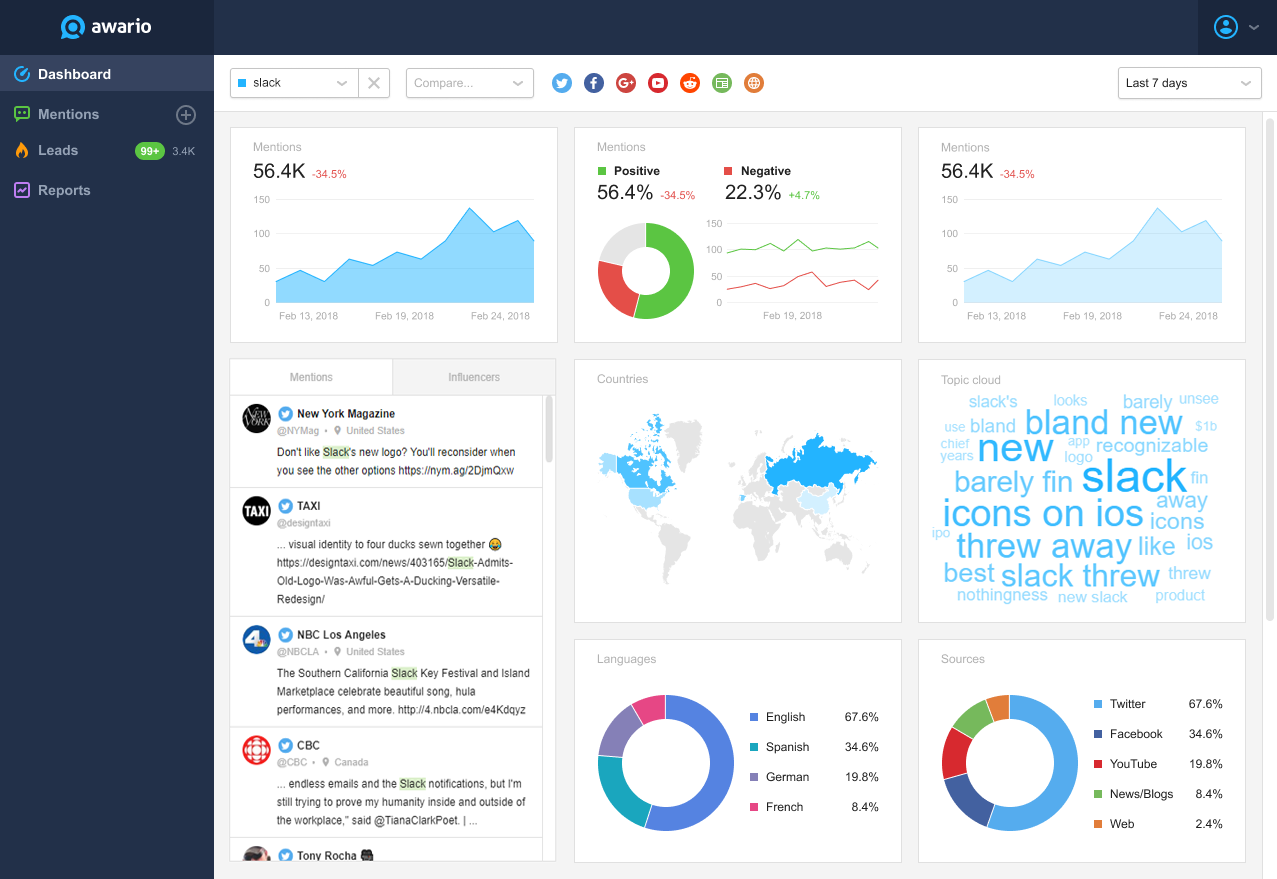 Source: Social Media Today   This will give you an idea about what type of content they look at and what you need to work on, including other important details such as the time and days they are most active.
Segment your audience based on demographics (age, gender, education, buying capacity, or income).
Image Source
Get customer feedback to help understand your strengths, weaknesses, and areas of improvement.
Source: OptiMonk   Once you have all relevant dates regarding your target audience, create a buyer persona- representing your ideal customer/reader. This will help you target, create, and distribute your content better. You can easily create your persona using Hubspot's persona templates.
2) Define your goals 
While your motive behind starting with content marketing may be multifold, it's always better to define goals to maintain efficiency and transparency in the process while avoiding unrealistic expectations. Your goal should talk about three important things:
What do you wish to achieve?

How will you achieve it?

What is the timeline of these goals?
Start with a larger goal and divide it into bite-sized miniature goals Example – I want to increase website traffic Miniature goals – Increase unique page views of the website by 10% through blog posting and its promotion on social media channels within two weeks Align your larger goal with several relevant SMART goals that are achievable and realistic.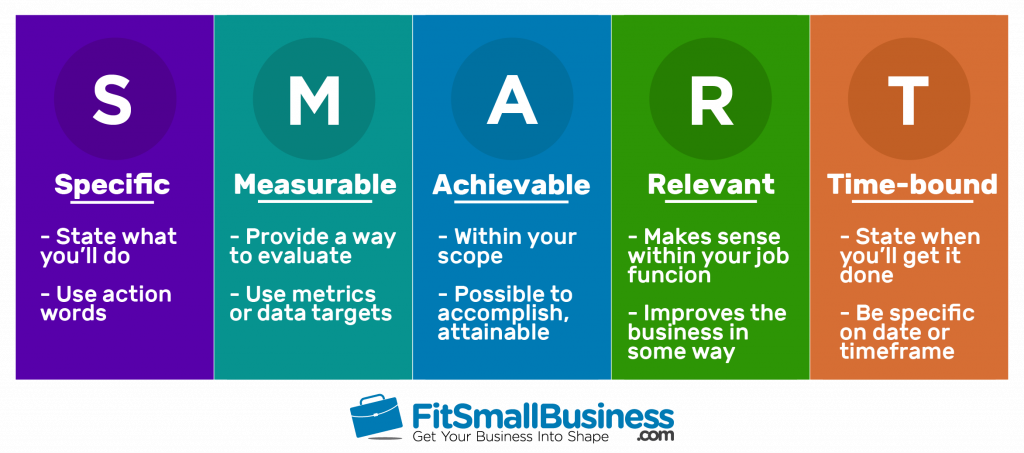 Image Source
3) Run a content audit and fill gaps
If you have existing content on your website or social media channels, run a content audit to see how your content is performing – what's working, what's not, and how you can improve. You can do this through SEM Rush's Content Audit Tool.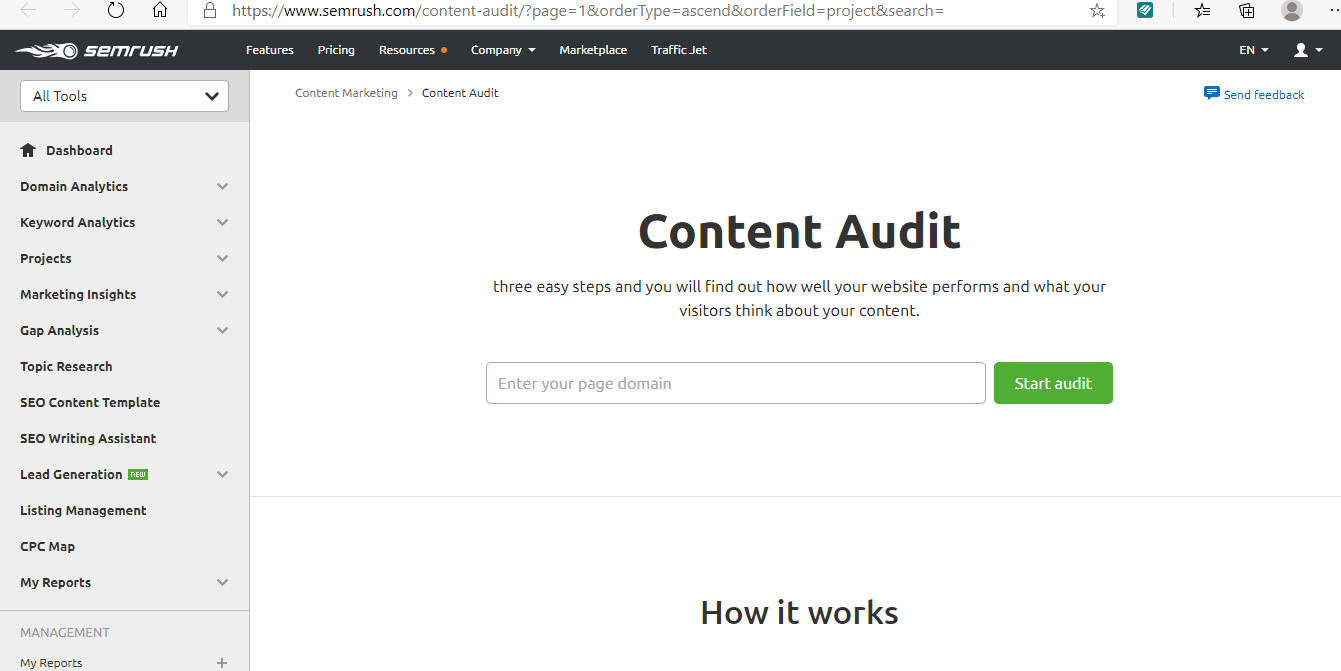 After conducting an audit, pay attention to these metrics:
Number of inbound links – this shows how relevant your content is

Keywords you're ranking for will give you an idea about which keywords you should talk about and which you are ranking for

Social shares – this shows how much your target audience shares your content
This information will guide your strategy and help you fill content gaps to talk about more relevant content, creating share-worthy content, which social media channel performs the best, and which keywords you can focus on to improve SEO.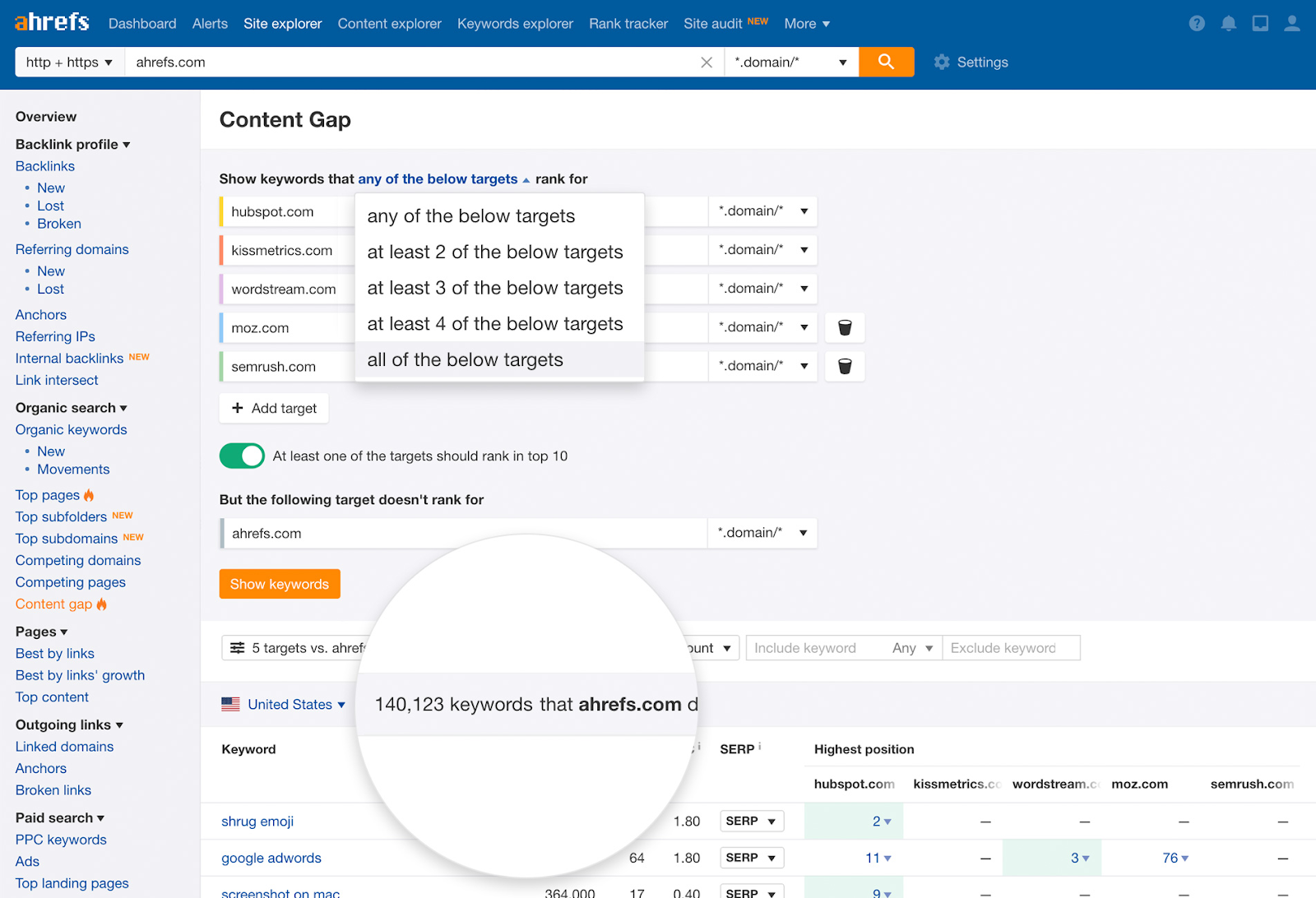 A content gap analysis can be easily carried out through Ahrefs.
4) Create a content calendar
Your ideas are ready, and so is your team but, without a content calendar, your plan will fall off. To churn quality content consistently on different channels, you need to create a content calendar – which aligns with your brand identity and goals. This will give a clear picture to your team and help keep the content creation and distribution phase clutter-free. Here are some important things to include in your content calendar:
Month

Date and time of publishing

Type of content – blog post, carousels, videos, infographics

Channel- Website, Facebook, Instagram, Twitter

Topic and targeted keywords

Created by – person name

Published by – person name

Status- submitted, in review, pending, scheduled, published
Ideally, creating a content calendar for 2-4 weeks keeps the process organized, and you can change it as and when required. Stick to the calendar to maintain efficiency and consistency.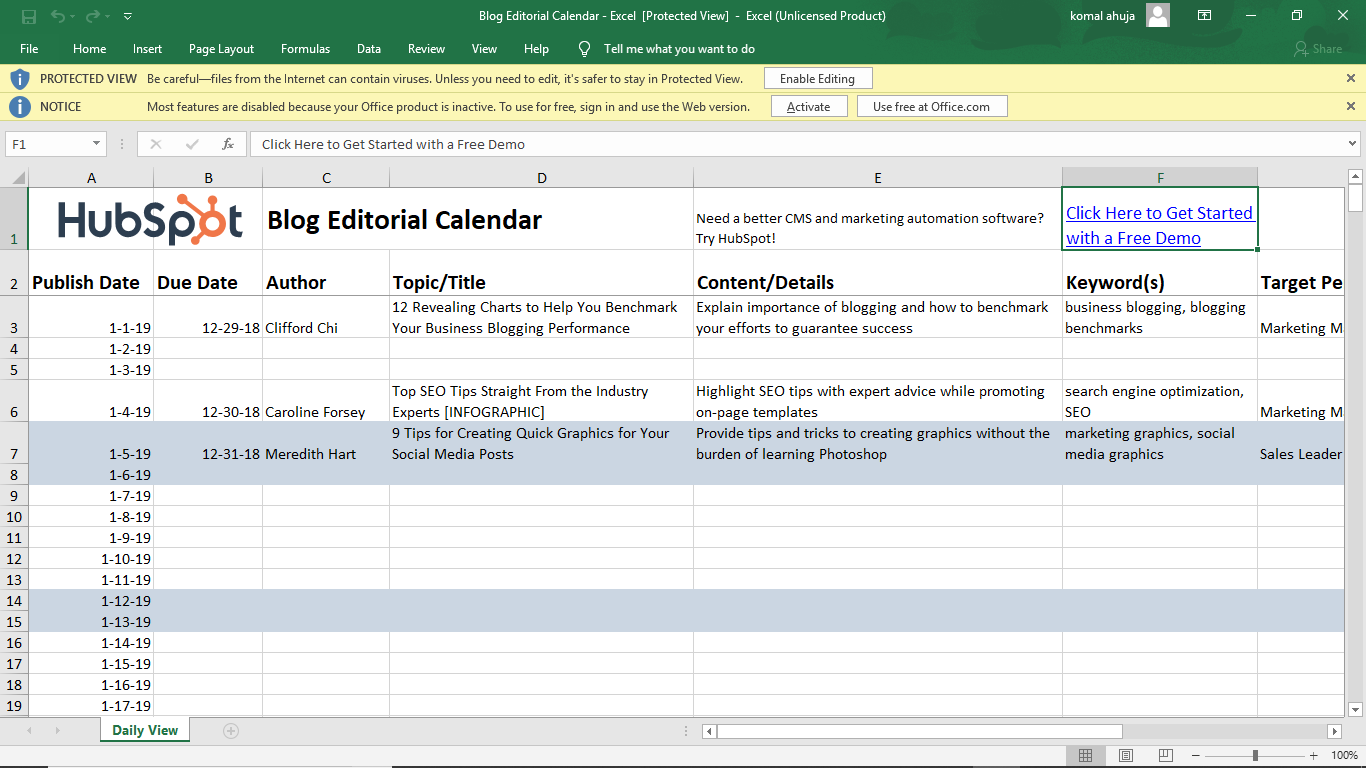 Create your content calendar through Hubspot templates.
5) Create quality content
Source: Cite Ninja Once you're through with planning, it's time to brainstorm content ideas and innovative ways of presenting them to create quality content eventually. Most of the time, brands create content but, it has either less relevance or is a widely common topic. The idea is to create content on topics that no one is talking about and of which your audience is seeking answers. Here are some ways to generate content ideas:
Let Google answer it for you!
Use the Google autofill, people also search for, and related content questions to look for topics that align with your keyword.
Use

Quora

or

AnswerThePublic

to find questions about your industry, take those up and convert them into blog posts, social media content, infographics, ebooks, videos, and guides.

Use

Hubspot's Blog Idea Generator

to look for content ideas for your keywords.
Assess the topics on which your competitor is creating content- don't create similar content but take an idea.

Carry out brainstorming activities with your team to create a list of ideas.
It's also important to evaluate the type of content you want to publish. A number of these include blogs, ebooks, infographics, carousels, videos, social media content, and much more. If your content is fresh, unique, relevant, and adds value to the target audience – it is bound to be a big hit, however, if you really want to strike the right chord, regularly produce and evaluate your content.
6) Distribute and market your content
Image Source Your content calendar is ready, and so your first piece of content is published, but is your work done? No, your main work starts now! Here's how you can distribute your content:
Share a blog post on different social media channels with captions suitable for each platform- 
Facebook – long-form content Instagram – carousels with a short caption LinkedIn – 1300 characters for personal profile and 700 characters for company profile Twitter – 280 characters
Promote cross-promotional content
Example – While posting on LinkedIn, leave the link to your Facebook profile to follow you.
Use email marketing

to distribute content to your subscribers

Use hashtags to get a better reach on Instagram, Twitter, and LinkedIn

Tag influencers on your posts or mention companies to gain their attention, which may lead to a repost inviting a lot of traffic to you
7) Analyze your efforts through content metrics
Image source Analyzing your content's performance is an important aspect of content marketing because it identifies the problems with the current strategy and ways to frame the next one. Some essential content metrics are:
User behavior for the website
Here you may want to see unique page visitors, which tells you how many people follow your call-to-action (CTA), bounce rate, which tells you how relevant your content is for the user and traffic sources, which tells you which platform brings you the most users.
Source: Backlinko
You can analyze this using Google Analytics.
SEO
Here you may want to see backlinks, organic traffic, and keyword ranking – all of which indicate how your website content is performing and if it adds value to the users.
Source: Neil Patel   You can analyze this using Neil Patel's SEO Analyser.
Engagement on social media
Here you may want to see likes, comments, and shares which will tell you what type of content is the most relevant to the users.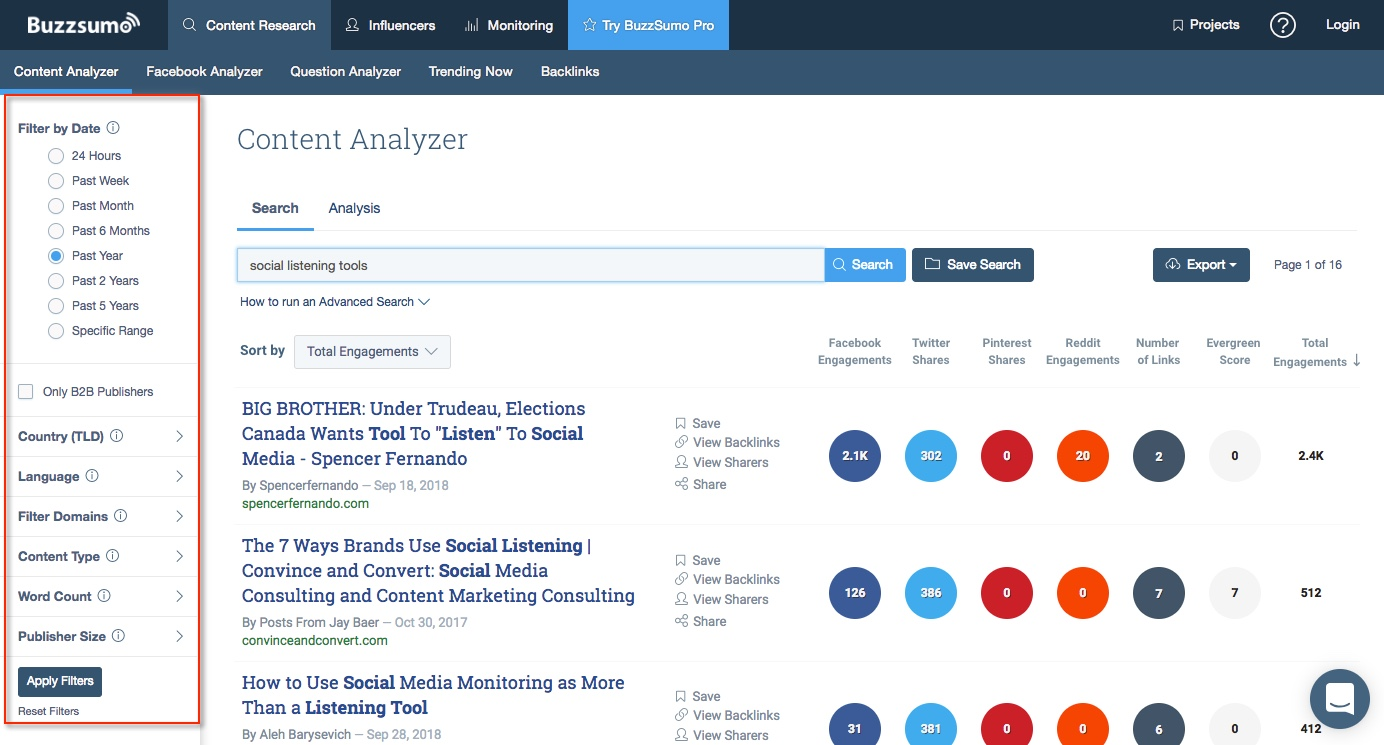 Source: Search Engine Journal   You can analyze this using BuzzSumo.
Lead Conversions
Perhaps one of the most important metrics is assessing the number of leads, conversion rates, and ROI. These tell you if the user finds your product/service worth buying through your content efforts and how you can improve or adjust your strategy.
Source: Avidly    Content marketing is a long-term project, and it requires consistency and persistence.  The key is to keep experimenting and adjusting the strategy to ace your marketing efforts through content. Here are some additional sources to help you with content marketing: Best sales tools Best email builders Cold email softwares B2B content marketing tactics
Aligning your Social Strategy with Content Marketing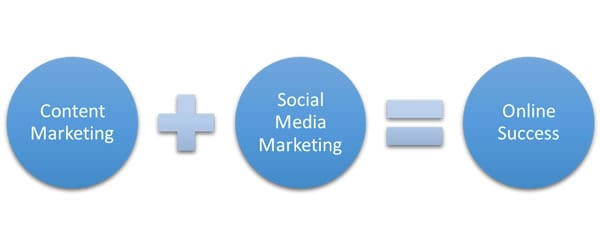 Image Source You have an ideal social media and content marketing strategy: you have it already through thorough research and actions based on the analysis. Now what? Social media and content marketing complement each other: social media is incomplete without content, and content marketing is incomplete without its distribution on social media channels. Both of them are powerful sources of marketing, capable of driving immense traffic to your website and turning prospects into leads. Businesses have recently started doing this, but the ones who succeed have their social strategy in line with content marketing strategy and hiring a great content strategy consulting agency. You can be one of them, read on! Best practices to keep your social strategy and content strategy in line:
1) Define your brand voice
Source: Hostgator   Your brand DNA is your brand voice and tone backed by three questions: What, why and for whom It's important to define and develop this brand voice because this is the tone in which you convey your thoughts, values, and ideas to the public.  Every brand has a unique brand voice that separates them from their competitors. However, it's imperative that this voice is consistent across all channels so the audience can recognize you. Example: Apple's tagline says 'Think Different'. Their tone right from an advertisement to a TikTok ad is confident, cool, progressive, and different. Brand voice is a representation of your brand and walks through each piece of content, from a pitching email to a WhatsApp forward. So, how can you define your brand voice?
Your brand voice depends on your target audience
For example – If you're communicating with an older audience, your brand voice would be empathetic, supportive, and understanding, while if you're communicating with millennials, it would be young, energized, and cool.
Source: Search Engine Journal   The purpose of this is to maximize user relatability with the brand.
Once you identify your brand voice, document it, and convey it to your team so your content displayed on any platform sounds the same – just like you. For this, you must create a style guide for reference.
Image Source   This is an example of Nike's commercial which portrays its brand voice. To establish a digital presence in a way in which your audience recognizes your brand just by the use of words and tone is necessary to stand out, so its consistency along the length and breadth of content and social media is necessary.
2) Repurpose your content
Let's face it, you can't create content all the time and not all your posts can have an equal engagement, so what can you do? Repurpose your existing content, take up the best performing contents, and convert them into different formats to present it either to the same audience again or to a different audience. Here are some content repurposing ideas:
Alter your LinkedIn post into a carousel for Instagram because it's a visual-heavy platform.

Convert a cluster of blog posts into an ebook, so your audience can download it
Convert your 'how-tos' or 'tips for' articles into checklists and cheatsheet for increased user efficiency
Conduct live webinars on your existing blog articles

Create videos from carousels to make it live on YouTube

Convert your videos into podcasts which people can listen to any time they want
Look at this content repurposing framework by Kapost. You can convert a single piece of content in several formats through content repurposing.  This is helpful because it can present your top-performing content in a different format, increase your range across platforms and build authority through immense value addition Read Buffer's Ultimate Guide to Repurposing Content to understand more about this.
3) Re-target your content 
Not all your users will enjoy the same content, but perhaps there are some who may be in dire need to come across it. How do you present yourself in such a situation? This is where retargeting comes into play. It is a way of showing your content in the form of ads to users based on their previous search or page visits.  Through this, you can share relevant content to users who are looking at solutions you aim to provide, thus establishing your brand as a thought leader and converting prospects into customers But how can you do this? One of the simplest ways of doing this is through Facebook.  When you share a blog on Facebook, you can see who read it and thus, re-target your content to the audience. This is an example of Twitter Retargeting by the Kelly Blue Book.
4) Cross-promote content on social media
A highly effective way of promoting content while creating an audience on all social media platforms is cross-promotion. This is a simple technique of linking one platform to another.
Add social sharing buttons on your websites and link your website to your social media channels
Example: If you have written a blog on how to start your own business, you may have a link to a YouTube video talking about a similar topic embedded in it. Likewise, in the YouTube video description, you may insert the blog link for further reference.

Source: Econsultancy
Another example could be to post carousels on social media channels about an ebook on your website or linking social media channels; for e.g. posting the Instagram link on LinkedIn and so on.
However, while cross-promoting content, follow the 80/20 rule: 80% of content should be useful to the readers and 20% of the content should be promotional.
An example of a cross-promotion framework by Orbit Media, you can try many versions of this. The advantage of cross-promotion is that it helps increase brand visibility, making it easier for your prospects to find you.
5) Use tools to make your process efficient
Source: Marketing Land Creating, publishing, distributing, and analyzing content can be quite tedious if you want to do it exponentially.  For this purpose, there are many tools which can help you increase efficiency while keeping your content creation and distribution strategy on social media intact:
Team communication is a hefty process, consider using

communication tools

to avoid missing out on important discussions and details.

Track the work done by your team through a to-do list on

Trello

.

Social Media Scheduling through

Hootsuite

Designing tools like

Canva

to make a blog poster, infographic or carousel
These tools will help fasten the process and are quite easy to use.
6) Analyze content metrics and social engagements 
Data analysis is an essential part of strengthening your strategy to drive more than 10k traffic to your websites. This analysis will give you a heads up for optimizing content and introducing changes in your strategy. The metrics are easy to analyze, as mentioned in content strategy and social media strategy: Website Metrics – unique page views, pages per session, bounce rate and traffic source
Image Source Engagement Metrics – clicks, shares, and follower count
Image Source   Overall – number of leads, conversion rate, ROI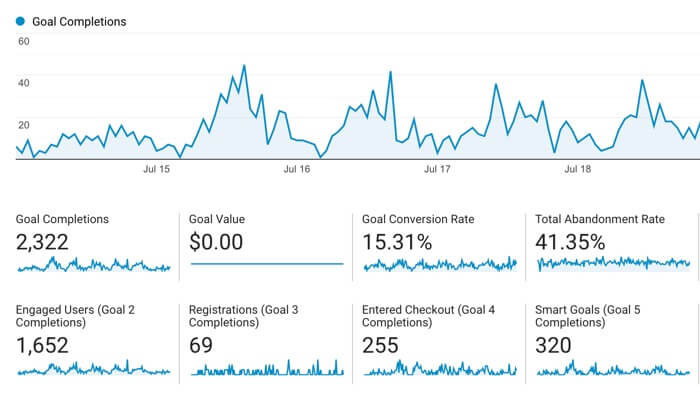 Image Source   This is the most important part of the strategy because it will give you an idea about what your audience likes to read and how to relate to different social media strategies. For example – The same content may have higher engagement on Instagram through carousels than on Twitter through text. The key is to identify the gaps and fill them, to give the audience what they want and where they want to maximize your efforts so people give in to the CTA.
7) Revise your strategy 
Source: Mumbrell Asia No one strategy is perfect. Every day, someone new will enter the market, claiming to provide a better alternative to your product/service, so it's imperative you keep changing, and experimenting with your strategy. Analyze and revise it every two months to keep the 'oomph' factor rolling while staying true to the brand voice. Find new and innovative ways to create and share content, including webinars, conferences, and meetings. Collaborate and interact with people in your industry and with your audience. Find the right balance between your social and content strategy and hit it with all your force.
Wrapping it up
Social media and content marketing are ongoing, and you need to be consistent in optimizing your efforts: some may see success in 6 months while others in 1 year. The 21st Century no longer sees content and marketing as a one-way street like back in the day, when content was displayed on the TV in the form of advertisements or videos and all you could do was watch, being on the other side of it.  It has successfully evolved into a 2-way street where people can make or break your brand image through your content on social media because it has given birth to conversation and discussions.  Use this force to your advantage by not just selling and promoting but giving and receiving.  Aim at adding value to your audience through content, enriching their experience with something new, and goes a long way. Good luck! Author bio: Dhruv is a Content Marketer. He likes reading up on the latest digital marketing and social media trends. When not sleuthing for tips, he is chiseling his fitness-goals and traveling around the world.