IKEA is doing it, Copyblogger is doing it, and Coca-Cola has also been talking about it for more than a decade now. So, you can see that it's a no-brainer right?
Sure you know what we're trying to talk about right?
Even as the think pieces stack up, the term content marketing remains exasperatingly ambiguous.
To recap, we'll define content marketing as a means of communicating with your audience in a way that they'll enjoy paying attention to and a style that proves to them that you're the best person to do business with.
The duo factors stated above can be a little complicated to execute.
So, today we're offering you a FREE Content Marketing Checklist that'll help you to build your content marketing on the right foundation and have the right framework to carve out an effective program.
Read on!
Create Valuable Contents
Today's consumers are staring at an invitation avalanche, with every company requesting follows, clicks, attention, and likes. There are just two ways for companies to stand out in an environment that is unparalleled in its cacophony and competitiveness. They can be "useful," or they can be "amazing."
Amazing is hard to do. So instead of trying to create a breakout meme or make the next viral video, it'll be good to focus on creating content that'll be of value to your target audience. You can specifically create content in the following three overlapping categories
Entertaining Content: just like laughter, emotion, and joy, entertaining contents have value.
Informative Content: your goal here is to help your audience to acquire a new perspective or, new skills or provide them with useful contents that'll help them to make an informed and better decision.
Useful Content: this is more like a "how-to" post, an interactive tool or a guide of some kind. Here, you aim to help your audience to either learn a skill or complete a task.
Build A Content Hub
In a way, content marketing ought to directly connect your business with prospects and customers, even without the assistance of an intermediary. Hence, you'll want to create a content hub for your brand where you can post all your great works rather than using a third-party site.
Before you create any piece of content for your brand, it's advisable to think about where the content will be published and how the audience will access it.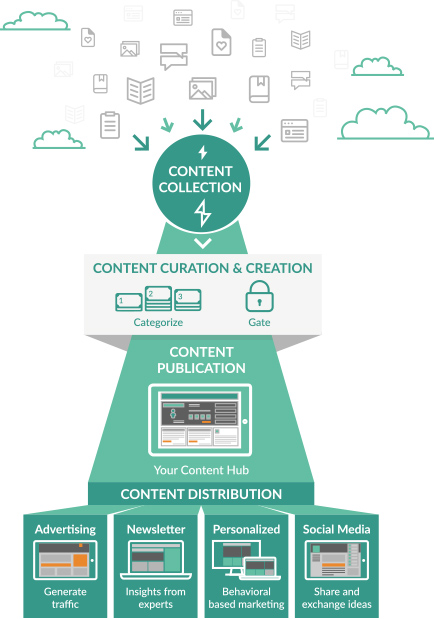 Effective content marketing comes with tons of work. You'll need the thought, time and energy to create unique content. Almost each of your contents should be published on a domain that you can control, i.e. YrCharisma Website.
Meaning, you're not publishing the bulk of your original and creative content on Medium or LinkedIn (even though you can still get excellent benefits from these platforms by syndicating your content there after you've already published it on your site)
You're also not publishing on some "create fast website" solutions that force you to make use of someone else's domain.
You can undeniably use social media sites like LinkedIn and Facebook to cultivate customer relationships and get the word out about the content that you create. They can work exquisitely for such purposes, but it's a perilous mistake to build your entire business there- it can end up costing you hours or years of lost work.
Make The Content Accessible
As a content marketer, one of the things you'll possibly hear about is how to reach out to as many persons as possible, i.e. finding your target audience and reaching out to them through social media conversation and the optimization of content for search engines.
Nevertheless, there's another alternative to maximizing your reach through web accessibility- a practice of ensuring that your current and potential customers who're having disabilities can both access and relate with your contents. Web accessibility is a must for content marketing and it's all centered around being inclusive.
To get an introduction to web accessibility, you can check out the World Wide Web Consortium.
Integrate SEO
SEO and content marketing are two interrelated disciplines. They both seek to comprehend what's crucial to the target audience. They both try to attract and engage a target audience of potential customers, and they both work best when they're focused on the provision of real value.
Now you might want to ask, how then do these two essential marketing techniques differ and how can they be integrated? Well, try having a thought about a sandwich.
That's how Lee Odden described the relationship between SEO and content marketing in an article for the Content Marketing Institute.
Think of it this way: if a customer-driven content marketing program is the sandwich, then search engine optimization is the mayonnaise that touches virtually everything and enriches the overall taste of the sandwich.
Try to integrate SEO into your content marketing programs. Also, try as much as possible to leverage technical SEO practices in your content marketing hub.
Connect With Consumers
Content marketing should be the initiator of customer relationships. Rather than just being your consumers, you'd want your audience to be participants in your business.
It's cool to give them an opportunity to participate. You can consider offering email subscriptions, embed links to your products in relevant and suitable content, or you can merely feature your products using an interactive video.
Don't Go Too Long/Far Without Making An Offer
If you're talking about content marketing, then you can't forget about the marketing aspect.
If your content is meant to support a business, then it'll be nice to ensure that your customers are entirely aware of what the business is all about.
You can make use of well-crafted landing pages to explain your products and services in a way that makes it very easy to buy. With this, your prospect will get to focus on your site. The landing pages will also help keep the "selling" in its own selected zone, away from your main content.
Whatever your offers may be, try to ensure that it's something that your audience essentially want (not just what you think will be cool for them). In addition to that, try to deliver a simple and clear call to action.
In Conclusion, content marketing checklists are indispensable and they come in handy to ensure that your work is effective and efficient. Almost all projects can be broken down into a list of steps and following these steps will ensure that your projects are appropriately done at all time.
Now that you have all the checklist needed to keep all your marketing projects structured and systematically completed, you can go ahead and become an organizational master! Check out this amazing video marketing checklist for 2022!
If you have any questions concerning the checklist, you can leave a comment below.