Last Updated: March 2020
Have you heard about the enormous amount of follower growth that Instagram Influencers are receiving when performing shoutouts? To understand this, you must first know the power of Shoutouts on Instagram and just how effective they are to scale your Instagram following.
What Is a Shoutout on Instagram?
Can you really buy & sell space on your Instagram account to make money? The answer is yes! People are willing to pay big money to have their content show up on some very influential feeds.
Here's how Buying & Selling Instagram Shoutouts work:
Consider two diverse Instagram accounts who are struggling to build their following. The two accounts consent to sharing the other's content on their Instagram feed. The content then drives the audience to the other Instagram account where they will hopefully like, follow & subscribe.
In most situations, Shoutouts consist of photos or videos that drive the audience to the other Instagram account. However, there are no constraints as to the type of shoutout one can provide. For example, there are Bio-Link Shoutouts, Story Shoutouts, Verbal Shoutouts, etc.
TV Ads are Dead, Instagram is the New Ad Platform
If you have been following along with our weekly blog post, you know that the end-user attention is shifting. T.V. and radio were once the dominant platforms for advertising, but they're slowly fading away as new platforms take control.
With more and more people spending vastly more time on their social media, brands and business are spending less on T.V. or radio ads. While spending more on collaborating with Instagram Influencers.
Just below we are going to cover, Buying & Selling Instagram Shoutouts, How Instagram has become the Engagement Marketplace. 
Instagram Influencer Marketing is Growing!
Instagram Influencers are hitting celebrity status and brands are taking advantage! Over the past couple of years, there has been a massive influx of capital into Influencer Marketing.
The reason behind this is that Instagram Influencers cultivate highly active & engaged communities. They spend countless hours communicating, engaging and connecting with their followers on a personal level. Something brands/businesses have a hard time doing.
Instagram Influencers give followers a real person to talk to, they're communicating with someone instead of something. This is why businesses believe they get better customers from Influencer Marketing Campaigns. These leads have been nurtured greatly by the Instagram Influencer.
Another reason why businesses/brands are spending more on Influencers is that they can reach new audiences in a unique way. With most promotional posts or brand-sponsored content, Instagram Influencers have creative control. After all, Influencers know their audience the best and want kind of content they best respond to.
This is huge for brands and businesses. Rather than having to spend capital to create different pieces of promotional content. They get the full advertising package when they use Instagram Influencers!
Instagram Shoutouts are Severely Underpriced!
You read that right, Instagram Shoutouts are currently severely underpriced! Do not miss your chance to grab cheap promotional ad space on extremely influential accounts. Even though there is a massive influx of capital moving into Influencer Marketing, the overall price for Instagram Shoutouts are going at a steal rate!
This is due in part because there are so many new Instagram Influencers that Buy & Sell Instagram Shoutouts up each day. As more and more influencers jump online, they're constantly underbidding one another to get more clients. In some cases, Influencers are willing to be paid in merchandise rather than capital. This means brands & businesses are paying less and reaching more.
However, this trend of low price promotions is not going to last. As Instagram Influencers start to wisen up and see how valuable their attention is, you can expect to see the price per Instagram Shoutout to rise dramatically.
I'm an Influencer, How Do I Sell Shoutouts?
Do you have a following that you would like to monetize? Did you know you can host your account on the Your Charisma Shoutout Platform and get access to a community of active marketers looking for influencers just like you? Getting started is easy, simply click here!
Are you an influencer, looking to start Buying & Selling Instagram Shoutouts?
How to Sell Shoutouts on an Influencer Marketing Platform or Engagement Marketplace:
If you want to start selling your ad space on an influencer marketing platform, check out this extensive list of the best influencer marketing platforms.
Getting started on most of these platforms is as easy as setting up your first instagram profile. It's fast, simple and helps you get paid fast! For most influencers finding brands to sponsor can be the hardest part, but thanks to these platforms there is a plethora of business to share with all the influencers.
How to Sell Shoutouts on Instagram:
It's easy, simply make your services visible to start gaining new clients! This means writing content in your bio to inform new visitors that you offer promotions.
Make an Instagram Story Highlight that outlines all your services in a "restaurant menu" style. Here are some examples listed below: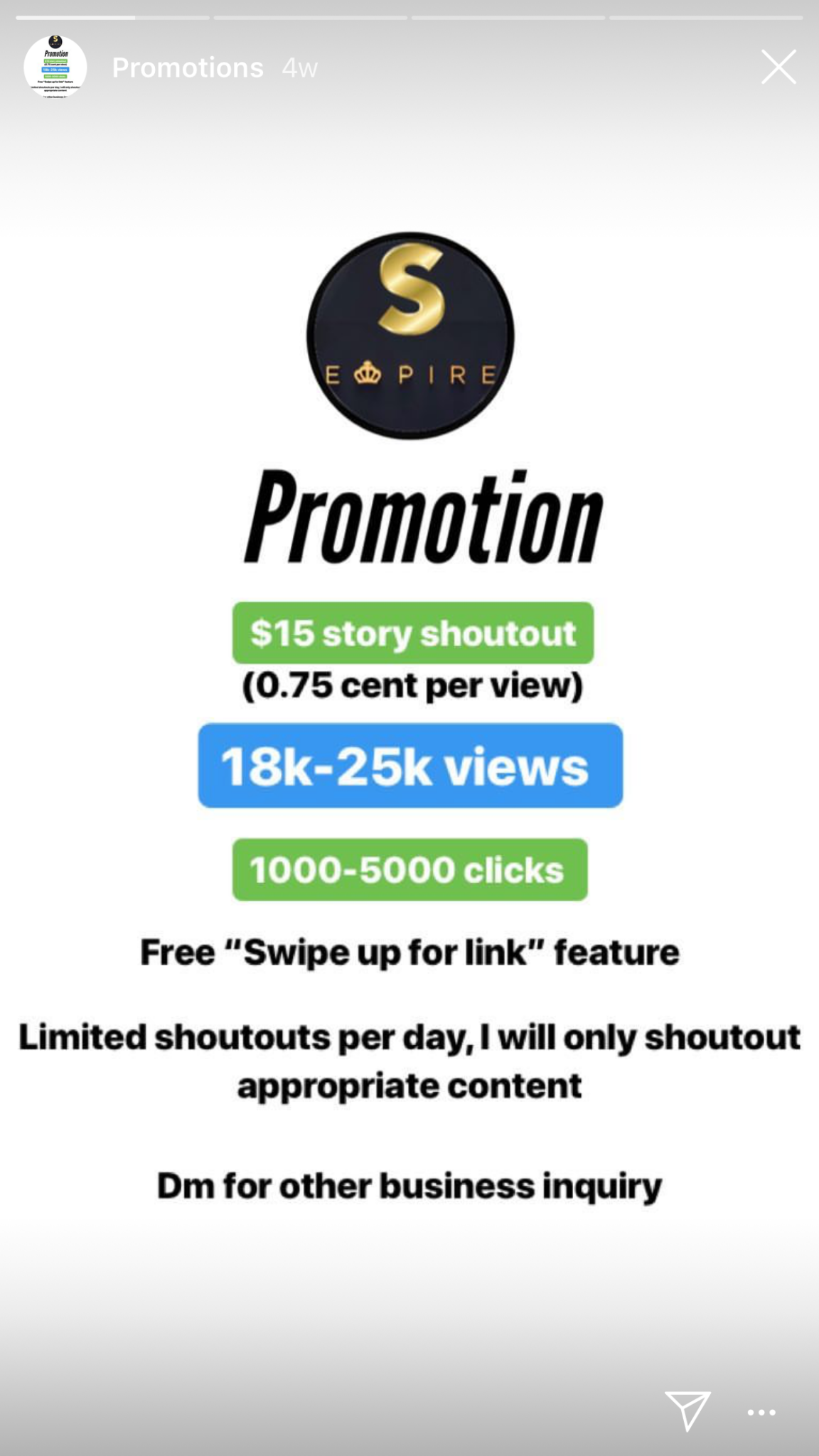 I Don't Think Any Brand Will Pay to Be On My Page
It doesn't take a million followers to become a successful Instagram Influencer. In order to start monetizing your following, you need to have a high Engagement Rate. Having a high engagement rate signifies to brands or businesses that you have gained the attention of your community, they are both active & engaged and can Buy & Sell Instagram Shoutouts.
Businesses are not purchasing promotional space on Influencers' pages because they have a high follower count. They're spending money on influencers because they have the attention and trust of the end-user. Something businesses struggle with attaining on a personal level with all of their customers. It is almost impossible to build that kind of relationship with every customer.
However, thanks to Instagram Influencers, businesses & brands can use the personal connection that's already been established as a means for marketing. So in short, it's not about the follower count, it's about the attention that your account has.
Who you know can be extremely ground-breaking. I've seen immense records on Instagram with a huge number of devotees advance each other with Buying & Selling Instagram Shoutouts a few times each week, ceaselessly.
What's more, recall that despite the fact that enormous numbers look extraordinary, genuine commitment from dynamic devotees is the main thing. Be aware of giving superb substance to your Instagram people group, and you'll have no issue with keeping them keen on tailing you.