Heard of the new social platform that is taking the scene by storm, TikTok? Looking for a way to utilize TikTok to reach new audiences for your business or brand?
You're in luck! In this article, we'll show you different ways brands are using TikTok to reach new audiences online.
For starters, we'll like to state that TikTok's popularity is continuously increasing, and many people are now downloading the trending application to learn what it's all about.
Marketers are also now using it to promote their products and/or services.
Influencers have made their mark on YouTube and Instagram, with 70% and 89% of users on these platforms, respectively.
It's fair to assume that these social media channels will be the platforms of choice for marketers and influencers in the coming months, but then, it's also essential to look forward to the channels the next generation will use (or are already using).
That's where TikTok comes in handy.
Currently, TikTok is unavoidable, especially when it comes to targeting the Gen Z audience.
Over the past years, the platform has exploded onto the scene, with over 800 million monthly active users (with 69% of them between the ages of 16 and 24).
Given the app's popularity with younger audiences, it is evident why brands have been paying very close attention to TikTok.
More so, there seems to be no way for marketers and advertisers to bypass the platform.
Even though businesses understand that TikTok is the preferred platform by the Gen-Z demographics, many brands don't know how to make the most of it when it comes to advertising their products and/or services.
We've rounded up some brands that have figured out how to make the most of TikTok and are using it to tap into the next generation of consumers.
Let's get into the business of the day.
[et_bloom_inline optin_id="optin_20″]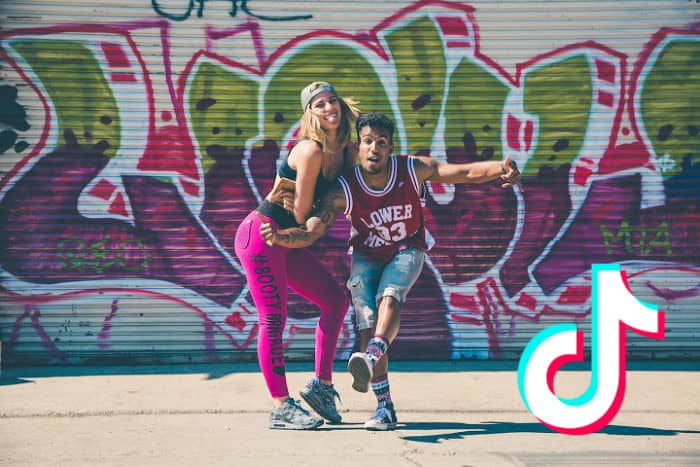 HOW BRANDS ARE USING TIKTOK
Here are top brands that are doing exceptionally well on TikTok:
1. NBA
The NBA was one of the early adopters of TikTok. They consistently put out exclusive and unique content on the platform, and they've been able to rack up a whopping 5.5 million followers on the app.
One of the strongest suits of the NBA is that they always keep things funny.
Their account mixes game highlights with inspirational quotes and music montages. Another great strategy employed by the NBA is that they don't focus solely on games and stats alone. They use TikTok's musical features to lighten up their brand and also to make their athletes more relatable.
One key lesson to learn from the NBA is that it pays for brands to show off a more personal side of their business. People are more likely to relate to brands that show a more personal side of their business.
For instance, if a restaurant's TikTok account post hilarious videos of waiters dancing, viewers might think that the brand has a happy and pleasant staff.
This singular act might persuade more people to eat there because they'd want to have a dining experience accompanied by positive vibes and fun waiters.
2. CHIPOTLE
Chiptole is another brand that does an excellent job of sharing on-brand and original content with its audience while also optimizing TikTok's features.
They publish many posts that use memes, music, and other pointers to highlight menu items.
Even though it can be difficult to make your challenge go viral, posting or encouraging one (especially when it has to do with your products) can help you to spread brand awareness.
It also allows you to reach out to potential new audiences interactively and interestingly.
Chipotle was able to create a massive viral TikTok Marketing Campaign with the use of Avocado Day. The fast-food chain was able to start a dance challenge on TikTok using the hashtag #GuacDance Challenge. The challenge urged Guac Lovers to create a dance that was dedicated to the fruit. It sounds too simple to yield good results, right?
Chipotle received 250,000 video submissions and 430 million video starts. Not only that, the campaign was one of TikTok's highest performing brand challenges in the US! The push things further, Chipotle's avocado usage jumped 68% to 18,500 cases of the fruit for National Avocado Day.
If you're a food brand and you're confused about creating content for TikTok, then you can draw some inspiration from Chipotle.
HP:
HP has posted only a few videos, and their profile isn't anything special. But then, they hosted a unique hashtag challenge called #HPCoachellaDreamland at Coachella this year.
They collaborated with many famous TikTok influencers to help promote the contest. The largest amongst the influencers were OurFire (who had around 5.3 million fans).
The goal of the campaign was to make TikTok users aware of the brand. While at the same time showing it through an inspirational & uplifting lense. The music in the background helped push these emotions into the viewer's mind.
A key takeaway from this campaign is that the use of popular events and influencers can help to create a viral brand challenge. The reason for this is that there is already so much attention on both that your brand is able to generate a massive amount of traction with little effort. In the end, the branded hashtag challenge video had over 176 million views.
One negative aspect of relying solely on influencers to promote your brand challenge is that the growth of your community will be minimal at best. The reason for this is that all the views, shares, comments, & likes are all kept on the TikTok influencers page. Thus allowing them to garner all of the attention from the campaign.
Although HP was able to create massive viral awareness for its brand challenge, however, their overall following currently is around 3k on TikTok.
3. THE WASHINGTON POST
If there's a brand that's killing it on TikTok, then it's the Washington Post. They've taken a subtle approach to creating short-form, original video content on TikTok.
Most of their videos are filmed within their offices or at political events. Their TikTok videos typically feature the staff and journalists. A firm indication that you don't necessarily need millions of naira to create content on TikTok.
The Washington Post should be a model for any corporate business looking to breach social platforms with fury. The Washington Post has displayed how brands can succeed on social media by engaging directly with their target audience.
Their posts are appropriately funny, pleasant, and show the real persons behind the hard journalism. They are able to bring a humorous and comedic relief to the ever intensely stressful political realm.
Their humor is appropriate for both Older & younger generations because of the content they use. They are able to use video content that relates more to the politically involved older generation. While utilizing memes & songs that relate to the younger generation. Whether your old or young, the Washington Post is able to captivate you with their hilarious videos.
If your brand is in academia, publishing, or related industries, you can always test out a video strategy that displays your lighter side.
That'll help you to gain attention from new audiences and also make your brand and content less intimidating.
You can check out the Washington Post profile here.
4. GUESS
Even though Guess has posted only seven videos, they already have about 38,000 followers. They were the very first fashion brand to launch a challenge on TikTok.
Their content is excellent, and they partnered with TikTok to run a contest on the platform using the #InMyDenim hashtag. In the contest, users were encouraged to film themselves in beautiful places while wearing the new denim line from Guess.
Guess hasn't done much experimentation on TikTok, but they were able to prove how TikTok could rapidly spread product-based awareness.
Challenges like the #InMyDenim could also tempt customers who might see an outfit and pick up interest in the outfit.
Fashion companies and brands can also employ the same strategy used by Guess to sell visually exciting products.
For instance, a brand that wants to sell a new line of spinning chairs might launch a contest called #SpinnyChairChallenge, where participants can spin in one of the brand's chairs to a song.
Contents like this can help to spread the awareness about a brand. It might also entice some other persons to purchase the chairs for their office.
You can always access Guess TikTok profile here.
5. SAN DIEGO ZOO
Who doesn't love cute and beautiful animals?
Well, everyone does, and the San Diego Zoo was able to leverage this popularly-known fact.
They only began to post videos a few months ago, but their videos are inspiring and great.
Imagine what it'd feel like to watch a baby elephant playing with its mom. How about a baby cheetah licking a bloodsicle or the video of a lounging meerkat?
You definitely can't beat that.
As if that wasn't enough, the San Diego Zoo also dueted other friendly accounts like the Monetary Aquarium.
One important aspect of showcasing the animals is that it helps make social users attached to the animals. Don't you remember all those animal charities, where you donate money to adopt an endangered animal overseas? You never touched the animal or visited, but you felt as if that animal belonged to you because you could watch it day and night through live webcams.
This same mentality is being applied to the animals at the San Diego Zoo. Through the use of social platforms, the Zoo can help make social users more attached to animals. Which in turn will increase the number of visits per year, people love to visit their favorite influencers – even if their animals. This singular strategy makes the San Diego Zoo more appealing to fans.
The San Diego Zoo is a perfect example of a brand that rapidly identified a suitable platform and embraced it.
In the long run, employing this kind of strategy would pay you more and be more productive than spending much time on social media platforms that make no sense for your fan-base or industry.
OPTIONS FOR TIKTOK ADVERTISING

Marketing on TikTok is much simpler than you'd think, and TikTok users have higher engagement rates than other social media apps.
On average, TikTok users spend at least 52 minutes on the app every day. This is higher than Snapchat, Instagram, or Facebook, which are all around 30 minutes.
At the moment, TikTok's commercial platform is only available in beta mode for selected brands. Though, very soon, everyone can be able to access the self-serve ads.
When that's achieved, brands can choose any of the following forms of advertisement on TikTok:
Brand Takeover
Hashtag challenge
In-feed native video
Custom influencer and
Branded lens/effect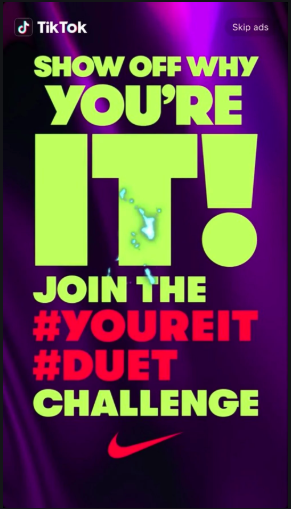 BRAND TAKEOVER:
A brand takeover is a full-screen ad that's displayed whenever a user opens TikTok for the first time. It's either a three-to-five second GIF or a three-second image.
In a brand takeover, the ad can be linked to a hashtag challenge within TikTok or a brand's landing page.
The takeovers are exclusive and preserved for different categories each day. Also, only a single brand can take over a category in a day.
A brand takeover is an advertisement option that's perfect for maximum reach and exposure because it uses full-screen mode, brands can use it to draw their user's attention.
HASHTAG CHALLENGE:
Another great way to advertise on TikTok is by launching a hashtag challenge.
You can do that by creating a video, selecting a song that'll accompany the video, and then challenging users to add their individual touch by recording themselves dancing to famous songs.
TikTok also allows brands to sponsor their challenges. In such cases, the challenge will be hosted on the discovery page for six days. Thus, providing the opportunity for maximum engagement and reach.
IN-FEED NATIVE VIDEO:
Just as it works on Instagram, users can also browse content on TikTok and see what other users are posting. In-feed native video ads are made up of native video, which pops us anytime a user is exploring posted content.
The native video is typically full-screen, 15 seconds long, and it can also have a musical background.
In-feed native video is an excellent advertising option that brands can use to improve brand awareness, gain exposure, and also call users to action through the CTA section.
CUSTOM INFLUENCER:
Much like Instagram, TikTok also has influencers with a massive number of followers. These influencers are superstars, and they create unique content to inspire their audience.
Now, let's consider it as an avenue for an advertisement: brands can always partner with influencers to gain more exposure. But then, it's achievable only when a brand works with an influencer whose target demographics match the brand.
In some extreme cases, brands can also organize influencer partnerships through the app itself.
BRANDED LENSES/EFFECT:
Users can use their smartphones to completely change their environment and create amazing things like animated objects and creative face filters.
TikTok allows brands to create and also use Augmented Reality (AR), 2D, and 3D on the platform.
With branded lenses and effects, users can virtually interact with and play with a brand by using their filters.
It also increases a user's willingness to purchase certain products by allowing them to test products even before purchase.
When the branded lens is integrated with a hashtag challenge, a brand can easily forge a stronger bond or products.
WHAT CAN YOU DO WITH TIKTOK?
Outlined below is a point-by-point overview of the main things you can do with TikTok:
Music:
TikTok's integration with Apple Music and its extensive music library is where the app stands out above other social media platforms.
You can remix, add, save, and discover sounds and songs via videos, playlists, and more.
In the words of Genius, TikTok is an indispensable tool that can help tracks to climb the charts.
Videos:                               
At the center of TikTok's experience is the ability to watch and create videos. You can upload slideshows and videos or create in-app videos with timers, start and stop recording, and other effects.
Interactions:
TikTok users can comments, give hearts, share videos, or follow accounts they enjoy.
Effects, sounds, hashtags, and videos can also be added to a user's preferred section.
Profiles:
The user profile displays the number of heart's content has received.
Just as it works on Instagram and Twitter, official TikTok accounts have blue checkmarks. Furthermore, famous TikTok creators have orange checkmarks on their profile.
Video Editing:
Whenever you're creating a post on TikTok, you can apply time effects, transitions, split screens, emoji, GIFs, visual effects, and other effects.
Live Streaming:
TikTok allows some users to stream videos in real-time.
Virtual Money:
TikTok users can purchase coins and give to creators. The price for 100 coins is $1.39, while 10,000 coins go for $139.00.
CONCLUSION
Here's a recap of what we talked about in this article:
How brands are using TikTok
Options for TikTok advertising and
What you can do with TikTok
If you're not on TikTok yet, we advise you to check out the app.
Even though the audience on TikTok is continuously growing, it's still a relatively low-cost and untapped advertising channel (at least for now). So, it's best to strike while the iron is hot.
From partnering with influencers to creating a challenge, TikTok has many opportunities for brands that are looking to reach out to the next generation.
We hope that you enjoyed the examples in this article, and you were able to learn something new.
It's now over to you.
What are your thoughts? In your opinion, how are brands using TikTok? What other TikTok advertising options do you know? ," please sound off your views in the comment section below.