Getting a website is a great way to boost your online presence. Whether you're an entrepreneur, photographer, student, or writer, getting your own website is no longer overwhelming. With the help of a website builder, you can generate your own site without coding. However, choosing the best website builder can be exhausting. Therefore, we'll share with you the top 10 best website builders in 2021 throughout this article. Keep reading!

1. Zyro
Zyro is a website builder offering many features. Besides providing its special AI features like an SEO-friendly AI Writer and AI Heatmap, and numerous mobile-responsive templates. 
If you're new to website design, don't worry. Zyro's intuitive editor uses a grid system, making it easy to drag-drop the elements you want to customize. 
In terms of integration, Zyro includes Cloudflare with all plans to complement the site's performance along with an included free SSL certificate to encrypt data moving between your site and its visitors.
For eCommerce sites, Zyro integrates Google Analytics, Google Tag Manager, and Hotjar. These extensions help analyze your customer behavior easier. Other eCommerce features include multiple payment options, inventory management, and automated paperwork.
Zyro is an excellent choice for first-timers due to its ease of use. Also, Zyro is affordable. Thus, it can help startups and SMBs save a lot of bang for their bucks. 
2. Wix
Wix is well-known for giving complete design freedom. Therefore, if you're an aspiring designer who loves to experiment, Wix can be your new best friend. 
Wix has an extensive template library packing more than 500 designs. The Wix Artificial Design Intelligence is also an excellent tool that streamlines website design for those who want a beautiful site ASAP. Answer some questions, and Wix will generate a website based on your responses.
However, using Wix means you're ready to stretch your wallet a little farther. Wix has no free plan, and the cheapest one doesn't pack site boost and analytics tools. 
Wix is ideal for a wide range of simple websites. Beginners can take advantage of its ease of use, whereas professionals can benefit from the design freedom Wix facilitates.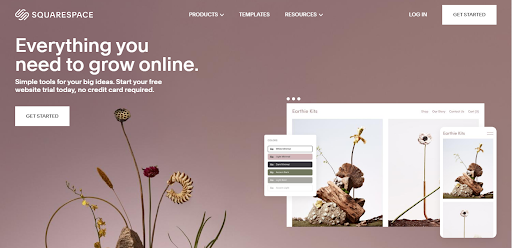 3. Squarespace
If you're a fan of clean design with lots of white space, Squarespace can be the right choice. 
A great feature the website builder offers is the Squarespace mobile app. Get this app on your iOS or Android mobile phones, and you can customize your site on the go. 
Squarespace comprises tons of eCommerce extension integrations, like ShipBob, TaxJar, and Outfy. For blogs and websites, Squarespace facilitates analytics and SEO tools.
One of the problems is that it doesn't have a free plan. The editor page is also a little overwhelming to work with, as not all elements are free to edit.
Squarespace works best for eCommerce sites. But, blogs and portfolio websites can also take advantage of this website builder.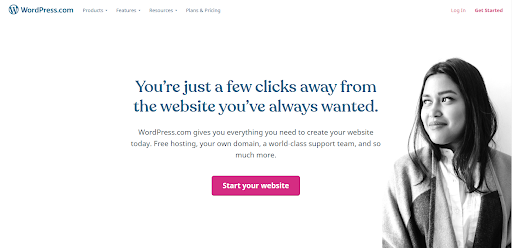 4. WordPress
While not exactly a website builder, this CMS is one of the most trusted and used platforms for website creation ever made. And, big brands such as Spotify, CNN, and TIME allow WordPress to run their sites. 
WordPress has an extensive range of templates that will run seamlessly on every device. Therefore, if you're going mobile-first, WordPress can serve you well.
Before committing to WordPress, you can test-drive it with the Free plan. You get pre-installed Jetpack and SSL. 
However, WordPress uses a form-based editor. Thus, you won't get the drag-and-drop feature. Instead, you'll use the WordPress dashboard and utilize themes and plugins to add features and change the looks of your site. If you're not familiar with it, customizing your site can be time-consuming. If you want more traditional website builder features, you'll need to install a builder plugin like Elementor or Beaver Builder.
Additionally, it's worth noting that if you want really complex integrations, you will need to learn a bit about coding and database management. However, if you want some more freedom when choosing what resources your website has you're in luck. 
WordPress can be used with almost any hosting provider under the sun, meaning you don't need to use the services provided by WordPress.com. Instead, you can download the CMS from WordPress.org and upload it to your server, which enables you to use affordable shared hosting options, or incredibly powerful cloud or dedicated hosting services.
5. Shopify
Shopify is an A-list solution for business owners. It packs all-in-one eCommerce built-in features, such as Shopify Payments, Shopify POS, and Shopify Augmented Reality. 
With Shopify, you can integrate a vast range of third-party extensions to improve your eCommerce business performance. Managing your store everywhere is also possible, thanks to iOS and Android Shopify apps.
On top of that, Shopify includes abandoned cart recovery and other conversion optimization features. However, to enjoy all the built-in eCommerce functionalities, you need to go with the most expensive plan.
As it focuses on eCommerce sites, businesses of all sizes can consider using Shopify to build their success online.
6. Weebly 
Weebly is another builder that offers a large number of responsive themes. Its intuitive drag-and-drop editor can also help you develop your website in just a few minutes.
With Weebly mobile app, you can edit your site on the go. It also comes with an app center where you can choose and install the extensions you need to boost your sites' performance. 
One thing to note, Weebly's blogging tools are a little restricted. Thus, you won't get the same experience as using a CMS, like WordPress or Joomla. Further, its free plan only covers basic SSL and 500 MB storage features, while the other plans include a shopping cart feature.
Weebly offers a comprehensive eCommerce add-on. Therefore, it can be an excellent option for business owners who want to try their luck online.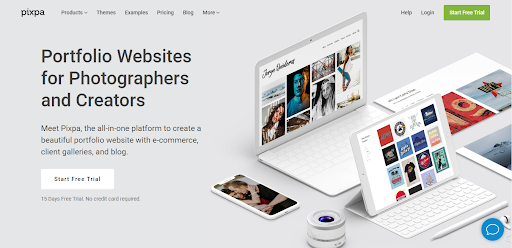 7. Pixpa
Pixpa is a portfolio slash eCommerce website builder. Meaning, you can display your artworks and sell them directly from your website. 
Using Pixpa, you'll get access to dozens of its sleek and mobile-friendly themes. Also, it allows your clients to build galleries where they can favorite and buy your items. On top of that, Fotomoto integration makes it easy to print and ship orders.
Unfortunately, Pixpa doesn't comprise a free plan. However, you get to claim the 15-day free trial to test-drive the tool. 
If you are a photographer, graphic designer, or other visual workers, Pixpa is an excellent website builder to work with. Aside from showcasing your beautiful arts, making money is another perk to benefit from.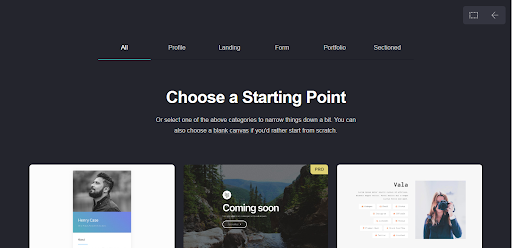 8. Carrd
Carrd is an easy-to-learn website builder. From what it offers, Carrd focuses on helping people build a one-page site. As a result, it has the best editor and theme collection for the site's type.
Carrd is highly affordable. With the recommended plan, you only get to pay only $19 per year. You can also request a 7-day free trial to see if Carrd's the right fit for your site. 
However, Carrd provides no eCommerce features. Therefore, business owners can cross Cardd off their lists.
Since optimizing a single-page website for SEO can be challenging, be careful when deciding to use this template. That being said, Carrd will be ideal for online resumes, portfolio sites, and landing pages as these sites don't require a lot of SEO works. 
9. Sitebuilder
Sitebuilder provides hundreds of attractive templates for all website's niches. Once signed up, you'll get a guide for how to use the editor. Thus, if you're a newcomer in the website-development world, no need to feel intimidated. 
Sitebuilder packs Google My Business, which's a great complementary feature for eCommerce websites. Apart from that, it comes with inventory management and online payment options.
But, Sitebuilder's eCommerce functionality only works on the most expensive plans. Also, you need to spend an extra dollar to get an SSL certificate as Sitebuilder hasn't packed it on all of its plans.
If your online store is tight on budget, Sitebuilder may not be the best option for you. On the contrary, Sitebuilder provides an excellent environment for simpler sites such as blogs, online resumes, and portfolio sites.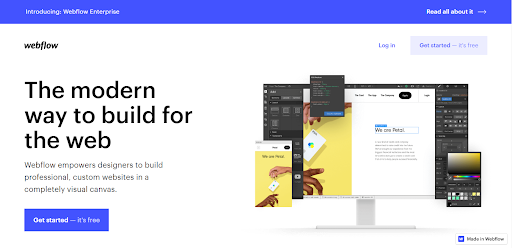 10. Webflow
Offering over a hundred selections of mobile-friendly templates, Webflow is another great website builder. 
With Webflow, you can add animations, interactions, and parallax scrolling. These unique features help differ your site from your competitor's. 
Suppose you're not familiar with Photoshop. In that case, Webflow's editor can be overwhelming as both share a resembling interface. Thus, you need to spend more time on the learning curve. Another drawback is that Webflow is a little on the expensive side.
Webflow will be an excellent choice for business owners. It comprises a set of powerful marketing tools, such as Zapier integration, Instagram integration, multiple payment gateways, and automated tax calculation.
Check out more industry-specific website builders here, website builder for restaurants.
Why are websites important in 2021?
While it's obvious that websites can boost one's online presence, they are more than just that. Here's why websites are important in 2021:
Your customers expect it.

A website is where your customer can

conduct their research

before actually making transactions with you. It also serves as social proof for your brand.
Your competitors have websites.

If you want to be ahead in the competition, never give them a chance to steal your potential customers.
It's accessible 24/7.

Unlike brick-and-mortar stores, your customers can visit your website at any given time of day. This can surely

increase your sales

.
Conclusion
There are a whole lot of great website builders out there. Each brings its own unique features. Thus, deciding which one is the best for you truly depends on what your site is about. Good luck on your website development journey, and feel free to reach us in the comment.
Enjoy this Article? You May Also Like: